The Grind
Daniel Berger's amusing Adam Sandler shout-out, Paige Spiranac's random honor, and a queen of celebrity golf emerges
Welcome to another edition of The Grind where we are so proud of everyone for making it through the toughest week of this pandemic yet. The AT&T Pebble Beach Pro-Am with NO celebrities? What a nightmare. Of course, I'm kidding. The tournament turned out just fine without any celebrity golfers. Well, unless you count the Rickie Fowler commercials over the weekend. Anyway, here's what else actually had us talking.
Daniel Berger: Outside of Dustin Johnson and Bryson DeChambeau, Berger has been arguably the best player on the planet since the June re-start. A win at Pebble Beach makes him just one of five players with two PGA Tour wins since then, plus he has three other top threes in that span. The 27-year-old is now up to four career PGA Tour wins, and it seems like he will blow past that after watching that Sunday 65 at Pebble Beach, which included a tournament-clinching eagle on the 72nd hole.
After winning just a couple weeks after posting this boat music video, Berger may also have passed DJ in strokes gained boating:
Regardless, it's good to be Daniel Berger right now. He even got a special shout-out from another "Berger":
Like we said, it's good to be Daniel Berger right now.
Kathryn Newton's golf swing: OK, so it turns out there were some celebs at Pebble, just not during the actual tournament. On Wednesday, though, this "Big Little Lies" actress joined Bill Murray and a few others for an event that featured a closest-to-the-pin contest on No. 17. And wow, did she deliver:
Look at that silky swing! In case you aren't aware—or didn't read Golf Digest six years ago—Newton was a standout high school golfer with a plus-2(!) handicap who explored playing in college before her acting career took off. She must be hustling Hollywood stars left and right.
Maverick McNealy's club twirl: Yeah, yeah, Mav had a career-best finish with his solo second, but how about this club twirl?!
Watching this tee box on Pebble's 10th: The PGA Tour decided to have a bit of fun with the boys during Sunday's final round—and the results were spectacular:
Seriously, how good is that? What a scene.
Playing this tee box on Pebble's 10th: As cool as it was seeing the world's best play from there, that view is a weekend hacker's nightmare. They would have to clear out that entire beach before I hit a shot.
Daniel Berger's putting routine: Unfortunately, while Berger has ascended to one of golf's elite players, he's also established himself as one of the game's slowest players. In particular, on the green, where he lines up putts very deliberately—and with the help of his caddie—before backing away to set up again. We've had to put up with Jim Furyk going through a similar process, but for some reason, it feels even worse seeing a young dude doing it.
Jordan Spieth being "BACK!": Another 54-hole lead, another disappointing Sunday. As it turned out, Spieth would have needed to shoot a pretty low score to hold off his fellow 27-year-old Berger, but he was shaky throughout.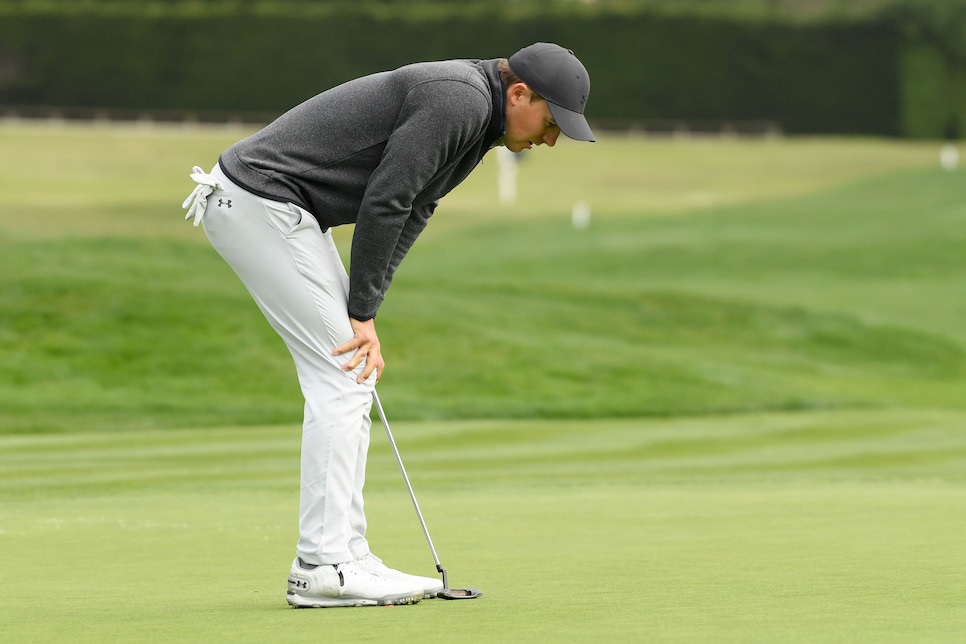 And a pair of closing birdies after he had no chance of winning anymore made his result look a lot better than it actually was. Sorry, but wake me up when he actually wins a tournament. Hopefully, you'll be waking me up on April 11 after I've cashed my 50-to-1 bet on him to win the Masters.
The PGA Tour heads to Genesis Invitational, AKA that tournament that's hosted by Tiger Woods, but he never seems to play due to injuries. Sadly, such is the case again this year. HOWEVAH, the field is fantastic otherwise. And the famed golf course—in particular, the drivable par-4 10th—is always in prime shape. In the immortal words of Bart Scott, "CAN'T WAIT!"
Random tournament fact: Tiger made his PGA Tour debut here as a 16-year-old amateur in 1992, but it's about the only event he hasn't conquered as a pro. Despite 13 (and hopefully, counting) attempts, Woods has never won at Riviera, his most starts on any course without a victory. And Jack Nicklaus never won at Riviera in a dozen tries. Wait, why is this course so great then? Kidding. Sort of.
RANDOM PROP BETS OF THE WEEK
—There will be a hole-in-one on No. 10 this week: 1,000-to-1 odds
—There will be a better club twirl than Mav McNealy's: 1 MILLION-to-1 odds
—Daniel Berger will be getting a bigger boat at some point: LOCK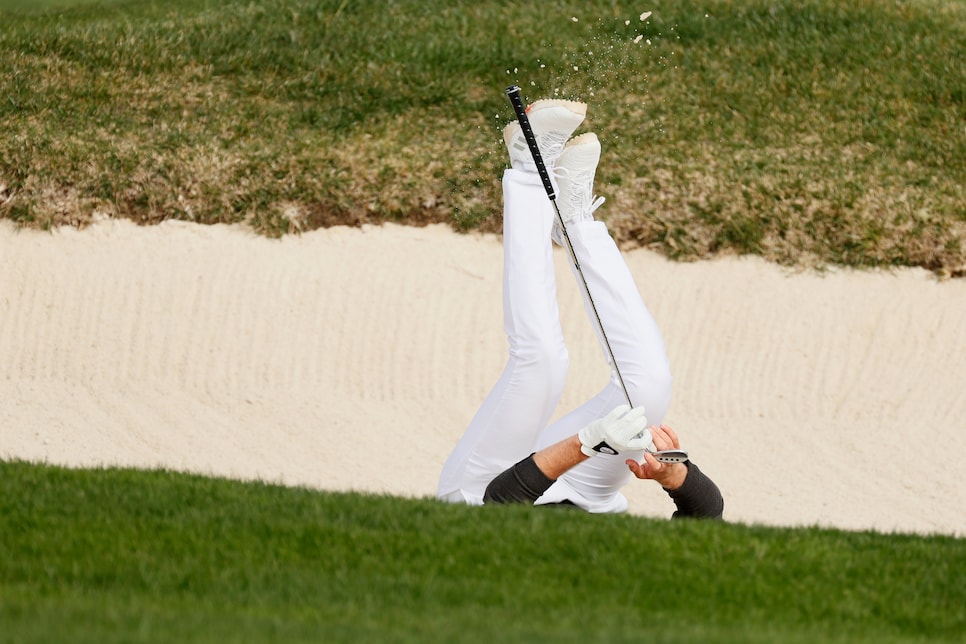 Just don't try that at home. Unless you have a caddie. And you're going to give him/her a really nice tip.
The shot of the week at Pebble Beach may have come from Jim Nantz's house that sits above the famed course. Kevin Hall got a crack at Nantz's famed replica of Pebble's seventh hole—and unlike me, he took full advantage.
Nicely done, Kevin. I'd be lying if I said I wasn't a bit jealous of you getting to put your name on the "Rock of Fame," but nicely done.
"Winning a golf tournament just feels like you're having a heart attack on every hole." —Daniel Berger. Which might explain why he withdrew from this week's event. Cruising around on a boat isn't nearly as stressful.
THIS WEEK IN PROS ARE JUST LIKE US! (SORT OF)
This might be the best one yet. A cold top from Francesco Molinari on the first hole at Pebble Beach:
Raise your hand if you've done that on an opening hole before? With a few random people watching and that starter who is kind of a jerk? Yep, brutal.
THIS WEEK IN PUBLIC DISPLAYS OF AFFECTION LOCKS
There was a surprisingly low number of Valentine's Day messages from PGA Tour stars. Apparently, these guys are not romantic. Instead, let's check in on Hunter Mahan's hair!
That is quite the look. Remember, this dude married a Dallas Cowboys cheerleader. Never give up on your dreams, kids.
THIS WEEK IN GOLF INFLUENCERS INFLUENCING
Congrats to Paige Spiranac and Barstool's Riggs for receiving a couple of random, but touching honors this week. First, Paige shared she had a racehorse named after her:
And Riggs had a baby named after him. An actual baby!
The 2021 Golf Digest Hot List is here! Check it out! But also, maybe save a few bucks for some lessons. . . . Following a missed cut at Pebble Beach, Rickie Fowler fell to No. 66 in the Official World Golf Ranking, his worst position since his first full year as a pro in 2010. That's a lot of Farmers commercials ago. . . . Happy Gilmore—a slightly more memorable Adam Sandler character than Donny Berger—turns 25. Yep, we're all getting really old. . . . . And finally, congrats to Greg Norman for selling his Florida mansion/resort that I wrote about a couple weeks ago.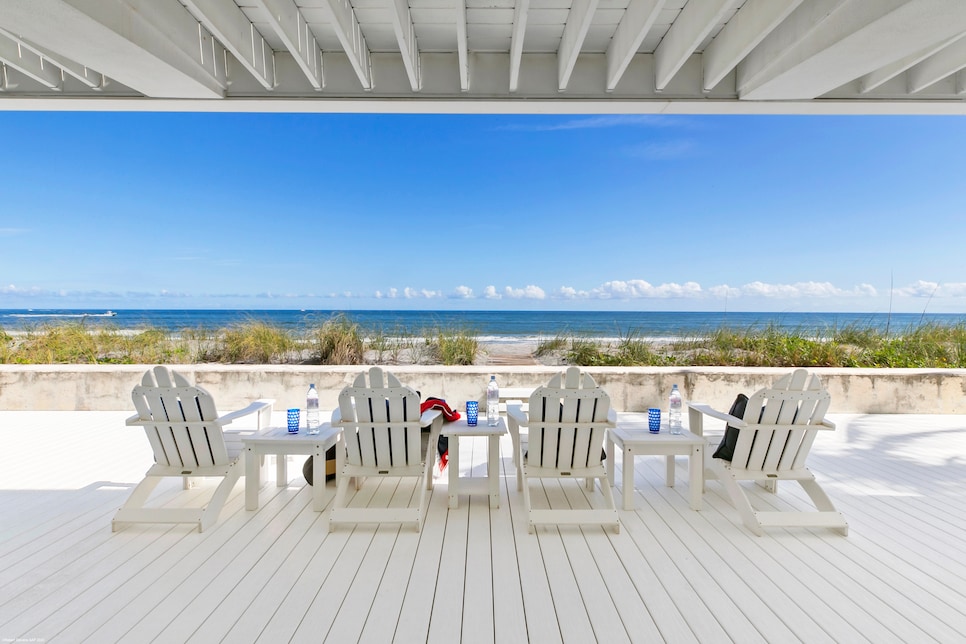 Robert Stevens owner of A.A.P.
Apparently, you can buy "Tranquility" for your life—it'll just cost you $60 million.
RANDOM QUESTIONS TO PONDER
What would you name a racehorse?
When was the last time Hunter Mahan got a haircut?
Do I get a commission for Greg Norman's house?