AT&T Pebble Beach
It's time we start giving Daniel Berger his due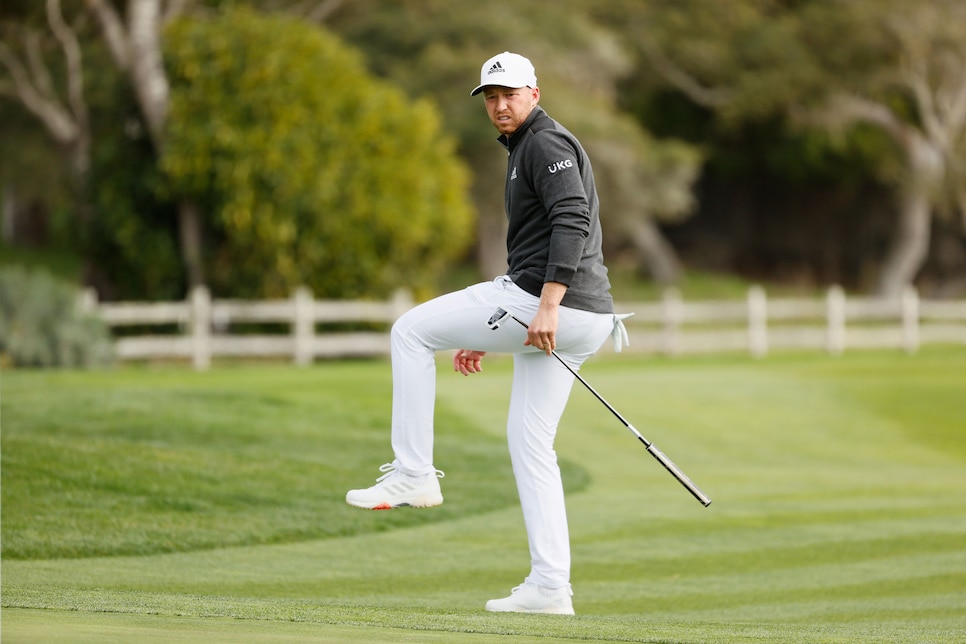 PEBBLE BEACH — The eyes of the golf world fixated upon Jordan Spieth on Sunday. Hard to blame them, really, considering the storyline in play: a win, at this iconic golf course, to end The Slump. If someone was going to steal the win from him, it'd be Patrick Cantlay. Cantlay shot 62 on Thursday, and he's one of the best ball-strikers in the world. Scratch that: It was Nate Lashley, who elbowed his way into the lead with birdie after birdie early in the final round.
All the while, plodding along just out of focus, was Daniel Berger. Which, of course, is nothing new for him. Berger has been golf's Forgotten Man—the guy who couldn't get a Masters invite despite being a top-15 player in the world. The first man out from the high school Class of 2011 discussion, not quite on the Thomas-Spieth-Schauffele-DeChambeau tier.
Maybe it's because Berger doesn't say much, or because he's not the front-man for a giant equipment company, or because his sui generis swing and low fade aren't exactly instruction-book material.
We're running out of justifications for overlooking Berger. Especially after the 27-year-old won the AT&T Pebble Beach Pro-Am with a superb final-round 65, capped by a macho eagle—his fourth of the week, and a four-shot improvement from his Saturday double-bogey on 18—that clinched a two-shot victory over Maverick McNealy.
"One of the best finishing holes I've ever played," Berger said.
The golf gods made sure the 30-footer at the last did indeed find the bottom, giving Berger his fourth career tour title and avoiding the nightmare scenario of McNealy losing by one after he was dealt a brutal one-shot penalty for accidentally causing his ball to move on the fifth hole Saturday.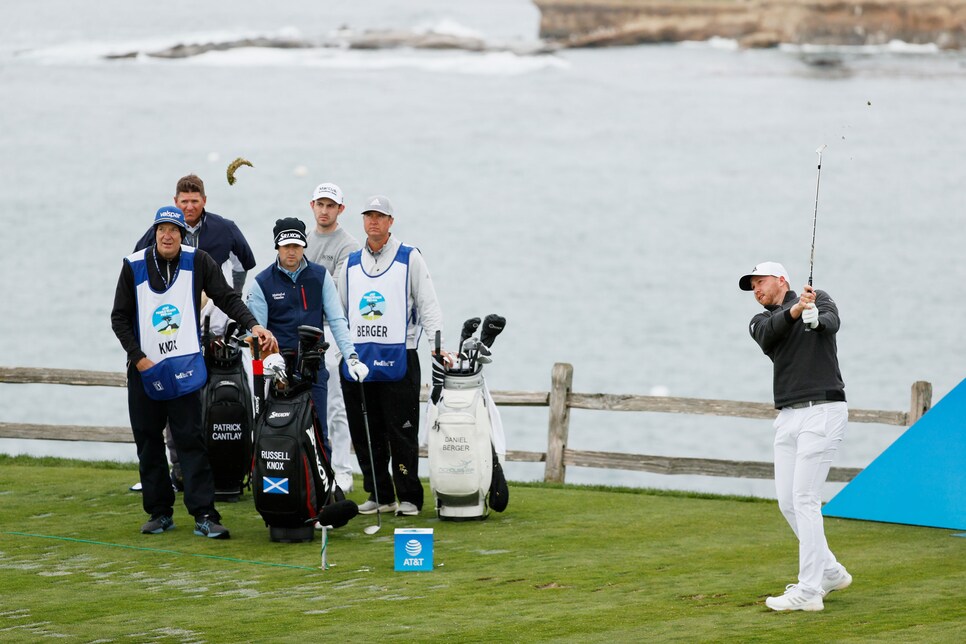 Berger plays his shot from the seventh tee during the final round at Pebble Beach.
Steph Chambers
McNealy, whose family used to own a summer home on the Monterey Peninsula, took nothing but positives from this week. It was the best showing yet on the PGA Tour for the former World No. 1 amateur who shares the record at Stanford for most individual wins with one Tiger Woods.
"It gives me a lot of confidence. I've always been a guy that has to earn my own confidence," McNealy said, before launching into an explanation worthy of a college philosophy class. "I can't stand there and just tell myself I'm good at something or I'm doing something right. I have to earn it with myself, too. I feel like I earned a lot of confidence this week. I'm excited to get playing again."
For Berger, perhaps this is the week that finally get him his due. His win at the Charles Schwab Challenge last June didn't quite do the trick, despite a field featuring seven of the top 10 players in the world. There were no top-10 players in the field this week, but Sunday's final round stumbled upon one helluva leader board. There was Berger and McNealy and Spieth and Cantlay, as well as Paul Casey and Jason Day and Max Homa. Big names, on a big-time stage—Pebble Beach has a knack for getting its hands on any hint of drama and multiplying it by 10. Nothing about this victory felt small-time, especially not the finish.
A day after fanning a drive out-of-bounds and making double bogey on the home hole, Berger stepped onto the 18th tee in a tie for the lead and ripped his signature tumbling cut, this time finding the sliver of safety between the tree in the fairway and the bunkers right of it. He then ripped what he called the best 3-wood of his life, a laser that plopped onto the front right edge of the green and sat quickly. Then came the clincher.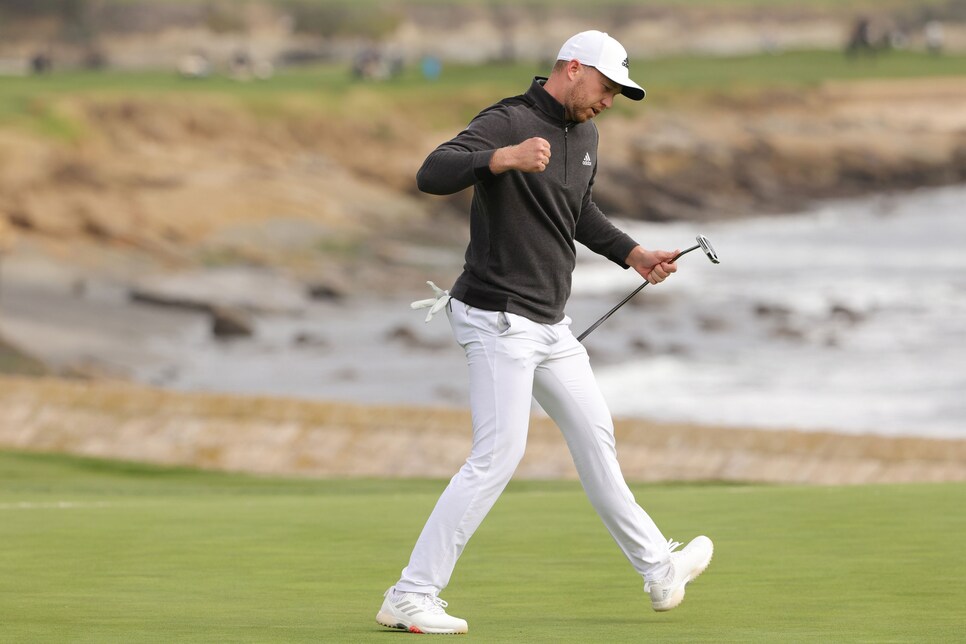 When Berger made the 30-foot eagle putt on the 18th hole Sunday, he deserved to get excited.
Ezra Shaw
Only five players have won multiple times since the PGA Tour returned from its COVID-hiatus last June: Dustin Johnson, Jon Rahm, Collin Morikawa, Bryson DeChambeau … and Berger. The first four players on that list will all but assuredly be present and accounted for at the Ryder Cup in September at Whistling Straits. Want to bet against Berger being there, too?
"I do feel like I'm underrated, but that's OK with me. I just think it puts a little chip on my shoulder, which is totally fine. … You look at some of the other guys and what they have accomplished, I'm kind of right in line with that. So I just want to continue to get better. I feel like my goal has always been to be the No. 1 player in the world. Some people will laugh at that, and that's fine. But that's something that every day I wake up and strive for."
He might not be there yet, but he's been pretty impressive as he's worked to achieve that goal. With 26 straight rounds of par or better, Berger holds the longest active streak on tour. And he has 10 top-10 finishes in his last 19 starts dating back to last March.
His play over the last eight months has been a revelation, especially considering the depths he reached toward the end of 2019. Struggling with a nagging wrist injury, Berger fell outside the top 150 in the world and even played the 2019 Korn Ferry Tour Championship, where he finished tied for 39th.
"When I was hurt, I thought, Man, I'm never going to be able to play golf again without being … without feeling like I was going to be hurt and not be able to do the things I know I needed to be able to do to prepare and play my best golf. I thought I didn't really love the game until it was taken away from me for three or four months, and then I was really sad. I think I was a bit lucky to have the team of doctors that I had to really get me back to a hundred percent. Now it's a nonissue. I never think about it."
Berger has better things to worry about now, like getting into the top 10 in the world—he's projected to move to No. 13 with this win—making that Ryder Cup team and winning majors. Yes, he's that good. It's time we all noticed.