The Loop
Dallas and Philly's fourth-quarter explosion and the rest of the bad beats from the weekend
As upsetting as it is that another week of football has come and gone, think of it as a blessing in disguise if you stupidly continue to bet your hard-earned dollars on it. Soon it will all be over and your wallet will thank you, until you start betting college basketball and dig a hole that much deeper.
Where to begin this week? It was so bad that I had to omit some of the borderline bad beats so that this post wouldn't become a novel. I'd love to start with the LSU-Arkansas game, but we covered that already, and no one wants to relive it again. Here's nine (yep, NINE) other equally painful losses from the weekend of college and pro football.
Dallas Cowboys @ Philadelphia Eagles Under 45.5
This NFC East slugfest was an under bettor's dream from the outset, with just THREE total points scored in the first quarter. Then, on the Eagles first drive of the second quarter, they reached the Dallas 20, where they faced a 4th & 1. Rather than tie the game with a kick, Doug Pederson rolled the dice as he often does, failing to convert. The Cowboys then went on a 14-play drive that ate up over eight minutes of clock and ended with them tacking on three more measly points. 6-0 with 3:41 in the half had under backers doing backflips and opining about how defense still wins championships.
But that's when everything changed, as the Eagles went down and got a field goal of their own and then the conservative Cowboys lead by coach clap Jason Garrett picked up a 3rd & 15 with under a minute in the half to get into Philly territory. After Dak Prescott hit two more big pass plays to get to the one-yard line, he snuck in the game's first touchdown, giving Dallas a 13-3 lead. Still, with just 16 total points, you had to feel good, but with another full half to go, it wasn't a sure thing as before.
Philly struck first in the third, but only with a field goal to make it 13-6. After Dallas missed a field goal on their next drive, it remained 13-6 late in the third. We were headed for a grind-it-out game the rest of the way, right?

Nope. Just the second coming of the greatest show on turf from both teams. And it was still only enough to cash the over by a point and a half.
South Carolina @ Florida (-6.5)
This was one of those games you had absolutely no business winning if you were backing the Gators, who trailed 31-14 on their home field with 4:41 to go in the third quarter. But their anemic offense came alive, scoring touchdowns on each of their next three possessions to shock the Gamecocks and go up 35-31 with 4:09 to go. Again, you had no chance to cover the 6.5, or so you thought ...
On 3rd & 11 from his own 24, SC quarterback Jake Bentley was picked off by Florida DB CJ Henderson at the SC 44. With 3:15 to go, the Gators appeared poised for an unbelievable backdoor cover, especially after converting a 3rd & 6 with a 28-yard run that put them at the Gamecocks 12. On the next run, Florida reached the two-yard line, setting up an opportunity to punch one in and step on SC's necks. How does a few kneel downs sound instead?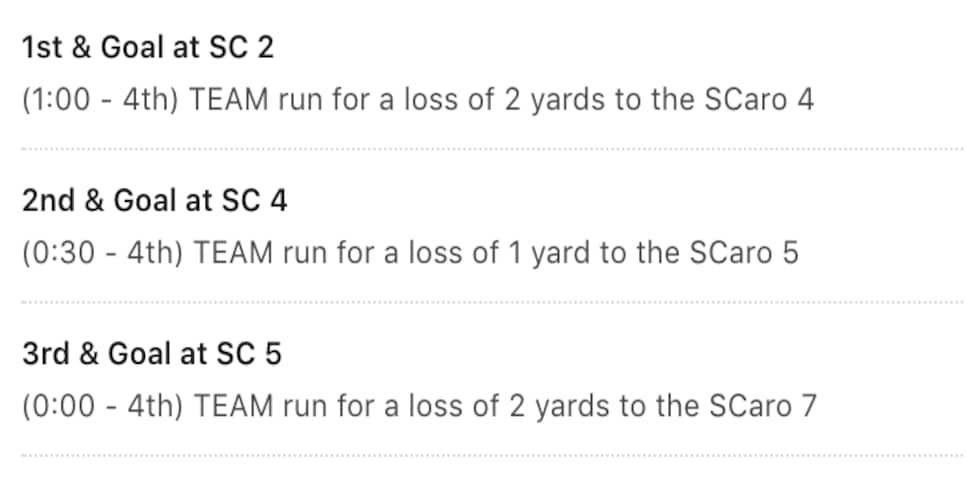 Whatever happened to running up the score on a rival? For shame.
Final score: 35-31, Florida
I'm not going to get into the particulars of this garbage game featuring garbage UConn and their 1-9 record. Just know that, down 62-44, the Huskies converted a 4th & 5 and scored on a 3rd & 10, both plays coming with under a minute to go, to backdoor cover the 17-point spread. Sickening.
Tulsa @ Memphis Under 65.5
If you bet this game and spent the early portion of your Saturday watching it like I did, I'm sorry for you. That's three hours of our life we'll never get back. That being said, I did hit on the over, which seemed impossible after Tulsa's first half. The Golden Hurricanes trailed 27-0 and did not move the ball a damn inch on offense, but the defense was giving up points to Memphis with ease. Still, to hit an over you need help from both sides, and you weren't getting it from Tulsa. But they found something in the second half, cutting the lead to 40-14, then giving up a punt return to Memphis to go down 47-14. With over 12 minutes in the game, the over was a lock, until Tulsa reverted to their first half form on offense and Memphis took the air out of the ball when they were on offense.
But the Golden Hurricanes saved the day on their final drive, going 72 yards in 13 plays, including a 4th & 3 conversion, to score with 11 seconds remaining and ruin every under bettor's day before it even started.
Final score: 47-21, Memphis
Mississippi State (+22) @ Alabama
You don't win money betting against Alabama, something MSU bettor's learned the extremely painful way on Saturday. The Bulldogs simply could not move the ball against the Tide, with the exception of one drive before halftime when they reached the Alabama 12-yard line and had 1st & 10. Let's see how that went:

Some would say that turning 1st & 10 at the 12 to 4th & 22 at the 24 is bad. Some would be right. MSU wouldn't even sniff the red zone again, and a late field goal for Bama was the dagger in MSU +22 backers' hearts.
Final Score: 24-0, Alabama
L.A. Chargers @ Oakland Raiders (+10.5)
If you bet on the Raiders this year, you deserve everything that comes your way. That includes Derek Carr grounding a screen pass in the red zone on 4th & 5 with a chance to go through the backdoor late and cover:
Western Kentucky (+17.5) @ Florida Atlantic
Lane Kiffin's FAU Owls have shown you nothing this season that makes them deserving of being a 17.5-point favorite, even if it was against the lowly, 1-8 Western Kentucky Hilltoppers. However, the Owls did lead 27-9 with 10 minutes to go, but WKU began an crazy rally that included a touchdown and a recovered onside kick with over six minutes to play. Down 27-15, they began another drive that could have sealed the cover, getting in a goal-to-go situation at the FAU 10-yard line. The Hilltoppers wound up going negative three yards from there on their next four plays, failing to score and turning it over on downs. But the cover was locked up, as FAU could simply run out the clock or punt it back to WKU knowing they were still going to win. On 1st & 10 from their own 23 with 2:19 left, this happened:
Apparently, Kerrith Whyte didn't go to the Todd Gurley/Nick Brossette school of kneeling down before you score to run out the clock because it's the "smart" football play.
Jacksonville Jaguars (+3, Money Line) @ Indianapolis Colts
The Jaguars' struggles have been very apparent, but the offense looked much improved on Sunday in Indy. So much so that if you bet either them with the points or to win, you were feeling very good when they got the ball back near midfield with 2:53 to go trailing 29-26. Barring a pick six, you were in line for at least a push, possibly an outright win or overtime, which would have brought a loss, push, or outright win back into play. Two plays later they were at the Colts' 44-yard line, poised for at least a game-tying field goal at the two-minute warning. After picking up nine yards on 2nd & 10, Blake Bortles hit Rashad Greene at the Colts' 25-yard line, but the former Florida State Seminole fumbled the ball and the Colts recovered, ending the game. A push can sometimes feel like a win, but when the team your backing is driving like that with a lot of time remaining, this one had to feel like an L.
Final score: 29-26, Indianapolis
Ole Miss (+13) @ Texas A&M
On two separate occasions in this game, Ole Miss lead by a touchdown, once at 14-7 and again at 21-14. Anytime you're backing a 13-point dog and they are leading by seven in the second half, you're in prime position. That is until, much like they did with a 10-point lead against South Carolina, the Rebels rolled over and FOLDED, allowing the Aggies to outscore them 24-3 the rest of the way.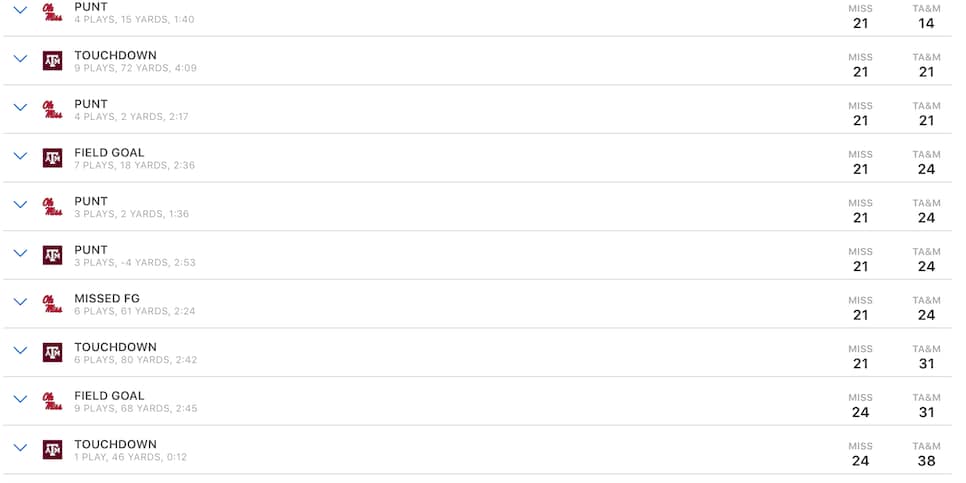 Final score: 38-24, Texas A&M