FIRE PIT COLLECTIVE
The curious case of two holes-in-one on the same course on the same day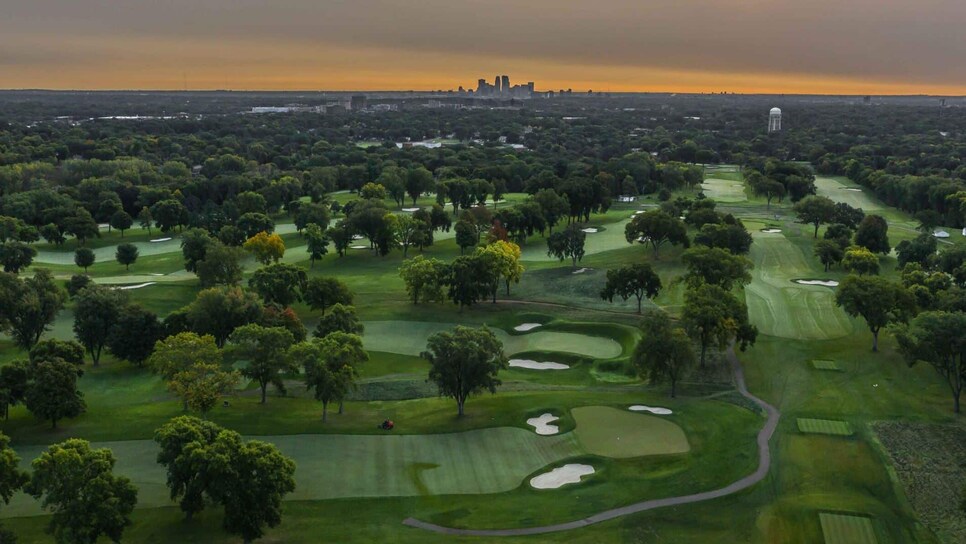 On Thursday night I received a text from a friend-of-a-friend in Minneapolis, St. Louis Park High School coach Dan Becker. It read: "Hey, Laz. I have the craziest hole-in-one story you have ever heard. Let me know when you can chat."
Not satisfied, Becker distilled the story in a long text. Minutes later we were on the phone because, frankly, I didn't buy what Becker was selling.
This story was a little too good to be true. And it all starts with a quiet and calculated seventh grader named Preston Miller, the youngest player on the St. Louis Park varsity golf team.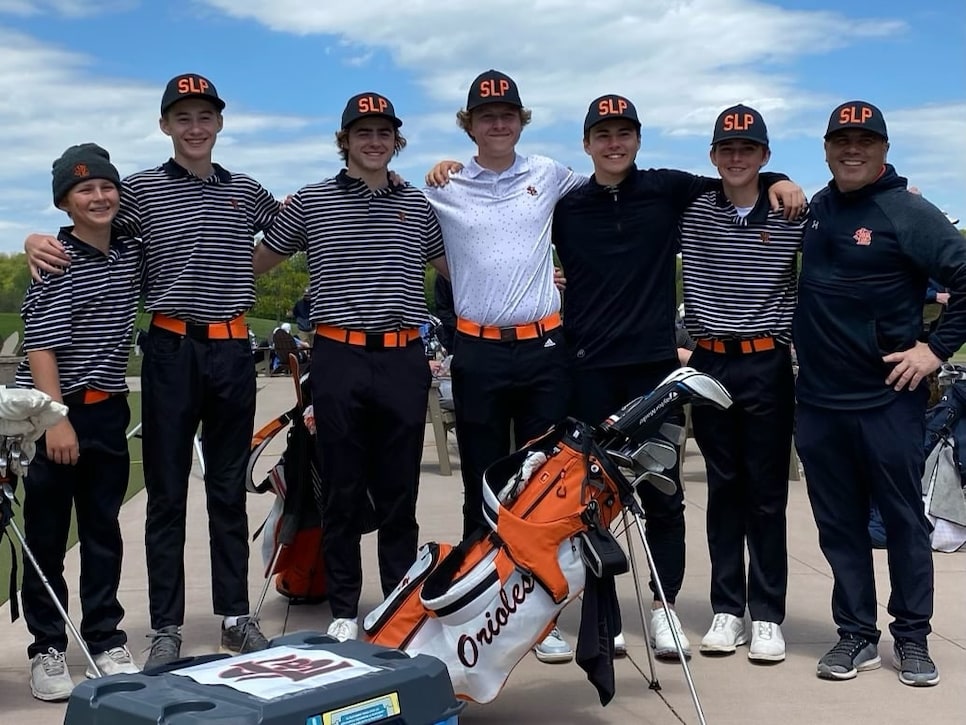 Preston, far left, Coach Becker, far right.
Preston, 13, is the son of Jon and Sadie Miller. The Millers are members of Minneapolis Golf Club, the home course of the St. Louis Park Orioles. Minneapolis Golf Club is one of the top clubs in the Twin Cities, famous for having hosted the 1959 PGA Championship.
It was a windy afternoon as Preston approached the par-3 4th hole. He teed up his Titleist Pro V1 number 4, "It was 121 yards, into the wind," Preston told me. "I hit a little 7-iron. I saw it bounce twice and then it went in. I just kind of, like, yelled when it went in."
A memory to last a lifetime, and for most, one that comes with a souvenir. But not for Preston, who made the fateful decision to keep playing the same ball.
Things started to unravel for Preston on the par-4 7th hole. "I pulled my drive left and was in the rough," he said. "Then I tried to hit a high cut over some trees, but my ball hit a tree and I never saw it after that." His hole-in-one ball had vanished. Gone.
"I probably should have just hit into the fairway instead of trying to hit that fancy shot," he said. He would finish the round strong, shooting 80, ecstatic he had made his first ace, but a touch melancholy his aggressive line on the 7th hole had cost him a keepsake. But that was nothing a few cold drinks couldn't cure.
"We were sitting in the clubhouse, drinking celebratory root beers with Preston," Becker said. "Suddenly the starter walks in and says, 'Hey, Ricardo also got an ace, on number 16.' I said, "That's amazing! Two aces in one day!" The root beers kept flowing. "Then this Ricardo guy walks in."
Enter Ricardo Fernandez, a sporting 48-year-old executive at Minneapolis-based food giant General Mills and a member at Minneapolis Golf Club. He had heard another hole-in-one had been made earlier in the day by one of the junior players. "Which one of you kids made the ace today?" Ricardo asked the group. The kids all pointed at Preston. Then Ricardo pulled a golf ball out of his pocket. Not just any ball, mind you, but a St. Louis Park logoed Titleist Pro V1.
Preston, not one to shy away from the hard-hitting questions, was curious. "I asked him what hole he found it on, and he said hole 7," Preston said. He was flabbergasted. "I told him, 'I think that's mine.' And [Ricardo] said, 'Well, I just made a hole-in-one with this ball.' I told him, 'Yeah, I did too.'"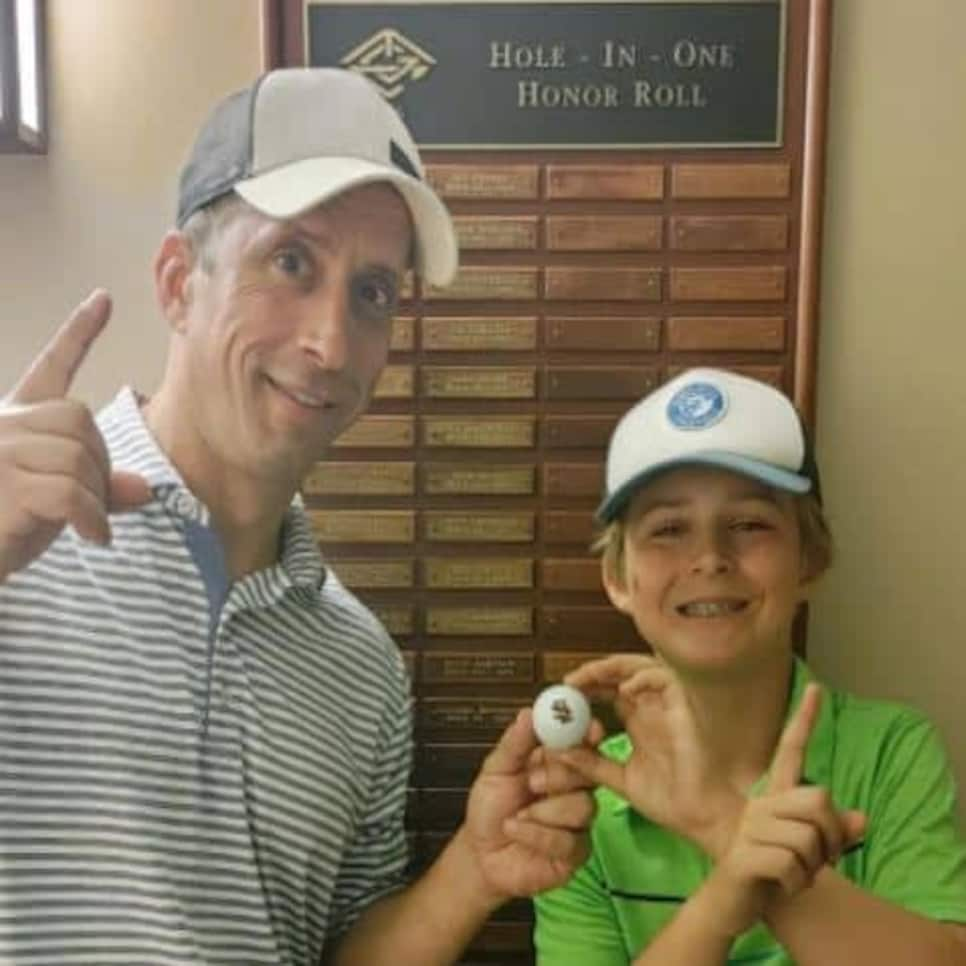 Hole-in-one aficionado Ricardo meets young Preston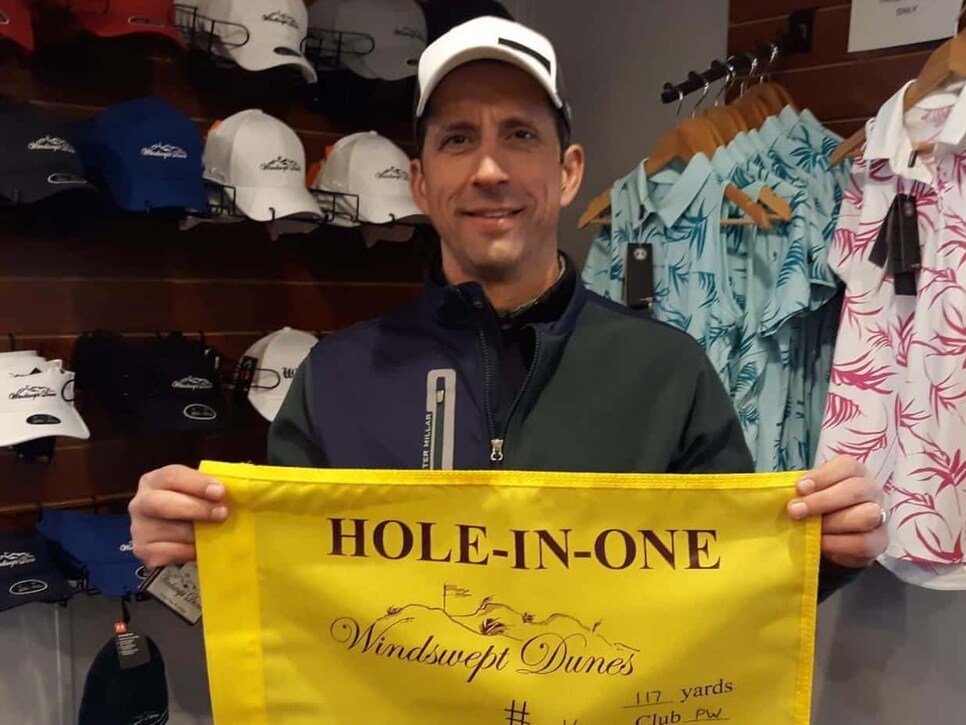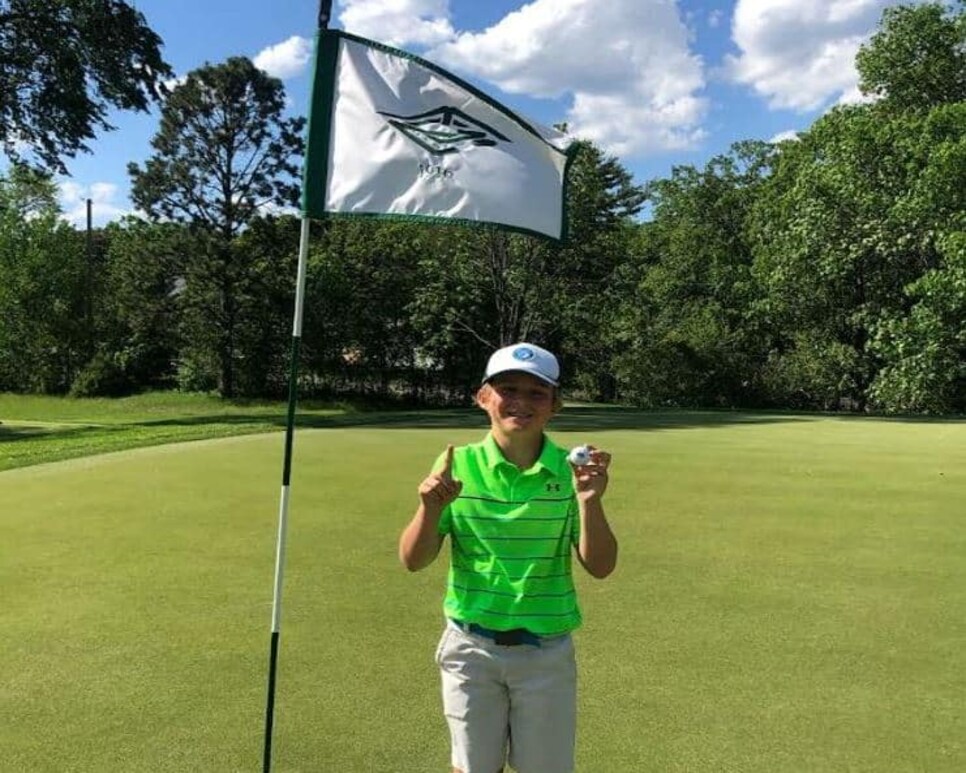 The odds of making a hole-in-one are 12,500-to-1. The odds of two players making a hole-in-one on the same day at the same club climb to 32,000-to-1. The odds of two players, at the same course, in different groups, using the same ball? Astronomical, I'm sure, but I'll leave that to the statisticians.
Dan Simpson is the head professional at Minneapolis Golf Club. He's seen a lot in his two decades at the club, but never anything like this. "I can't imagine this has ever happened, ever. I mean, getting a hole-in-one, losing the ball, another person finding it, and then getting another hole-in-one from two different people?"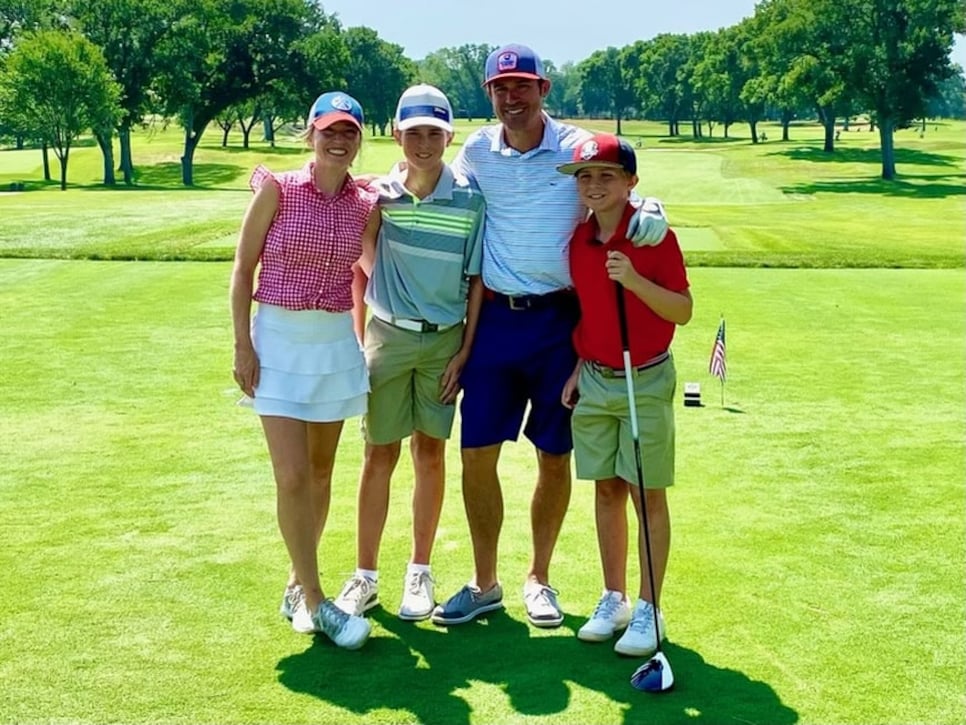 The Minneapolis Millers: Sadie, Landon, Jon and Preston
I wondered who would get to keep the coveted keepsake. Would it be Ricardo "Finders Keepers" Fernandez or plucky Preston Miller?
"I gave it to Preston," said Ricardo, who told the kid, "Keep it on a plaque on your wall. It's got a lifetime of good luck for you."
"We took some pictures, had some food and stuff and then he gave me the ball," Preston said. "He was like, 'Take it, it's yours.'"
Maybe that's because Ricardo's trophy case has been filling up quickly. This was his fourth career hole-in-one, and his third in the last 12 months.
Preston joins older brother Landon as the only ace-makers in the Miller family. Neither Jon nor Sadie has cracked the code.
Theirs may come one day. Perhaps they should borrow a ball from Preston or hang out with Ricardo more often.