News
Counting down the 15 best NCAA men's match-play golfers ever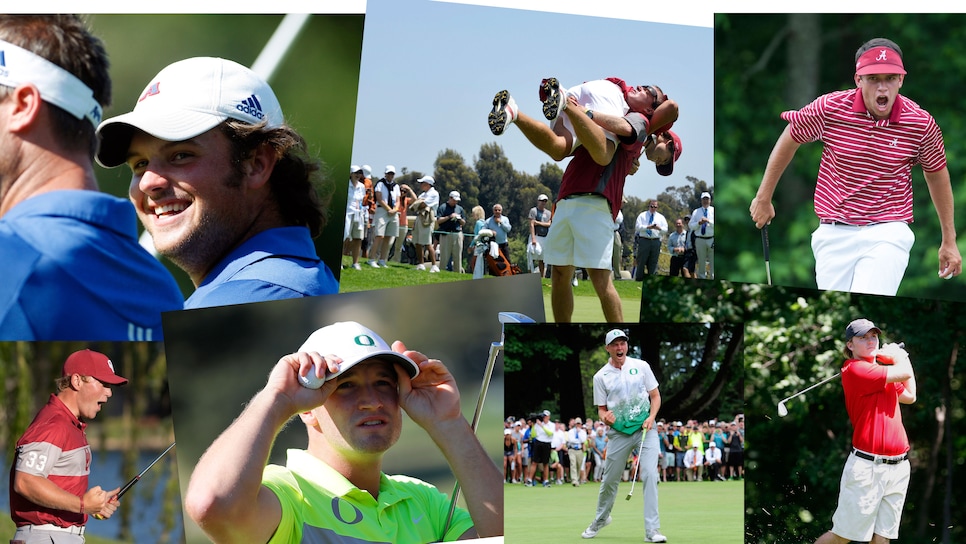 I'm not sure exactly what I love so much about the NCAA college golf championship. I've never been to a single match, much less a final, and I haven't even watched very many on TV, but it has inspired an obsession. It may be that when I started researching the history of the match-play era, I found that there is no database where results are kept, and perhaps I take a certain pride in owning what I'm 99.9 percent positive is the only centralized repository of results, painstakingly assembled on a Google spreadsheet.
But I think my fixation truly comes down to two things. First, the exciting format—in 2009, the NCAA changed how it decided the team champion by incorporating match play into the sport's climatic tournament, and the decision precipitated total chaos. (There's even a legitimate curse on No. 1 seeds started by Rickie Fowler, and I swear I'm not just promoting this idea relentlessly because I want to invent a curse.) Drama ensued for a full decade, and that leads to the second factor—as I wrote last week, these matches gain greater significance over time, as the players competing in relative anonymity go on to make names for themselves and achieve other great things on the PGA Tour.
And hey, it's niche. Niche is good. Like the Scripps-Howard National Spelling Bee, you can only talk about NCAA golf once a year, but it's fun as hell for that precious sliver of time, and this arcane dusty corner of the sports universe can be pretty cool.
So, on the day of the 2018 championship between Oklahoma State and Alabama, I've taken it on myself to count down the 20 best players from the first 10 years of the NCAA match-play era (hereafter abbreviated as MPE). My focus is exclusively on play in the knock-out stage of the team championships, from the opening quarterfinals to the championship. And of course, this list is all about opportunity. Many of college golf's best players never get a chance to reach the match-play rounds, and some who do, like Justin Thomas (3-3 lifetime), never quite distinguish themselves.
Enough disclaimers! Without further ado, I present:
The 15 Greatest Players Of the NCAA Match Play Era (2009-Present) *minimum 3 wins
15. Brad Dalke, Oklahoma (3-1)
Dalke went 2-1 last season, but his two wins were enormous—a 19-hole deciding-match epic in the quarterfinals that helped Oklahoma advance, and the decisive 2-and-1 win in the final that gave the Sooners the title. In that match, he became the only player to defeat Oregon's Sulman Raza in NCAA match play, and prevented Raza from finishing his career a perfect 6-0. Dalke, now a junior, won his 2018 quarterfinal match on Tuesday for the defending champs, and has one more chance to pad his resume next season.
T-12. Jason Cuthbertson, Arkansas, Jamie Marshall, Arkansas, Bryden MacPherson, Georgia (3-0)
These four players have one thing in common—they only appeared in the NCAA match-play rounds one time, and they all went a perfect 3-0. And none of them have a national championship ring. I'm calling these guys the LHP Club. It stands for "little help, please?"
11. Thomas Pieters, Illinois (3-1)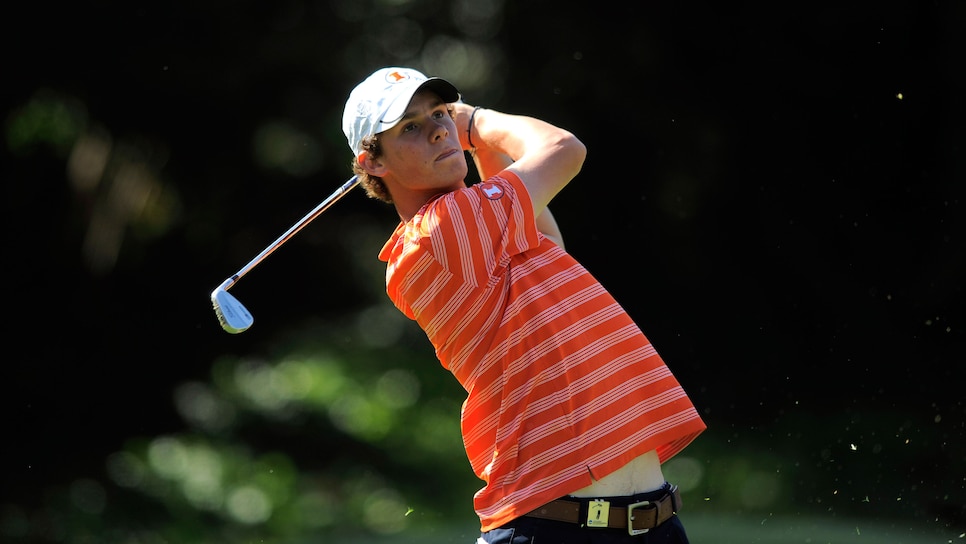 The early signs of Pieters' Ryder Cup prowess could be seen in the 2013 tournament, when he beat NCAA individual champion Max Homa of Cal-Berkeley in 20 holes in the semifinals and out-gunned Justin Thomas in the championship round. The win over Homa also knocked California, derailing their attempt for a 12th team victory and the mythical title of best single-season college team of all time. His Illinois team lost the final battle to Alabama despite his win, and his win in the quarterfinals against Georgia the next season wasn't enough to see his team through.
10. Trey Mullinax, Alabama (4-2)
Both of Mullinax's losses came in the opening quarterfinal round, which means that in 2013 and 2014, he went a perfect 4-0 in semifinals and title matches while helping lead Alabama to two straight national titles. Along with being one of the seven double title winners, he's also one of just five to win two championship-round matches. Oh, yeah, and he was the clinching point for the Crimson Tide over Oklahoma State in 2014.
9. Bronson Burgoon, Texas A&M (3-0)
Like his colleagues above, Burgoon went 3-0 in his one and only campaign, but that doesn't begin to tell the full story. Playing in 2009 at the first championship of the MPE, Burgoon came to the 14th tee leading Arkansas' Andrew Landry, 4 up. Then he collapsed, losing four straight holes, and suddenly the two were all square on the 18th hole with everything at stake—the overall match between the Aggies and Razorbacks was tied 2-2, and the winner of their dual would bring home the title. Landry's approach came up short, and then Burgoon did this from the heavy rough:
That gave A&M the title, and 10 years later still stands as arguably the greatest shot ever hit in the MPE.
8. Carter Newman, Augusta State (5-1)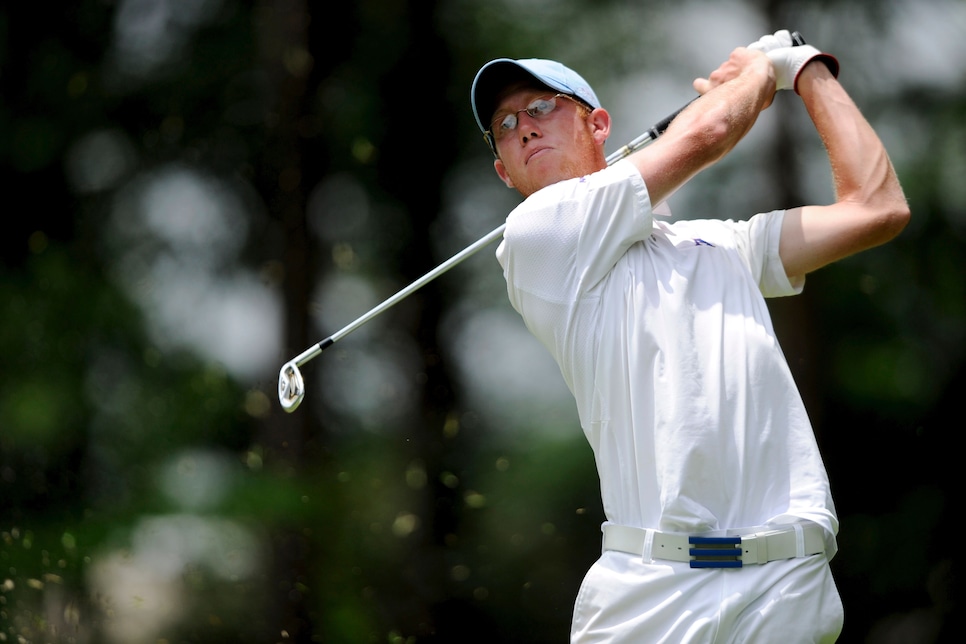 The five-win club is pretty exclusive—only eight players have managed the feat, and Newman is one of them. Ironically, his only loss—2-and-1 to Oklahoma State's Sean Einhaus in the 2010 title match—was avenged the next year, when he beat Einhaus in the deciding match of the semifinals by fighting off defeat with long putts on 17 and 18 before triumphing in 19 holes. That win sent Augusta State to its second straight title match, where Newman clobbered Georgia's T.J. Mitchell, 7 and 5, to help his team take home its second straight championship.
7. Bobby Wyatt, Alabama (6-2-1)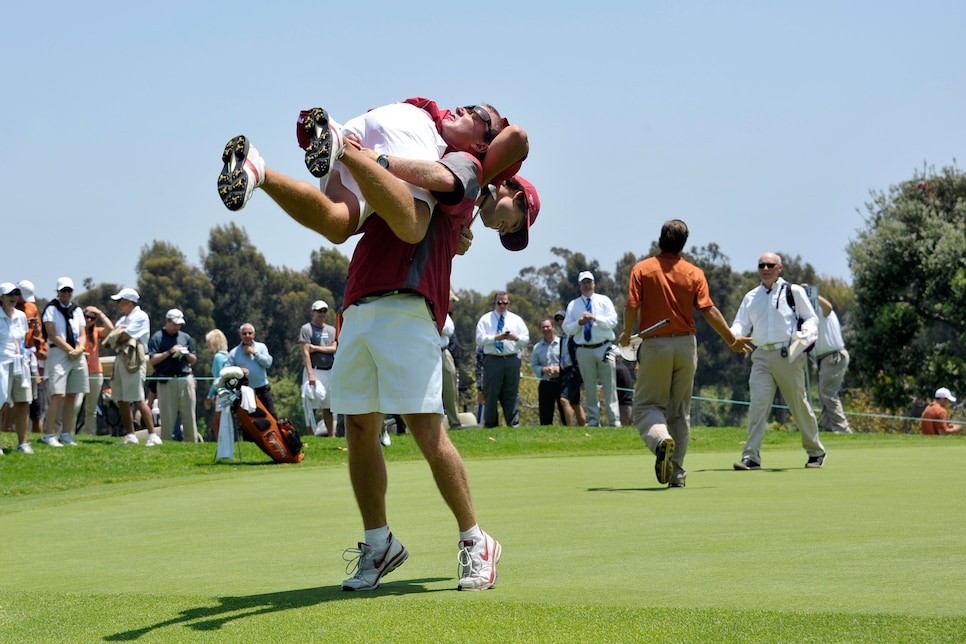 All you need to know about Wyatt is that he's the only player to win three matches in the championship round (2012-2014). Well, OK, there's more—he's one of only four players in the six-win club, he has the longest unbeaten streak in NCAA match-play history (6-0-1 in his final seven matches), and he has two titles to his name. Not a bad career.
6. Wyndham Clark, Oklahoma State and Oregon (5-1)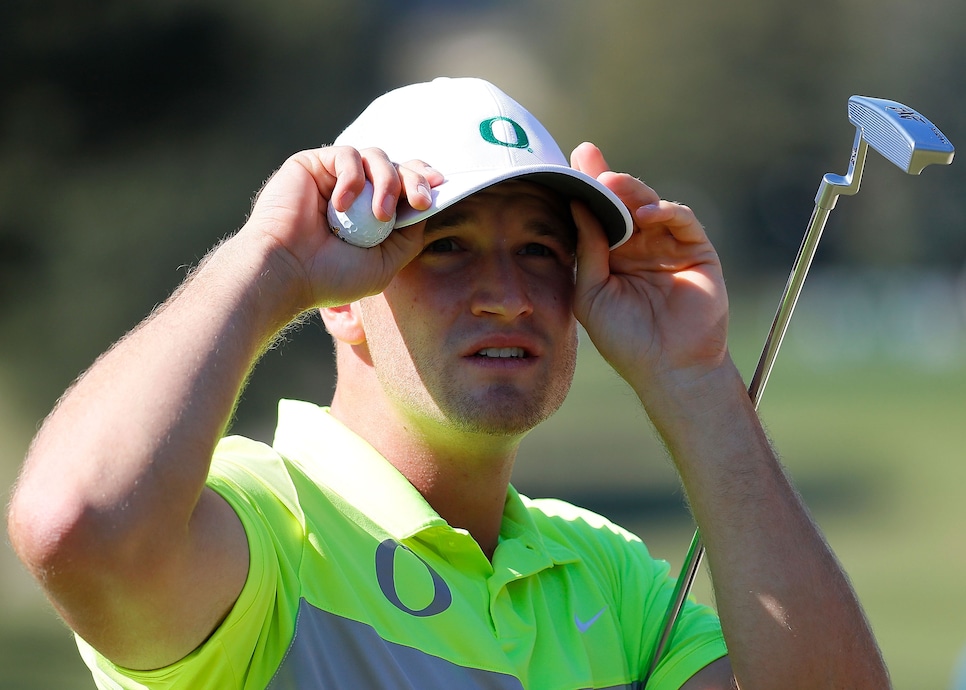 Kevin C. Cox/Getty Images
Clark has what has to be the weirdest career of any college golfer in the MPE. It's also my favorite career—he started out at Oklahoma State, was Big 12 player of the year as a freshman and went 3-0 in pursuit of a title in 2014. In fact, he was the only Cowboy to win in the title match to Alabama at Prairie Dunes. At the time he was dealing with the death of his mother, a haunting moment in his life that eventually took a toll on his game and led him to transfer schools. By 2017, now playing for Oregon, he had regained his form (earning Pac-12 player-of-the-year honors) and wound up facing his old team in the quarterfinal at Rich Harvest Farms. Clark lost that match—his only loss in NCAA match play—but Oregon advanced all the way to the championship round. Where, in a weird repeat of three years earlier, Clark was the only player to win his match as Oregon fell. Clark remains the only player to have match-play wins for two different schools, and the only player to make two finals without winning.
5. Sulman Raza, Oregon (5-1)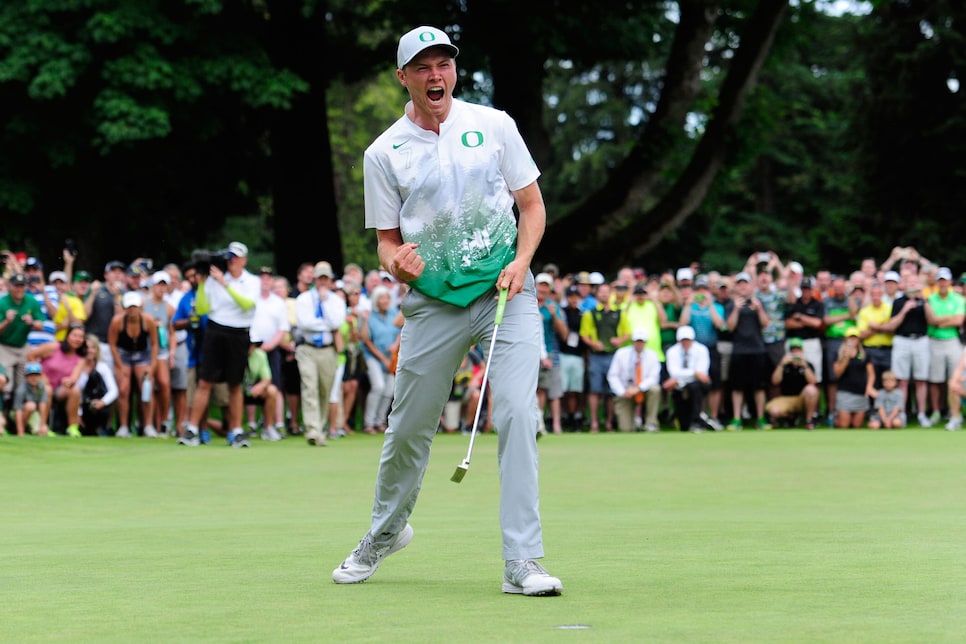 The best way to describe Raza's career is that he's an incredibly clutch golfer who came an inch from match-play perfection. In 2016, he provided the clinching point in both the semifinal and championship round, and the latter was one of the most dramatic moments of the MPE. Against Texas, with the title on the line, he battled Taylor Funk for 21 holes before holing a six-footer for birdie to give Oregon the title. After that incredible drama, he provided the clinching point in both the 2017 quarterfinals and semifinals to give the Ducks a chance to repeat. That put his career record at 5-0, and he had a chance to become the greatest match-play golfer ever with another win. He nearly did it, too, but in the final match against Oklahoma, Brad Dalke edged him, 2 and 1, to give Oklahoma the crown. A bitter end to a superlative career.
4. Russell Henley, Georgia (5-0)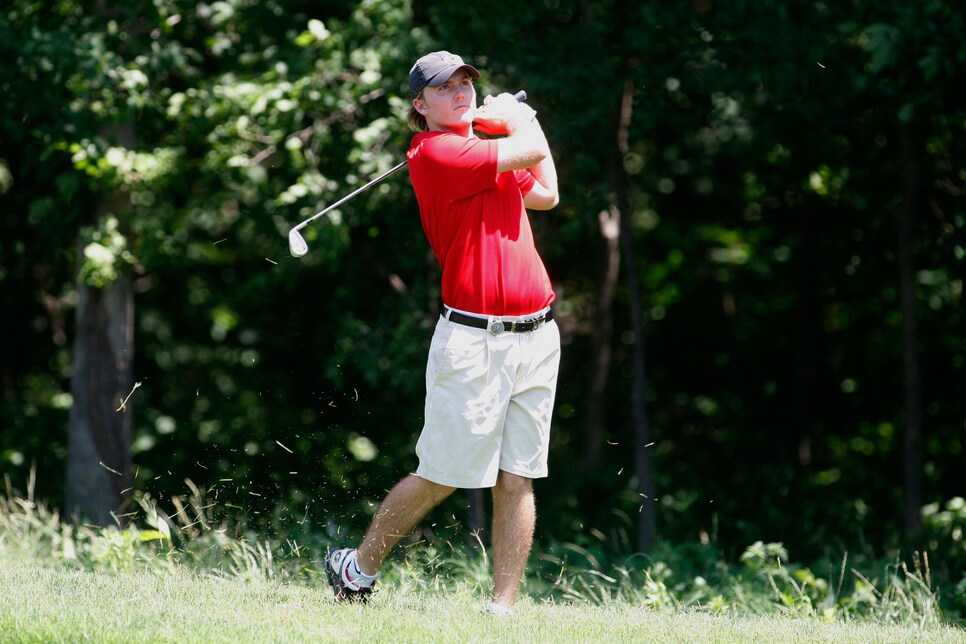 All Henley did was win. He holds the second-highest win total without a loss, and his victims included Henrik Norlander and NCAA individual champion Scott Langley. In his five matches, he only played the 18th hole once, and he's one of just three golfers to play in multiple years and still finish undefeated. He's also a great "what if"—Georgia didn't make the NCAAs in 2010, and there was no match play in 2008, Henley's freshman year. With more opportunity, he could be atop this list.
3. Cory Whitsett, Alabama (7-2)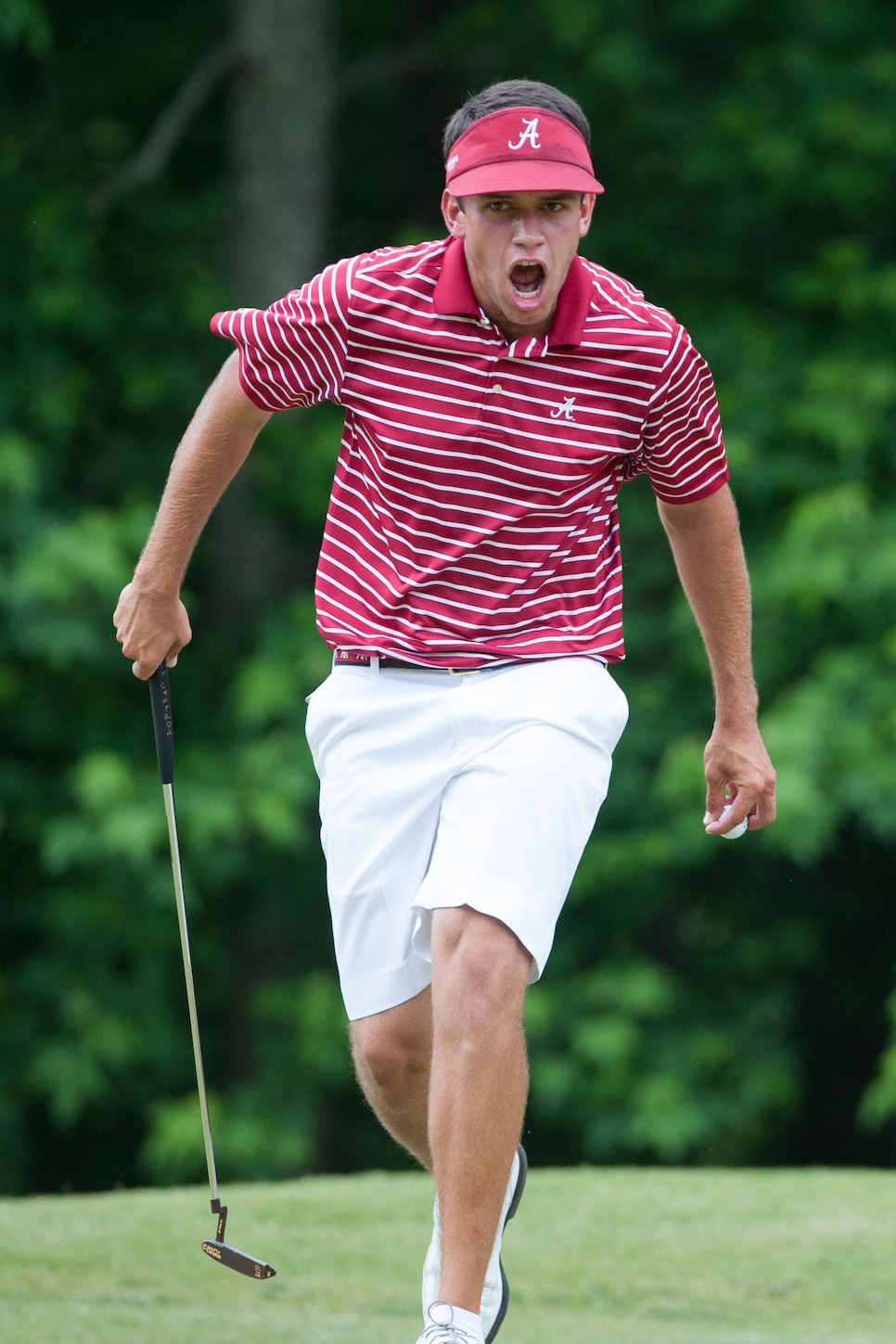 Sick of seeing Alabama yet? Whitsett is the last of the Crimson Tide to grace this list, and he's undoubtedly the best of the bunch. He has the most wins in NCAA match-play history with seven, but his story goes deeper—two years in a row, he played in the match that decided the national championship. It started in 2012 at Riviera, in a finals that included Jordan Spieth beating Justin Thomas. With everything on the line, Whitsett whiffed a chip on 18 and watched his opponent Dylan Frittelli sink a 20-footer to win the national title for Texas. The next year at Capital City Club, he made things easier by clinching the title for Bama on the 15th hole, and he helped the Tide win another championship in 2014 with a win against Oklahoma State's Jordan Niebrugge. He was the lynchpin of Alabama's three-year dynasty, and as he went, so went the team. Luckily for them, he almost always won.
2. Zach Wright, LSU (6-0)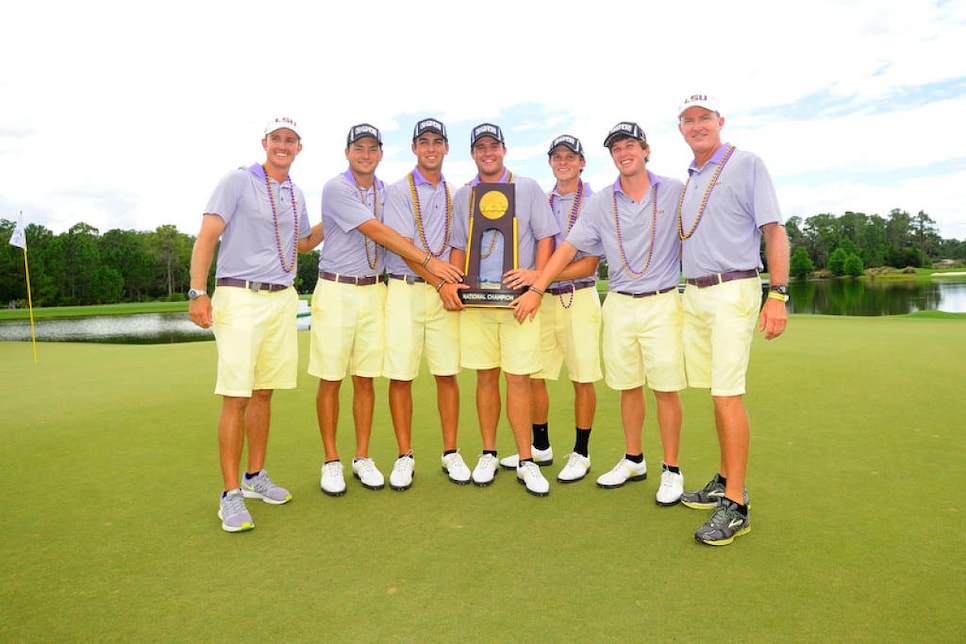 Aside from Frittelli, Whitsett lost to just one other opponent in his nine NCAA matches. That opponent was Wright. In three years, nobody beat Wright, and he's tied with the No. 1 player on this list for the most wins in the MCE without a blemish. The year after beating Whitsett, he went 3-0 to help lead LSU to a national title, and he added a final win against Oregon's Edwin Yi in 2016 to finish off a brilliant career. In those six matches, he only needed to play the 18th hole once—against Cory Whitsett.
1. Patrick Reed, Augusta State (6-0)
With almost every other player on this list, there's always a caveat, always a blemish. Patrick Reed had none. And yet, perfection is only part of his legend. Not only did he win all his matches, not only did he help his teams win two championships, and not only did he beat some enormous names along the way (Harris English, Brooks Koepka, Chesson Hadley and Peter Uihlein twice), but he did it in every possible way. He had dominant thrashings (sorry Uihlein), dramatic 18th-hole birdies (Hadley) and high stakes, grind-it-out grudge-match title clinchers (there is no more tragic figure in NCAA golf than Harris English). His Ryder Cup toughness is now legendary, and it's worth wondering if his experience with team match play in the NCAAs instilled the confidence that made him a juggernaut for Team USA. If that's the case, the NCAA's decision in 2009 may have influenced an entire generation of Ryder Cup matches. For Reed, it all started here—in the NCAA match-play era, there has been nobody better.