College Golf
How the NCAA Championship has become one of golf's best tournaments
Adding match play to decide the team winner has turned college golf's biggest tournament into the rare great event that is made even greater by history
Starting in 2009, the powers-that-be in NCAA Division I men's golf made the wise decision to completely transform their national championship. The individual title would remain a stroke-play affair, but match play would be added to determine the team champion. Since then, the top eight schools in stroke play have advanced to a single elimination bracket, each team's full five-man roster competing head-to-head.
The rationale behind this choice was clear—while stroke play might produce an exciting finish once in the proverbial blue moon, a match-play contest was sure to deliver high drama every year. Even better, it would have the secondary effect of giving the underdog a real shot to upset the favorites—the kind of shot that they just wouldn't have over four rounds of stroke play. (Oh, and perhaps with more exciting finishes baked in, a television partner just might want to broadcast the season's most important event.)
The decision has paid off in a big way: 2018 marks the 10th year using match play to determine a men's team champion—and the fifth year that the event has been televised live on the Golf Channel. In the nine championships since its advent, the No. 1 seed from the stroke-play rounds has won the national title exactly … zero times. How's that for unpredictability?
(Seriously, though, the No. 1-seed thing is a legitimate curse at this point. It gets even weirder when you consider that those teams are 7-2 in the first round, meaning that in nine years, seven No. 1 seeds have reached the semifinal, and three have reached the championship, but none have won. Meanwhile, No. 7 seeds have won three titles.)
And the matches have been terrific. Even among your average-to-hardcore golf fans, these players are largely unknown because of NCAA golf's niche status, but each year social media lights up as the match-play tournament draws toward a (usually) thrilling conclusion. (So thrilling, the NCAA Women's Championship adopted the same format in 2015 and has seen the title decided by a final match that's gone into extra holes three of the four years, including Arizona's nail-biting win on Wednesday at Karsten Creek.)
At the men's event, in 2016, you had Oregon's Sulman Raza beating Texas' Taylor Funk in the final match to give the Ducks the title in front of their hometown fans at Eugene Country Club—only to see them lose in the finals a year later to Oklahoma, the current defending champion.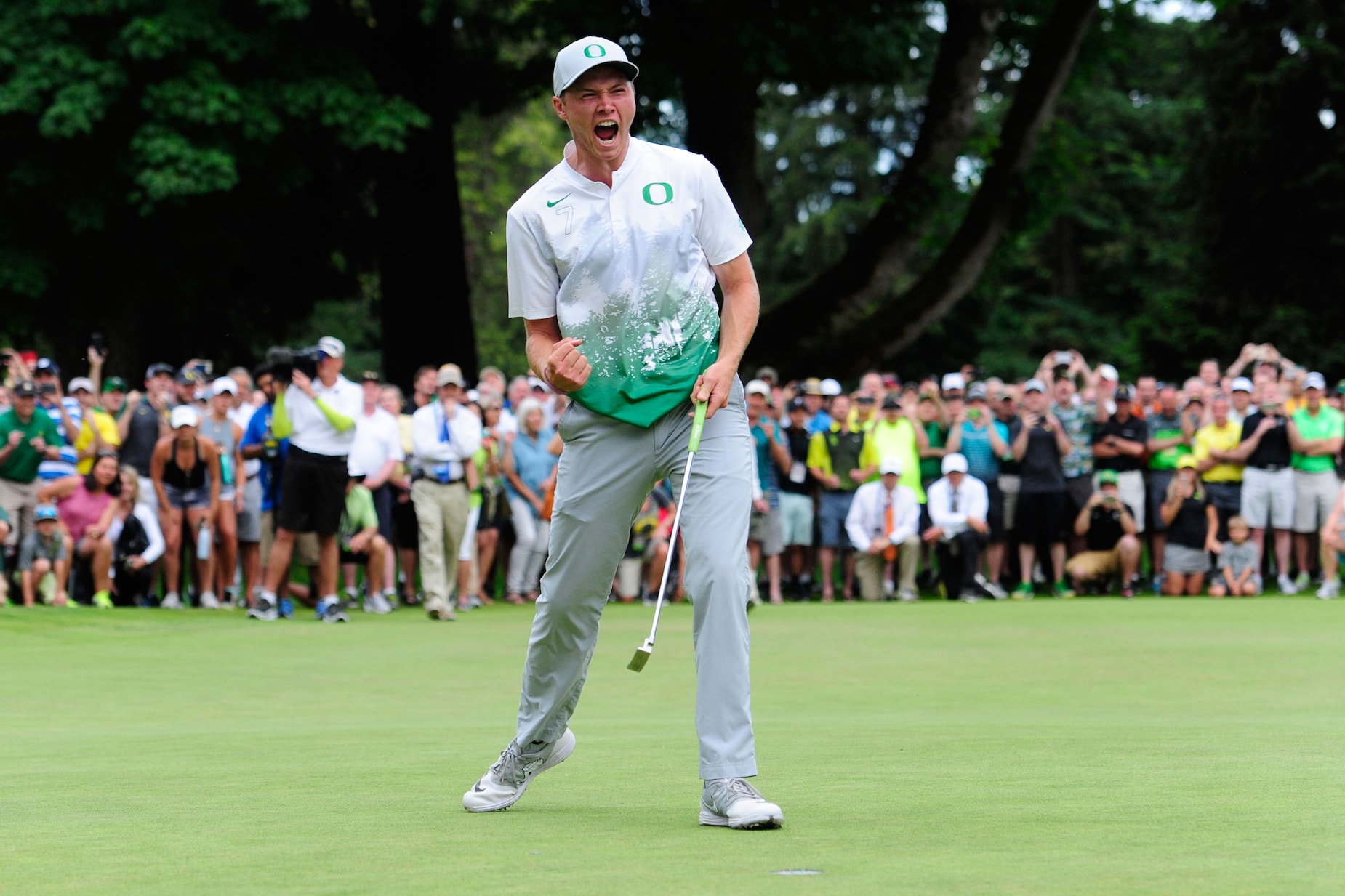 sulman-raza-oregon-ncaa-2016-celebration.jpg
EUGENE, OR - JUNE 1: Sulman Raza of Oregon sinks a put on the 21st hole of play to seal the national championship for Oregon during the final round of the 2016 NCAA Division I Men\'s Golf Championship at Eugene Country Club on June 1, 2016 in Eugene, Oregon. (Photo by Steve Dykes/Getty Images)
Going back to the "early" years, the names start to become a lot more familiar—Texas' Jordan Spieth defeating Alabama's Justin Thomas, Georgia's Brian Harman beating Oklahoma State's Rickie Fowler, Illinois' Thomas Pieters beating Cal's Max Homa in a clash of NCAA individual champions, and Augusta's Patrick Reed beating … well, everybody.
That's the conceit I'm getting at in the headline above—the players contesting this year's championship, which begins Friday at Oklahoma State's home course, Karsten Creek, are not household names, at least not yet. But some will be within the next five years—if not sooner. (Last week's PGA Tour winner, Aaron Wise, won the NCAA individual crown two years ago as a sophomore at Oregon, meaning he actually would be a senior playing his final college event this week if he wasn't busy winning on tour.) And as good as this year's matches should be—host OSU is also the No. 1 ranked team in the country—they'll acquire a sense of history as time passes and the players involved go on to professional fame and glory.
Over the years, I've spoken to several college coaches, many of whom were around before the switch to match play and after. The drama of their NCAA Championship experiences was a theme that often arises in conversations, and most of the memorable moments have happened in the post-match-play era. Though I never saw any of them take place in person, and only heard the details secondhand through coaches and players, those stories are among the best I've heard during the time I've spent on tour. There's something fascinating about a match whose legend increases with time, as though a seed was planted on the day itself and its notoriety grew with the reputation of its combatants.
The Spieth-Thomas clash is a prime example. In the championship match in 2012 between Texas and Alabama at Riviera Country Club outside of Los Angeles, the two wunderkinds and good friends met up in the fourth spot—a match-up that was likely not intended or hoped for by at least one coach, judging by the fact that neither had played No. 4 up to that point in the tournament. Yet there they were, both freshmen, with Thomas having recently edged out Spieth for player of the year. That day, the magic belonged to Spieth—on the par-4 15th hole, he holed a 4-iron for an improbable eagle, and Thomas was cooked. So was Alabama. The No. 1 seed fell when Texas' Dylan Frittelli made a 20-foot birdie on the 18th hole to win the title.
Then there's my personal favorite: Georgia's Harman vs. Oklahoma State's Fowler. The duo squared off in the first round in the very first year of match play in 2009 at Ohio's Inverness Club. After making a putt on the 15th hole to remain 1-down, Harman looked up to see that Fowler and his coach had left the green. Harman, well known for his temper since his junior days, took it as an insult. "I'm about to kick this guy in the teeth," Harman told his coach, and that's what he did—three straight birdies gave him the match, knocked top-seeded Cowboys out of the tournament, and ended Fowler's college career. (Maybe this was the start of the No. 1-seed curse, and maybe we should rename it "The Fowler Curse.") When Georgia coach Chris Haack told me about the match, he could only laugh. "That sucker should've gotten that flag stick, shouldn't he?"
And no discussion of NCAA golf is complete, of course, without Reed. His exploits in the match-play stage of his two national title runs with Augusta State are already infamous—the way he annihilated Peter Uihlein two years in a row as he became the bane of Oklahoma State's existence. And there was dramatic 1-up wins against Georgia Tech's Chesson Hadley and Florida State's Brooks Koepka in consecutive rounds in 2010.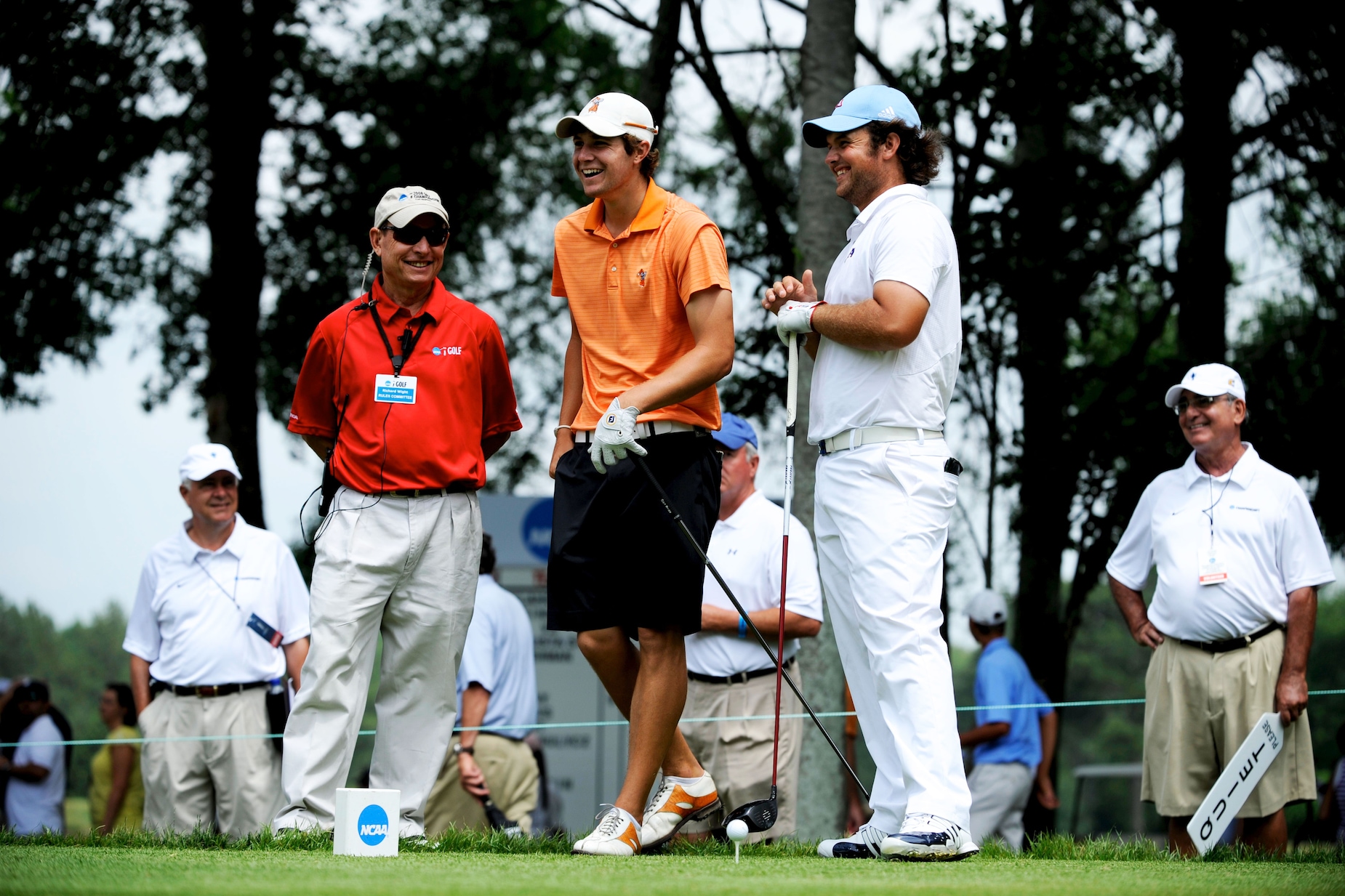 peter-uihlein-patrick-reed-ncaa-2010-honors-course.jpg
6 JUN 2010: Patrick Reed of Augusta State University (right) shares a laugh with Peter Uihlein of Oklahoma State University (left) while waiting to tee off during the 2010 NCAA Men\'s Division I Golf Championship at The Honors Course in Chattanooga, TN. Augusta State University defeated Oklahoma State University in match play to win the national title. ©Brett Wilhelm/NCAA Photos via Getty Images
But I feel very safe in predicting that nothing in the annals of college golf has ever (or will ever) top the story of Reed's win against Georgia's Harris English in the 2011 championship match at Karsten Creek. Without rehashing the entire saga of his college years, Reed had previously played for Georgia before an acrimonious ending sent him to Augusta, and Reed's own Augusta teammates conveyed their support to English before the match. But in what one person called "the death of karma," Reed won, and so did Augusta State. The next day, he turned pro.
And that's just a small sampling of the great moments from the short but impressive history of the NCAA's match-play era. It's the rare event that can be enjoyed in the present, due to the inherently dramatic format, but which gains additional significance as time passes. The quarterfinals begin on Tuesday, but the story will not end with the championship round on Wednesday—the triumphs and failures of those two days will be magnified with the benefit of history.
You are using an unsupported version of Internet Explorer. Please upgrade to Internet Explorer 11 or use a different web browser.
You are using an unsupported version of Internet Explorer. Please upgrade to Internet Explorer 11 or use a different web browser.