News
Did the best women's college golfer of all time just wrap up her career?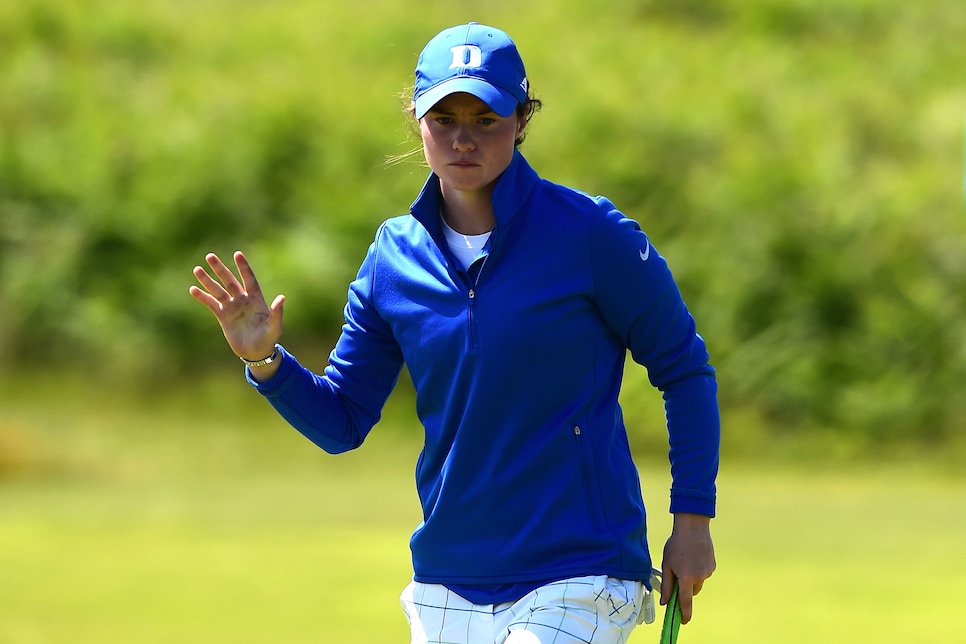 Richard Martin-Roberts/R&A/R&A via Getty Images
What was the biggest accomplishment during Leona Maguire's college golf career at Duke? How about just going to school all four years? The 23-year-old from Ireland had showed such talent at such an early age—playing on the Great Britain & Ireland Curtis Cup team at 15, winning college player of the year honors as a freshman—that most assumed her stay in Durham, N.C. would be sweet but short.
While Maguire proudly earned her degree, as did her twin sister Lisa, earlier this month, she saw her dream of winning an NCAA team title slip away on Tuesday at Karsten Creek Golf Club, when the Blue Devils fell to USC in the quarterfinals of the NCAA Championship.
All told, Maguire competed in 42 college tournaments (122 rounds), and when you look at her results as a whole, the two-time college player of the year clearly had one of the most impressive careers of not just any Duke golfer (which is stout company in and of itself) but in all of women's college golf.
Consider that Maguire finished her four years with a 70.97 stroke average, the best in Division I women's golf history by a player with 100 or more rounds. She carded 10 tournament victories, including three ACC individual titles. She had 24 top-five finishes (57 percent of her starts), 36 top-10s (85.7 percent) and 39 top-20s (92.9 percent). She posted 32 rounds in the 60s and 89 at par or lower.
Maguire's individual performances obviously also propelled Duke to team success. The Blue Devils won 14 team titles with Maguire in the lineup, and she helped lead them to match play at the NCAA Championship three times. Most impressively, only one of her 122 career rounds failed to count to her team's score.
In the history of college golf, there were players with more career wins (Amy Anderson had 20 at North Dakota State in earlier this decade, Juli Inkster won 17 times for San Jose State). And there were players with lower stroke averages for any given year (Alabama's Lauren Stephenson just broke the NCAA record this season with a 69.76 mark). There have even been players with more dominant individual seasons; Lorena Ochoa won eight of 10 starts in her second and last season at Arizona in 2001-'02.
But from a consistency standpoint over a four-year period, it's hard to find a comp with Maguire. One of the few players who can keep up is another Duke golfer, Amanda Blumenherst, who had more wins (12) and more top finishes (31 top-fives, 37 top-10s) in her four years in Durham. However, Maguire scoring numbers top Blumenherst's (71.67 career average, 30 rounds in the 60s, and 78 rounds of par or better, while playing 12 more rounds in her career).
Maguire's amateur accomplishments while in school also offer an intangible to her career. She was the No. 1 ranked women's amateur for a record 135 weeks, won the British Ladies Amateur and played on three GB&I Curtis Cup teams. She competed in five professional majors, and was one of three amateur golfers to qualify to compete in the 2016 Olympics, where she finished T-21.
"I wouldn't change a thing," Maguire told Golf Channel on Tuesday after winning her individual match but seeing the season, and her career, come to an end. "The experiences, the memories, I wouldn't change it for the world."