News
Alabama rolls to NCAA Women's finals, but victory is no foregone conclusion in facing Arizona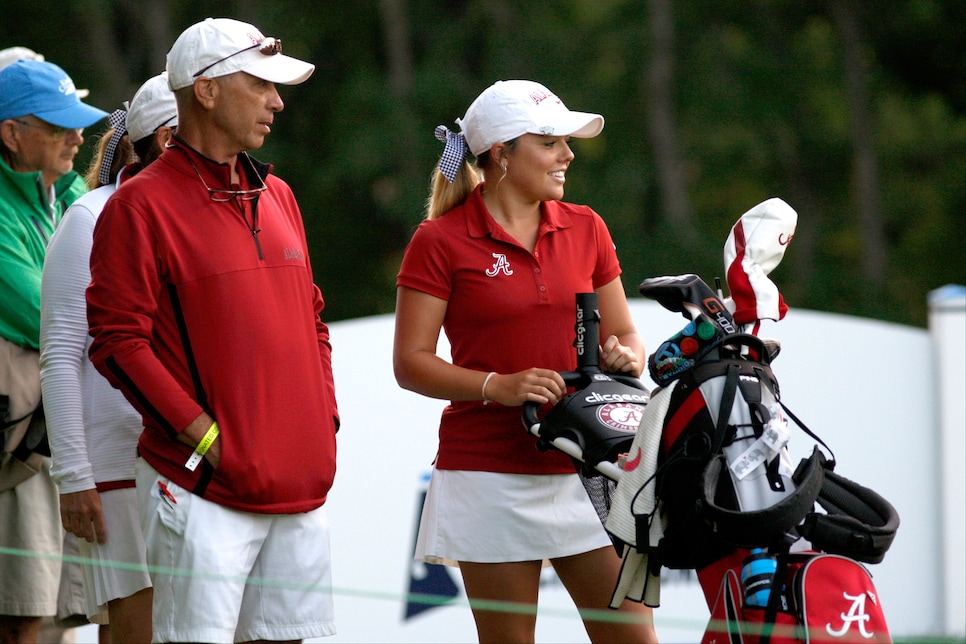 Contrary to what some will make it out to be, the deciding match of the NCAA Women's Championship isn't exactly the 2018 equivalent of Goliath vs. David. Yes, Alabama is the nation's top-ranked school according to Golfstat and shared low team honors after 72 holes of stroke play at Karsten Creek Golf Club. The Crimson Tide's experienced roster has three first-team All-Americans in the starting five in Kristen Gillman, Cheyenne Knight and Lauren Stephenson.
But their opponents on Wednesday, Arizona, didn't just stumble upon Stillwater, Okla., and ask if there was an extra spot in the field. The Wildcats came in ranked ninth in the country, having won twice this spring and finishing no worse than fourth in their seven starts. And while they needed an eagle on the 72nd hole of stroke play from Bianca Pagdanganan to get into a playoff for the eighth and final match-play spot, that took advantage of the opportunity, beating Baylor to advance to the main bracket. Then on Tuesday, they ignored the fact they were underdogs to a pair of Pac-12 rivals, UCLA in the quarterfinals and Stanford in the semifinals, knocking both squads off to earn a chance at the school's third NCAA title, but first since 2000.
Maybe the rest of the golf world perceives the Wildcats as a Cinderella story, but not coach Laura Ianello (who played on that 2000 Wildcat championship squad) and her fivesome of Pagdanganan, Haley Moore, Gigi Stoll, Yu-Sang Hou and Sandra Nordaas.
"I think the ladies on our team, they really took the momentum that we had from [Monday] and they brought it into their matches," Ianello said. "I feel like everybody on this entire golf team is really invested and committed and believes that we can make a shot at it."
Alabama women's coach Mic Potter knows there's nothing to be taken lightly on Wednesday, not with a national title on the line. It took him 27 seasons as a coach at Furman and Alabama before he claimed his first NCAA crown in 2012. The chance at a second is something he doesn't want to fritter away.
"Our job is to play our game, to drive it in the fairway, give ourselves good angles to approach the holes, hit smart shots into the green and use the great putting touch that all of our girls have," Potter said. "We have a wealth of match-play experience, it's just a matter of [executing]."
Potter had reason to be proud of his squad on Tuesday when the Crimson Tide took out Kent State in the quarterfinals, 4-1, and then beat USC in the semifinals, 3-1-1. Gillman, Knight and Stevenson all won both of their matches, setting up stout lineup.
"This is the best team I've ever had, front to back," Potter said. "We have a lot of depth this year. Lakareber [Abe] is an all-American before she got injured her sophomore year, and Angelica [Moresco] in our fifth spot has meant a lot to us, has been someone we can depend on for her rounds, especially toward the end of the year. [Gillman, Knight and Stephenson] playing the way they do, we just get more one good score, and we're a really good team."
But Arizona has its stalwarts playing some of their best golf, too. In the 3-2 quarterfinal win over the Bruins, Stoll, a junior from Tigard, Ore., beat the freshly named 2018 national player of the year Lilia Vu while Pagdanganan beat national freshman of the year Patty Tavatanakit. Stoll and Pagdanganan then won their matches against Stanford in the afternoon semifinals as well, while Nordaas took out the Cardinal's top player, Albane Valenzuela, 6 and 4.
If form holds, Wednesday's matches will be tighter than they might appear on paper, the match-play format having that effect, for better or worse, on the championship. Interestingly, since match play was added to the championship in 2015, the winners have all been Pac-12 schools (Stanford in 2015, Washington in 2016 and Arizona State in 2017). Ianello hopes this can be more omen than coincidence for Arizona.
"It's a nice feeling, the fact that we had a chance yesterday in that playoff, and then we excelled, continued it into today, and the momentum was there," Ianello said. "The hard work has been there, and these ladies deserve it. So I'm just so happy for them more than anything. Win or lose tomorrow, this has been a hell of a ride."
NCAA WOMEN'S CHAMPIONSHIP
Championship Match Alabama vs. Arizona 2:25 p.m. CDT: Lauran Stephenson, Alabama vs. Yu-Sang Hou, Arizona
2:35 p.m.: Kristen Gillman, Alabama, vs. Gigi Stoll, Arizona
2:45 p.m.: Cheyenne Knight, Alabama, vs. Bianca Pagdanganan, Arizona
2:55 p.m.: Angelica Moresco, Alabama, vs. Sandra Nordaas, Arizona
3:05 p.m.: Lakarebe Abe, Alabama, vs. Haley Moore, Arizona