News
Arizona claims 2018 NCAA Women's title over Alabama in a playoff thanks to a dramatic birdie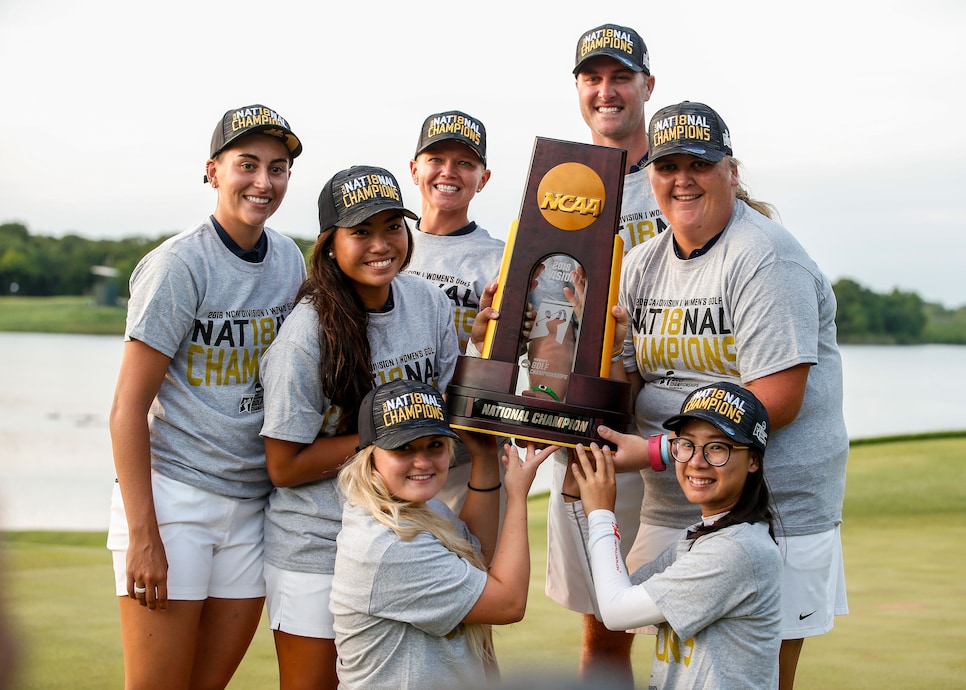 Photo By: Shane Bevel/NCAA Photos via Getty Images
Arizona's Gigi Stoll probably didn't know the Golf Channel microphone had caught her raw reaction as she searched for someone to hug on the 18th green late Wednesday afternoon. Moments earlier, teammate Haley Moore had rolled in a five-footer for birdie on the par-5 home hole to clinch an NCAA team title for the Wildcats, an outcome that seemed highly unlikely just 48 hours earlier. When the ball disappeared into the cup, pandemonium ensued as the folks from Tucson could finally exhale.
Gigi, to answer your question, no, there wasn't a dry eye to be found at Karsten Creek Golf Club as the NCAA Women's Championship came to a thrilling, tense, gut-wrenching conclusion. Not among the fans of the Wildcats, or their vanquished foe, Alabama. A long afternoon—the climax of a long 2017-'18 season—had come down to one final match between Moore and the Crimson Tide's Lakareber Abe, the squad's lone senior, when the day's first four matches were split 2-2.
In the end, one side shed tears of joy, the other tears of anguish.
You say you don't like match play deciding the NCAA title? Apparently then you don't like to see drama at its highest, pressure turned up to 11, or collegians rising to the challenge and learning they had something in them they might not have known was there. For the third time in the four years since the women's championship added match play to determine the team winner, extra holes were needed to settle the score. How great is that?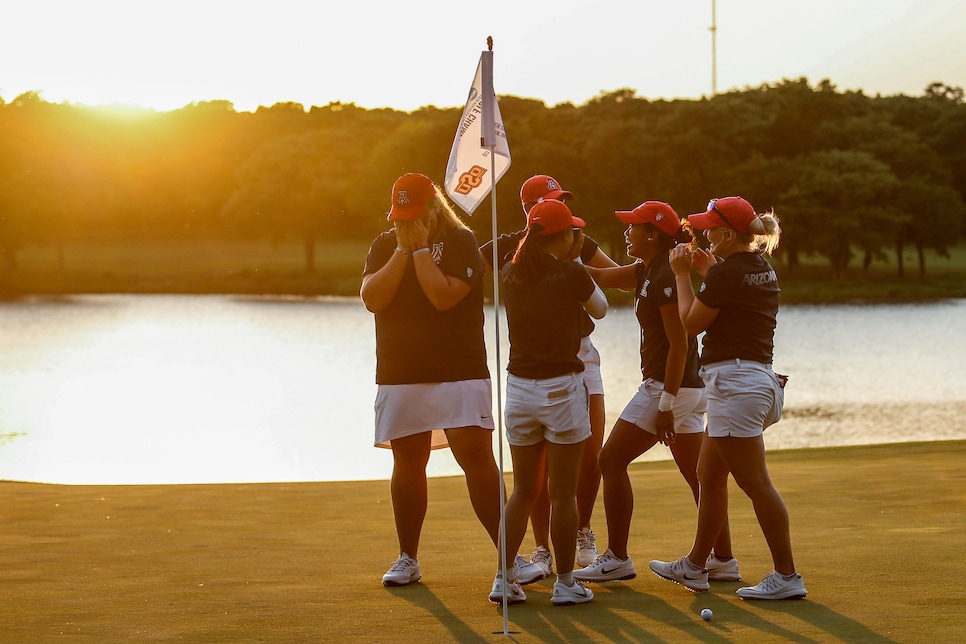 Shane Bevel/NCAA Photos via Getty Images
Give credit to Moore, a junior from Escondido, Calif. Playing in the fifth and final game, she saw what was happening in the matches ahead of her, how Arizona freshman Yu-Sang Hou had upset Alabama first-team All-American Lauren Stephenson in the lead match, and sophomore Sandra Nordass had earned the Arizona's second point with a 1-up win over Angelica Moresco.
Moore knew the outcome of the national championship was coming down to her match with Abe, and she stepped up even when she looked like she was struggling. Moore had a 2-up lead through nine holes, but watched Abe wins three straight to pull ahead, only to win the 13th hole to square the match.
Give credit to Abe, too. When she made a mess of the par-4 17th hole, hitting her approach shot into gnarly grass right of the green that eventually had her stop counting strokes after 7, she knew she needed to win the 18th in regulation to keep Alabama's title chances alive. And she came up clutch, hitting an amazing 3-wood second shot to the par-5 18th hole that trickled on to the green and resulted in a two-putt birdie from 12 feet that forced the sudden-death playoff.
Back on the 18th hole, both players tried to reach the green in two, Moore missing short left and Abe leaving her ball in the right greenside bunker. Abe nearly holed out for eagle, but left herself a ticklish six-footer for birdie as Moore chipped her ball to just inside Abe's mark. Abe didn't hit her putt firm enough. Moore did, and it was all over but the crying.
"It means so much," Moore said afterward. "It's actually like a dream. I never would have thought winning a national championship would be like this."
Amid the celebration, Arizona women's coach Laura Ianello did what Wildcats do. She beared down with one long, strong hug for Moore, and then looked her player in the eye saying: "That's why I put you in that spot."
Arizona had once been a perennial power, winning NCAA titles in 1996 and 2000, a team that Ianello played on. But as parity hit women's college golf, the school in Tucson saw its spot among the elite become more rickety.
It didn't look like this would be the year Ianello, in her eighth season as head coach, would get the program back to the top, at least not in the fall when they wrapped up play outside the top 35. From bad to worse, on Christmas Day, Ianello got word from one of her starters, Krystal Quihuis, saying she was turning pro and wouldn't be back for the spring.
But in came Hou, and up stepped junior Bianca Pagdanganan, a transfer from Gonzaga, and quickly Arizona's fortunes turned brighter, with two wins and no finish worse than fourth in seven spring starts.
Ultimately, when you think of Arizona's 2018 title run, you'll think of the putt Moore made in the playoff, clinching her own perfect 3-0 record in match play on the week. But you'll also think of another putt made on that 18th hole. On Monday, with Arizona sliding fast down the leader board in the final round of stroke-play qualifying after starting the day in third place, Pagdanganan had a 30-footer for eagle that turned out to be a must-make if the Wildcats were to grab the eighth seed in match play. And then this happened:
With that the Wildcats went overtime with Baylor, and earned that final spot after two extra holes. And then they knocked off Pac-12 rivals UCLA and Stanford in the quarterfinals and semifinals. Underdogs? Yes. Cinderellas? Not really.
Of course if the slipper fits …
As for the Crimson Tide, the pain will linger for a while. They were the No. 1 ranked team in the country entering nationals and tied with UCLA for the lowest score during the 72 holes of stroke play. They had three first-team All-Americans in Stephenson, Kristen Gillman and Cheyenne Knight. They were positioned to add a second NCAA title to the one the team earned in 2012. And damn if they didn't nearly pull it off.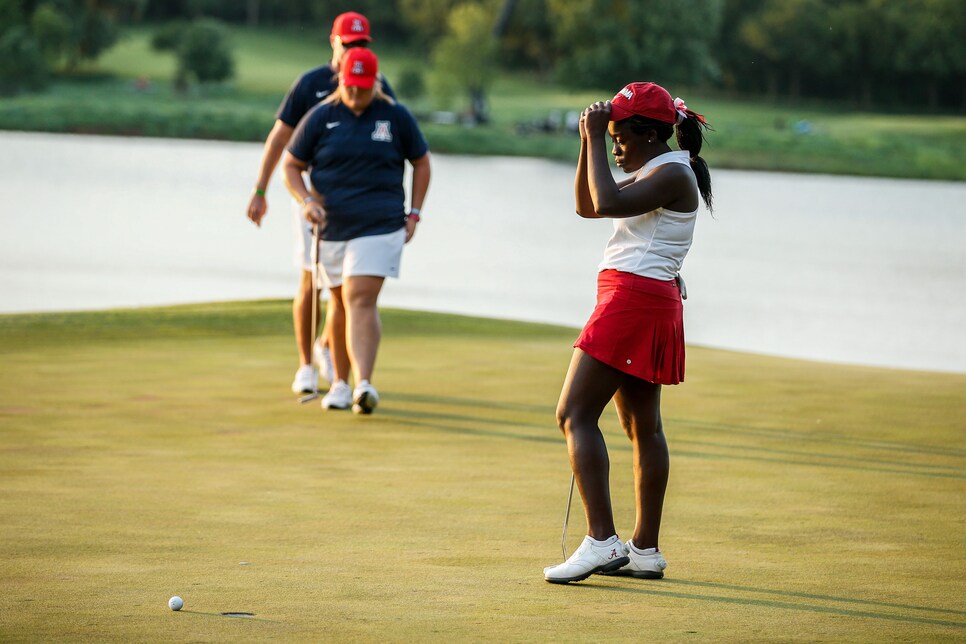 "I'm really proud of our girls," said Alabama women's coach Mic Potter. "They played great all week. You just have to know in match play anything can happen."
You bet anything can happen. And anything did.