News
Wake Forest's Jennifer Kupcho gets redemption from near miss in 2017 by taking 2018 NCAA individual title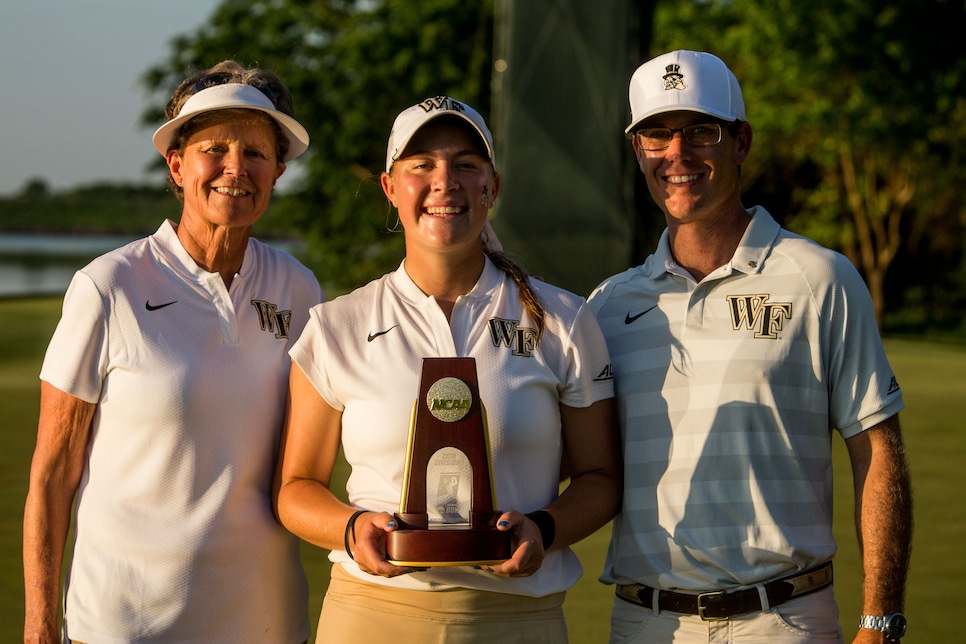 How could Wake Forest junior Jennifer Kupcho not help but think something to that effect Monday afternoon at Karsten Creek Golf Club, the front nine of the final round of stroke play at the NCAA Women's Championship going so disappointingly wrong?
Having watched the individual title slip away from her in 2017 at Rich Harvest Farms, the 21-year-old from Westminster, Colo., settling for second to Arizona State's Monica Vaughn after being up by two shots with two holes to play, it looked as if a similar stumble might be in store in 2018. After a birdie on the first hole Monday at the challenging Stillwater, Okla., course, Kupcho went bogey-double-bogey Nos. 5-7. Her share of the lead entering the final round was gone—she actually trailed by four after the three-hole slide—and so potentially was her confidence.
Yet with last year's defeat still fresh and serving as motivation, Kupcho decided she was not destined for a repeat performance. Five birdies, including two on the final three holes, offset by one bogey, on the back nine propelled Kupcho to a closing 71 and an eight-under 280 total, allowing her to hold off hard-charging Stanford's Andrea Lee and Arizona's Bianca Pagdanganan by two strokes and claim the first NCAA women's individual title by a Demon Deacons golfer.
"My assistant coach [Ryan Potter] was just in there in my ear saying there's going to be mistakes down the stretch, just keep fighting, just keep fighting, almost annoying to a point," Kupcho explained after burying a 65-footer for birdie on the par-4 16th hole and then making another birdie on the par-5 18th to secure her fourth win of the 2017-'18 season. "Obviously, it worked. I came back and I did it."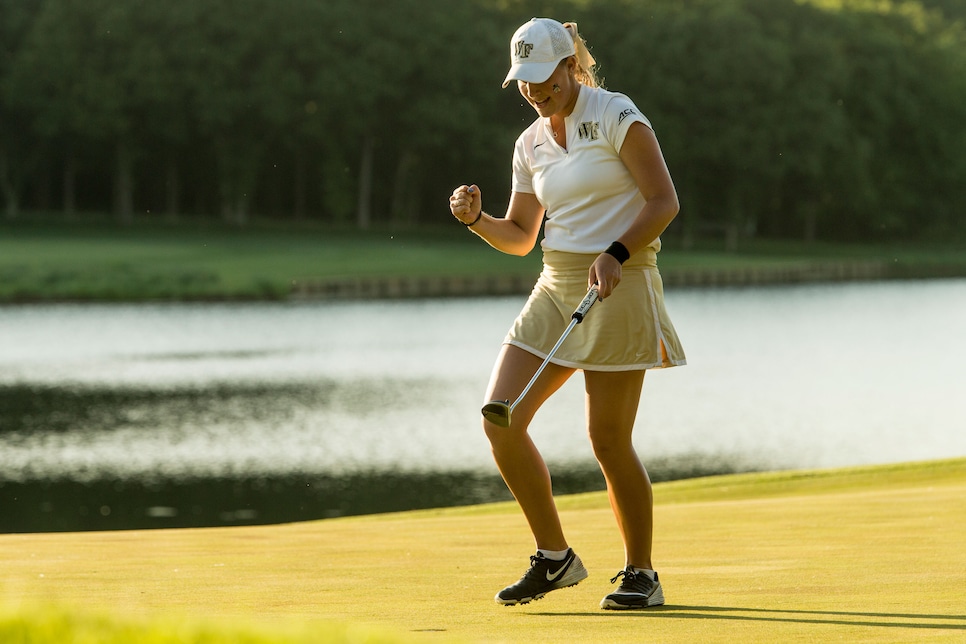 In the process, Kupcho became the first player to win an individual title the year after a runner-up finish since Arizona's Susan Slaughter in 1989-'90.
As many as five players appeared to be zeroing in on the title during Monday's final round. While Alabama's Cheyenne Knight, co-leader with Kupcho entering the final round, stayed in the mix through the front nine, a closing two-over 38 on the back ended her chances as she'd fall to fourth place, three strokes back.
Ohio State's Jaclyn Lee also was in the mix early, but played her final 11 holes in four over and finished T-5.
Meanwhile, Andrea Lee charged seemingly from nowhere after starting the day tied for 13th. The Cardinal sophomore All-American, playing the back side first, was five under through her first eight hole before eventually finished with a bogey-free 65. But it proved too little, too late, as did the 18th-hole eagle from Pagdanganan, who finished the day with a closing 72.
Besides deciding the NCAA individual champion, Monday's play also determined the eight schools advancing to match play. UCLA shot a three-over 291 to catch third-round leader Alabama and share first place at nine-over total.
"We're excited," said UCLA women's coach Carrie Forsyth. "This is what we've been waiting for all year. We're excited to get the chance to play in the match play portion. It should be a lot of fun. We're looking forward to it."
USC (16 over) finished third after a Sunday five-under 283, the lowest score posted by anyone in stroke play. Northwestern (21 over), Stanford (28 over), Duke (30 over), Kent State (32 over) and Arizona (33 over) after knocking out Baylor in a two-team playoff for eighth and final spot. (Pagdanganan's eagle putt on the final holewas hardly too little, too late in the team competition, as it forced the playoff.)
Both the quarterfinals and semifinals will be played Tuesday at Karsten Creek, with the finals set for Wednesday.
NCAA Women's Championship
Quarterfinals
No. 1 UCLA vs. No. 8 Arizona
No. 2 Alabama vs. No. 7 Kent State
No. 3 USC vs. No. 6 Duke
No. 4 Northwestern vs. No. 5 Stanford