News
Arizona State's Monica Vaughn capitalizes on late miscue to claim NCAA individual title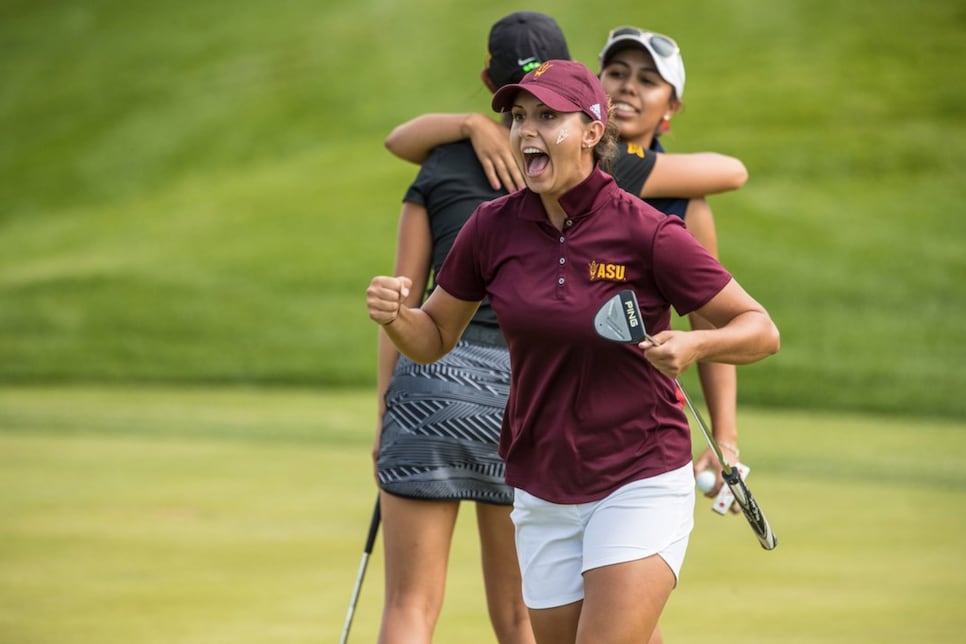 There wasn't enough time for Monica Vaughn to get nervous about holding the lead at the NCAA Women's Championship before the 22-year-old senior had become the sixth player in Arizona State's history to win the NCAA individual title.
The Reedsport, Ore., native and former first-team All-American was playing solid, steady golf during the final round of rain-shortened 54-hole stroke-play competition at Rich Harvest Farms outside Chicago on Monday, yet she still sat four strokes back of Wake Forest's Jennifer Kupcho with four holes left to play. But when the Demon Deacon sophomore stumbled on the 17th, hitting her approach shot short of the green and watching it roll back into the water en route to a triple-bogey 7, and Vaughn birdie two of her final four holes, the seemingly inevitable storyline had been altered.
That's not to say Vaughn is a fluke champion. On the contrary, a victory in her final collegiate start—sealed with a closing one-under 71—seems only appropriate for someone who had posted top-10 finishes in six of her final eight collegiate starts entering the national championship, including a win at the NCAA Regional in Lubbock, Texas.
Add in her triumphant one-over 219 total and Vaughn in her final eight college events had six top-three showings, 12 sub-par rounds and a score in relation to par of 14 under.
"Being a senior, and to finish like this is an amazing feeling," said Vaughn, a member of the 2016 U.S. Curtis Cup team. "I can't even describe how I'm feeling right now."
Vaughn's good fortune, however, was no doubt aided by Kupcho's surprising late stumble. For the previous 52 holes, the Westminster, Colo., native, playing as an individual after Wake failed to advance as a team to the championship, looked unflinchingly steady. She followed up an opening-round 74 (on a day when the scoring average was 80.77) with a second-round 70 (the best score on Sunday, where the average was 77.80).
Kupcho was two under for the round on Monday before making a bogey on the par-4 15th. But she bounced back with a routine par on the 16th. After hitting a perfect drive on the 17th, Kupcho had just 127 yards to the hole, with water guarding the green in front and on the right. Her wedge approach, however, failed to carry the green, hitting the bank in front and repelling into the water.
"I thought I hit it perfect," Kupcho said afterward. "It was right on line. Just came up a couple yards short."
A birdie on the par-5 18th would still have left her in a playoff, but an errant tee shot forced Kupcho to lay up her second shot. When she pushed her third over the green, she had to settle for a par and a closing 74 that left her tied for second at two-over 218 along with Duke's Leona Maguire, who capped off her college career with her 26th top-10 performance in 30 starts.
Vaughn's week at Rich Harvest Farms is far from over. Her performance helped push the Sun Devils into match play as the squad, ranked seventh by Golfstat, finished third overall, 14 strokes back of No. 1 seed Northwestern and four behind the No. 1 ranked team in the country, fellow Pac-12 rival Stanford.
"You know, I'm just going to go back and get something to eat and get a lot of sleep as quickly as I can," Vaughn said when asked about avoiding a hangover. "Get a lot of sleep, and this week is not over yet. We're not done. The Sun Devils are not done yet. We're going to go out and give it our best shot tomorrow and Wednesday."
ASU faces Florida in their quarterfinal match on Tuesday morning. In the other quarterfinal tilts, Northwestern squares off against Kent State, while Stanford takes on Baylor in a rematch of the 2015 NCAA Championship showdown. The final clash pits Ohio State against USC.