The Loop
Pandemonium ensues after Oregon wins its first NCAA men's golf title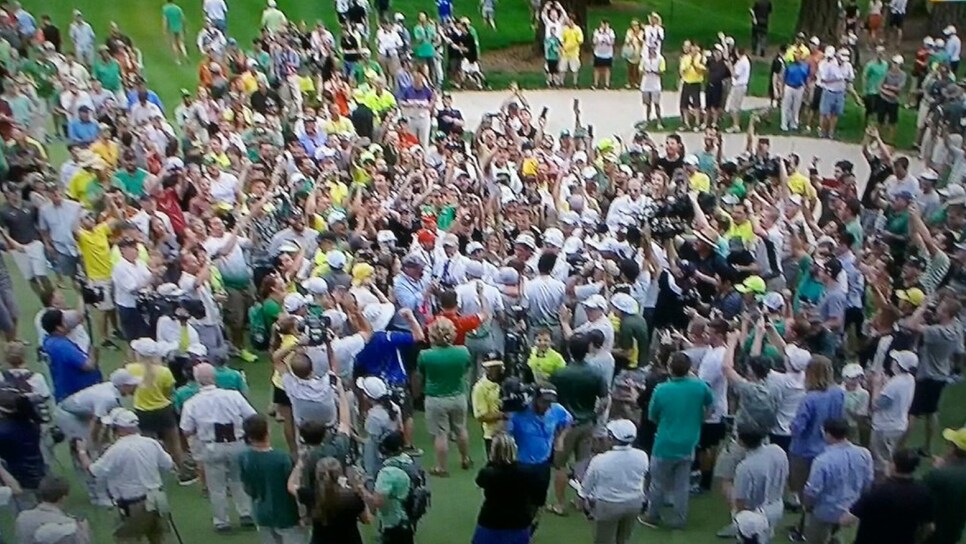 Eugene Country Club sits less than two miles from Autzen Stadium, which seems only appropriate given that the finals of the NCAA Men's Golf Championship on Wednesday looked and felt a lot like a college football game, right down to the screaming fans storming the field after the home team claimed victory.
With Oregon and Texas tied 2-2 (which is a story in and of itself), Duck redshirt junior Sulman Raza rolled in a five-foot birdie on the 21st hole of his match against Taylor Funk to give his school its first NCAA team title in golf.
Don't think college golf has come a long way? Just look at this:
Contributing to the raucousness was the fact that Oregon was the first team to win an NCAA title while hosting the championship since Oklahoma in 1989 (and only the fifth overall). Add to that the fact that Raza is a native of Eugene who grew up playing this course and chose to stay at home to play his college golf and you can see why the crowd was so electric.
On the 18th hole, Raza had a chance to win the title but his 25-foot birdie try missed left, and on the 19th hole his 10-footer for birdie missed right. He then sweated out Funk missing an eight-foot birdie on the 20th hole that would have given the Longhorns their second national title in five years before pulling off his heroics on the 21st.
"I just felt like everything was on my shoulders and I handled it great," Raza said. "It's the best feeling I ever felt in my life."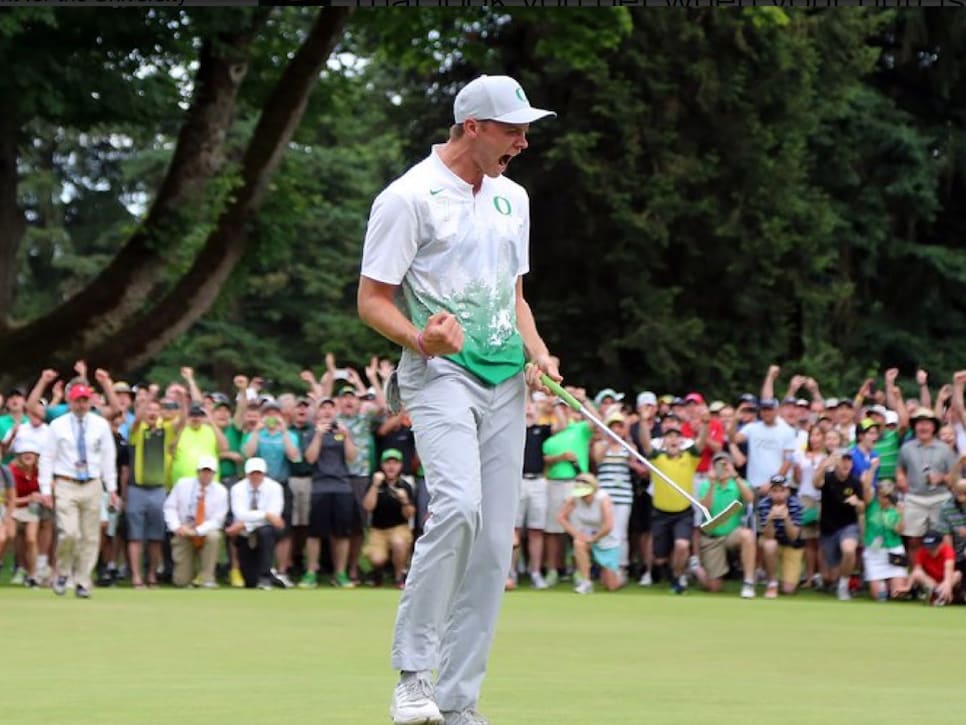 Before the first ball was struck Wednesday, Oregon was already leading the finals 1-0 after Texas junior Beau Hossler had to concede his match with Zach Foushee. The left shoulder injury that Hossler suffered the day before in the semifinals hadn't improved enough for him to be able to play. (As it turns out, his gutsy victory over USC's Andrew Levitt on Tuesday appears to have been Hossler's last college round as the first-team All-American and national player-of-the-year favorite is expected to turn pro in the coming days; the John Deere Classic announced Hossler will play in its event this summer as a professional.)
The Ducks then went up 2-0 when Edwin Yi beat Gavin Hall, 4 and 3. But to their credit, the Longhorns, trying to become the first No. 1 seed to win the NCAA title since match play was adopted in 2009, didn't fade away. Scottie Scheffler upset NCAA individual champion Aaron Wise, 4 and 3, and Doug Ghim knocked off Thomas Lin, 2 and 1.
The fans, who numbered in the thousands, were excited for Raza and the rest of the Duck squad that won the school's first team title in a sport other than track and field since Oregon's 1939 hoops team. They also were cheering coach Casey Martin, another Eugene native who, after famously trying to play on the PGA Tour, took over as the Ducks' coach in 2006-'07.
Twice before Martin has led Oregon to NCAA match play, reaching the semifinals in 2010 and 2012. This year's team was only ranked 20th heading into nationals, but Martin knew the local knowledge his players had at Eugene C.C. and the potential for being lifted emotionally by a hometown crowd might give this specific team the best chance of any he had as a coach to claim the title.
"It was just so much fun to do this here, with all the support that we got this week," Martin said. "It's a special group and it's just so awesome to bring it to Oregon.
"This is a track school, a football school, a basketball school. Now it's a golf school, too."