News
Oklahoma beats Oregon, wins 2017 NCAA men's golf championship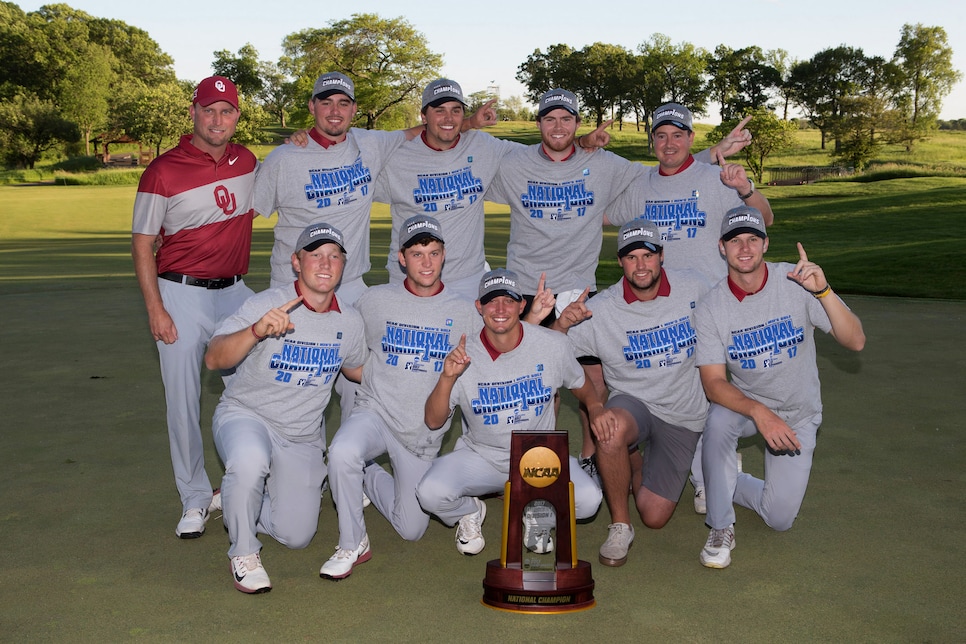 Family ties forever destined Brad Dalke to attend the University of Oklahoma, the third-generation Sooner famously committing to play golf at OU when he was just 12 and not even yet done with seventh grade. Perhaps it was only fitting, then, that the 19-year-old sophomore earned the deciding point to clinch the 2017 NCAA men's team championship for the school that's in his family DNA.
With a 2-and-1 win over Oregon's clutch fifth-year senior Sulman Raza (the man who secured the Ducks' NCAA title in 2016), Dalke pushed the Sooners to a 3-1-1 triumph, keeping the defending champs from repeating at Rich Harvest Farms outside Chicago, and earning OU its second ever national title to go with its 1989 prize.
"I can't wait to get to wear a ring, like my dad," Dalke said afterward, his father, Bill, having been a linebacker on the 1975 Oklahoma football that won the national championship under storied coach Barry Switzer. "It's just starting to sink in."
It wasn't just Bill with the OU ties. Brad's grandfather, Ken, played baseball and basketball for the school, hitting the game winning shot that put the Sooners into the 1947 NCAA championship game. His grandmother, Pauline, was a school cheerleader. Dalke's mom, Kay, also played on the first women's golf team at OU.
Truthfully, though, it was sweat and tears far more than blood that explained Dalke's performance down the stretch of the 2016-'17 college season. Since playing in the Masters in April, a perk of finishing runner-up to Curtis Luck at the U.S. Amateur last August, Dalke has finished T-10, T-9 and first at the NCAA Stanford regional. This after Dalke posted no better than a T-18 finish in his eight prior starts.
The turnaround wasn't shocking to Oklahoma coach Ryan Hybl. On the Friday after Dalke shot a 75 at Augusta National to ultimately miss the cut, Hybl predicted that having the hoopla—and distraction—of playing in the major behind him would allow his top performer to focus on the remainder of the college schedule, something that hadn't happened for most of the spring season prior to April. Sure enough, Hybl's vision became the reality.
Yet you can't win a team title in the current match-play format with just one player. And Hybl, thankfully, had five guys he could rely on when the pressure was on, three of whom had won individual titles during the course of the season.
Sophomore Blaine Hale and senior Max McGreevy stepped up on Wednesday, secured OU's first two points with convincing wins over NCAA freshman-of-the-year Norman Xiong (4 and 3) and Edwin Yi (3 and 2). While Rylee Reinertson would fall to Oregon's Wyndham Clark, 1 up, junior Grant Hirschman was all square on the 18th hole with Ryan Gronlund, and Dalke was there in the anchor match to make sure the Sooners didn't let this one slip away.
"These guys just never quit," said Hybl, in his eighth year in Norman. "They were all in the moment, and I thought they did a great job handling the nerves."
While becoming the first defending champs to reach the finals the next year and not take back the title since match play began in 2009, the Ducks had much to be proud of for returning to the championship match. Casey Martin's squad only had two of the starting five from the team that won it all in Eugene last May. And then there was the fact that they weren't playing in Eugene this year, but rather far away from home with little in the way of fans to help be an emotional pick me up.
Just to get to match play was a story in itself. With 18 holes left in stroke-play qualifying on Monday, the Ducks sat T-13, 10 strokes out of one of the top eight spots needed to advance to match play and looking like they were on their way back to Eugene. But a furious rally—capped with four straight birdies from Gronlund—jumped them into T-5 and gave the squad new life.
Inspired by the team's second chance in match play, Raza led the way for the Ducks, winning both his quarterfinal and semifinal matches to extend his match-play record 5-0. But the hot putter that he rode on Tuesday cooled against Dalke, Raza losing the first two holes and never actually hold a lead in the match.
"We didn't seem to get a whole lot of momentum early," Martin said. "A few guys got up, but as I was out there, didn't seem like we had a whole lot of exciting things happen, not a lot of putts drop. So it's hard to win when you're playing a great team without a little bit of magic, which we didn't quite have today."
Of course as a coach you dream of winning an NCAA title, but for Hybl there were moments during the season when he felt something deep inside, something that said to him this would finally be the Sooners' season despite the squad winning just two times during the year and entering nationals ranked 17th.
Throughout the spring, Hybl says he made notes on his phone whenever he saw good things, a reminder that this group could be something special. In the post-round press conference he referred to a few and how they comforted him as the postseason approached.
"It's interesting because this group individually since I've been at Oklahoma, this has been our best individual year," Hybl said. "Max has won twice, Grant has won twice, Brad won once out at regionals. We had five individual winners, which not too many teams can say that. Not many, I don't know, we need to look into that. So the firepower was there."
No doubt Sooner nation is basking in the glow of the victory. So, too, is a small but vocal subset of the crowd—Dalke nation. Brad is one of seven kids, and the tight knit family bleeds Sooner crimson. That the blue-chip recruit would come through to secure the school its ultimate prize, well, was there really any other outcome that would have made sense?
Not if you believe in destiny. Or hard work.