Closing Time
Hungry Collin Morikawa feasts on Kapalua to build huge lead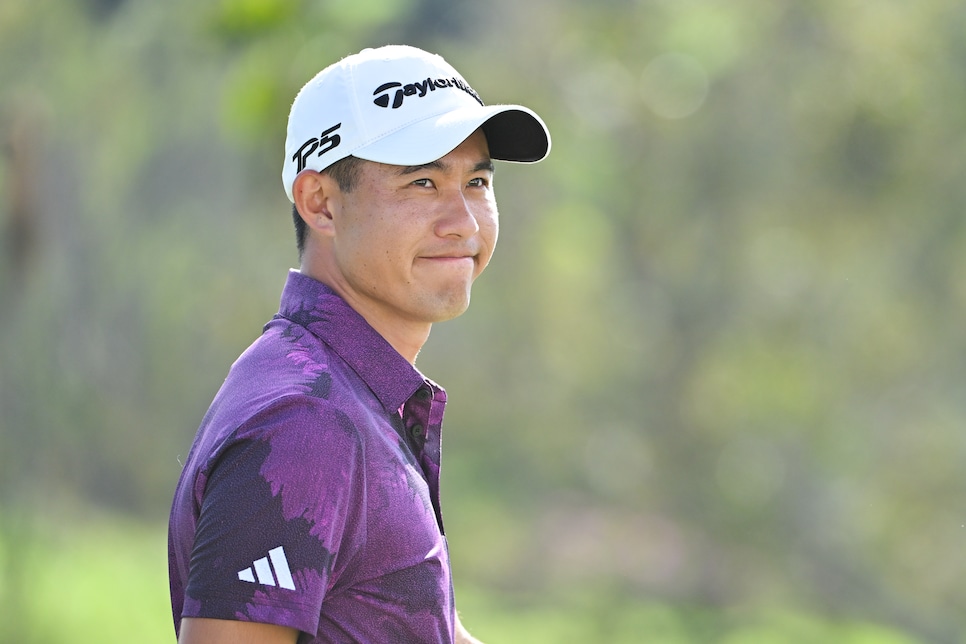 KAPALUA, Hawaii — It's not quite accurate to say that Collin Morikawa is hungry for a win.
"That would be an understatement," he said, clarifying he feelings about trying to claim victory at the Sentry Tournament of Champions.
After feasting on the Plantation Course at Kapalua Resort for a third straight day, he's set himself up for one happy meal. Winless since the 2021 DP World Tour Championship, Morikawa continued his impeccable play on Saturday with an eight-under-par 65 and surged to a six-stroke lead through 54 holes in this "elevated" $15 million event. He remains bogey free and will attempt to go wire to wire and collect his sixth PGA Tour title after posting 24-under 195, a career low aggregate total by three shots.
"He's putting really good. He doesn't miss a shot. It's a hard combo to beat," said J.J. Spaun, one of three players who are the closest pursuers.
Spaun, who shared the first-round lead with Morikawa and Jon Rahm, had a 69 on Saturday. He was joined at 18-under 201 by reigning U.S. Open champion Matt Fitzpatrick, who shot 66, and Masters champion Scottie Scheffler, who had a 69 and then went straight to the practice putting green after missing a six-foot birdie putt that would have left him five behind.
Morikawa has barely missed from anywhere for three days, complementing his usually reliable ball-striking with a revamped putting technique that has him leading the field with a gain of 6.778 strokes. Golf is never easy, but he agreed that he is very comfortable with his game and the alterations he began to incorporate after the Presidents Cup in September.
"Yeah. I mean, these changes, they're very big because now I understand. But it's not like I'm putting completely different," he said. "I thought when I went to the saw putting grip like that that was even a bigger of a change compared to when I'm doing now because I had never putted with the saw. Like I had no clue if the ball was going to go forward. It was just a roll of the dice. Now it's just understanding what I'm doing. So, obviously, I've made changes, but they have been simple changes to where like on the golf course I'm not really thinking about much."
Well, he is thinking about one thing. He admits he's a results-oriented kind of guy. So he's thinking about winning—his best chance to do so since he led by five shots in the 2021 Hero World Challenge before getting passed in the final round of the unofficial event by a charging Viktor Hovland.
"It has [felt like it's been a while], I think just because what we talked on yesterday is like last year felt so long," he said. "That kind of middle of the season really from Players all the way through playoffs just felt like it never ended. You're always searching. When you're playing well, you're still searching for something. But it's felt like awhile, especially since you see kind of my peers and friends get up to the top and, yeah, tomorrow's a big one."
Asked what is at stake, Morikawa, enjoying the largest 54-hole lead at Kapalua since Geoff Ogilvy held a similar advantage in 2009, didn't mince words.
"Winning the golf tournament. That's all it is," he said. "I think it is every time you're in these positions, just winning the golf tournament. It's nothing else. I don't care about anything else. I want to win.
"I know it's going to take a lot," he added. "There's going to be a lot of guys out there that are going to be firing at pins, making a lot of birdies early on. So for me, just kind of do what I've been doing, staying patient, give myself opportunities and let 'em fall."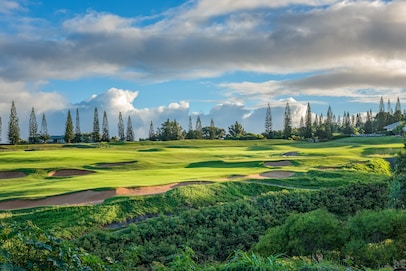 From Golf Digest Architecture Editor emeritus Ron Whitten: Most golf fans are familiar with Kapalua Golf Club's Plantation Course, home of the PGA Tour's opening event each year. Located on the north shore of the Hawaiian island of Maui, the Plantation was built from open, windswept pineapple fields on the pronounced slope of a volcano and is irrigated by sprinklers pressured solely by gravity. As the first design collaboration by Bill Coore and Ben Crenshaw, it unveiled their joint admiration for old-style courses. The blind drive on the fourth, the cut-the-corner drives on the fifth and sixth are all based on tee shots found at National Golf Links. So, too, are its punchbowl green and strings of diagonal bunkers. It's also a massive course, built on a huge scale, Coore says, to accommodate the wind and the slope and the fact that it gets mostly resort play.
View Course