Sentry TOC
Homa and JT trade hilarious barbs, and it's Max who gets last laugh with a 63
Max Homa walks off the 15th hole after a birdie during the third round of the Sentry Tournament of Champions.
Tracy Wilcox
KAPALUA, Hawaii — Max Homa let it be known on Friday, via Twitter, that he was looking forward to his pairing with fellow American and Presidents Cup teammate Justin Thomas in Saturday's third round of the Sentry Tournament of Champions at Kapalua Resort.
"Sometimes things just kind of work out," Homa wrote, alluding to his 8:25 a.m. tee time with Thomas, only he hash-tagged Thomas' caddie, Jim "Bones" Mackay. "Can't wait to play with one of my favorite people tomorrow!"
Early Saturday morning, Thomas issued a reply. A wry one. "I couldn't sleep a wink last night."
Good things were likely to ensue for the pair, and, sure enough, each man enjoyed his best round of the week on the Plantation Course. Thomas, who has won this event twice, mixed in eight birdies against a pair of bogeys in a six-under 67, while Homa raced up the leaderboard with a bogey-free 63, low round of the tournament. At 16 under, Homa is tied for seventh, eight shots back of runaway leader Collin Morikawa.
But the burning question of the day was what conversations the duo shared as they made their way around the mountainous layout.
"I can never share those," Homa said with a wide grin. "But I did tell him he sounded really cool walking with his spikes from 17 to 18 on the concrete. He said he might wear 'em to the pool today."
Obviously, it was a relaxing day for Homa, who qualified after winning twice last year, including a successful defense of his title in the Fortinet Championship in September, the week before he made his Presidents Cup debut at Quail Hollow Club in Charlotte, N.C. That turned out to be another highlight as the California native went 4-0-0 to help fuel the ninth straight victory for the U.S. over the International team.
Though three months removed from that event, Homa still was savoring the experience.
"My coach, Mark Blackburn, said it great. In stroke-play events, even some of the better players in the world unless you're like the top five, you don't really have a highlight reel in your head of like great moments," said Homa, 32, who arrived in Maui ranked 17th in the world. "But when you get to play match play and play in a Presidents Cup or Ryder Cup where there's a lot of huge moments and you do OK, even if you don't win matches, you make putts that you can like build your own highlight reel.
"That week for me I had a bunch of 'em. Great moments throughout all four of my matches. So, I don't think I'm still like bouncing around from it, but I definitely feel like I gained a lot of confidence and gained a lot of things to reflect on in a good way. Most tournaments, unless you win it, you end up hating on something you did. And in that one, even if you just won one match or whatever, won a hole, you can kind of ride that out a little bit."
Homa had a pretty good highlight reel on Saturday with 10 birdies to move up 15 places on the leaderboard. "And none involving a sprinkler head," he noted.
That was in reference to his approach into the 17th green from 152 yards during Friday's second round that bounced backwards off a sprinkler head and into the penalty area, resulting in a tough-to-swallow bogey.
Homa wasn't exactly sure what was different about his stellar play on Saturday. Except that he didn't "dumb" his way out of making birdies.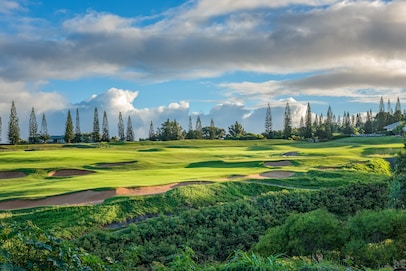 From Golf Digest Architecture Editor emeritus Ron Whitten: Most golf fans are familiar with Kapalua Golf Club's Plantation Course, home of the PGA Tour's opening event each year. Located on the north shore of the Hawaiian island of Maui, the Plantation was built from open, windswept pineapple fields on the pronounced slope of a volcano and is irrigated by sprinklers pressured solely by gravity. As the first design collaboration by Bill Coore and Ben Crenshaw, it unveiled their joint admiration for old-style courses. The blind drive on the fourth, the cut-the-corner drives on the fifth and sixth are all based on tee shots found at National Golf Links. So, too, are its punchbowl green and strings of diagonal bunkers. It's also a massive course, built on a huge scale, Coore says, to accommodate the wind and the slope and the fact that it gets mostly resort play.
View Course
"I didn't make any mistakes throughout the day, as far as like kind of the dumb mistakes. Bogeys here and there are going to happen," he said. "But it felt like the first two days … yesterday I was absolutely grooving, hadn't missed a shot, and then I kind of half topped one on 9 trying to hit a low one and made double. I'm trying to work on the idea that, like focus more on all the good things that happen.
"So, the ball went in the hole today. … I don't know how to really explain it. It didn't feel like I played four shots better than my last two days combined, but I did. So it's just not a very good game for your mind. But it was nice to shoot 10 under."
Sure. We bet it was. The company wasn't bad, either.