The Grind
Collin Morikawa's 'good-luck charm,' Bryson bites the hand that feeds him, and the harshest rule in golf
Welcome to another edition of The Grind, where we guess Collin Morikawa can win a major championship with fans. Remember that silly narrative? Look, as part of the golf media, I get it. We're always looking for angles and stretching things in the name of content, but that was just dumb. This guy might be the best pressure player since Tiger Woods. Look at how freaking cool he is!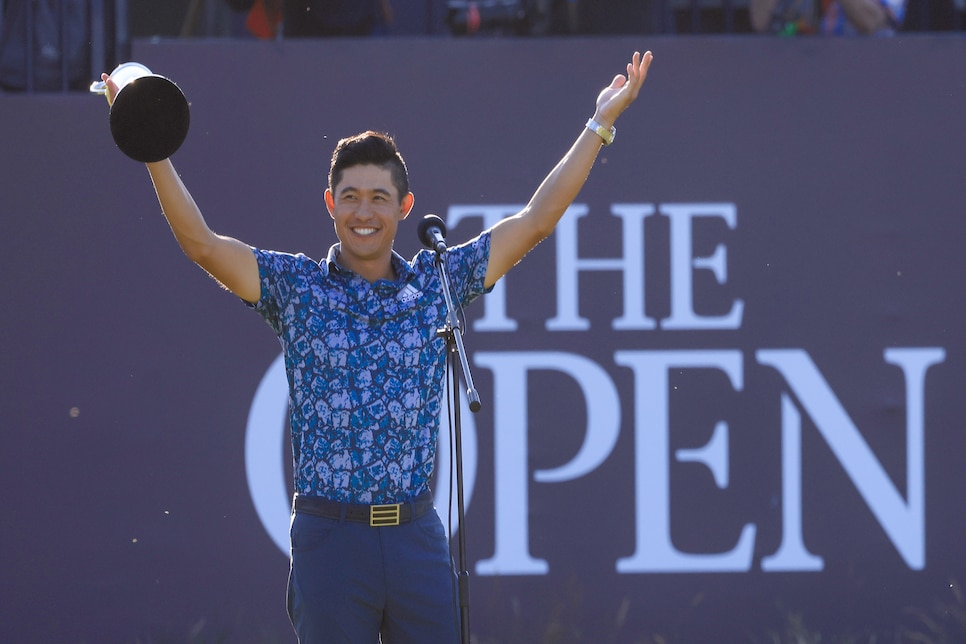 What a stud. You can throw anything at this guy from fans to playing links golf, but that machine-like swing will still function. That being said, with little wind and no rain, could this really be called a true Open Championship test? I hate to say it, but one has to wonder if Morikawa could win in PROPER Open conditions . . . kidding, Collin! You're the man. And at 24, the much more lofty narratives—and comparisons—are only getting started. In the meantime, here's what else has us talking.
Collin Morikawa: What this guy has done in the past 11 months is nothing short of amazing. Morikawa began the PGA Tour re-start as a promising player, but he'll end this major season on track to become an all-time great. He's winning at a 10-percent clip as a pro—the same winning percentage he had in college—and he's now won an absurd 25 percent of his major championship starts. He's the first player ever to win his debut in TWO different majors, and the fastest to multiple majors in the modern era. And again, he won the Open Championship just days after playing links golf for the first time!
Or is it the "British Open"? Hey, that's what Collin called it during his brilliant claret jug acceptance speech. And when you're THE CHAMPION GOLFER OF THE YEAR, you get to make the rules.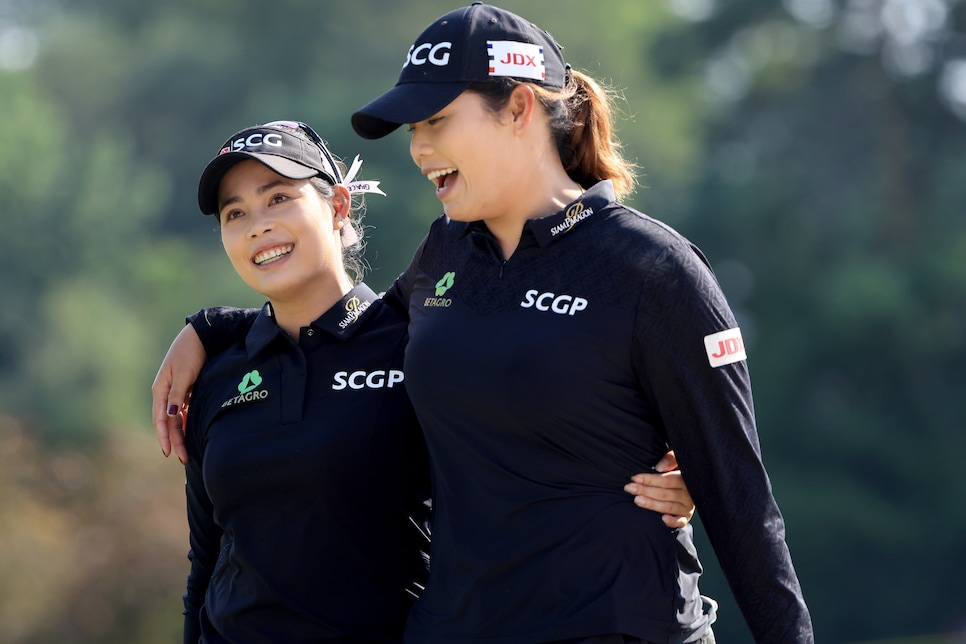 Sorry, better say FOUR-BALL before the Golf Twitter police arrest me. Letting Morikawa get away with "British Open" was bad enough. Anyway, back to these talented—and tight—sisters. "Every tournament, she [Moriya] is always with me," Ariya said after. "And this time [was] even more special because we win together. So far this one is the best one." Awww.
The Strickers: Let's keep the family thing going with Wisconsin's royal golf clan. Steve Stricker, fresh off a recent third senior major championship, caddied for youngest daughter Izzi, who finished T-40 in the Wisconsin Women's Amateur. But wife Nicki, Steve's longtime looper, caddied the couple's other daughter, Bobbi, to a playoff win. And not surprisingly, Bobbi, who just graduated from the University of Wisconsin, won thanks to draining a curling 30-footer:
The family that competes in amateur golf tournaments together, stays together. You love to see it.
Betting on Jordan Spieth: At least, this week. Well, at least, this year. At the majors. Don't get me wrong, I (sort of) got my money's worth putting my money on this guy at the Open Championship and the Masters, but in the end, it was a lot of heartbreak. At Augusta, it was a couple of random blowup holes that kept him from the green jacket. At Royal St. George's it was a couple of the worst bogeys in golf history to conclude Saturday's round. Spieth would later say he wanted to break something in his rental home and the feeling was mutual in my actual home.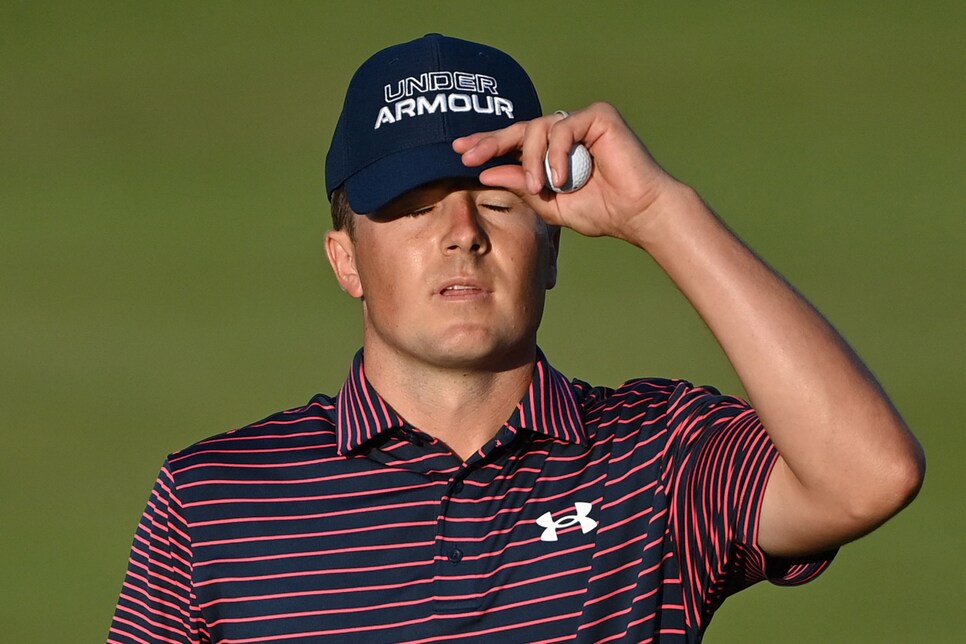 Out of bounds: The USGA has tried to soften the penalty for hitting one OB, but it's still too penal. Just look at what happened to J.T. Poston down the stretch at the Barbasol Championship:
His ball was OB some arbitrary line by less than an inch! And it cost him the entire golf tournament! Seriously, he could have hit a completely normal shot there from the rough! But if he had dunked his ball in a hazard, the penalty wouldn't be as bad? How does that make sense? Anyway, I feel for you, J.T. Also, congrats to Seamus Power for picking up his first PGA Tour win by beating Poston in a six-hole playoff. But again, that's a tough way to lose.
Bryson DeChambeau: Speaking of going OB, how about the comments DeChambeau made directed at Cobra—his freaking sponsor! "The driver sucks."
Yikes. Just ridiculous to throw hard-working people under the bus like that. But it was good (and surprising) to see Cobra's Ben Schomin—who caddied for Bryson the week before!—fire back and say Bryson is, "acting like an eight-year-old." It was also good to see Bryson release an apology, but it doesn't make up for the fact that nothing ever seems to be his fault. Even Justin Thomas jumped in with this Instagram comment: "Never would've thought swinging at 135+ mph it'd be hard to drive it straight... You'd think mr physics would know that!" Mr. Physics! Love that. But yeah, tough week for Bryson—sorry, make that, Mr. Physics—all around.
The PGA Tour heads to Minnesota for the 3M Open, AKA that event that's definitely not the British Open. Sigh. Apologies to the great state of Minnesota, and sorry to be so negative, but after having seven majors in 11 months, we now have to wait nine months for the next. Absolutely brutal. Be strong, people. Be strong.
Random tournament fact: When Matthew Wolff made his walk-off eagle here two years ago to beat Bryson DeChambeau by a stroke, he also beat Collin Morikawa by a stroke. Two years later, that remains Wolff's only PGA Tour win. Morikawa already has two majors. Golf!
RANDOM PROP BETS OF THE WEEK
—Collin Morikawa will have a putting round like that again: 1 MILLION-to-1 odds
—Jordan Spieth will win the 2022 Masters: 10-to-1 odds (Actual odds, co-favorite)
—Jordan Spieth will win the 2022 Masters if I don't bet on him: LOCK
As if we needed another reason to love Collin Morikawa—a Golf Digest playing editor by the way—he gave us one with this image of him walking through the Atlanta airport lugging his latest trophy:
Good thing that fit in the overhead compartment. Those things are getting tight these days.
Nothing to see here, just Jordan Spieth turning up for the final round of the Open with his putter in hand and briefly getting denied by a security guard for not wearing his credentials:
This would have been an all-timer if he came back and won. Love the effort, though. Bringing your putter home with you to putt on the carpet shows a lot of hustle.
VIRAL VIDEO OF THE WEEK (AGRONOMY DIVISION)
Apparently, Royal St. George's has a flamethrower budget:
VIRAL VIDEO OF THE WEEK (COMMERCIALS DIVISION)
We finally saw the finished product of Max Homa roasting Charles Barkley in a new Aleve commercial, and not surprisingly, it's pretty good! Have a look:
How about Max paying the bills with his swing roasts? Good for him.
THIS WEEK IN PUBLIC DISPLAYS OF AFFECTION
Again, how can you not love this guy? (And that adorable dog.)
Oh, and Morikawa's girlfriend, Katherine Zhu, gave him a nice shout-out as well:

Aww. These two are lucky to have each other. (And that adorable dog.)
THIS WEEK IN BROOKS VS. BRYSON
Bryson: "The driver sucks."
Get it? Looks like we're heading into the stretch run of PIP Season!
"I'm very aware of that, yeah." —Jordan Spieth when asked/told about Collin Morikawa getting to 15 under and not letting go. Yeah, I'm very aware of that, too. Thanks for the reminder.
Congrats to Rose Zhang for becoming the first golfer to win the U.S. Girls' Junior Championship after winning the U.S. Women's Amateur last year. Those poor other kids never had a chance. . . . Congrats to Jon Rahm for moving back to World No. 1. After the major season he just had, no one seems to be arguing about the Official World Golf Ranking. . . . Our Joel Beall reports that Bandon Dunes is planning to build a sixth golf course. Maybe after that happens, Joel and I will finally become the last golf media members to take a trip there. . . . And, finally, Costco did it again with these new (at least, I had never seen them) Kirkland Signature mini chocolate-chip cookies: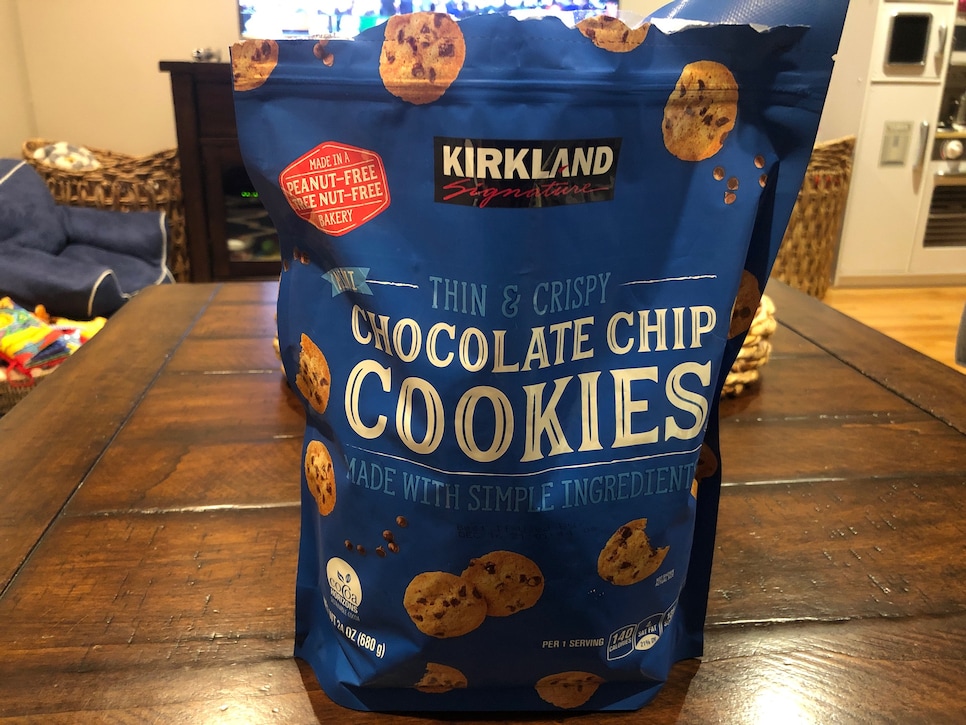 They're not as good as the freshly-baked chocolate-chunk cookies (GOAT), but they're great. And needless to say, they were long gone before the Open ended.
RANDOM QUESTIONS TO PONDER
How did Louis Oosthuizen not win a major this year?
How many majors will Collin Morikawa win?
How many of those mini cookies would fit in the claret jug?