Barbasol Championship
Seamus Power of Ireland posts his first PGA Tour victory with a substantial assist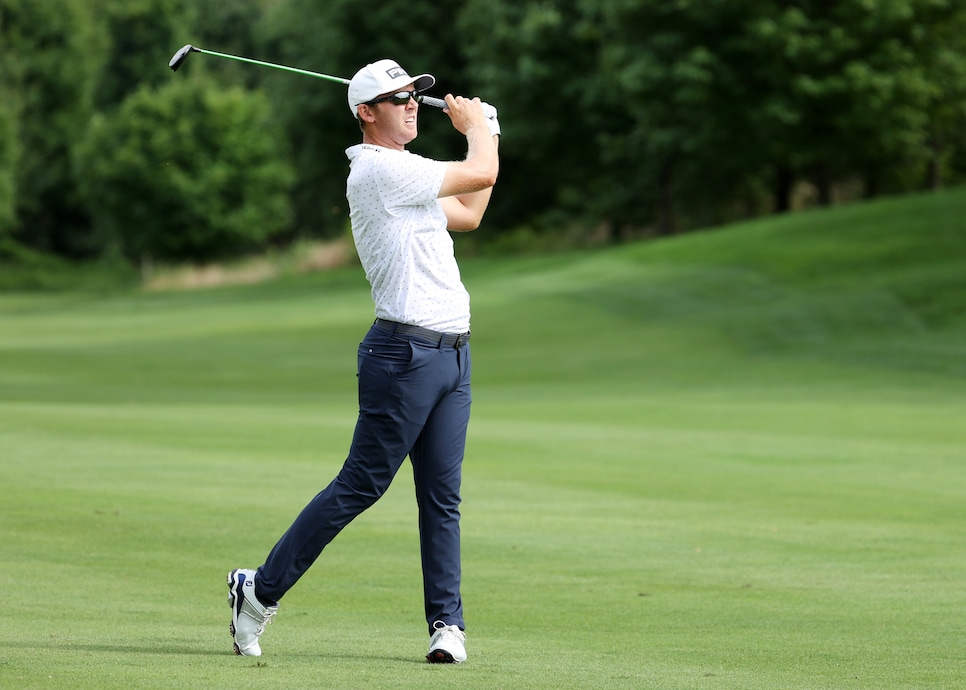 Some victories are masterpieces. Others are eyesores. Several hours after Collin Morikawa delivered one suitable for framing in England on Sunday, Seamus Power was gifted an ugly one in Kentucky.
The Barbasol Championship was J.T. Poston's tournament to lose and lose it he did, spectacularly. He squandered a three-stroke lead on the back nine at Keene Trace Golf Club in Nicholasville, Ky., in large part the result of hitting a tee shot out of bounds. He then lost on the sixth playoff hole when he hit his tee shot into the water on the par-4 18th.
A win is a win, however they come, and Power, a 34-year-old Irishman, was understandably jubilant in the wake of his first PGA Tour victory.
"It hasn't begun to sink in yet," Power said. "It's been a bit of a struggle early, but I've had quite a bit of form recently. But this changes everything for me. Forever, I'll be able to say I'm a PGA Tour winner. I couldn't be more proud."
It came in his 106th PGA Tour start, and though he received a substantial assist from Poston, his own stellar play positioned him to take advantage. In the final round, Power shot a five-under-par 67 that included a tap-in birdie at the 18th in regulation. He completed 72 holes in 21-under-par 267.
Yet he had no idea that the 72nd-hole birdie meant anything, he confessed. "I'm not a big leader-board watcher," he said. "I had a horrible lipout on 17, so I was kind of disgusted there. When I got to scoring I kind of was like, all of a sudden J.T. made a mistake, James Hahn made a mistake, so I thought there might have been a chance. But no, I didn't [have any idea]. Probably thankfully, it might have been a good thing."
Calling Poston's calamity a mistake was a bit of an understatement. He stood on the tee at the par-5 15th hole leading by three, then pulled his tee shot wildly left. Unsure whether his ball was in play, he played a provisional from the tee. To determine whether his first ball was out of bounds, tour officials employed a string held taut between two white stakes. Poston's ball was out by less than an inch.
"That's a hole where if you just get it in the fairway, almost everybody's making birdie," Poston said. "It's a little bit of an awkward tee shot having to hit kind of a high fade. I like to draw the ball a little bit, so it's definitely an uncomfortable one for me, but I just put an awful swing on it. I double-crossed it, and it was out of bounds by half an inch or an inch or so."
He compounded his error following his second shot to greenside rough, 45 feet from the hole. He left a chip shot 14 feet short, then took two putts for a double-bogey 7. On the par-3 16th, he three-putted from 35 feet, a bogey that dropped him into a tie with Power.
Poston, seeking his second PGA Tour victory, played well enough on the first five playoff holes, including holing a birdie putt on the first extra hole, the 18th, after Power had chipped in for birdie. But playing the 18th again on the sixth extra hole, he hit his tee shot into water right of the fairway, took a drop and hit his third shot into rough right of the green.
He was unable to get up and down for par, while Power calmly two-putted for the victory, his final stroke a tap-in.
"Eighteen's a hole where you've got to hit the fairway and give yourself a look," Poston said, "and there at the end I was the one that missed the fairway."