Payday in Kentucky
Here's the prize money payout for each golfer at the 2021 Barbasol Championship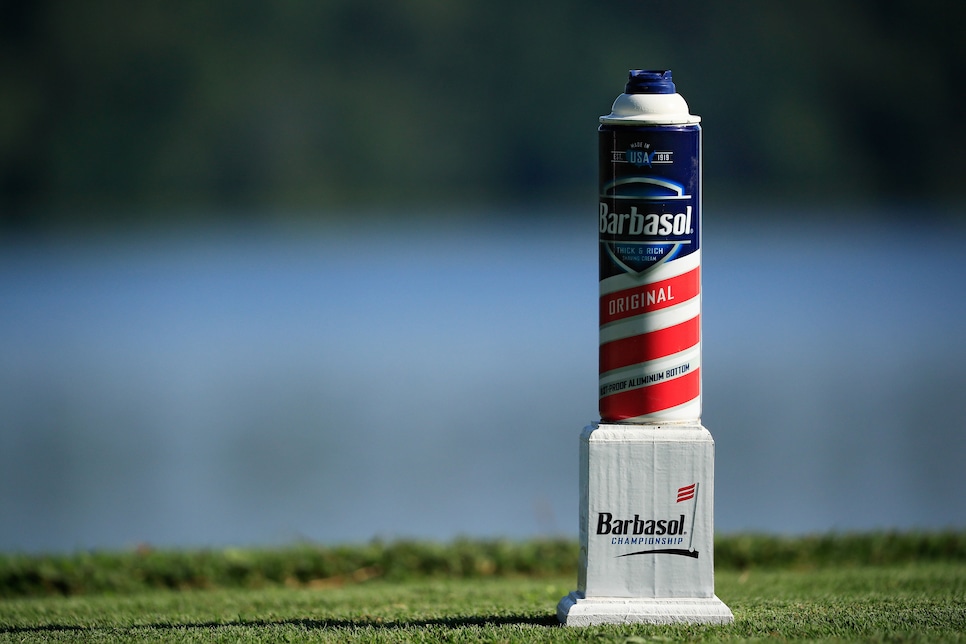 Go low or go home. It's the mantra at more than a few tournaments on the PGA Tour, including the Barbasol Championship. The six-year-old event, played the same week as The Open, has been held at Keene Trace Golf Club near Lexington, Ky., since 2018 and in the two previous playings there (the 2020 event was canceled due to COVID-19), the winners have had to dig deep into red figures to hold on to the title.
Jim Herman shot a 26 under in 2019 to take the title over Kelly Kraft. The previous year Troy Merritt outpaced a trio of rivals to win with a 23-under score.
Even when the event was played at Robert Trent Jones Golf Trail's Grand National course in Alabama, you had to post four scores that started with a 6 to really have a chance. Overall, the worst winning total is 18 under par.
With the victory, Power earned a prize money payout of $630,000 from a purse of $3.5 million. That topped his previous largest paycheck in his five years on tour, $231,150 for his sixth-place finish at the 2019 RBC Heritage.
Here's the prize money breakdown for all the people who make the cut at the Barbasol.
Win: Seamus Power, -21, $630,000
P-2: J.T. Poston, -21, $381,500
T-3: Anirban Lahiri, 268/-20, $206,500
T-3: Sam Ryder, 268/-20, $206,500
T-5: Ryan Armour, 269/-19, $115,937.50
T-5: James Hahn, 269/-19, $115,937.50
T-5: Luke List, 269/-19, $115,937.50
T-5: Henrik Norlander, 269/-19, $115,937.50
T-5: Mito Pereira, 269/-19, $115,937.50
T-5: Patrick Rodgers, 269/-19, $115,937.50
T-11: Joseph Bramlett, 270/-18, $77,875
T-11: Bo Hoag, 270/-18, $77,875
T-11: David Lingmerth, 270/-18, $77,875
T-11: Taylor Pendrith, 270/-18, $77,875
T-15: Beau Hossler, 271/-17, $58,625
T-15: Adam Schenk, 271/-17, $58,625
T-15: Brian Stuard, 271/-17, $58,625
T-15: Josh Teater, 271/-17, $58,625
19: Michael Gligic, 272/-16, $49,875
T-20: Rafael Campos, 273/-15, $38,325
T-20: David Hearn, 273/-15, $38,325
T-20: Jim Herman, 273/-15, $38,325
T-20: Mark Hubbard, 273/-15, $38,325
T-20: Satoshi Kodaira, 273/-15, $38,325
T-20: Ben Taylor, 273/-15, $38,325
T-26: Mark Anderson, 274/-14, $26,075
T-26: Jason Dufner, 274/-14, $26,075
T-26: Charl Schwartzel, 274/-14, $26,075
T-26: Kevin Tway, 274/-14, $26,075
T-26: Vincent Whaley, 274/-14, $26,075
T-31: Greg Chalmers, 275/-13, $20,475
T-31: Robert Garrigus, 275/-13, $20,475
T-31: Wilco Nienaber, 275/-13, $20,475
T-31: Roger Sloan, 275/-13, $20,475
T-31: Davis Thompson, 275/-13, $20,475
T-31: Bo Van Pelt, 275/-13, $20,475
T-37: Derek Ernst, 276/-12, $16,625
T-37: Sahith Theegala, 276/-12, $16,625
T-37: Nick Watney, 276/-12, $16,625
T-40: Dominic Bozzelli, 277/-11, $14,875
T-40: Tom Lewis, 277/-11, $14,875
T-42: Bobby Bai, 278/-10, $12,425
T-42: Paul Barjon, 278/-10, $12,425
T-42: David Gazzolo, 278/-10, $12,425
T-42: Cameron Percy, 278/-10, $12,425
T-42: Vaughn Taylor, 278/-10, $12,425
T-47: Will Grimmer, 279/-9, $9,286.67
T-47: Wes Roach, 279/-9, $9,286.67
T-47: Greyson Sigg, 279/-9, $9,286.67
T-47: J.J. Spaun, 279/-9, $9,286.67
T-47: Austin Cook, 279/-9, $9,286.66
T-47: Ted Potter, Jr., 279/-9, $9,286.66
T-53: Ryan Brehm, 280/-8, $8,239
T-53: Bronson Burgoon, 280/-8, $8,239
T-53: Scott Harrington, 280/-8, $8,239
T-53: Lee Hodges, 280/-8, $8,239
T-53: Camilo Villegas, 280/-8, $8,239
T-58: J.J. Henry, 281/-7, $7,910
T-58: Richard S. Johnson, 281/-7, $7,910
T-58: Ben Martin, 281/-7, $7,910
T-58: Davis Riley, 281/-7, $7,910
T-62: Ricky Barnes, 282/-6, $7,595
T-62: Jason Bohn, 282/-6, $7,595
T-62: Jonathan Byrd, 282/-6, $7,595
T-62: MJ Daffue, 282/-6, $7,595
T-62: Shawn Stefani, 282/-6, $7,595
T-67: David Pastore, 283/-5, $7,315
T-67: Trey Shirley, 283/-5, $7,315
T-67: Nick Taylor, 283/-5, $7,315
T-70: Rob Oppenheim, 284/-4, $7,140
T-70: Zack Sucher, 284/-4, $7,140
T-72: Brice Garnett, 285/-3, $7,000
T-72: Michael Kim, 285/-3, $7,000
74: Andrew Loupe, 286/-2, $6,895
T-75: K.J. Choi, 287/-1, $6,790
T-75: Stephen Stallings Jr., 287/-1, $6,790