The Grind
Collin Morikawa's big secret, Jim Nantz's special gift to golfers, and Brooks Koepka heckles Bryson DeChambeau
Welcome to another edition of The Grind, where we are oddly intrigued by a potential Brooks Koepka vs. Bryson DeChambeau boxing match. Look, I'm not a fight guy at all. In fact, I didn't even know who Jake Paul—where this whole idea came from—was before Brooks appeared on his podcast. But now that he's floated a $1 million purse for these two golfers to duke it out, I hope it actually happens.
Of course, it won't actually happen, but imagine! And my money would be on Bryson. As we've seen, when he gets into something, he goes ALL IN. I could see DeChambeau dedicating himself to learning the craft of fighting, maybe even moving in with Floyd Mayweather for a few months to train like he did when he got into long driving. Meanwhile, Brooks would just show up expecting to win and ... BAM! It's too bad these guys have supposedly squashed their beef, because things were more fun when they were jabbing each other. Wait, was that Brooks heckling Bryson over the weekend at Doral?!
Beef back on! Get these guys in the ring! In the meantime, here's what else (that's actually happening in golf) has us talking.
Collin Morikawa: It's amazing that a guy who hits his irons like this could go two years without winning, but that's where we were with Morikawa, who broke his drought at the Zozo Championship. Not only did he shoot a final-round 63 to win by six shots, but the victory was extra special given his Japanese heritage.
Even with a two-year title gap on the resume, Morikawa still has six wins and two majors in 99 career starts. Pretty darn snazzy. And what a week as he also got to go to the famous sushi spot Sukiyabashi Jiro:
Life is good for the 27-year-old—especially if he really found something on the greens. More on that later ...
The Lees: Morikawa wasn't the only elite ball-striker winning in Asia last week. Minjee Lee won the BMW Ladies Championship on the LPGA Tour—a week after younger brother Min Woo won the Asian Tour's SJM Macao Open. "Sure, it was a little motivation," Minjee said after winning a 10th career LPGA title and a second this fall.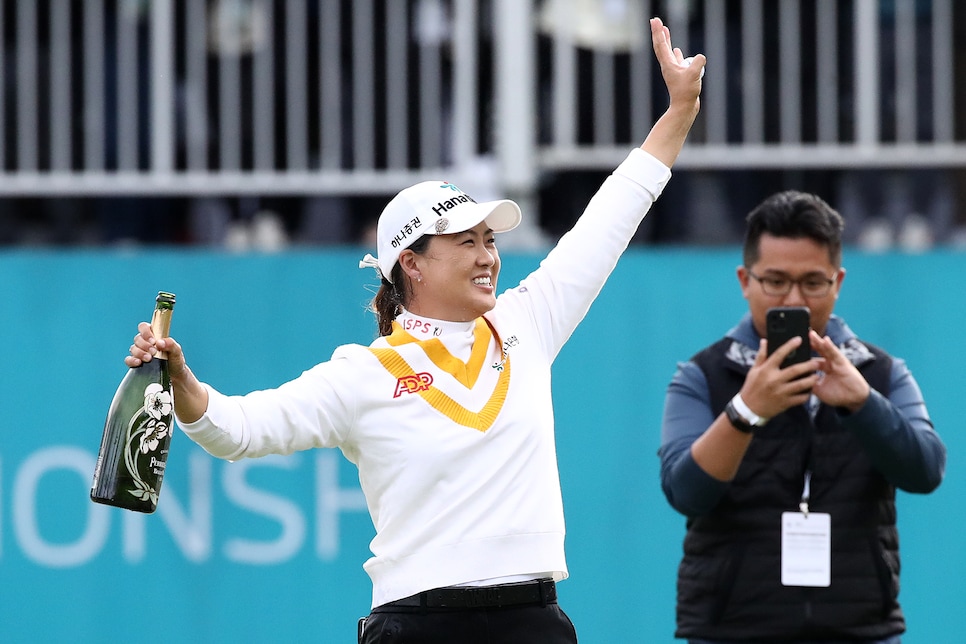 Meanwhile, all Min Woo did was shoot a Sunday 65 at the Zozo to finish T-6 and all but wrap up his PGA Tour card for 2024. What a freaking talented family. Let him them cook.
Bryson DeChambeau: He's no longer eligible to win the PGA Tour's Comeback Player of the Year, but he'd be a leading candidate for all of pro golf along with his buddy Brooks. Maybe the winner of their proposed fight could earn that distinction as well? Not only did DeChambeau win two LIV events this year, including one with that epic final-round 58, but he captained his Crushers to the LIV Team Championship at Doral. By doing crazy stuff like this:
And yes, the Crushers ended the 4Aces dynasty. Downright historic stuff. But seriously, look/listen how much this means to Bryson:
Good for him. Just a tad different than Koepka's relationship with teammate Matthew Wolff! OK, so maybe that fight makes more sense ...
Kyle Berkshire: Amazingly, despite recently setting world records for fastest ball speed and longest drive, Bryson's buddy had yet to win a long drive event this year. But Berkshire changed all that by winning the biggest event, the World Long Drive Championship, for a third time: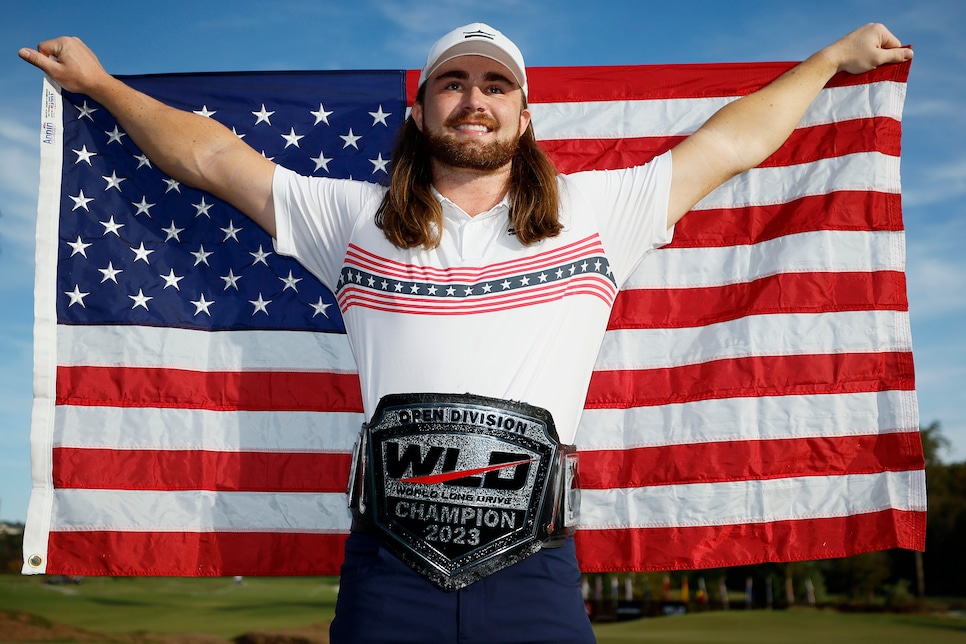 Congrats, Kyle. Order has been restored in the world. Well, the world of World Long Drive, that is.
Collin Morikawa's secrecy: Congrats to Collin on the win, but we're disappointed he won't share the putting revelation he discovered on the eve of the tournament:
That's cold, Collin. Brian Harman did the same thing at the British Open—albeit ahead of the final round—and I kinda understand it. With the margins razor thin at the top of pro golf, these guys are all looking for any edge they can get. But there are plenty of regular golfers out there who are looking for any tip they can get. And one that made the 111th-ranked putter on tour roll it like that must be a good one. Anyway, if you want to let me know privately, Collin, give me a call. Your secret is safe with me. I promise.
LIV gambling interest: Our buddy Jeff Sherman, the oddsmaker for Superbook Sports, dropped quite the shocking reveal on the eve of the big LIV Team Championship. No one is betting on this. Sorry, someone is. As in ONE person:
LIV may have some big names, but if people aren't betting on the league's teams—which is supposedly its big differentiator from the PGA Tour—that's a bad sign.
Javelinas: I had never heard of these, or what our Coleman Bentley describes as adorable boar-like animals, but apparently they are quite the nuisance to the Seven Canyons Golf Club in Sedona:
You hate to see it. That course's superintendent certainly won't find those critters adorable.
The PGA Tour heads to ... wait a minute, another week off?! Wow! But never fear, the LPGA is in action at the Maybank Championship in Malaysia and the DP World Tour rolls on with the Qatar Masters. Also, the 2023-2024 NBA season starts tonight! And I'm feeling great about my OKC over 44.5 wins bet coming through after seeing some random dude in NYC wearing a Thunder pullover. Anyway, to help kick off the season, we brought in the greatest shooting big man (and longest hitter) in league history, Karl-Anthony Towns for this week's episode of The Loop podcast. Check it out!
Random tournament NBA fact: KAT is the only center to win the NBA Three-Point Contest. What a touch! Hmm ... maybe I should have bet on Minnesota over 44.5 wins instead ...
RANDOM PROP BETS OF THE WEEK
—Collin Morikawa will start another two-year winless drought: 100-to-1 odds
—The Knicks will end their 50-year NBA title drought: 1 MILLION-to-1 odds
—Karl-Anthony Towns would win an NBA long drive contest: LOCK
TWEET/INSTAGRAM/PHOTO OF THE WEEK
This seemingly innocuous photo celebrating one man's hole-in-one turned into a heated debate over pushcart etiquette:
The moral of the story? Be (very) careful about what you post on social media.
CLUB PRO GUY TWEET OF THE WEEK
VIRAL VIDEO OF THE WEEK (TOUR DIVISION)
How about George Bryan basically calling his shot and making a hole-in-one with the cameras rolling?
Wesley's big brother will make his PGA Tour debut in Bermuda in a couple of weeks and couldn't be more locked in right now.
VIRAL VIDEO OF THE WEEK (SENIOR TOUR DIVISION)
This video of Chris DiMarco being asked if he ever played with Tiger Woods is nothing short of stunning. A.) It's hilarious; B.) DiMarco handles it so well; C.) How did they not know this? D.) How has it been nearly two decades?! Anyway, have a look:
Good for DiMarco. Imagine being on the short end of the most replayed shot in golf history? Rough. Speaking of painful memories ...
VIRAL VIDEO OF THE WEEK (ARCHIVE DIVISION)
This video circulating now is five years old, but that doesn't make it any less painful. Have a look at a golfer named Bill Yaegers hitting the stick on a $1 million attempt:
"It's still tough to watch," Yaegers messaged me. Our condolences, Bill. The golf gods really owe you one.
VIRAL VIDEO OF THE WEEK (GOAT DIVISION)
OK, here's something to lift the spirits. Jim Nantz calling random golfer's shots will never get old:
So cool. Now that's a tradition unlike any other. And I can say that as someone who was fortunate enough to have Jim call my shot once.
What a legend. Thanks, Jim. I—and whoever that guy is in that latest video—will never forget it.
THIS WEEK IN PUBLIC DISPLAYS OF AFFECTION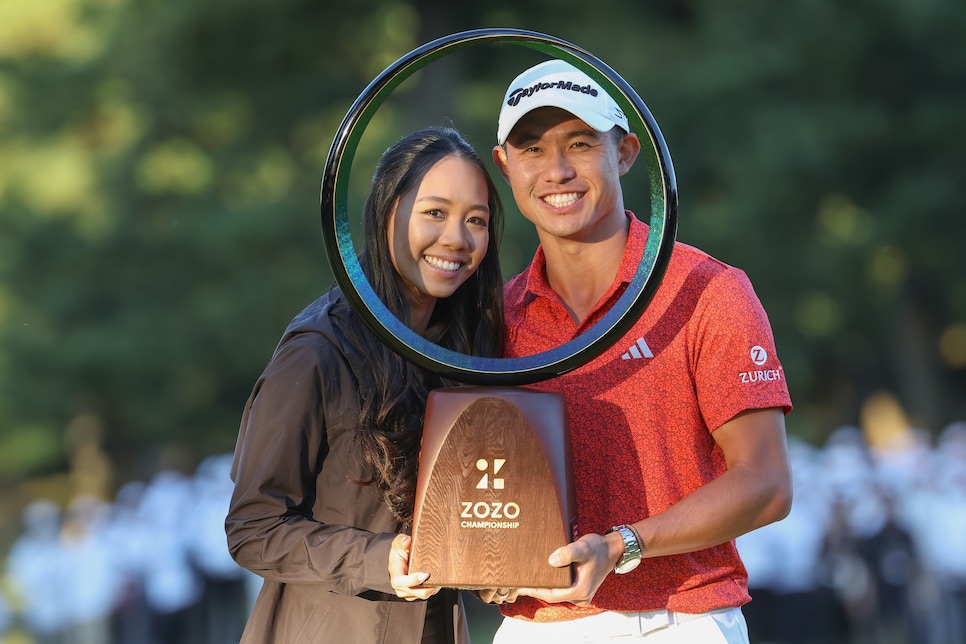 That trophy is perfect for the post-victory PDA photos!
THIS WEEK IN PUBLIC DISPLAYS OF AFFECTION (PLANET EARTH DIVISION)
Turns out, Collin Morikawa and Minjee/Min Woo Lee shared the same flight home:
Hey, every little bit of carbon footprint helps.
"I hope so. I'm just glad that all the talk about it is over. I can just focus on my game and keep going forward. Whoever doubted me, I hope I can prove them wrong." —Ryder Cup snub Adrien Meronk on whether he "made a point" in winning the Andalucia Masters for a fourth career DP World Tour title. Keep making those points, Adrian, and you'll be at Bethpage in a couple years.
Rory McIlroy says he and Joe LaCava are "all friends" again after that Ryder Cup dustup. OK, so we can forget about a boxing match ever materializing between those two ... The DP World Tour will give membership to pros who can't keep their PGA Tour cards. Some people might want to make sure their passports are up to date ... Speaking of traveling, congrats to Patrick Koenig on breaking the record for most different 18-hole golf courses played in a year after playing No. 450 in Colorado last week. Talk about living the dream! ... And, finally, if you thought watching Brian Harman winning the Open Championship was boring, imagine what it was like listening to him do it: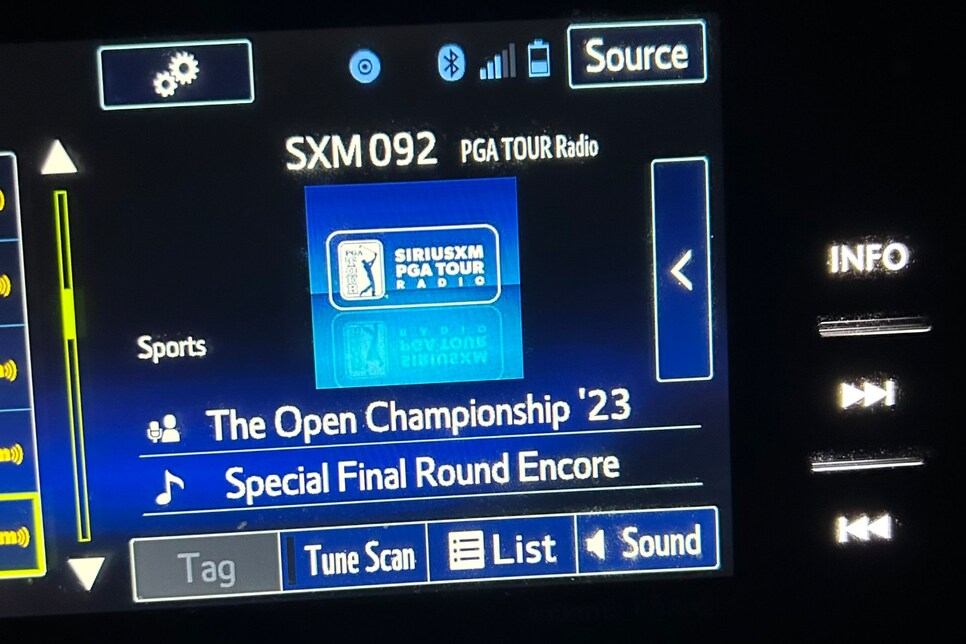 No offense to Brian (he was so good he sucked the life out of the tournament!) or the SiriusXM PGA Tour Radio crew (they're great!), but I had to quickly flip away to avoid falling asleep and driving off the road.
RANDOM QUESTIONS TO PONDER
How much am I paying for SiriusXM?
How many golf courses have I played in my life?
What did Collin Morikawa "find" on that practice green?