bryson being bryson
Bryson DeChambeau nukes drive 100 yards over green, makes ridiculous birdie en route to winning $14 million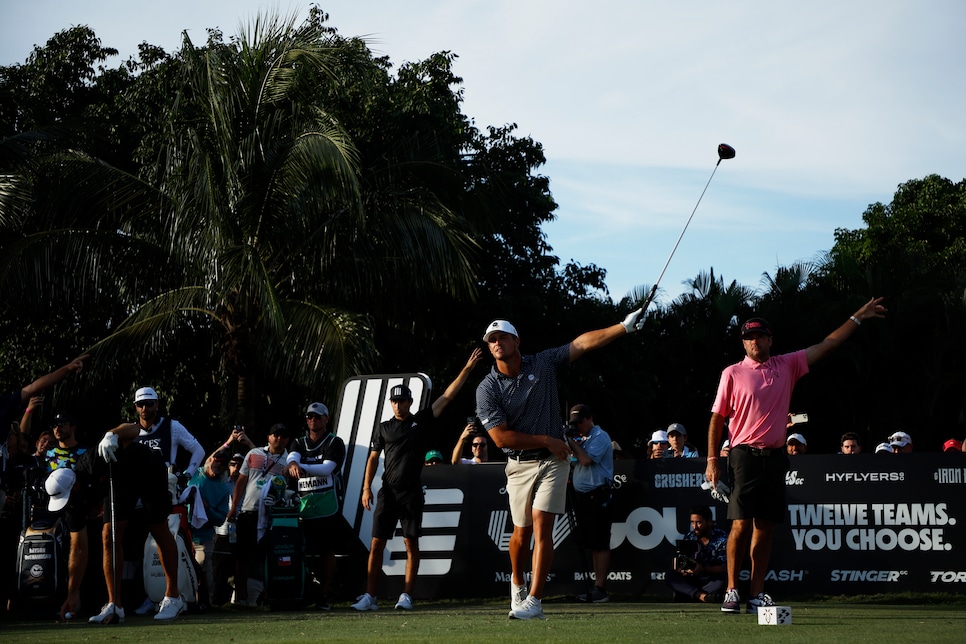 Sometimes you are who you are. You can try to hide and change things up, but then you're often only doing yourself a disservice. Bryson DeChambeau is going to hit the hell out of a golf ball. That's as reliable as death and taxes. So it's no surprise that a Bryson bomb followed by a ridiculous up-and-down for birdie all but locked down the LIV Golf Team Championship for DeChambeau's Crushers GC.
The team of DeChambeau, Paul Casey, Charles Howell III and Anirban Lahiri pulled out a two-shot win over the RangeGoats at Trump National Doral in Miami on Sunday, the victory coming down to the final few holes, including this … well, whatever this is from DeChambeau.
"What hospitality?!": The laughing from the announcers at the absurdity of DeChambeau's play really puts this over the top.
Now, you may be wondering why DeChambeau needed to hit a blind shot over a hospitality tent to begin with. Well, what a ridiculous question when you realize it's DeChambeau we're writing about, and it's obviously because he first sailed the green by 100 YARDS (!) with an insane drive. Just normal golf stuff happening down in Florida.
The driveable par-4 16th was perhaps too driveable for DeChambeau. He then needed that majestic (and blind) recovery shot from near the second green to get the ball back onto the 16th green. From there, he of course drained the putt for a miraculous birdie.
It really goes to show you that it doesn't matter what league Bryson DeChambeau's in. He's always going to bomb and gouge it, making millions and making us all look like idiots.