PGA Tour
In radio interview, Charley Hoffman says he should have phrased now-deleted Instagram post 'differently'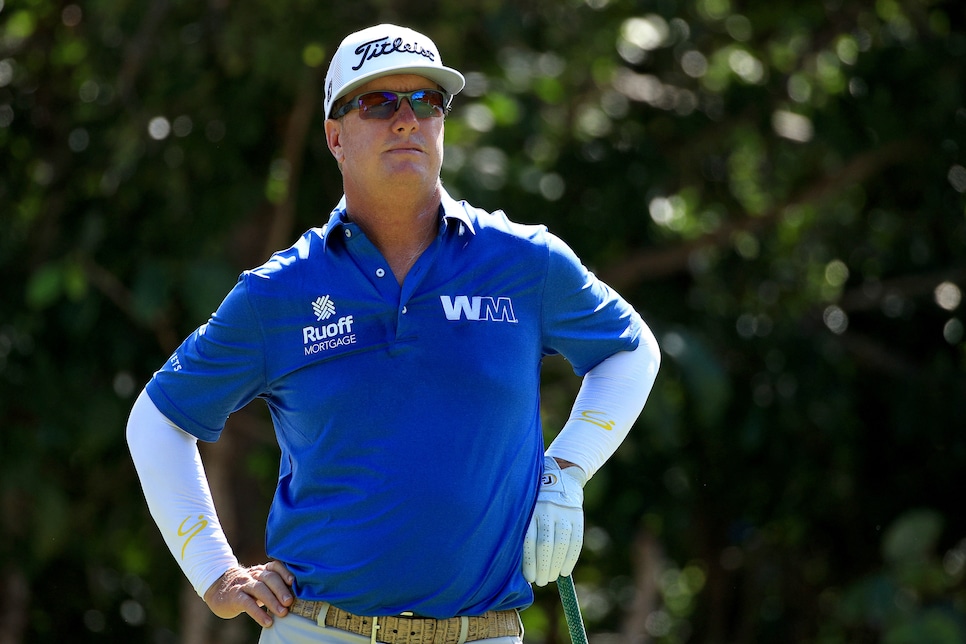 "If I could go back in time, I probably would have phrased it a little differently at the end of those comments," Hoffman told Gwynn & Chris, a show hosted by Tony Gwynn Jr. and Chris Ello.
The comments Hoffman is referring to, specifically, came at the very end of the post. Hoffman, who felt he was given a bad ruling on Friday at the WM Phoenix Open, felt that it was a prime example of why some of his fellow players might "jump ship" from the PGA Tour to the proposed Super Golf League.
"I've gotten a little backlash on that," Hoffman added in the radio interview. "But I felt, at the time, if I didn't phrase it the way I did, the media might not pick up on it and no change could happen."
The media did, in fact, pick up on it, and soon enough the fans did, too. While he did later admit that the threat to the PGA Tour was strategic, the timing of it couldn't have been worse for Hoffman, who had to return to the cauldron that is TPC Scottsdale on Saturday after making the cut. Also, Hoffman's primary sponsor is Waste Management, the title sponsor of the tournament he was playing in. Diverting attention from the tournament to himself was something he wishes he hadn't done, in retrospect.
"I lost a little bit of focus, definitely," Hoffman said. "I was treading water with the PGA Tour and the USGA and my fellow players. When you make a post [on social media] there are a lot of different ways to interpret it; that's this day and age of social media. So yes, I'd be lying if I said I wasn't thinking about it. You live and you learn. I'll own it, and I'll try and stay out of it going forward."
Still, Hoffman believes his point was made, and he hopes it leads to a change in the rule he was personally affected by on Friday, when he dropped a ball twice that rolled into the water hazard, only to then place it, watch it roll back into the water and get penalized for it. Hoffman told the Gwynn & Chris show that while the PGA Tour and USGA have done a good job of changing some of its quirkier rules, that's one that still needs fixing. Whether or not it does get changed remains to be seen.
What we do know is that Hoffman probably won't be throwing himself into a social media firestorm again any time soon.
"I don't know how people feel with all that conflicting media," he said. "Some people thrive off of it, I do not. I was just more trying to stick my neck out to make sure [the rule] doesn't cost anyone. Who knows, at one point in the year, it could cost you getting into the Tour Championship, or a major. I don't want that to happen, no one does."