The Loop
Charles Barkley's greatest trick, Phil Mickelson's hidden talent and the least-surprising Dustin Johnson news ever
Welcome to another edition of The Grind where we may have found a much better alternative to gambling on golf: betting on TV show whodunits. I won't give any SPOILERS like I did on Twitter (Sorry, I thought the 24-hour rule was in effect!), but let's just say I was very happy with the finale of HBO's "The Undoing." And before I give anything else away, let's get into some golf …
Charles Barkley: Speaking of surprise endings, did we just witness the greatest long con in history? A golf punchline for a quarter century, Barkley showed up to The Match 3 with an actual working golf swing. Here are four photos that sum up how things went: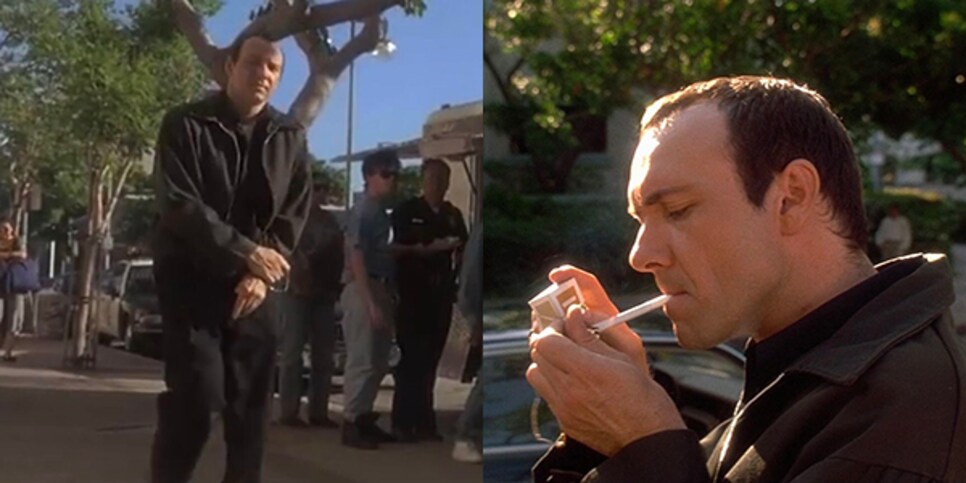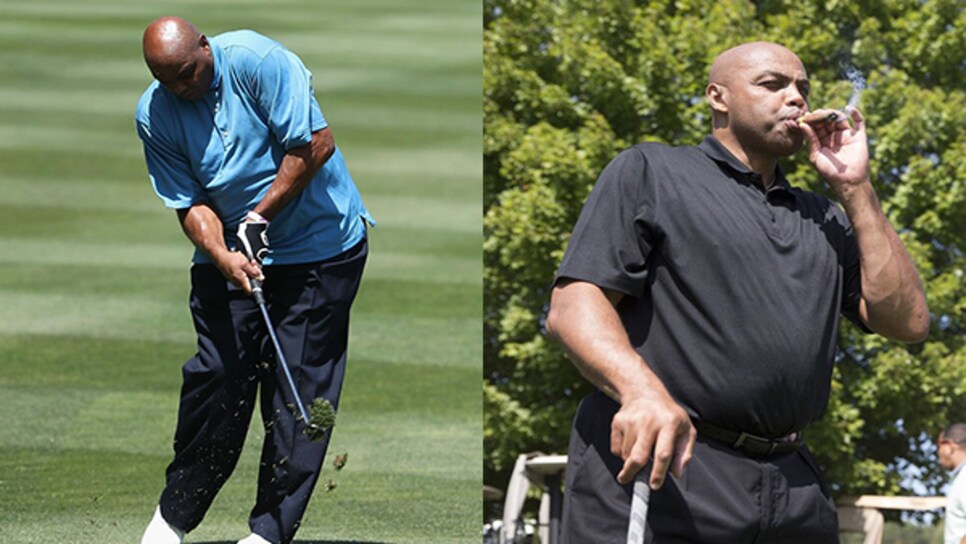 Chuck, you sly dog, you. No, but seriously, good for him. I never understood how someone could stand playing that much golf if they were that bad. He's never going to be confused with a scratch golfer, and yes, he still hit a hideous shank, but at least he can get it around now.
Phil Mickelson: The golf wasn't his best, but Mickelson was as entertaining as ever in this format and proved yet again why even in the Year of Bryson, Phil is still the Content King of the PGA Tour. Here's a sampling from another fun made-for-TV event:
And how about this "instructional" video he put out a few days after in which he faked everyone out and gave advice on doing the worm:
No matter the situation—or the season—this guy delivers the goods. Also, the dude can dance. And he's damn limber for a 50-year-old.
PGA Tour-Euro Tour partnership: The world's two biggest golf tours are combining forces. And although the details are hazy—and the Thanksgiving weekend news dump was interesting—it seems like this can only be good for the game and its fans. I hope. I also hope this doesn't affect the European Tour's content team. Those peeps are good.
Christiaan Bezuidenhout: This guy's name has been popping up all over leader boards this year (I know because co-worker Chris Powers loves betting on him), but he finally ended up on top of one in 2020 (I know because Chris didn't bet on him this time). Having a stutter from accidentally ingesting rat poison as a toddler and having been suspended from golf for nine months in 2014 for accidentally taking a banned substance, Bez (Can we call you Bez? We're calling you Bez) is a great story in perseverance. And after overcoming all that to win in his home country for his second European Tour title, the 26-year-old South African enjoyed plenty of bubbly substances: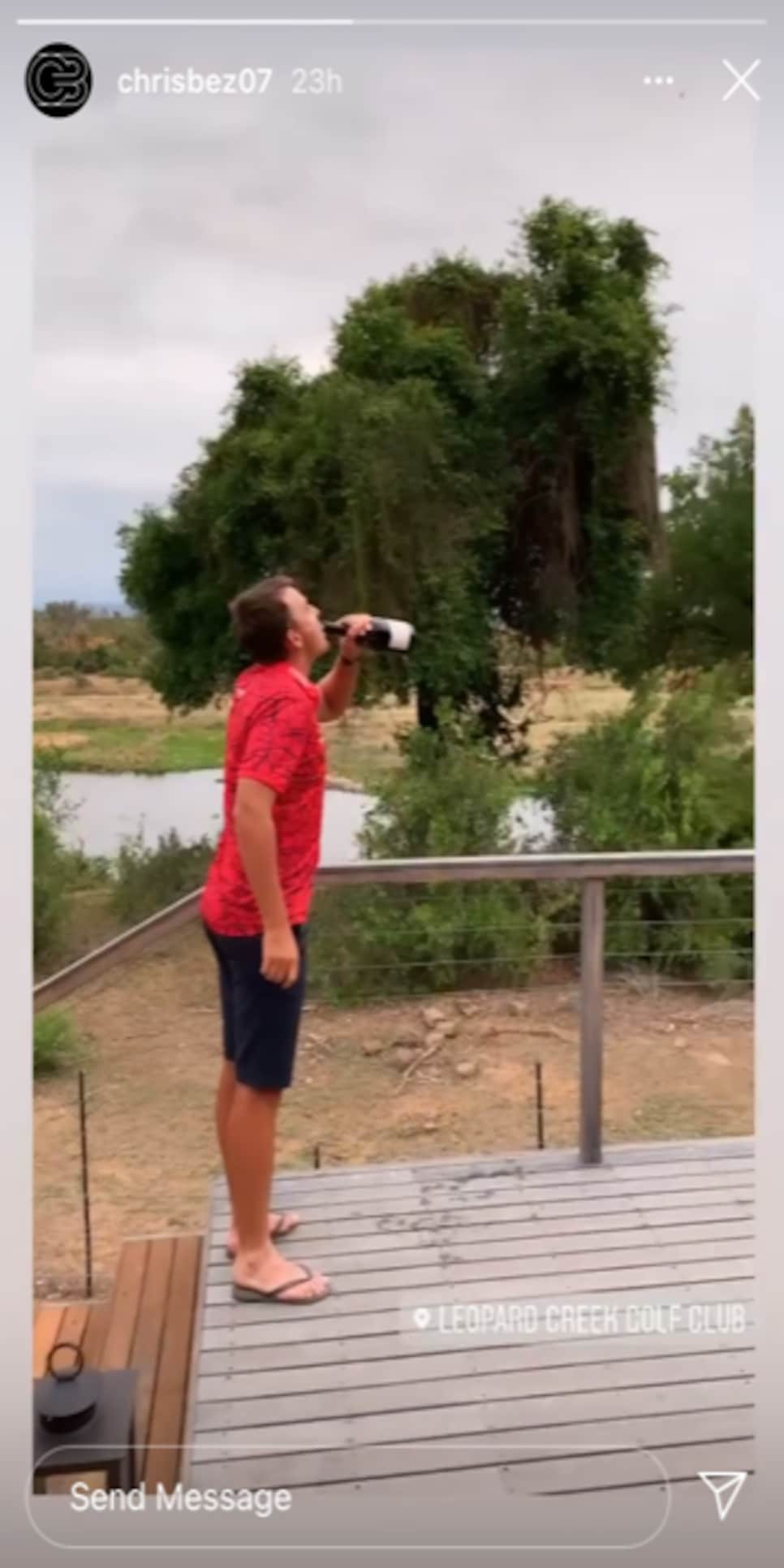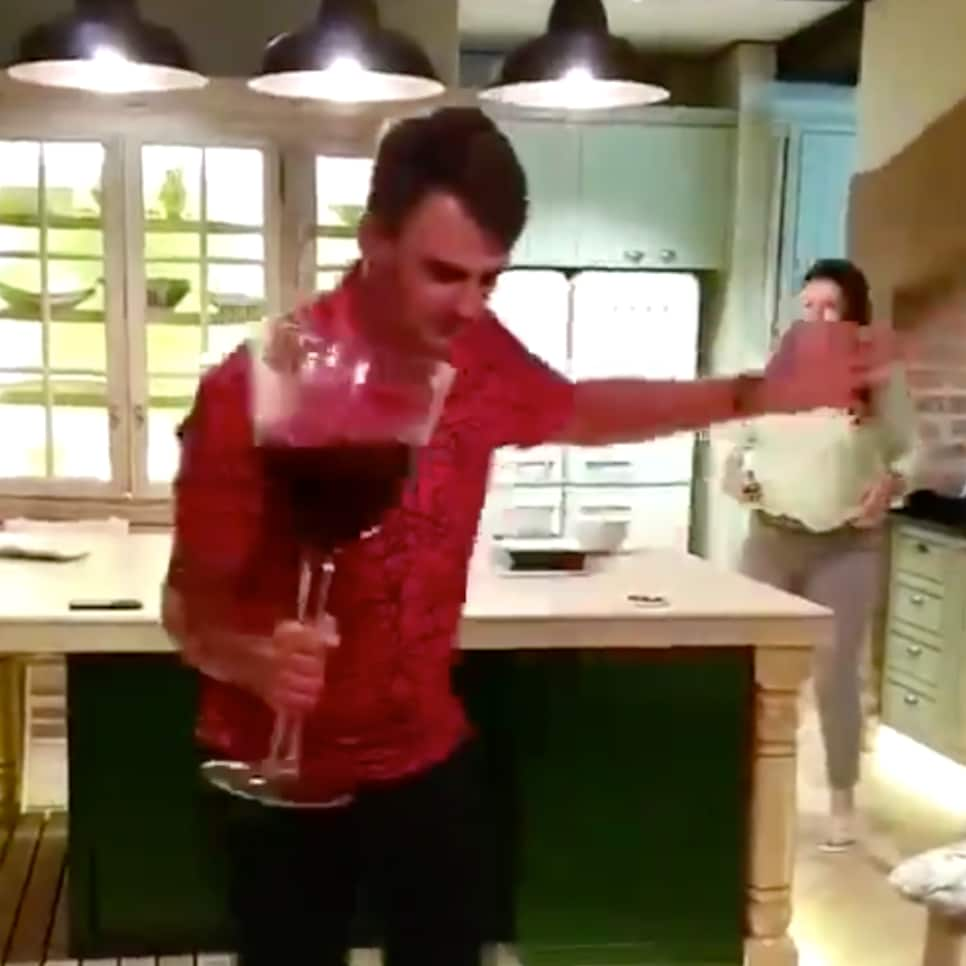 Well deserved, Bez. Also, where the heck do you get a wine glass that big?
Steph Curry's performance: The two-time NBA MVP with a plus-1 handicap was a heavy favorite to win The Match with Peyton Manning, but he didn't play like someone in mid-season form, to put it kindly. Those watching kept waiting for him to catch fire like he often does on the court during a game, but it never happened and as a result, The Match wasn't much of a match. That being said …
Anyone knocking Steph Curry's handicap: The reaction to Curry's performance was way too harsh. Even the best players in the world have bad days and as good as Steph is (he shot a 71 in a Korn Ferry Tour event for crying out loud!), he's still not used to playing golf for a televised audience of millions. As often is the case, Max Homa summed it up best on Twitter:
Anyone catching this Tiger record: Dustin Johnson has now been No. 1 in the Official World Golf Ranking for a total of 106 weeks, which matches Rory McIlroy for the third-highest total since the ranking was created in 1986. He's still got a long way to go to catch Greg Norman at No. 2 with 331 weeks and far, far longer to track down Tiger at 683 (LOL) weeks. As stats guru Justin Ray pointed out, DJ would match that if he holds the top spot from now until Christmas. Of 2031.
The PGA Tour heads to Mexico for the Mayakoba Golf Classic, AKA the El Tucan Classic, AKA the final OFFICIAL PGA Tour stop of what has been a crazy year. Matt Kuchar won't be teaming up with Mexico's most famous caddie, but he is in the field, along with a surprising number of big names including Brooks Koepka and Justin Thomas. Dustin Johnson would have joined them, but …
Translation: The green jacket party is still in full swing. Happy holidays, DJ, and see you in 2021. At some point.
Random tournament fact: Brian Stuard has both of his career PGA Tour runner-ups in this event. Not sure what that means, but it's pretty random.
RANDOM PROP BETS OF THE WEEK
—Brian Stuard will win this week at Mayakoba: 125-to-1 odds (Actual odds … value?)
—Phil Mickelson will ever be an underdog against non-tour pros again: 1 MILLION-to-1 odds
—Phil Mickelson is going to be on "Dancing with the Stars" someday: LOCK
The Match 3 was actually a rematch of arguably the two greatest athlete-pitchmen of this generation: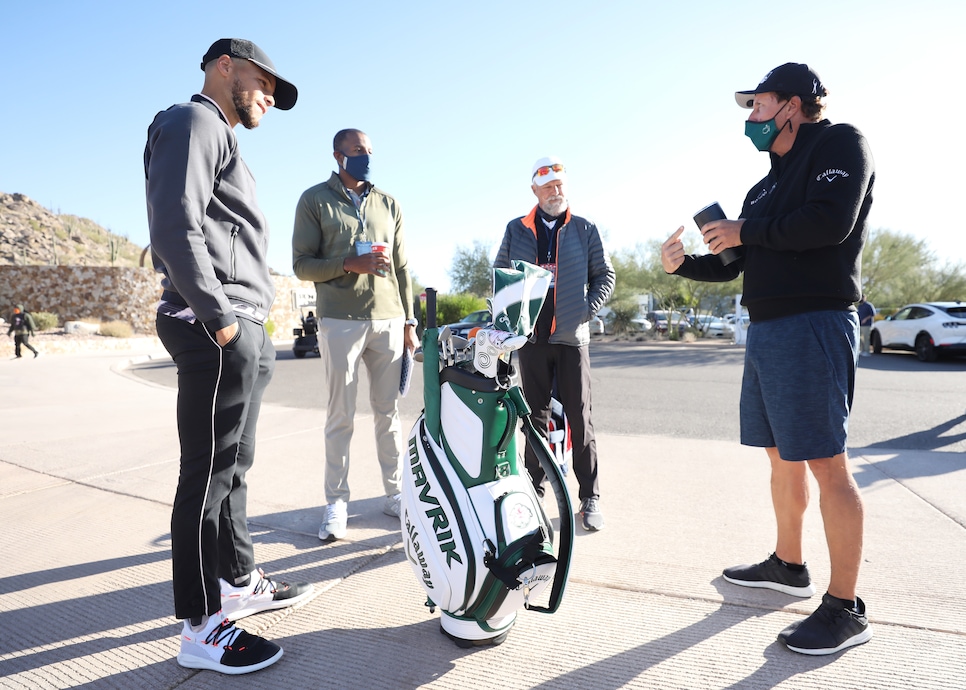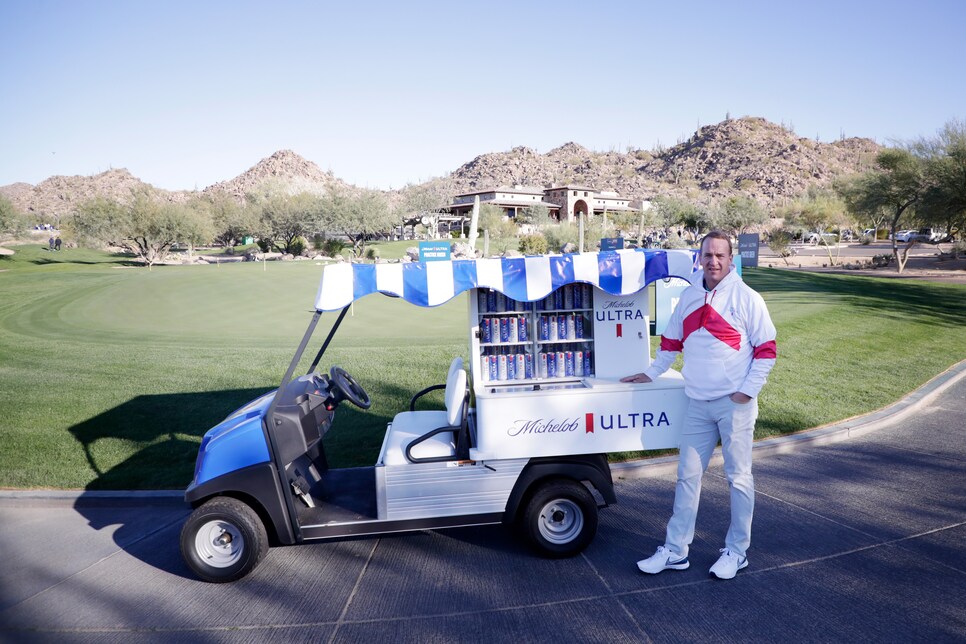 These guys are good. Not quite good enough for me to give coffee a try, but I can mess with a Michelob Ultra.
VIRAL VIDEO(S) OF THE WEEK
Check out nine-time major champ Gary Player getting (another) lesson from 18-time major champ Jack Nicklaus:
You love to see it. That's why they call it a LIFETIME sport, folks.
THIS WEEK IN CELEBRITY GOLFERS (NOT INVOLVED IN THE MATCH)
Congratulations to golfer and friend of The Grind, Sara Winter, for winning the title of Miss Grand Canada 2020.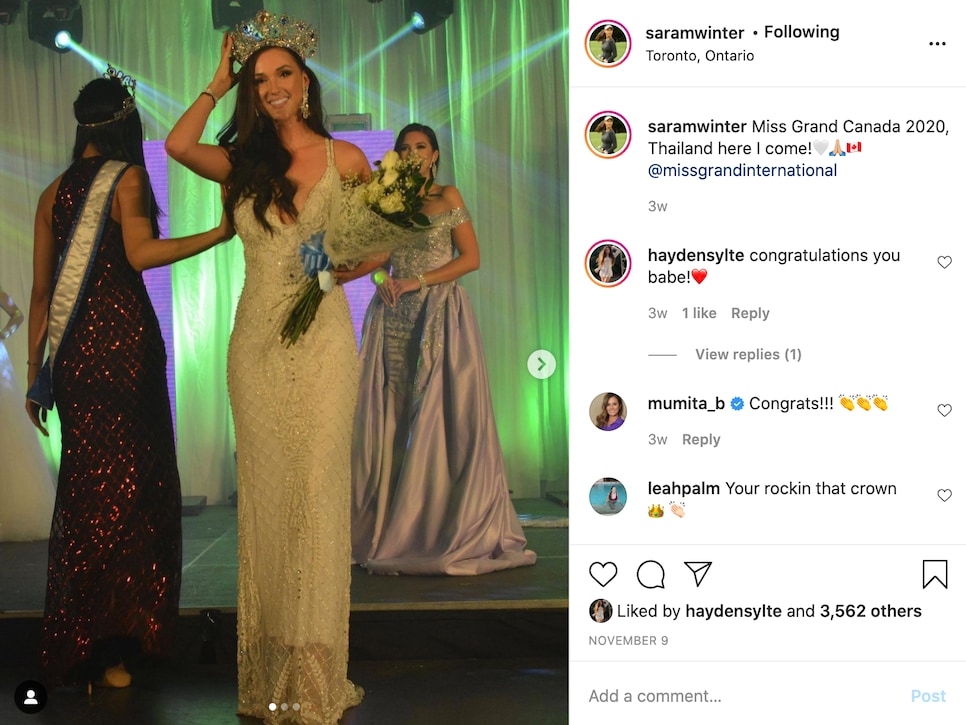 She will be representing her country at the Miss Grand International competition in Thailand, and she told us she's looking to play golf while she's there. Love the dedication to the game.
THIS WEEK IN TOUR PRO PUBLIC DISPLAYS OF AFFECTION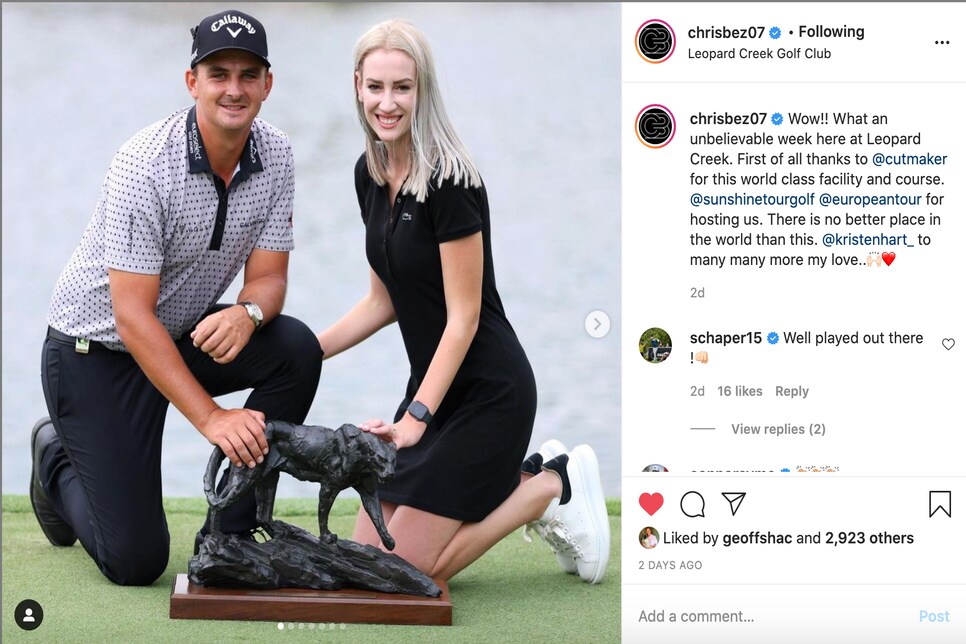 Aww. And even though Brooks Koepka didn't win his standard one or two majors this year—and Bryson won one instead—he and Jena Sims still have plenty to be thankful about.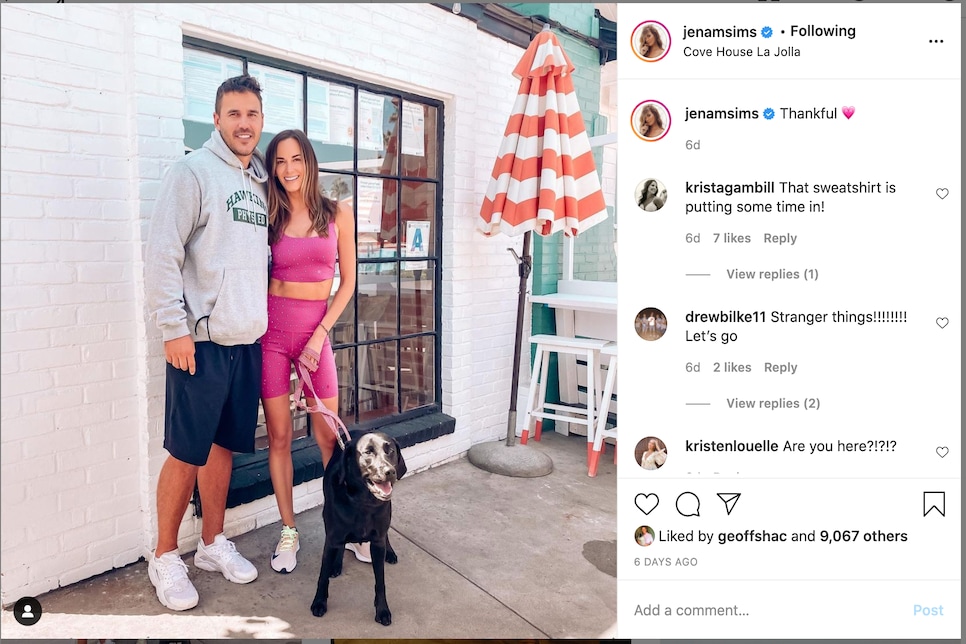 "Chuck, if you can't read words, how you going to read the greens?" —Shaq. Man, I miss the NBA on TNT.
Justin Thomas says Tiger Woods' son, Charlie, "talks trash just like his dad." As if I wasn't excited enough about seeing Charlie in action at the Father-Son in a couple weeks. … Justin Thomas also says he thinks double-digit wins in a PGA Tour season is possible. JT is pretty good at trash-talking himself. … And finally, I'm already deep into my second giant bag of Christmas Hershey Kisses from Costco: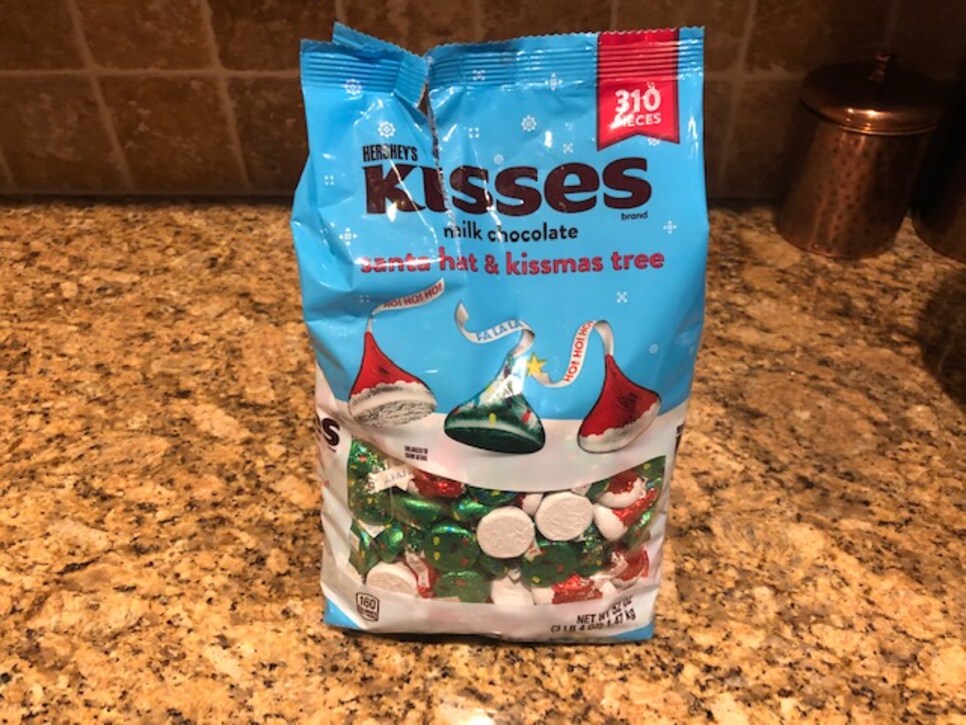 It's only Dec. 1. I have a problem.
RANDOM QUESTIONS TO PONDER
How many Hershey Kisses could Joey Chestnut put down?
Who will be World No. 1 at Christmas in 2031?
When is HBO coming out with another murder mystery?