News
The Match 3 entertained with chuckles more than great golf shots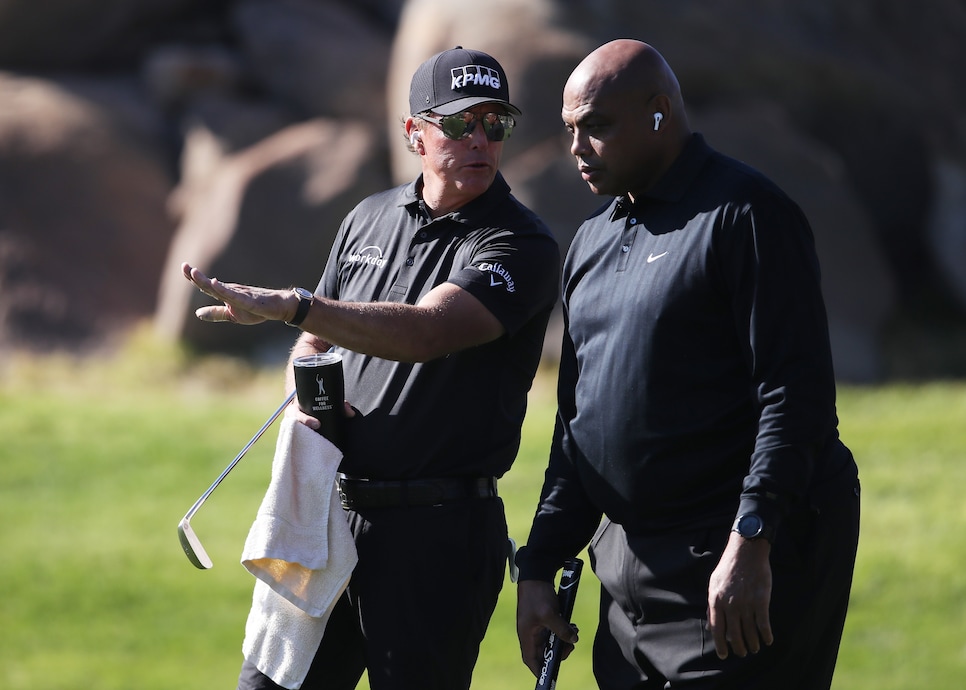 It was the perfect day-after-Thanksgiving viewing. No one wants anything too serious when they're still digesting the previous night's feast, and this third edition of these made-for-TV matches—this one officially dubbed "The Match: Champions for Change"—never promised to be anything more than pure entertainment for wonderful causes.
It was certainly entertaining. Despite giving up some 16 shots in combined handicaps—at least allegedly, more on that in a second—the team of Phil Mickelson and Charles Barkley dominated Peyton Manning and Stephen Curry on the type of cloudless late-November Arizona day that has you wondering why you don't live out West.
Most importantly, the broadcast raised $5,455,000 for historically black colleges and universities, and will result in more than 3.7 million meals donated to those in need.
After losing the first hole, Team Barkleson won the next four in a row and never looked back, eventually cruising to a 4-and-3 victory at Stone Canyon just outside of Tucson. Here are six takeaways from a lighthearted afternoon.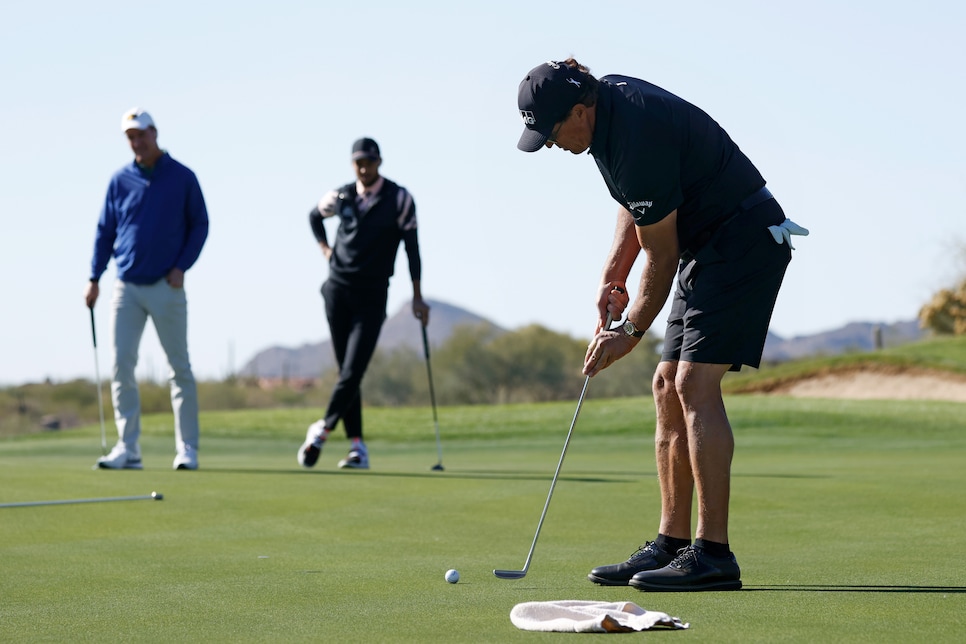 Phil Mickelson putts on the second green as Peyton Manning and Stephen Curry look on.
Christian Petersen
PGA Tour pros are really, disgustingly, insanely good
This is not new information, of course. We know damn well that PGA Tour players are among the best golfers in the world. Moreover, we know that Mickelson is a legend of the game. And yet, Mickelson and Barkley were underdogs coming into this match. We'd guess the oddsmakers' reasoning went something like this: The modified alternate-shot format (also known as Pinehurst) meant Mickelson would have to play more than a few of Barkley's shots, and Barkley is an absolutely horrible golfer, while the other team features two pretty darned good golfers.
Turns out, if only one team in a golf match has a PGA Tour pro, you should back the team with the PGA Tour pro.
Mickelson did indeed have to play a number of Barkley's shots, but it didn't matter. He was able to limit the damage and often put Barkley in spots where he just had to lag a putt close enough for Phil to make it. Granted, Curry played pretty awfully for a plus-handicap, and Barkley did hit some good ones. And, of course, hindsight is 20/20. But looking back, those pre-match odds were something of a headscratcher.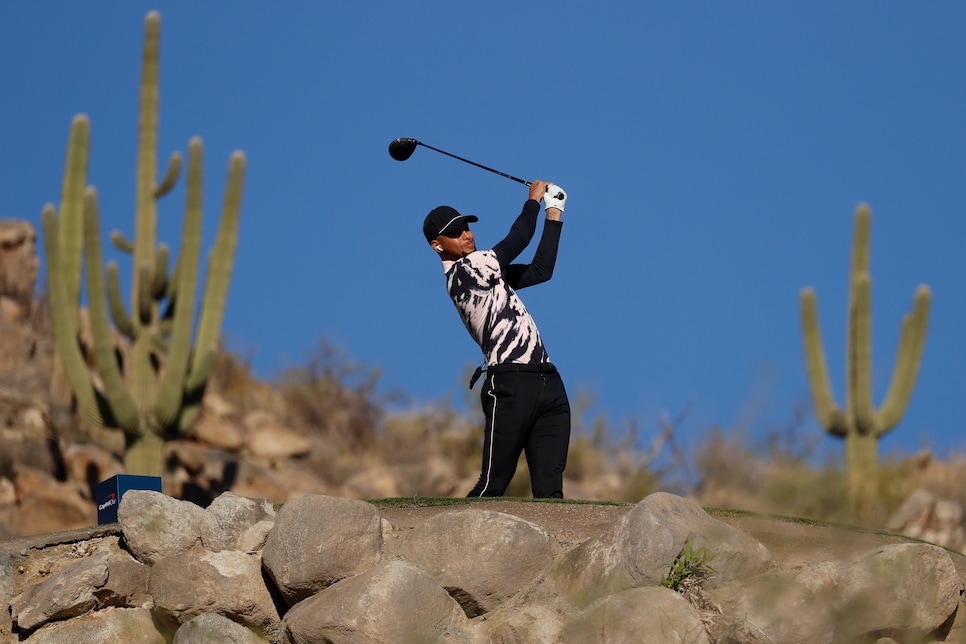 Stephen Curry plays his shot from the 10th tee.
Christian Petersen
One bad round doesn't mean Stephen Curry can't play to his handicap
Curry did not play well. That much is indisputable. What's also indisputable is that one round does not a golfer make. In other words, just because Curry played awful on Friday does not mean he's some sort of vanity handicapper. Who knows how much he's been playing lately? Recall that Curry broke his wrist just 13 months ago, and you have to think the doctor cautioned against playing a bunch of golf during the rehab process.
The odds are Curry hasn't been playing as much as he had in the run-up to his two starts in professional events. In those events, he shot 74-74-71-86. He clearly has game, even it didn't show up on Friday.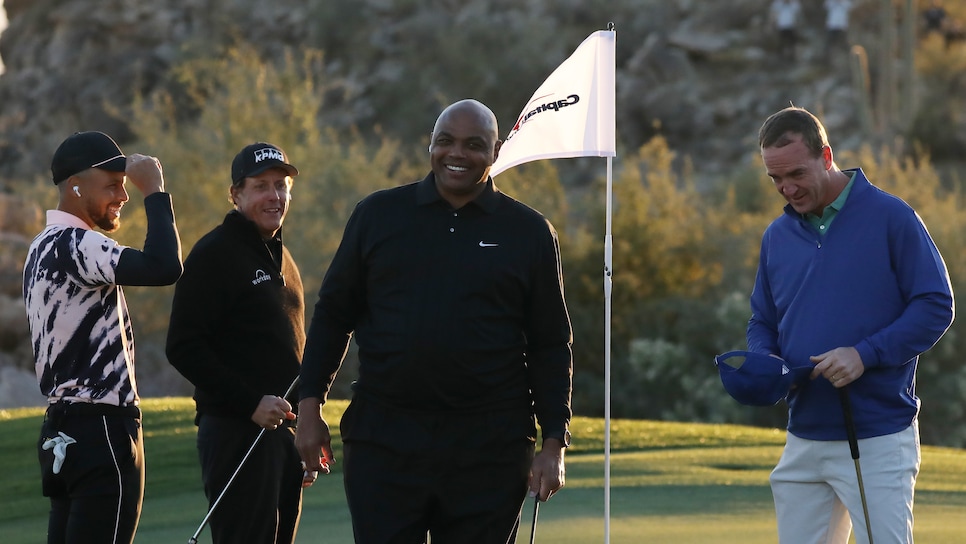 Charles Barkley was all smiles after he and Phil Mickelson defeated Stephen Curry and Peyton Manning in The Match.
Christian Petersen
If Charles Barkley doesn't crack you up, check yourself
Barkley may be the funniest character on television. And it's not just that he himself is funny, it's that he inspires absolutely hilarious banter and trash talk from the people around him.
Some greatest hits from Friday:
—After going 4 up through 7, Barkley told the announcers to "Call Jeff Zucker and Craig Berry, tell them to get some of those 'Law and Order' re-runs ready in about five more holes."
—Peyton Manning giving Barkley the following swing tip: "Open the fridge door, close the fridge door."
—Shaquille O'Neal, who made one of a number of delightful cameo appearances on the broadcast, asking Charles, "If you can't read words, how you gonna read the greens?"
But the funniest thing from the day, at least in this writer's humble opinion, came courtesy of Curry's former teammate/frequent playing partner, Andre Iguodala. After each of Curry's many poor shots, Iguodala would simply whisper into his mic, "plus one." That's the kind of needling we always love to see on a golf course.
Teased unmercifully through the years for the terrible hitch in his swing, Barkley apparently has rid himself of it, and Mickelson figured out in a practide round that the best strategy was to have Chuck hit irons off of every hole, including par 5s. It worked especiallly well early, and Barkley also contributed a couple of times with impressive lag putts that were better than even Curry could manage.
There was one notable absence from this Match, as it relates to the first two: namely, Tiger Woods.
Now, the first iteration of this series was the $9 million match between Woods and Mickelson at Shadow Creek. That broadcast was dripping awkwardness, the golf was subpar, and it seemed the entire operation didn't know if it was a serious golf match or entertainment. The second edition, which pitted Woods and Manning against Mickelson and Tom Brady, was a huge hit—largely due to Tiger.
Surely Woods brought at least half the eyeballs, because any time Woods plays, people watch. But it's more than that—Woods' interplay with Mickelson, his greatest rival throughout his career, was fascinating, as were his conversations with two of the best quarterbacks of all time. Plus, he played extremely well that day, which is always extra nice to see at this stage of his career. You can't fault this broadcast for not having Tiger, but you couldn't help wishing he was there.
A really wild golf course
In a commercial that ran during the broadcast, Mickelson put it simply: "I loved this club so much, I bought it." What he bought was a dramatic piece of property and a somewhat bizarre golf course. Every shot seemed to be blind, there were long drives between seemingly every green and tee, and some of the tee boxes looked like genuine safety hazards.
In a way, it was the perfect venue for this distinctly un-serious event.
Golf's long history of exclusion is no secret, so it's terrific to see the game make an effort to reach and help people it has shunned for decades. And this follows Augusta National's commitment to fully fund the woman's golf program at an HBCU. Of course, it does not in any way mitigate golf's ugly past on these issues, but it's never too late to start doing the right thing. Finally, golf seems to have realized that.