News
Justin Thomas says he was four to five rounds from a historic year, and that 10 or 11 wins in a season is possible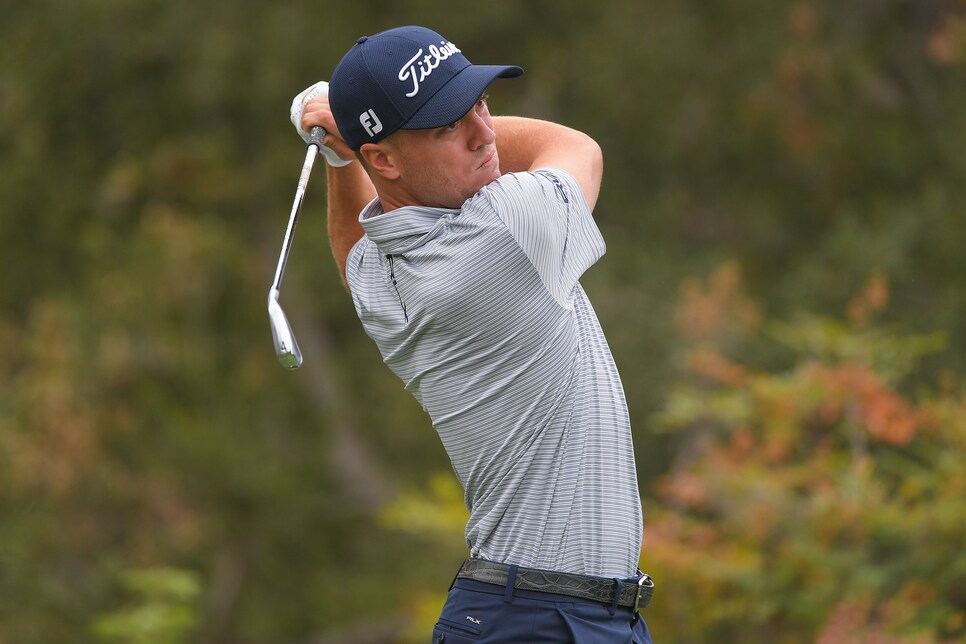 Justin Thomas has enjoyed a prosperous 2020. He finished runner-up in the FedEx Cup, won the PGA of America's Player of the Year honor, contended at the Masters and U.S. Open, and briefly recaptured the World No. 1 ranking. His win at the WGC-FedEx St. Jude Invitational in July put him on an all-time trajectory; only Tiger Woods and Jack Nicklaus had more wins on tour before age 27.
However, golf demands much from its elite. Through that prism, Thomas' 2020 is not without blemishes. There were a handful of Sundays where Thomas didn't close, and those moments in the hunt at majors produced zero trophies. Unfair as those expectations can be, that is the deal with stardom. And they are expectations Thomas holds for himself.
Speaking at the Mayakoba Classic Tuesday morning, the final PGA Tour event of 2020, Thomas noted as strong as his performance has been, it's also brushed with disappointment.
"I played well this fall, but I feel like I've had a really good opportunity to win three times and I haven't won any of them," Thomas said at El Camaleon Golf Club, "I think I have to find a little bit better way to kind of get focused or just to really close the deal because I had a 54-hole lead in L.A. and didn't get it done. And [I] had a co-lead for 36 at Augusta and had the lead through 18 at the U.S. Open, and I didn't get it done at any of those.
"So I clearly need to work on something or get something improved to get it done when I get in those scenarios again."
Thomas mentioned his failure to win at Muirfield Village, where he held a three-stroke lead on the 16th tee at the Workday Charity Open in June, as a specific pain point. He also noted he wasn't far away from something special.
"It was weird because I really feel like I've done a great job of closing golf tournaments or playing well with the lead and doing well, but for some reason this year I didn't do that," Thomas said. "I just didn't hit the shots I needed to, I didn't perform the way I should have, but you know, I'm going to have a little bit of time to reflect and I feel like I have a decent grasp or understanding what it was. But no, I very well understand that I was, you know, probably four or five rounds away from having another historic year, but it doesn't mean that can't happen next year."
Asked if those "what ifs" were reminders of what Thomas could achieve, the 2017 PGA champion responded what he believes is possible. Even if it's an aspiration that seems a bit unattainable.
"In this day and age it is very difficult, but I mean, I still see no reason why someone can't win eight, nine, 10, 11 times in a season," Thomas asserted. "I know it's not likely and a lot of people, it probably can't happen, but like I said, I was a couple rounds away in a short season from winning five or six times."
For the record, a player hitting double-digit victories in one campaign has happened just four times in tour history: Ben Hogan (1946, 1948), Sam Snead (1950) and Byron Nelson (1945). In the 70 years since Snead, Tiger Woods (2000) and Vijay Singh (2004) have come the closest with nine wins apiece.
Conversely, Thomas also realizes how close he was to coming up empty-handed.
"But again, I was a couple shots away from not winning a couple times. It's how golf is," Thomas said. "There's only one winner every week and you're going to go on hot streaks, you're going to go on cold streaks, but I feel like I am very close to maybe reeling a couple off or having a great year. But I also understand that this game doesn't just give you trophies because you're close, you have to earn it."