Masters 2021
Masters 2021: Cameron Champ has more than golf statement to make this week in Georgia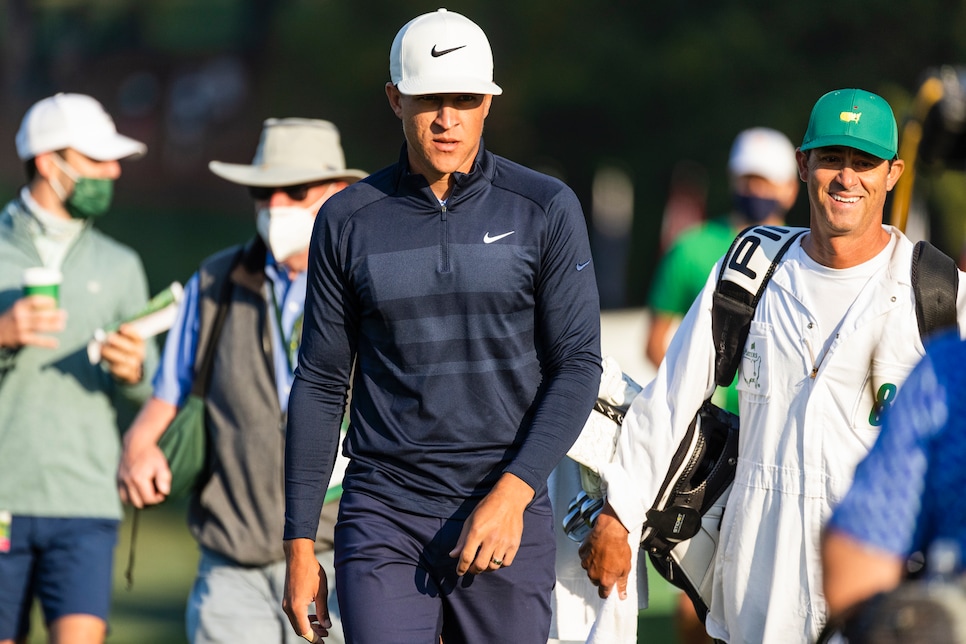 Cameron Champ has been speaking out for social justice while playing on the PGA Tour.
Ben Walton
Cameron Champ was walking across the driving range at the BMW Championship at Olympia Fields outside Chicago last August, a black shoe on his right foot, a white one on his left and the names of Breonna Taylor and Jacob Blake scrawled in magic marker on the sides of the latter.
"I got asked by three different people, who are they?" he said on Tuesday outside the Augusta National clubhouse. "To me, again, that proves the point of why I'm doing it."
The question was not surprising, but it was revealing.
Golf's struggle with matters of race has been well-documented and traces back to the sport's earliest days in the U.S.—a Caucasian-only clause was part of the PGA of America's bylaws and prevented non-whites from membership and competing on the PGA Tour from 1934 until 1961, and that was just one of many exclusionary practices common in the game for decades. Though there aren't the same roadblocks today, many still do exist. That three people would cross paths with Champ—a vocal agent of change in a still almost entirely white sport—and be unfamiliar with who Taylor and Blake are amid their national headlines summer also speaks to how far the game still has to go.
Taylor, a Black woman, was fatally shot in March 2020 when plainclothes officers in Louisville forced their way into her apartment while investigating drug dealing operations. After the shooting, Taylor's apartment was not searched for drugs or money. Blake is a Black man who in August 2020 survived seven gunshot wounds to his back, fired by a police officer in Kenosha, Wis. Blake was never charged with a crime.
At the Masters, things change over time but do so at a pace reminiscent of how its tournament spectators move about the club's property—there's no running allowed.
It wasn't until 1975, more than 40 years after the first edition of what was then the Augusta National Invitation Tournament, that Lee Elder became the first Black man to play in the event by earning his way in with a victory in the 1974 Monsanto Open. In 1990, the club admitted its first Black member, TV executive Ron Townsend. In 2012, it invited its first women members, Condoleezza Rice and Darla Moore. This year, Elder joins Jack Nicklaus and Gary Player as an honorary starter.
Better yet is the meaningful impact the club will have on future generations by funding the creation of a women's golf program at historically Black Paine College in Augusta, a city, like most in the south, with a long and troubling history of racial divide. It will also award two scholarships at the school in the name of Elder.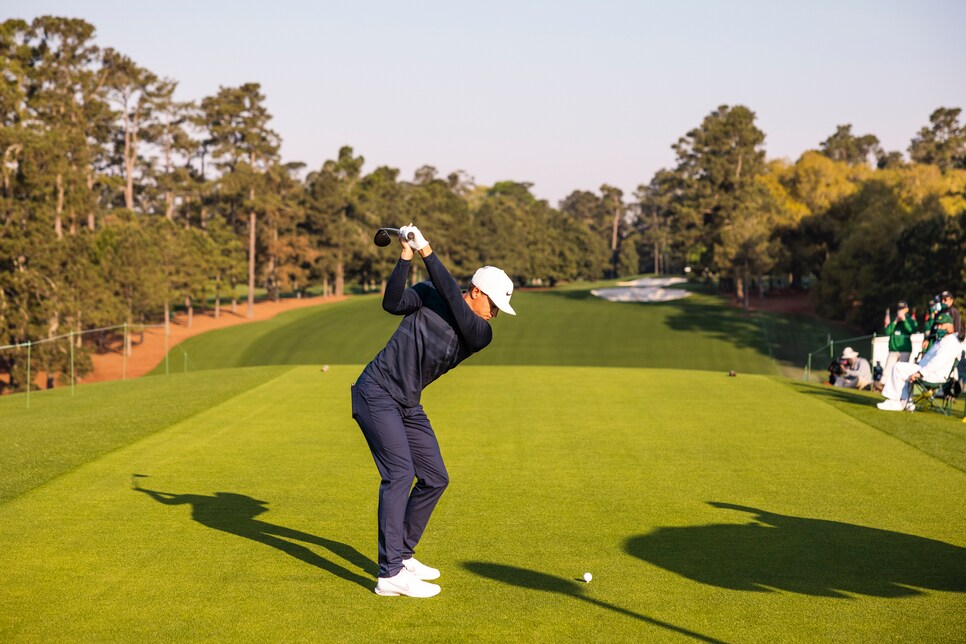 Cameron Champ hits his tee shot on the first hole during his Wednesday practice round at Augusta National.
Ben Walton
His swing both elegant and powerful, the 25-year-old in the early stages of a promising career continues to prove that his words and actions are, too. Last November, his foundation announced it would donate $40,000 to fund a pair of scholarships at HBCU Prairie View A&M University in Prairie View, Texas, with the scholarships named after Champ's late grandfather, Mack, who grew up in the Jim Crow South and later worked at a golf course in Texas, where he first taught his grandson the game. Tuesday, Champ used the occasion of the biggest tournament in the sport and the lawn behind the Augusta National clubhouse to continue to speak out against continued racial inequalities that still exist within the game and beyond.
"I think there's still a lot of work, a lot of work to do," Champ said. "I just think more people need to come together and realize where we are, where the game is, and where it's going. Obviously, COVID has brought a new light to the game, but in order for it to grow and in order to see more minorities and more people of color out here, something has to change."
Champ is willing to be that provocateur.
"When I played AJGA, there was no people of color," he continued. "I was really the only minority, to be honest. It's not just in pro golf. It's in junior golf, amateur golf, women's golf—it's the whole aspect of golf.
"I don't think it will happen in my lifetime, but hopefully in the next. Things have to go in the proper directions in order for it to happen."
Having someone to look up to helps. Much the way Champ did with his grandfather and has embraced Elder as a role model, he is hoping to have his own impact, this week and throughout his career.
At last November's Masters, Champ again wore one white shoe and one black shoe. His hat also had the word "Equality" stitched into the side, something that he has continued to wear since and will do this week as well. And earlier this year, he removed the sponsor logos that usually adorn his bag in favor of those from different Black-owned businesses, raising money for each based on his play. It was a way to not only give back but raise awareness that Black businesses, much like their owners, have been disproportinately impacted by the pandemic.
This year, Champ hopes to improve on his tie for 19th in last fall's tournament, his inaugural Masters appearance. He says he feels comfortable on Augusta National and that it's a course that suits his game well, particularly his prodigious tee shots. But he also recognizes his impact is more than just about his performance, though playing well on the game's brightest stage surely helps.
Which is why he was also outspoken about the controversial new voting law in Georgia that is viewed by most as discriminatory.
"It really targets certain black communities and makes it harder to vote, which to me, it's everyone's right to vote," he said. "For me to see that, it's very shocking. With MLB and what they did and moving the [2021] All-Star Game [out of Atlanta] was a big statement. I know there's a bunch of other organizations and companies that have moved things.
"This is a prestigious event, and I know there's a lot going on with it and the people involved with it. But, again, yeah, it was definitely a little bit frustrating to see that. This week I'll definitely be supporting, doing some things throughout the week."
What will those things be? Stay tuned, this week and in the weeks, months and years to come.
But nearly 50 years since Elder broke the color barrier at the Masters, golf won't be the only thing on the mind of the only Black player in the field this week at Augusta National.
"You know, it's my job, it's what I love to do, but there's a lot more to all of us out here on tour," Champ said. "We have personal lives. We have a lot of other things going on."