Australians For Beer
Famous DJ tries to convince Cam Smith to chug a "shoey" at LIV Golf party hole, eventually succeeds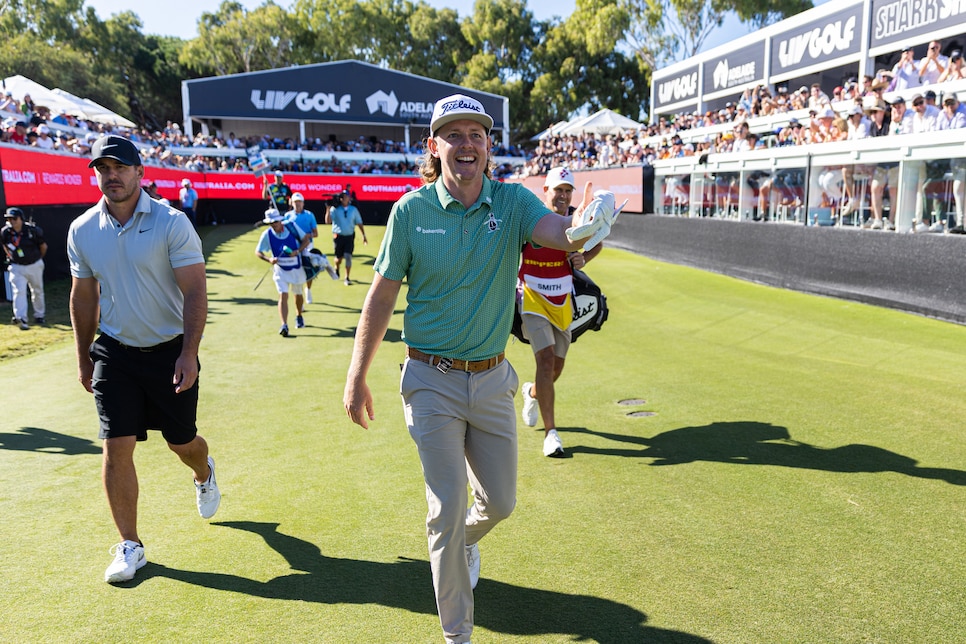 Up until LIV Golf's Adelaide event being held in Australia this week, the vast majority of chugging Cam Smith had done was out of the claret jug he won at last year's Open Championship at St. Andrews.
Down Under, however, things are done differently.
People eat kangaroos, the toilets flush in the opposite direction and Australians often engage in a practice called a "shoey", which is basically pouring a cold beverage into a shoe and drinking out of it. Why? Who knows, but even Formula 1 star Daniel Ricciardo has been known to perform a shoey every now and again.
During the first round of LIV Golf Adelaide, an internet-famous DJ called Fisher approached the World No. 6 golfer, an Australian native, as Smith walked off a tee box at The Grange G.C. Fisher began pouring a can of hard seltzer into a Nike sneaker:
"Drink a shoey … Oi!" Fisher, a former pro surfer and comedian who is one of the best follows on Instagram, said. The mullet-wearing Smith laughed and palmed Fisher off. Smith was still competing in round one of LIV's Australian debut, where he shot a 69 at The Grange to sit at three under par and seven shots back of Talor Gooch's hot 62.
"Yeah, that was pretty cool," Smith said after his round. "Fisher came out and did a shoey [on the par-3 12th "party hole"]. Everyone was going nuts, so that was pretty funny. I probably hit the worst shot of the day there, but everyone still clapped."
"Can't win them all!" Fisher captioned the post on Instagram.
But you don't get to the top of the global DJing scene without persistence. Later, on Thursday night, Fisher got his wish.
Performing some of his electro hits, such as "Losin' It", to a huge crowd at LIV Adelaide after the first round had concluded, Fisher called Smith on stage.
"He still owes me a f-----g shoey!" Fisher said to the crowd:
Smith, still dressed in his Penguin golf apparel from the round, walked onto the stage and chugged the drink out of the same Nike shoe.
Naturally, the crowd went wild, as if Smith wasn't popular enough in his homeland.