News
Callaway's new X Forged and Apex irons appeal to the better player in all of us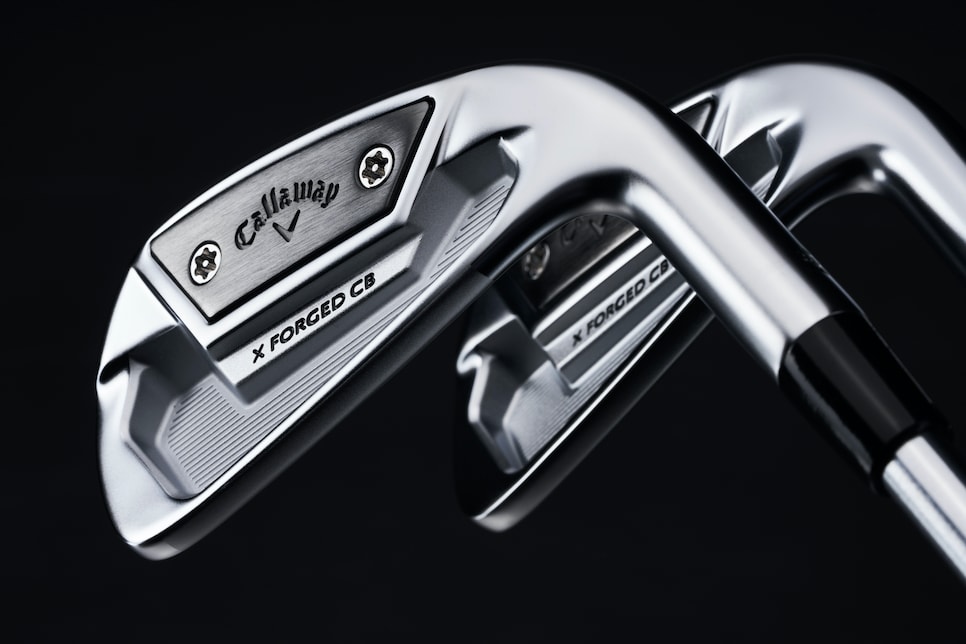 Callaway has a reputation for taking its time when introducing new iron models, particularly within its Apex or X Forged lines—as those models are geared toward a more passionate, demanding player. Callaway is making those players wait no more with the introduction of its X Forged CB irons and the next iteration of its Apex MB irons and Apex UT utility irons.
Perhaps the most ambitious of the lot is the X Forged CB—a multimaterial, forged construction in a players shape.
Key to the design was the desire to eliminate tip-plug weighting to achieve a specific swingweight. "I'm a huge believer in swingweight consistency," said Scott Manwaring, director of design for Callaway Golf. "If you want your clubs to be a certain swingweight, I don't want to put 15 grams of tip plug weight to achieve it. I would rather keep the weight centered so you're not moving your center of gravity and thus affecting your ball speed. It's a consistency I'm targeting for a player that knows where they're hitting it on the face."
To achieve this, internal and external tungsten weighting is used. Weight is placed internally in the toe area and in the back cavity, a large weight (not adjustable by consumers) is screwed into place that allows the CG to be centered while hitting the desired swingweight.
"This has been a fun project," said Manwaring. "It plays, sounds and feels like a one-piece iron. The back weight is either 12, 17 or 21 grams. We wanted to leverage a light, standard and heavy weight head options for consumers. If you're going after a certain weight build, this gives you options to land it while maximizing spin and speed consistency. We weren't trying to force the CG low. This is a consumer that is very precise and wants it their way."
The stock shaft offering reflects that with the Project X IO. The IO stands for "individually optimized" for each iron in the set. For graphite, Mitsubishi's MMT has metal mesh in the tip for stability. Golf Pride's Z Grip rounds out the stock offering.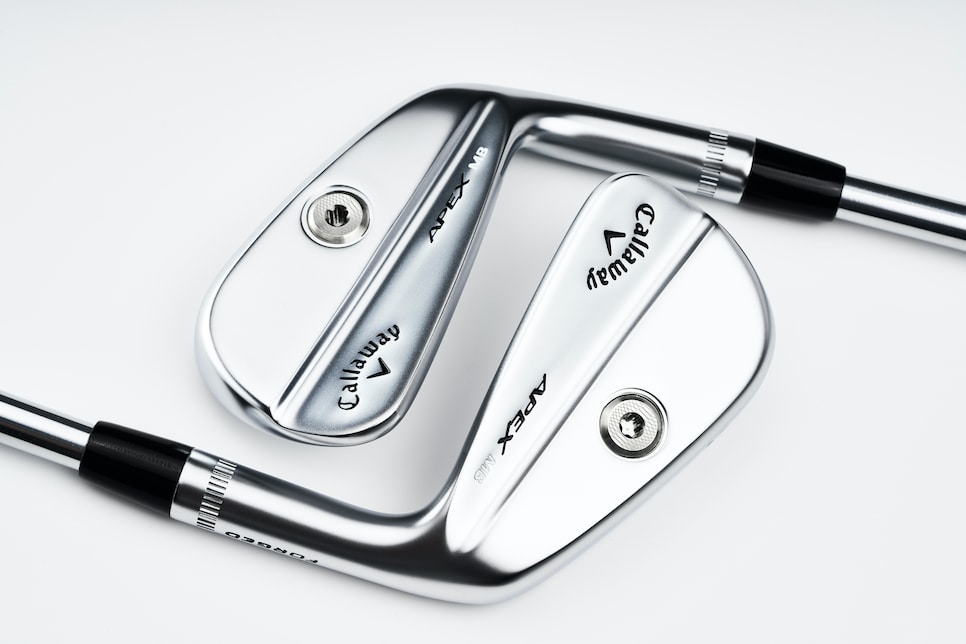 For players who perhaps want a more traditional iron, the new Apex MB Irons are muscle-backs with a classic blade shape but with a new weight design.
"There's a lot of pride that comes in playing forged clubs that cannot be quantified," said Manwaring. "Consumer needs are fragmented and some want precision-oriented clubs. This is a group that is desperate to have the clubs do exactly what they want."
Boasting a traditional, thin topline, refined sole, compact blade length and chrome finish, the new Apex MB is classic in every regard, however there are modern touches that reflect more than just another traditional muscle-back iron. The grooves are the company's 20V, which are designed to reduce fliers from the rough while a circular weight in the back allows for the desired swingweight without risking CG location. In a nod to the demanding nature of this consumer, the company made the port for the circular weight from 17-4 stainless steel to reduce the risk of rust over time.
Other subtle, but meaningful touches include a .550 inch outside diameter on the hosel that makes the appearance at address cleaner. "When Nike exited the equipment business we did a deep dive on their irons," said Manwaring. "They used this outside diameter on their blade irons and it worked well." A slightly reduced bounce—a request from its tour staff—and a traditional loft spec are designed to appeal to the better player.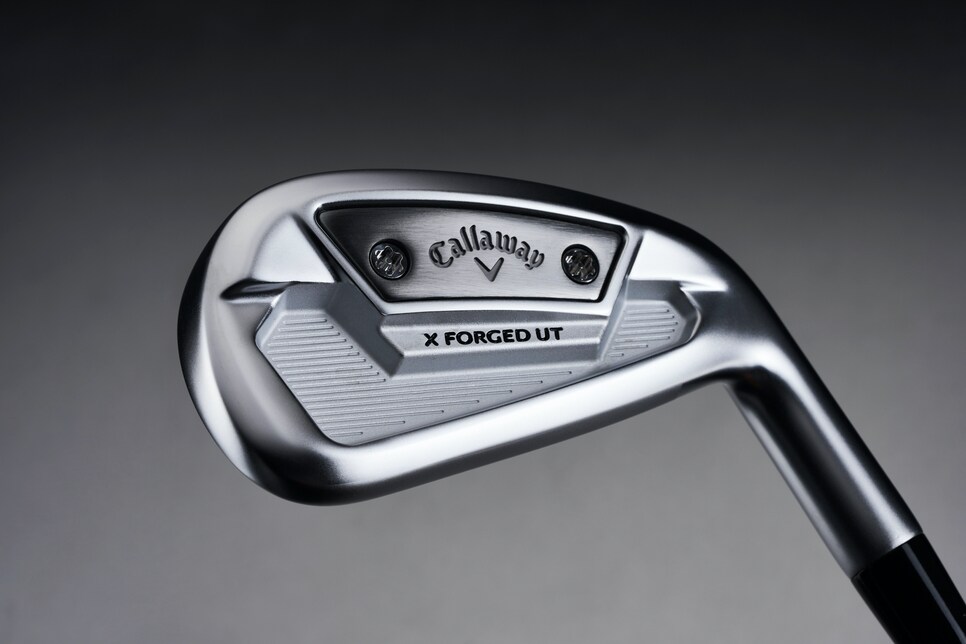 Better players also are becoming increasingly comfortable adding utility irons instead of hybrids to their bag. The new X Forged UT irons provide that option. A hollow-body construction, the X Forged UT employs a 1025 carbon steel body along with a flash face cup designed via artificial intelligence. An external tungsten weight in the back of the clubhead allows for optimal CG location while a long blade length and wide sole compared to a traditional long iron provides a forgiveness boost. Internally, the company's hallmark urethane microspheres, in which tiny air bubbles are within the urethane, help enhance feel. The Apex UT is available in lofts of 18, 21 and 24 degrees.
Available at retail on Oct. 29, the X Forged CB irons cost $200 per club in either steel or graphite while the Apex MB irons are $185 per iron in steel and $200 in graphite. The X Forged UT irons are $250 per club.