News
Bryson DeChambeau said he's going to be hitting 'around 2,000' drives in preparation for the Masters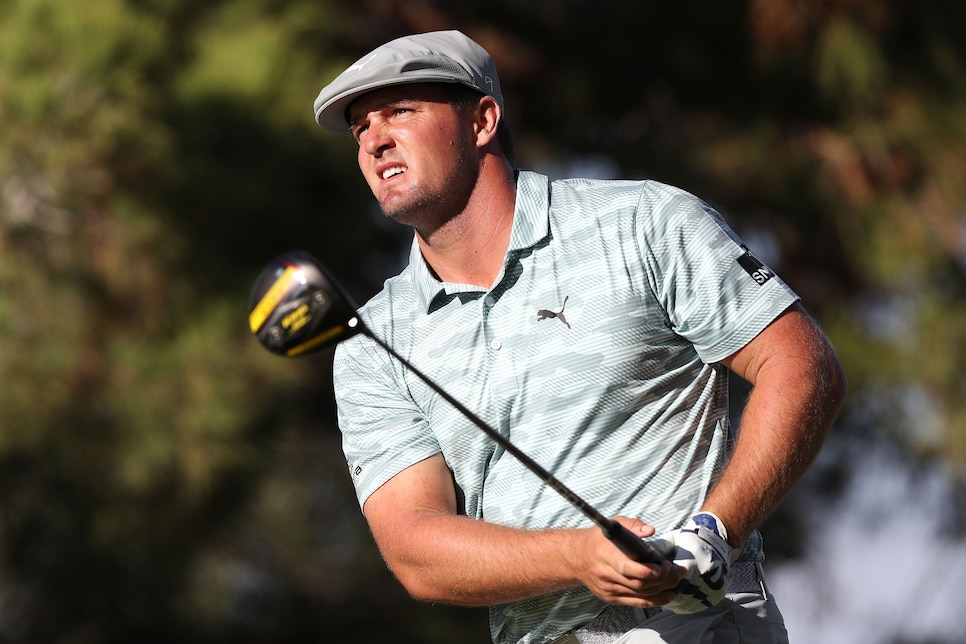 Bryson DeChambeau hits his tee shot on the 16th hole during Saturday's third round of the Shriners Hospitals For Children Open.
Matthew Stockman
"It's going to be just trying to figure more stuff out as always," DeChambeau said.
It starts, he says by spending the next week "working out like crazy."
"I'm not really going to touch a club too much," he said. "Going to be training pretty hard and getting myself up to hopefully around 245, something like that, in weight, be the first time I've ever done that. So I'm going to be consuming a lot and see and working out a lot and see what can go from there."
"From there" will include the equipment experimenting that he's discussed in detail following his U.S. Open win. He has said that he will begin using a 48-inch driver, the maximum length allowed under the Rules of Golf, in practice in order to become comfortable being able to control the longer club.
"I don't know how many drivers I'll hit, but I'll hit as many as I need to," DeChambeau said. "And from a speed-training perspective I could probably go upwards of over 1,00 to probably 2,000, around 2,000 drives the next four weeks trying to get my speed up."
DeChambeau said there will also be a visit to Augusta National for a practice round before Masters week.
"I'll play a practice round with a good friend of mine and we'll have some fun and see what I can do," he said. "I still got some equipment stuff coming in the next two months, that's mainly why I'm taking it off. I feel like the advantages that I usually have could be much improved upon with the equipment, and we don't have it yet, but we're diligently working on it behind the scenes. I'll have that in a couple weeks, we'll prototype and test it and see if it works, if it doesn't we'll go back and tool it and hopefully have it ready for Augusta."