News
Why Bryson DeChambeau comes out ahead in this latest round of the distance debate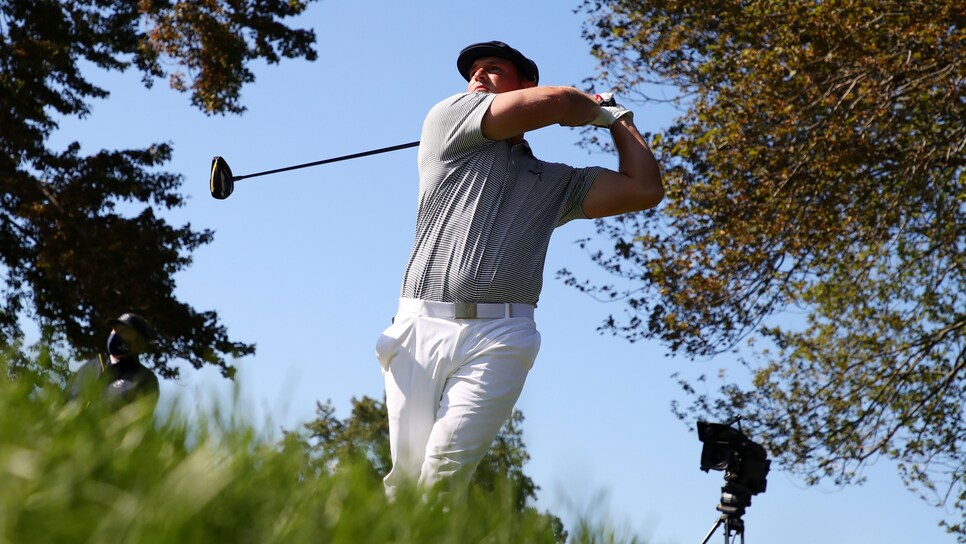 This past weekend at the BMW PGA Championship, Matthew Fitzpatrick was asked about Bryson DeChambeau's power off the tee—the most noteworthy of the radical changes the American has brought to his game in the past two years. Fitzpatrick admitted his bias as a relatively short hitter among his peers, but went on to explain his concern with the DeChambeau process.
"[At] Winged Foot, the fairways were tight as hell," he said, "and I drove it brilliantly, and I actually played pretty well, and I'm miles behind … it just makes a bit of a mockery of it I think … when he's on, there's no point, is there. There's no point. It doesn't matter if I play my best, he's going to be 50 yards in front of me off the tee."
Three questions later, when asked whether he thinks the governing bodies will take action, Fitzpatrick put an even finer point on the grievance.
"It's not a skill to hit the ball a long way in my opinion," he said. "I could put on 40 pounds. I could go and see a biomechanist, and I could gain 40 yards. That's actually a fact. I could put another two inches on my driver. I could gain that. But the skill in my opinion is to hit the ball straight. That's the skill. He's just taking the skill out of it."
It's very easy to understand Fitzpatrick's frustration, and there are plenty who agree that the USGA and R&A should institute some kind of policy to curtail the obvious benefits of DeChambeau's approach. But the most telling part of Fitzpatrick's remarks, I think, came near the end:
"The skill in my opinion is to hit the ball straight. That's the skill."
This, more than anything else, highlights the difference in how the two great players think. Plainly put, Fitzpatrick is wrong. The fundamental skill in golf, and the one that supersedes all the rest, is finishing each hole in the fewest strokes possible.
That sounds absurdly basic, but it's a distinction worth making. Hitting the ball straight is merely a method of achieving that ultimate goal; it is not the goal itself. Sure, it's long been considered an incredibly important method, but it's still only a means to the end. You don't make money and win trophies for hitting the ball straight. You do for scoring.
DeChambeau is not the first person to discover that driving accuracy is actually far less important than previously imagined, but he's certainly taking that knowledge to extreme lengths. That's the nature of DeChambeau's approach—he considers the end goal, and his mind is open to literally any method within the rules of achieving it. (Including methods that prove to be failures, like croquet-style putting.)
From Fitzpatrick's perspective, this has to be at least a little infuriating. The skills he excels at are not quite being rendered irrelevant, but they are diminished. When he says that he could put on 40 pounds, visit a biomechanist and add 40 yards of driving distance, the reality of the modern game prompts an unspoken, uncomfortable rejoinder: Well, you might have to.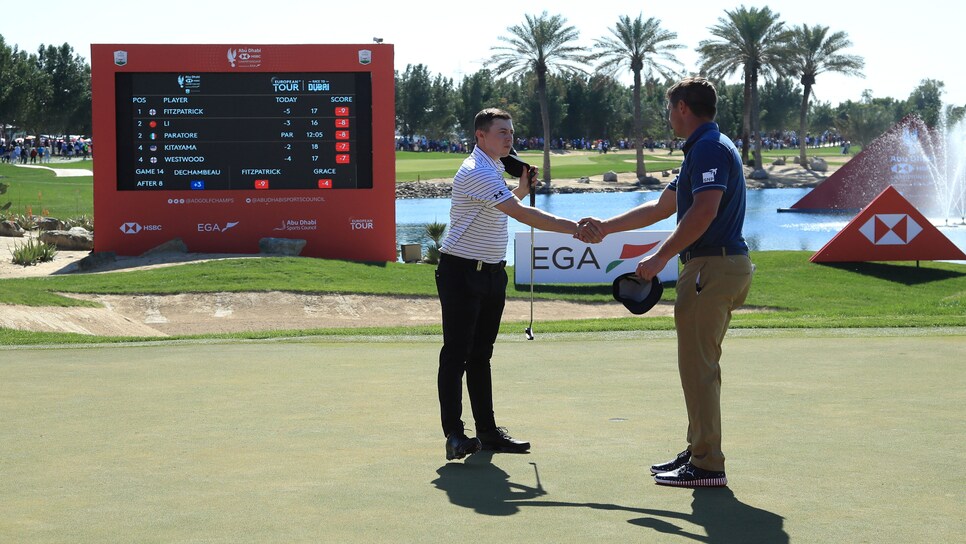 Matthew Fitzpatrick shakes hands with Bryson DeChambeau after finishing their rounds back in January at the European Tour's Abu Dhabi HSBC Championship.
Andrew Redington
It's clear from his comments that Fitzpatrick doesn't want to be forced to change, which is why he'd prefer if somebody else handled the problem. Unfortunately for him, there are far more examples of sports evolving, and old styles being left behind, than there are of governing bodies stopping these changes in their tracks. In the early days of baseball, there were many who thought the curveball was a deceptive, unsportsmanlike tactic that should be banned. In football, the forward pass was resented. In soccer, traditionalists looked askance at the rise of professionalism. Today in basketball, there are fewer true centers than ever before due to recent style transformations. In all sports, equipment has improved, training has improved, and records are continually broken. In almost every case, change carries the day.
Golf might become an exception, but smart money is against it. At this point, any interference from the top—such as altering course set-ups (graduated rough, faster greens), or restricting equipment (dialing back the ball)—would have to be implemented specifically to punish long hitters. And that would be an aesthetic choice, because none of the long hitters are doing anything illegal. Can you really re-write the rules simply because a certain style rubs you the wrong way? Probably not (although some believe the anchoring ban was done for that specific reason), and it leaves Fitzpatrick in an uncomfortable position. He may soon arrive at an inevitable conclusion: to compete with DeChambeau, serious weight training and a bigger body are the only way forward. The irony is that this is already true in almost every other professional sport, and as Daniel Rapaport wrote, the arms race has already begun in golf. Adapt or die.
There were two other flaws with Fitzpatrick's comments. The first was to imply that DeChambeau had somehow taken the easy way out. In fact, he probably worked harder off the course than any other golfer in the professional ranks to transform his body, his diet and his game. It would take more than a snap of the fingers and a simple choice for Fitzpatrick to duplicate that feat. Rather, it would require months (maybe years) of intense training. The truth behind their different approaches is that DeChambeau wanted to do the work, and Fitzpatrick does not want to have to in order to remain relevant. Which is fine—there's more than one way to skin a cat—but the choice comes with consequences.
The second flaw was reducing DeChambeau's improvements to a few pounds and a few yards of driving distance. Fitzpatrick was the second-best putter by strokes gained on the PGA Tour last season, but in the space of a few years, DeChambeau worked his way from a truly bad putter into the top 10 in the same category. At the U.S. Open, where Fitzpatrick reduced his effort to "taking the skill out of it," the strokes-gained metrics showed that DeChambeau was third in scrambling around the green, 18th in putting and first in approach shots. He was second off the tee, sure, but No. 1 in that category, Rory McIlroy, finished at six over. The golfer who was third, Bubba Watson, ended at 12 over. Nos. 4 and 5, Taylor Pendrith and Jon Rahm, finished at 10 over. DeChambeau won the tournament at six under. The driver was only one part of his brilliance, and the driver alone wasn't nearly enough. The fact is, all parts of his game are improving. To paint him as a one-dimensional player isn't just unfair. It's wrong.
DeChambeau's response this weekend was perfect. He defended the hard work and skill that go into his current game, thanked Fitzpatrick for the "compliment," and, somewhat comically, offered to help him make changes in his own game. DeChambeau doesn't need to enter this fray, and he knows it. He's safely in the first wave of the revolution; it's Fitzpatrick, in the end, who will have a few choices to make.