Women's Golf Style
How designers for Calia's first golf collection shifted from activewear to golf
*All products featured on Golf Digest are independently selected by our editors. However, when you buy something through our retail links, we may earn an affiliate commission.*
With the increase of female golfers, the golf apparel industry has been motivated to meet the demand to offer stylish and functional pieces for beginners and long-time players alike. Established activewear brands, like Calia, are the most common newcomers to golf. Building off successes in other sport- and performance-focused lines, these brands are able to rely on fabrics and technologies that consumers trust with designs optimized for golf. This blend allows for fresh ideas in the golf apparel space and versatility across offerings. Calia's first season in golf has shown how valuable female designers, quality performance fabrics and a willingness to push the style boundaries in golf apparel is for a successful women's golf collection.
If you are familiar with women's activewear brand Calia, Carrie Underwood likely comes to mind. The singer launched the brand under the Dick's Sporting Goods umbrella in 2015, and the line became the best-selling fitness brand for the retailer, second only to Nike.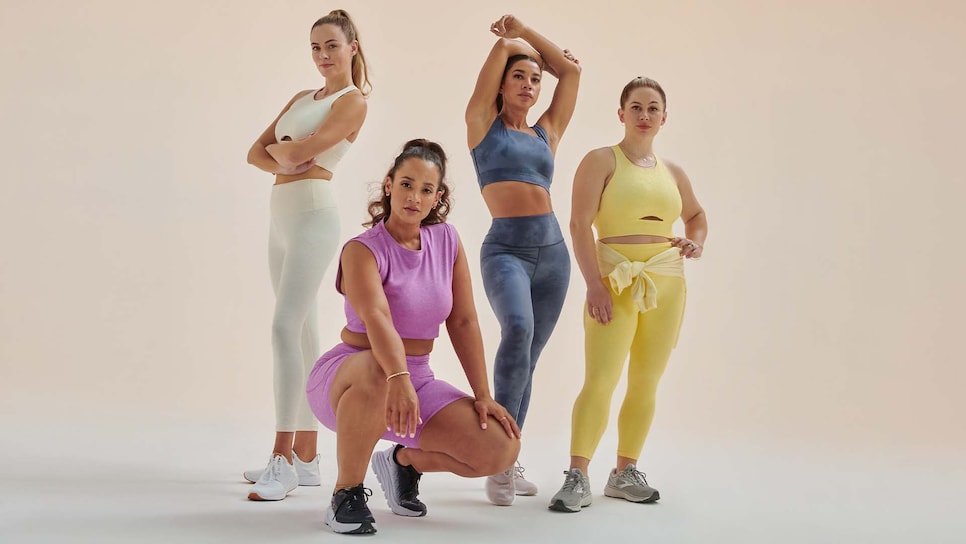 From left to right: golf travel correspondent Alexandra O'Laughlin, actress Dascha Polanco, influencer Hannah Bronfman and Olympic golf medalist Shawn Johnson.
Underwood announced in November that she'd be moving on from Calia, but the brand would continue designing women's activewear. This spring, the brand announced four ambassadors would take over as part of what the brand is calling the Calia Collective. They are Olympic gold medalist Shawn Johnson East, actress Dascha Polanco, influencer Hannah Bronfman and golf travel correspondent Alexandra O'Laughlin.
The most recent collection from Calia includes workout attire, lifestyle pieces and a golf line—a first for the brand. From the golf apparel side there are several shirt and skirt options along with layering pieces, a dress, jumpsuit, shorts and pants. The line also includes a belt bag, visor and perforated hat, all designed specifically for golfers.
The Birdie Skort is the most popular piece in the collection. Available in four colors, it's made with a wrinkle-resistant fabric, four-way stretch and wicking properties. It's got four pockets, built-in mesh undershorts and a length of 16 inches. Similar to the Birdie Skirt, the Energize Skirt is an inch shorter, a high-rise waist and is designed with a bit of flounce at the back for an extra feminine touch. New to the skirt lineup is a preppy, pleated option made with a cotton-blend that feels less sporty and more fashion-like in construction.
For tops, there are a range of fabrications and styles that add versatility to the collection. Made to be paired with the pleated skirt, the brand has a sweater polo with elbow-length sleeves, a v-neck opening and a ribbed hem against the draped silhouette. Easily matched with any piece in the line, the long-sleeve mock-neck golf shirt is cool enough to wear on the hottest days, has UV 50+ sun protection and a silky-feeling nylon-polyester fabric.
The range of options to fit different on-course styles is what makes Calia's golf line unique. The sporty options can easily be paired with the feminine pieces, while the statement pieces and basics are thoughtfully designed with upscale styling to shine paired or alone.
"We leverage many technologies across the private brands at Dick's Sporting Goods," Calia Golf Designer Mary Parker said. "Many are true to athletics like wicking, breathability or four-way stretch fabric, and some are more elevated, like anti-microbial or wrinkle resistant finishes."
Parker, who has designed for a range of sports and activities, is currently working to expand the layering options in the collection. She picked up the game recently and has become an avid golfer who is always looking for functional and stylish layering pieces. The personal connection to designs is evident with details like roomy pockets on all the skirts, which are easy-to-match with color palettes and several different collar options.
The styling for the Calia Golf line leans toward an upscale, athletic look with a few feminine touches like ruffle sleeves, pastel colorways or pleated skirts for those looking for more fashion-focused pieces. The price point for pieces is comparable to other activewear brands with golf apparel with skirts retailing at $75, polos ranging $50-$60 and layering pieces around $80. It's a great option for those looking to expand their golf wardrobe beyond staples and start adding more versatility.