News
Bulls and Bears: Which tour pros raised (or lowered) their stock the most in 2018?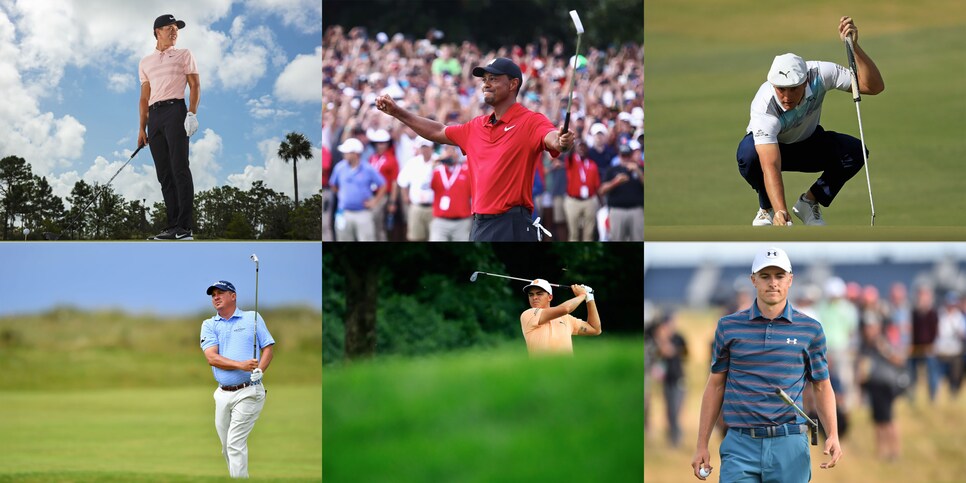 Professional golf is officially over for the year …*
*It's not over. It's never over. But with the conclusion of the PGA Tour fall season and the European Tour's Race to Dubai, I'm calling it over. Try to stop me.
...which means it's time to look back at the 2018 season. Which players gained and lost the most from the start of 2018, as measured by metaphorical "stock" that encompasses results, expectations and reputation? To answer that question, we have to seek out the biggest movers in both directions—the bulls and the bears—rather than the steady hands like Justin Rose or Dustin Johnson or Justin Thomas who may have seen smaller gains or losses in terrific seasons.
The mission is clear. Let's start with …
Tiger Woods: Well, yeah. His career was D.O.A.—it had been for years—and suddenly he was playing regular golf again. Suddenly he was competing again. Suddenly he was one of the best players on Planet Earth again. The only thing that eluded him all year was an actual win, and he finally checked that box in his last big chance at the Tour Championship. He made some writers look extremely silly in 2018—thank God there was no way for me to spend actual money shorting him, or I'd be writing from debtor's prison—and nobody juiced their own stock quite like Tiger.
Tony Finau: The list of players with 11 or more top-10 finishes on the PGA Tour in 2018 was short: the aforementioned Justin Rose and Dustin Johnson, and young Mr. Finau. We knew he was pretty good last year, but this is the season when he brought his best stuff to the majors, finishing top-10 in the first three, and played so consistently well throughout the year that he managed to nip Justin Thomas for the sixth spot in the FedEx Cup standings despite having zero wins to Thomas' three. That's not easy! But … about those wins. Yes, they are a worry. He has to break through in 2019, or it becomes an official thing. That said, he's a surefire first-round draft pick in any 12-team PGA Tour fantasy league this year, and we couldn't say that in 2018.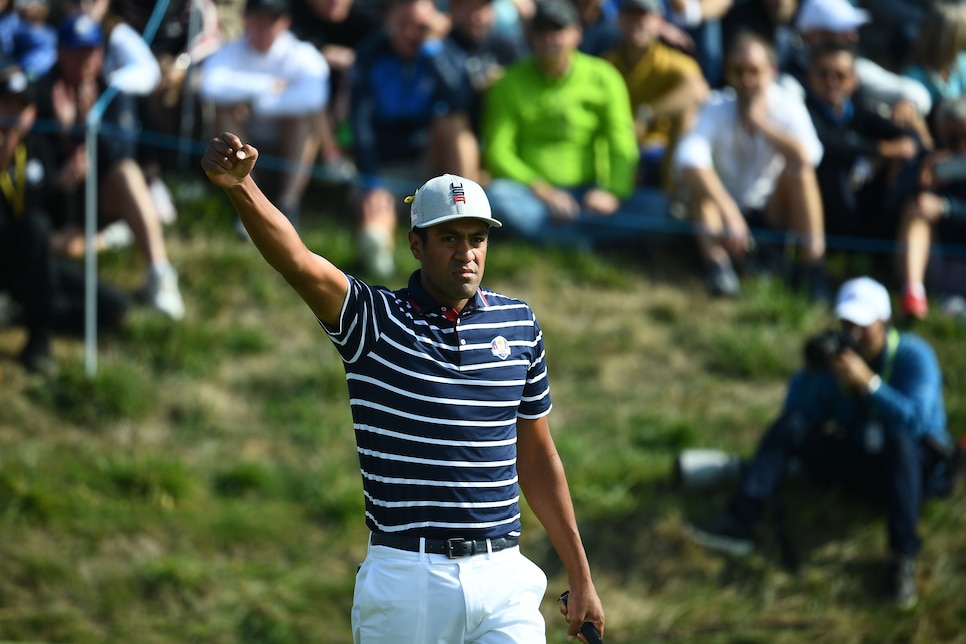 Webb Simpson/Keegan Bradley: Both won majors a long time ago, both disappeared, both re-emerged in 2018 as top-tier players, and both broke long winless droughts (five and six years, respectively). Simpson was showing signs in 2017, but 2018 saw him take the next step with his win at the Players in May, and his hot play has continued into the fall. Bradley notched a few top-10s before finally breaking through at the BMW Championship in September, and he too has been solid in a pair of fall events. He's even gone some way to shaking off the perception that he's hyper-sensitive and perpetually angry—he seemed to be a pretty good sport about this very funny impression of him:
Brooks Koepka: It's not easy to boost your stock the year after you've won a major, but winning two majors will do the trick. The different ways he won in 2018 made a profound statement about his superlative game—first surviving the torture at Shinnecock to win at one over par, then obliterating Bellerive to win the PGA at 16 under. He's shown the world that he's capable of great physical and mental feats in the biggest tournaments, and you could almost convince me that he might have a (very long, very faint) shot at winning 10 majors before his career is done.
Bryson DeChambeau: From 49th to third on the FedEx Cup list, from 94th to fifth in the World Rankings. Those are the journeys DeChambeau made in a single year, and the best praise I can give him heading into the new year is that his stock has soared so high that I firmly believe Dr. Science the Wonder Child (that's his nickname now, right?) will either win a major or come agonizingly close in 2019.
Cameron Champ: Well, it may be a slight stretch to say his stock is up, since he wasn't very well known at the start of the year, so let's just call his fall season one hell of an IPO.
Jordan Spieth: Look, I really don't want to put him on here, and I want it on record that I believe 2018 was an odd little hiccup in what will be a long and brilliant career. Moreover, the guy had a real chance to win both the Masters and the Open Championship in his down year. Not bad! That said, it was a down year, and since we can't guarantee a future resurgence, and since his fall form has remained ugly, he belongs on the bears list whether I like it or not. The putting stats alone paint a woeful picture—he was a dismal 123rd in strokes gained in 2018 after starting his career finishing 20th, ninth, second and 39th. If his name was anything other than Jordan Spieth, the company stock would have cratered by now.
Rickie Fowler: It was an OK season for Rickie—a few top-10s, no wins, a respectable finish in the FedEx Cup standings (17th). But less than a month from his 30th birthday, the Fowler narrative has shifted from "guy who is going to break through soon" to "guy who actually might never break through." There are other players with more top-10s in majors (Fowler sits at nine) without ever securing a win, but there aren't many, and the ones that exist have names like Lee Westwood and Steve Stricker. Fine players, but not exactly the company Rickie wanted to keep.
The Kevins, Kisner and Chappell: Hear me out—both of the Kevins spent 2016 and 2017 seeming like they might be on the verge of … something. Chappell finished eighth and 27th in the FedEx Cup those years, while Kisner went 23rd and 12th. Both broke through in the Lone Star state in 2017—Kisner got a win at the Dean & Deluca, and Chappell at the Valero Texas Open. Heading into this year, it seemed like one of the Kevins might be about to be more than just a Kevin. Then 2018 happened, and they were even more Kevin-like than before, fading down the standings with Kevin-esque mediocrity. If you bought stock in these guys hoping that their ceiling was higher than plain Kevin-dom, then my friend, you just got Kevin'ed. Kevins they were yesterday, Kevins they are today, Kevins they will remain tomorrow. And that's just the way the Kevin crumbles.
I'm going to stop typing "Kevin" now.

Jason Dufner: We can keep this one pretty short—this was the year when Dufner seemed to hit the end of the line. The impressive career resurgence of 2016 and 2017 hit the great wall of 40, and the indications are that his days as a top player have come to an end. (By the way, I'm glad I didn't write this column a month ago, because I might have been tempted to group Kuchar in with him.)
Thomas Pieters: Remember how good this guy was in the 2016 Ryder Cup? Remember how he was basically the only guy on the team who stood up to the Americans for all three days, going 4-1 and looking like a steely-eyed Belgian Clint Eastwood? It seemed like he would really have to go out of his way not to make the 2018 team, and, well … he did. He still makes lots of cuts, and there's the odd good result in majors (sixth at Bellerive this year), but he hasn't distinguished himself in any meaningful way, and he hasn't stood in the winner's circle since that Cup. I could forgive one down year, but two? That's the limit—2018 was when all that promise hit its expiration date.
Rory McIlroy: Was 2018 any worse than 2017? The answer is no. In fact, it was a little better, since at least he won a tournament this year. But as a Rory diehard, watching him fail to find anything like his best stuff in the final round of the Masters and the Open Championship finally broke me. At long last, I had to admit that the blazing pressure king of 2014 had faded into something else entirely, and that his stock, which I had kept artificially inflated in my mind for four years since that humid day at Valhalla, must now burst, bubble-like, on the cold hard concrete of reality.