News
Can any of golf's young stars win 10 majors? A (somewhat speculative, extremely comprehensive) investigation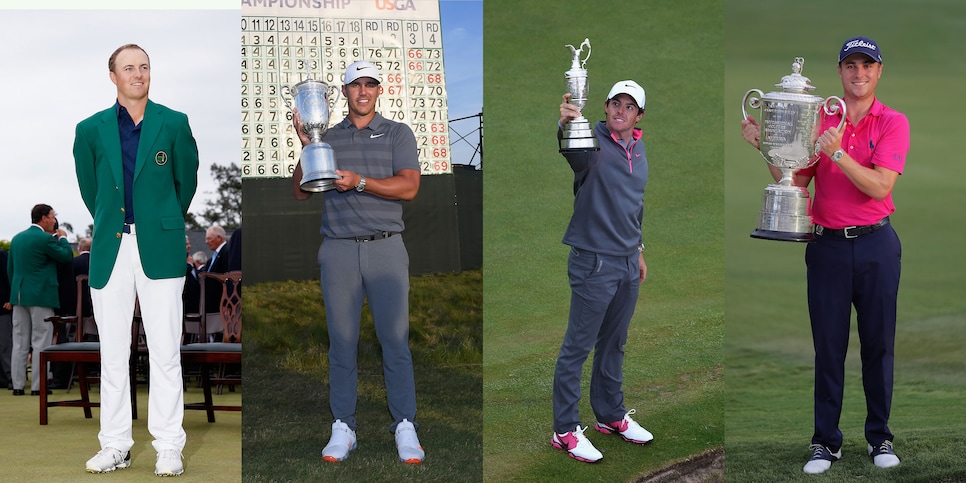 Photo By: Getty Images (4)
Walter Hagen won his 11th and final major, the Open Championship, in 1929. It took 33 years before the "next" Walter Hagen—Jack Nicklaus—won his first major. And it was 35 years after that when the next Jack Nicklaus—Tiger Woods—donned his first green jacket.
To date, these are the only three men whose major championships total in the double digits, and while that doesn't necessarily make them the greatest golfers in the history of the sport—though surely Tiger and Jack are a unanimous 1-2, in some order—they certainly stand out. In between, legends have come and gone: Ben Hogan and Gary Player (nine majors each), Bobby Jones and Tom Watson (eight), Arnold Palmer and Bobby Jones and Gene Sarazen and Sam Snead (seven). It's absurd to think of any of these superlative men as having fallen short of some milestone, but as so often happens in sport, golf gifts us with a round number that separates "mere" greatness from something transcendent.
Of course, the usual disclaimers apply: Yes, the number 10 is arbitrary, and the "double-digits" factor only appeals to someone like me because of the vagaries of our Hindu-Arabic base-10 numeral system. Yes, it's hard to compare results between different eras, and Gary Player's nine might be more impressive than Hagen's 11. Yes, if Hogan had played more PGAs or Open Championships, or avoided a life-threatening car accident, he'd surely be in this club.
All that said, let's accept that only three men have achieved 10 majors. Let's accept that this number is incredibly difficult to achieve. Let's worship together at the altar of pure numbers. And finally, just for kicks, let's ask the unfair question of the rising generation: Can any of them possibly achieve this milestone, and become the fourth face on golf's double-digit Mount Rushmore?
Tiger's there already. Phil Mickelson comes in second among active players with five, but I'm confident in saying that the 48-year-old will not double his career total in what remains of his competitive days.
That leaves us with the 30-and-younger set, and by my reckoning, these are the players with a realistic shot, with their current major wins and age:
Rory McIlroy: 4, 29
Brooks Koepka: 3, 28
Jordan Spieth: 3, 25
Justin Thomas: 1, 25
It might look overly generous to include Thomas, but his overall success on tour is such that it would feel unfair to leave him off—he's the kind of player who could have five majors by this same date two years from now. On the flip side, maybe there are harsh exclusions, though I can't imagine who—the likes of Fowler, DJ and Jason Day have likely missed their boat, and though I can easily see someone like Bryson DeChambeau making the list in a year or two, the "one major" requirement doesn't feel like too high a bar for now.
One final disclaimer: Obviously, trying to predict something like this is a speculative endeavor. We can look at trends, we can look at history, and we can look at performance, but things change rapidly and unpredictably in this sport. When 2014 drew to a close, did we think Rory would be stuck at four majors come the winter of 2018? Two years ago, did we think Koepka would have three? You get the point.
But that doesn't mean we can't make an educated guess based on what we know, and what we've seen. So what are the odds that the four golfers in question can reach that transcendent mark by the time their playing careers are over? Let's take a crack at a difficult puzzle.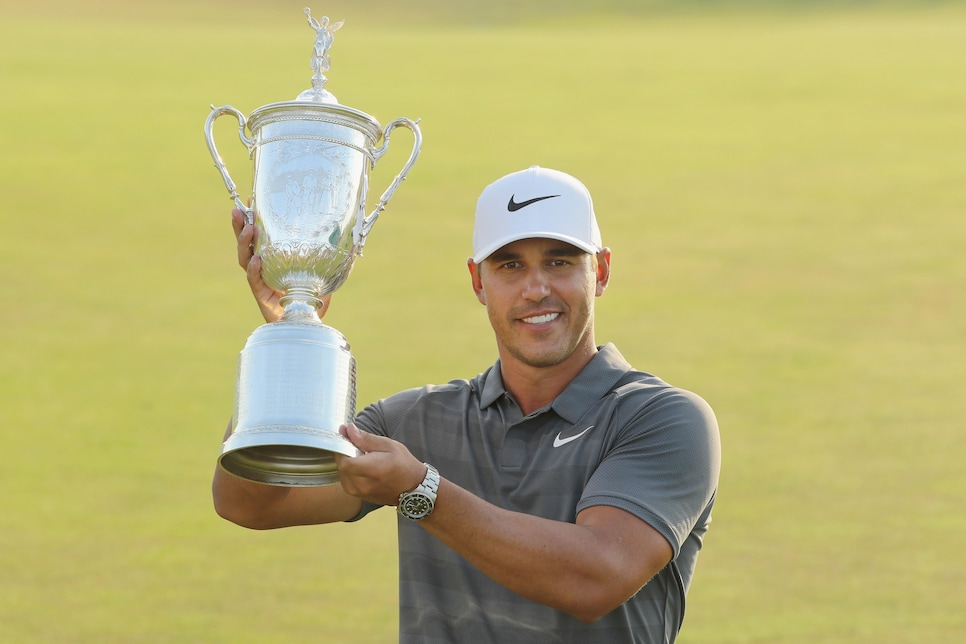 Streeter Lecka/Getty Images
Here's the thing with Koepka: Unlike every other player on this list, he hasn't actually won a ton of tournaments. Just six total on the PGA and European Tours, in fact, and five of them have come in the last two years. Now, you could look at those stats and deduce that Koepka is hitting his career stride, and that he's unbelievably clutch at majors. And you'd be right. But to infer from those conclusions that he's going to stay hot and rack up major after major is to ignore history. First, let's look at the age of each seven-time major winner at the time of his first major victory:
Nicklaus: 22
Woods: 21
Hagen: 21
Hogan: 34
Player: 23
Watson: 25
Jones: 21
Palmer: 28
Sarazen: 20
Snead: 30
Vardon: 26
As you see, there is precedent for joining the elite of the elite if you win your first major at age 27, as Koepka did. But that precedent is extremely rare, and nonexistent in modern times—if you bank on him joining this group, you're banking that he's the next Ben Hogan, Arnold Palmer or Sam Snead. And if you think he'll reach 10, you're counting on him being better than those men at a time when the sport is more competitive than ever.
Let's look at a different precedent, which is "recent-ish golfers who have strung together a couple of major wins in a relatively short time." Aside from Spieth and McIlroy, that group includes names like Padraig Harrington, Retief Goosen, Vijay Singh, Nick Price, Angel Cabrera and Mark O'Meara. Some of those are closer to Koepka than others, but the point remains that the normal historical trend, by far, is for players like this to stall out and finish with a low number of majors.
Koepka's ceiling, to my mind, can be seen in players like Nick Faldo (first major at 30), Phil Mickelson (34) and Lee Trevino (28). Which means that predicting anything more than six majors for Koepka is a longshot, and predicting 10 is insanity.
(And now that I've written this, I realize that Koepka will hate me with the intensity of 10,000 burning suns, and use this column as motivation to win 30 majors.)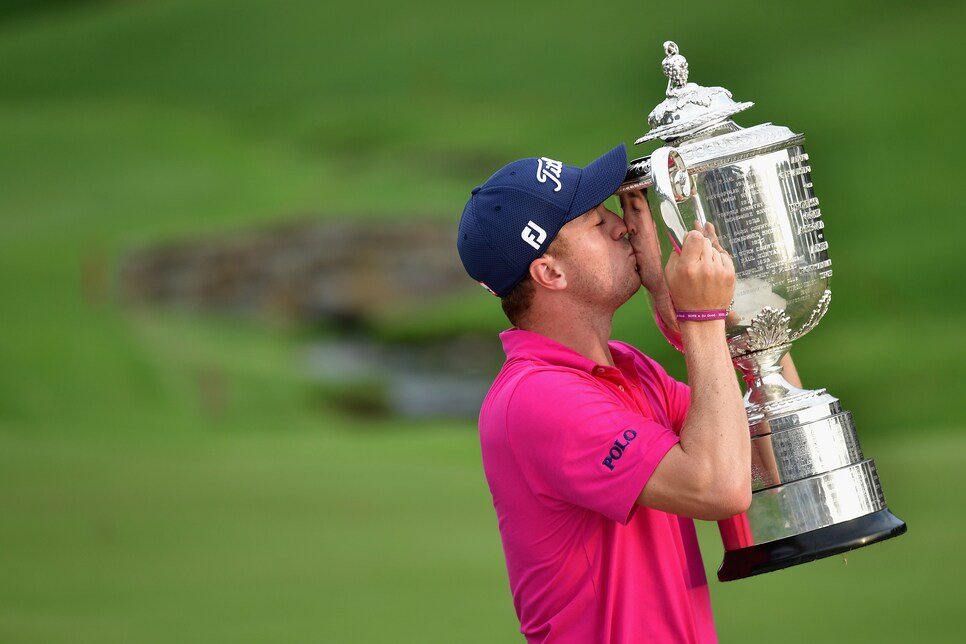 Stuart Franklin/Getty Images
Amazing golfer, steady under pressure, proven winner and young. But the fact remains that he has just one major so far, and until he shows that he can reel off a bunch in a row, the idea that he could breach the 10-win mark by any age is a nonstarter. This is much less complicated than Koepka. Overall, Thomas is the brighter light, and he gets slightly better odds for his youth, but in order to merit serious consideration for an historical career, he'll have to amass at least five majors by the time he's 30. At that point, it's worth the discussion; until then, it's too speculative for much analysis.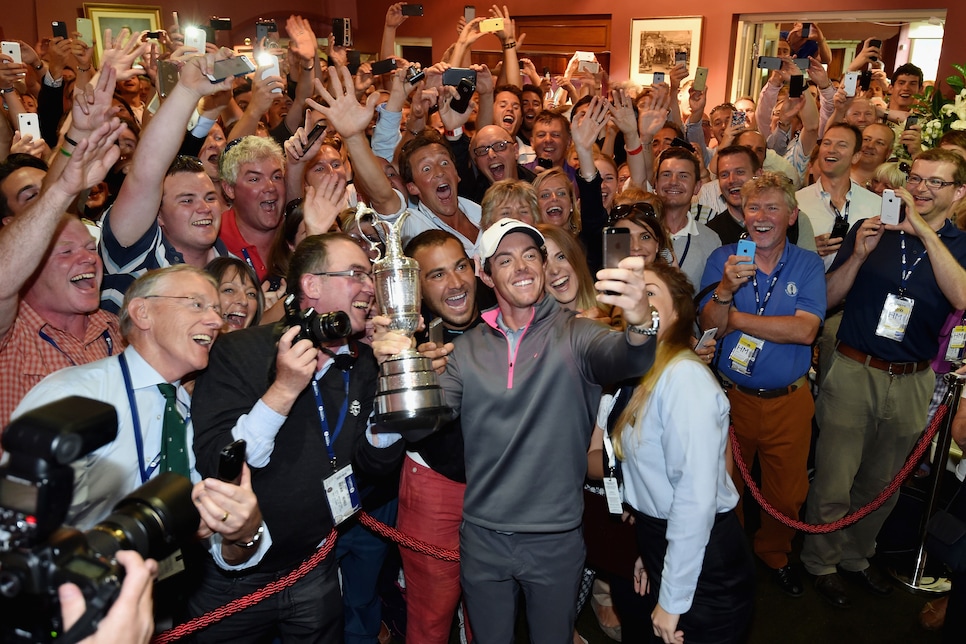 Four years ago, the odds would be so much better, but one of the most mystifying (and frankly discouraging) parts of professional golf since 2014 is Rory's transition from steely-eyed closer to borderline … (hold on, I'm trying to find a more friendly word than the bad one that starts with "ch" that we must never use) … bad-pressure performer. He has the talent to win these events, even with recent putting woes, but to believe he'll do it, you have to believe that he's got at least two more 2014-esque runs in him, plus the odd major sprinkled in late in his career. Again, this would not have seemed like much to ask in the recent past, but now it feels like he has to entirely reinvent his mental game. He's going to be 30 by the time the next major is played, so let's look again at the three men who have surpassed 10 majors in their careers, and see the age breakdown:
Jack Nicklaus: 7 majors before 30, 11 majors after
Tiger Woods: 10 majors before 30, 4 majors after
Walter Hagen: 4 majors before 30, 7 majors after
So again, possible. And look, Nick Faldo won six majors after 30. So did Palmer. So did Snead. Phil has won five. Snead won seven. Ben Hogan won all nine. Rory can definitely get six more, and he has a much better chance than Koepka or Thomas. Many of those guys even had questions surrounding their "clutch" play before they broke through. But it's still super unlikely, and he'll still need to rise above his recent drought and reach the levels of history's greats to make the mark.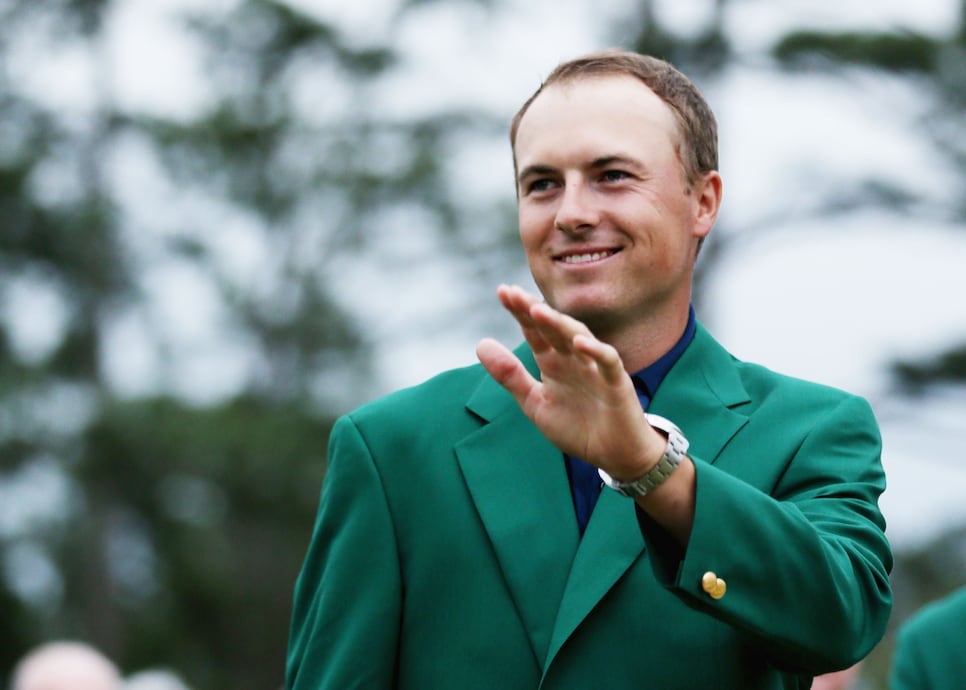 Andrew Redington/Getty Images
Spieth has the most real chance of all, and he's the only one who is still technically "on pace." Like Nicklaus, he won three majors before he turned 24. He's behind Tiger, but as we see above, Tiger's career to date has been abnormally front-loaded in terms of major victories. By any normal standard, Spieth is on the path to 10, and the fact that he came pretty close to winning two different majors in his "down year" of 2018 shows his strength under pressure. My 18/1 odds reflect the general difficulty in accomplishing the feat, and account for all the weird things that can happen in a player's career. But if those were real Vegas odds? Right now, I'd take them in a heartbeat.