News
Brooks Koepka is the new World No. 1—and he's only getting better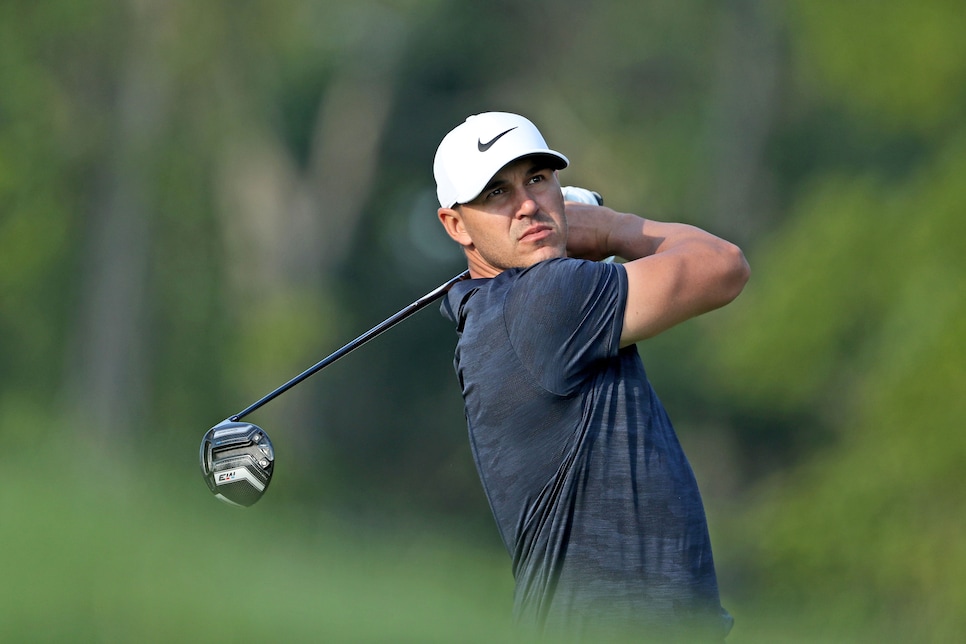 Photo By: David Cannon/Getty Images
He makes it look so easy. All of it. The 300-plus-yard drives, the chip-in birdies, the eagle putts. And, lately, the winning.
With a back-nine 29 at The Club at Nine Bridges propelling him to an eight-under 64 finish, Brooks Koepka took what was rightfully his. We're talking in part about the title at the CJ Cup in South Korea—his 12th victory in his seventh country during his pro career. But that was simply a means to an end. What we really mean is a different title: best golfer in the world, a status the 28-year-old has held in many people's minds since August, when he backed up his U.S. Open win in June with the PGA Championship title. Come Monday morning, he will formally possess it, courtesy of the Official World Golf Ranking.
As strange as it sounds for someone who started his final round four strokes ahead and finished with a four-stroke triumph, there was a moment as Koepka made the turn on Sunday where it appeared he might somehow let things slip away. Or, more accurately, Gary Woodland might steal it all away in plain sight. Six birdies on his first nine holes left Woodland elbowing his way next to Koepka in a tie for the lead.
But then Koepka followed what's become a familiar formula. He didn't panic, instead letting his strength—physical and mental—take over. The result was an impressive, rhythmic march from the 10th tee to victory that echoed around Jeju Island:
Birdie
Par
Birdie
Birdie
Par
Birdie
Birdie
Par
Eagle
Fist pump
Trophy ceremony
Birdie No. 5 on the back nine came courtesy of a chip-in on the 16th hole, one of the rare times where Koepka didn't give himself an easy path to a red number. He hit a poor drive that found a fairway bunker. It resulted in a crummy lie, which caused him to hit his approach left of the green, 25 yards from the hole. But his ball was sitting nicely in the rough for his third, a shot on which he knew he could get some spin and then use the green's natural contour to his advantage.
"My caddie even said right before I hit the shot, you know, 'This is the one you need to hole,' or 'You're going to make this.' He never really says that, but this time he was right, which was nice."
That gave Koepka a two-stroke lead, essentially wrapping up the tournament. The eagle on 18 was just showing off, a driver and short iron to 25 feet, the putt never straying from the center of the cup.
After claiming his fifth career PGA Tour title and his sixth top-10 finish in his last 13 starts, Koepka offered a variation on a refrain he had repeated all week when asked about the possibility of taking over the top spot in the rankings. "It's amazing to go World No. 1 on a win," Koepka said. "I think is something I've always wanted to do. I always wanted to earn my way to No. 1 in the world, and I felt like if I played and won, that would be exactly how I could draw it up. To do that this week has been special."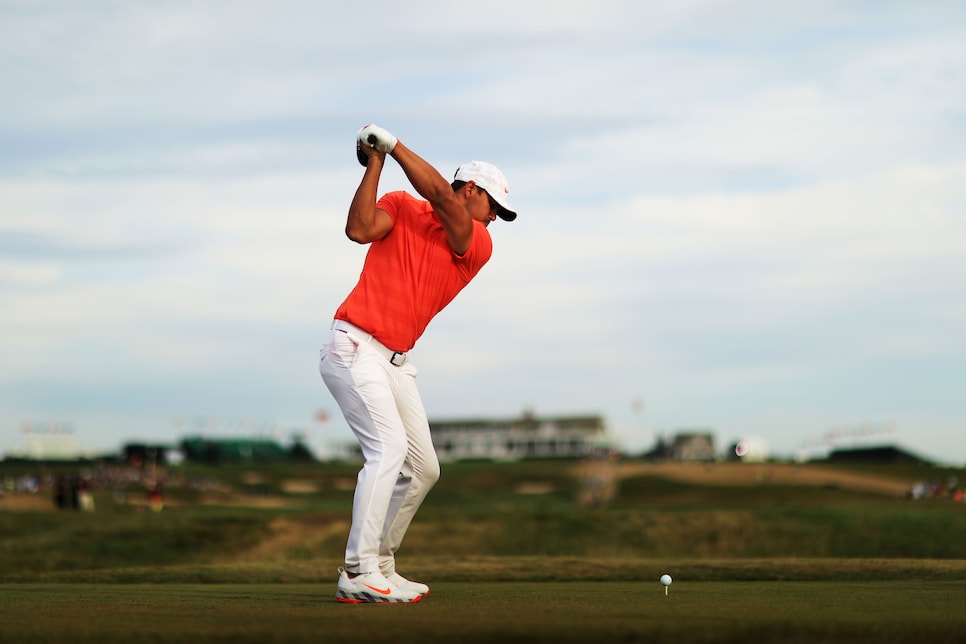 The golf world has spent the last year, in the wake of all Koepka's success, trying to figure out the guy—what motivates him, why he doesn't show much emotion on the course. Koepka seems to wear his nonchalance like his polo shirts, tight around his biceps and loose around the collar.
Yet that does Koepka an injustice as it suggests that he doesn't care. His play speaks otherwise. If he didn't care, why would he keep going out there and beating everyone's brains in? Wouldn't it be so much easier just to kick back on his boat, and while away the hours with a fishing rod in one hand, a Michelob Ultra in the other?
Indeed, if this run of Koepka's proves anything, it's that he really does care, more perhaps than he even understood. He cares about the attention he gets—or lack thereof in his mind—from the media, even as he insists otherwise. He cares about proving his game is more than just launching rockets off the tee. He cares about winning, not just major titles, but every tournament he plays.
The last four months, beginning with the repeat victory at the U.S. Open at Shinnecock Hills, have gone so well that it's hard to remember how badly the first four months of 2018 played out. Koepka competed in the Sentry Tournament of Champions and finished dead last before undergoing surgery to repair a torn tendon in his left wrist. He didn't return until the Zurich Classic of New Orleans in April, missing the Masters. He spotted the PGA Tour field 12 weeks yet still reeled everybody in.
The time away crystalized things in Koepka's mind. He returned knowing he had more to give and that by doing so, he could achieve more.
Where Koepka has impressed the most is the way in which he hasn't let distractions off the course appear to interfere with his performance on it. The most recent examples: the salacious "incident" with good friend Dustin Johnson after the Ryder Cup, something he emphatically states never happened.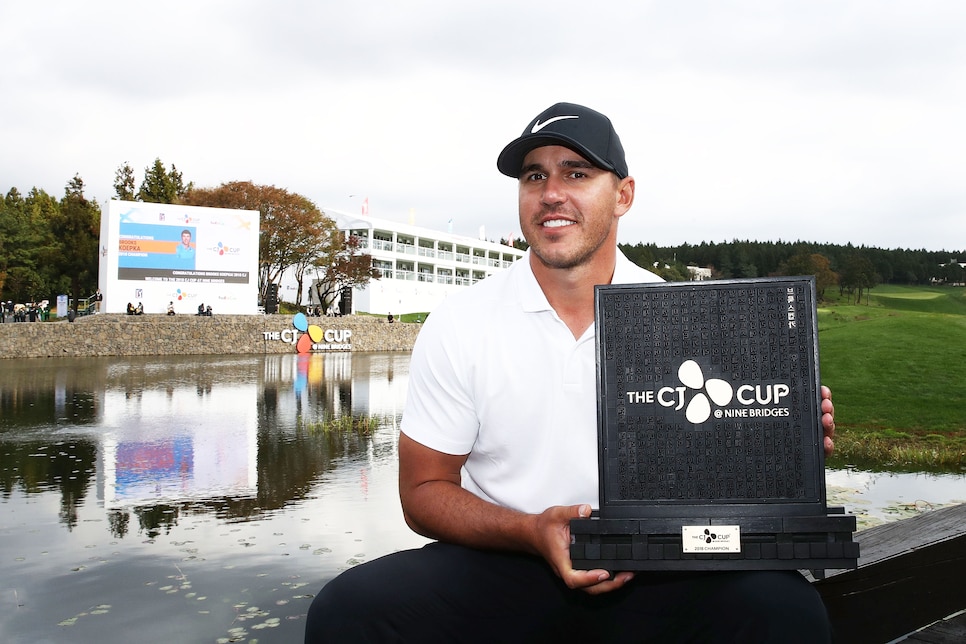 The scary part about Koepka's golf is he has room to improve. He knows he can win more "regular" PGA Tour events—he's certainly heard how much he's struggled with them in the past.
And as if his record in majors hasn't been good enough—besides the wins there are the six other top-10s—Koepka sounds like he thinks he has more to prove in that department, too.
"I need to play well in the majors, that's been my key. That's been something that I've created a pattern in the majors and I just need to keep improving," Koepka said. "I haven't figured out Augusta yet and I'm looking forward to finally going back and trying to figure out how to really take advantage of that golf course because I feel with my game I definitely can. And then just looking to come back to all the majors that I've won—the PGA, U.S. Open—and hopefully defend those again and then finish it off with a good showing at the British. I love links golf, so it's a tournament I'm always looking forward to every year."
Did Koepka just predict he could win the grand slam in 2019? No, although those predisposed to question him could walk away with that vibe. The true way to read it, though, is that Brooks Koepka is a man with plenty of confidence in his game. That's what happens when you make it look so easy.,