News
Brooks Koepka continues to deny spat with Dustin Johnson a day after Jim Furyk implies something happened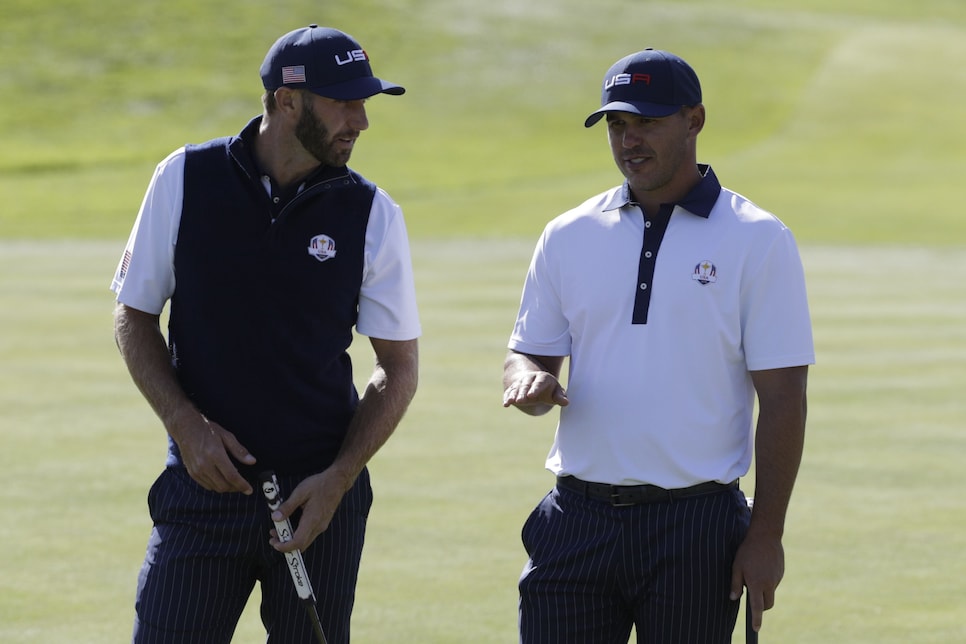 Accounts can wildly change during "He said, he said" affairs. So give Brooks Koepka credit: Regarding his role in an alleged incident with Dustin Johnson, Koepka is sticking to his story.
Koepka and Johnson, noted friends, were reportedly involved in a dust-up of sorts at the end of the Ryder Cup, a spat that involved Koepka's girlfriend, Jena Sims, and Johnson's fiancée, Paulina Gretzky. The Telegraph's James Corrigan was the first to report on the matter, and sources confirmed to Golf Digest that an altercation did take place.
However, Koepka's representation refuted the story to Golf Digest, and Koepka himself dismissed it as "untrue" ahead of last week's Dunhill Links. But a week after the Ryder Cup, Jim Furyk, speaking to the Golf Channel, acknowledged that something did occur between Koepka and Johnson, although the U.S. captain downplayed the severity of the dispute.
"Whatever altercation started, or what happened, it was very brief. It was very short. Neither one of them really took anything out of it," Furyk said. "They're like brothers. Brothers may argue, brothers get into it. But they're as close as they've ever been, and it really had no effect on either one of them."
Koepka, though, continued to deny anything took place between he and Johnson on Tuesday when he went on the Dan Patrick Show.
"I don't know what they think they saw or what they think they heard, but it was far from the truth," Koepka said. The newly crowned PGA Tour Player of the Year said the two could have simply been talking about college football.
For his part, Patrick tried to make light of the situation, asking if Koepka could have taken Johnson in a fight.
"I don't know, it would be a good match," Koepka said. "I'm sure it would be a good fight … it would be interesting, maybe sell a few tickets."
Speaking of which, Koepka and Johnson appeared in a video on Tuesday poking fun at the reports:
So there you go. Nothing happened. Or maybe something did, but it was short. Or possibly misconstrued altogether. Glad we cleared that up.