Rock Bottom
The Buffalo Sabres are sadness incarnate
Things are not good in Buffalo right now. That might be the understatement of the hockey century. After a splashy offseason that saw the likes of Taylor Hall and Eric Staal pack their bags for Western New York, the Sabres have been, by a metric that can only be measured in miles, the most disappointing team in the National Hockey League. Last week, the organization fired coach Ralph Krueger on the heels of a 12-game losing streak, with the Sabres sitting on an NHL-low 16 points. Three games into the Don Granato era, and the Sabres are still on 16 points, their losing streak ballooning to a now-historic 15 games on Wednesday night.
As SportsNets so kindly points out, that's the longest in the NHL's shootout era, and the longest overall since the Pittsburgh Penguins lost 18 straight during the 2003-04 season. The 15-game mark is also the longest in Sabres franchise history, surpassing their mark of 14 set during the 2014-15 season. It's not just the losses, however, it's the manner of them. Take a look at their last 10 games and thell us if you see anything fishy.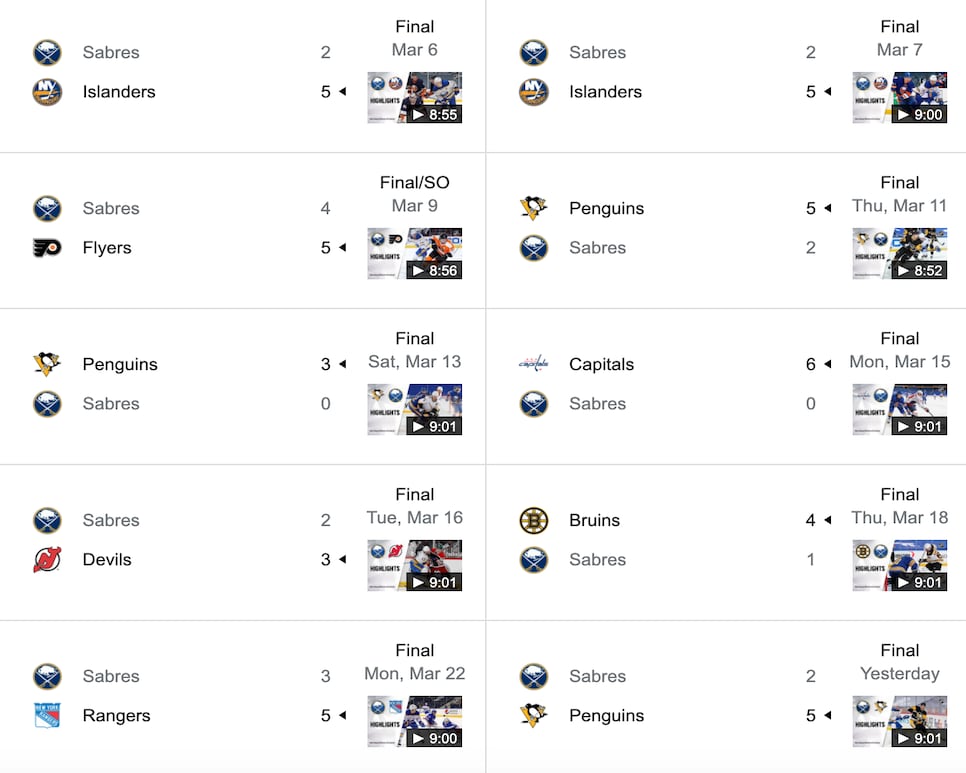 Yep, that's 46 goals given up in the last 10 games. In fact, since their last win on February 23rd—over a month ago, for those of you watching the calendar at home—the Sabres have conceded 64 total goals, an average of 4.26 per game. Between March 4th and March 11th, they gave up five goals in five consecutive games. They bounced back on March 13th holding the Penguins to just three (while being shutout) only to give up six to the Caps two nights later (while also being shutout.) If you're wondering what rock bottom looks like, you're staring at it.
The good news is that there's now nowhere to go but up. In American sports, where there is no relegation and teams get bailed out by taxpayer dollars, it simply doesn't get worse than this. Plus the team's owner Terry Pegula just pulled off an incredible rebuild of the Buffalo Bills. There were many lean years in Orchard Park, but Pegula now has the Bills contending for AFC titles. There's no guarantee that success (or the money that leads to that success) will extend to the Sabres, but it's a glimmer of hope for the future. Until then, the Buffalo Sabres are purely, simply sadness incarnate.