Shut It Down
Taylor Hall took a slapshot directly to the face....from his own teammate. This is Sabres hockey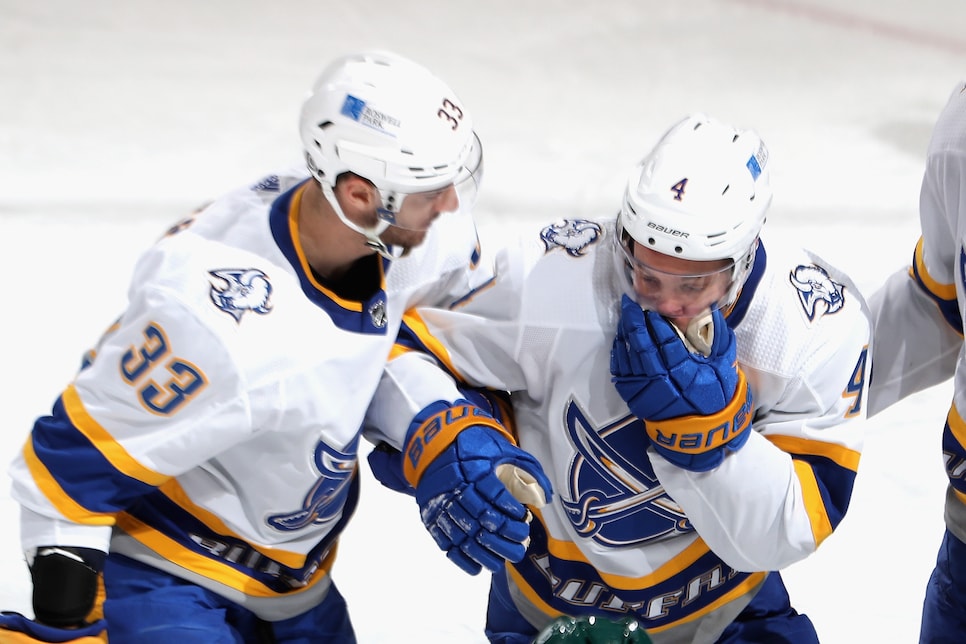 Any time you find yourself thinking "holy sh**, my favorite franchise is a steaming pile of garbage that has no future and very little past to cling to," just remember, at least you're not a Buffalo Sabres fan. Unless, of course, you are a Buffalo Sabres fan, in which case, thoughts and prayers.
Somehow, despite entering Tuesday night on 11-game losing streak and despite their former No. 2 overall pick Jack Eichel being out with a neck injury and constantly being mentioned in trade rumors, the Sabres managed to reach a new low against the New Jersey Devils. That they only lost 3-2 was actually somewhat admirable given they usually lose by two or more goals each night, but it was what happened during an after the loss that was truly emblematic of their 2020-'21 season.
Early in the first period, former Devil Taylor Hall, who willingly chose the Sabres in free agency (seriously, look it up), took a slapshot directly to the face, forcing him to leave the game. The funny but not actually funny part? It came from his teammate's stick. This, ladies and gents, is Sabres hockey:
As painful as that must have been, Hall returned to the game, which begs the question: why? Why did you choose Buffalo as your FA destination? Why are you fighting to get back on the ice for Buffalo after taking a puck to the face? Hall is either dumb or crazy, possibly both.
Of course, the Sabres went on to drop their 12th straight, only four of which have been of the one-goal difference variety. All nine of the other losses were by at least three goals or more, an absolutely staggering and painful to look at statistic. Following the latest loss, Buffalo head coach Ralph Krueger was fired, which won't solve much. Somebody call Jon Taffer and shut this thing down.