The Grind
Justin Thomas needles Tiger, Bryson gets in Rory's head, and Dustin/Paulina recreate a familiar magazine cover
Welcome to another edition of The Grind where we can't for the life of us get that Players Championship theme song out of our head. Not that I'm complaining. That thing is an absolute BANGER. Hit it!
Now that should have won a Grammy. Nothing will ever top Yanni's "In Celebration of Man" for the U.S. Open, but this Joel Beckerman joint is a clear No. 2. And, perhaps, the No. 1 reason to officially make this a major championship. In the meantime, though, here's what else has us talking after a wild week at TPC Sawgrass.
Justin Thomas: Through nine holes on Friday, Thomas was actually outside the cut line. But boy, can he get hot in a hurry. And the scary thing is, it could have been a lot better if he had made some putts and not finished T-42 in strokes gained putting among those who played the weekend. However, he did record the best strokes gained tee-to-green performance over the final 36 holes in Players history, and he seems to have added a filthy (somewhat) controlled rope-hook off the tee to his already expansive repertoire.
Thomas joins Jack Nicklaus, Johnny Miller, and Tiger Woods as the only players since 1960 to win 14 PGA Tour titles by 28. And he's now broken away from childhood buddy Jordan Spieth to the point he's amassed a Hall of Fame career since Spieth's last win anywhere. Again, he can get hot in a hurry.
The Players: Whether it ever receives official major championship status, it certainly delivers the drama of one every year. And this annual major debate almost gives it more attention. Plus, if players like Rory McIlroy and Justin Thomas keep winning at TPC Sawgrass, the major talk will only get louder. Like when the bass drops in on that theme song. Hit it again! So good. Also, TPC Sawgrass—and yes, that 17th hole—makes for tremendous theater. You really never know what you're going to see at the island(s) par 3:
If we talked about all the crazy stuff that happened there last week, it would take all day. Which is coincidentally about the same amount of time it took Ben An to record an 11 there on Thursday. Speaking of watching a lot of golf . . .
Seeing every shot live: Put simply, this was awesome and how golf fans should be able to enjoy the sport on a weekly basis. After all, it is 2021 and we see every shot in a basketball game or every pitch in a baseball game. So, yes, having the potential to see more than 32,000 golf shots throughout the week was pretty cool—even if I feel like I also saw 32,000 Grant Thornton commercials. There was a hole-in-one from Denny McCarthy that may we may have never seen and an incredible sequence of Jordan Spieth hitting into Rory Sabbatini and then joking about how the fiery Sabbatini is probably the worst guy on tour to hit into and mocking him for blaming Spieth for his ensuing bad shot.
Great stuff! The more cameras and mics, the better. Keep it coming.
Copying Bryson: At least, if you're Rory McIlroy. After missing the cut at TPC Sawgrass, the former World No. 1 admitted to getting "sucked into" trying to gain some swing speed in the wake of Bryson DeChambeau's U.S. Open win in September, and that it's got him a bit out of sorts. There was no question Bryson was going to spawn some copycats, but from a guy with four majors?! A guy who has gained more strokes off the tee than anyone in recent years?! Man, Bryson is really in these dudes' heads, isn't he?
Having your mom catch your mistake: Viktor Hovland was the rare victim of a two-stroke penalty for failing to move his mark back after moving it for Justin Thomas during the opening round. Even rarer is Hovland only found out he had broken the rule after talking to his mom on the phone. Mrs. Hovland raised a good boy, though, so the 23-year-old called it on himself and wound up missing the cut. Well done, Viktor, and I can sympathize. My mom texts me everytime I make a typo. Whoops, make that every time. She's nailed me for that one before.
Including DJ in a practical joke: Year 3 of Jimmy Fallon convincing the world's best golfers to work weird phrases into their pre-tournament press conferences for his "Drop it in" segment didn't have a great chance of succeeding with the surprise being gone. But it was doomed to fail as soon as DJ opened his mouth after being asked about how having COVID has affected his lifestyle. "I've never been known to skip on the dip," Johnson said. And. . . that's a wrap. Although speaking of wraps, Johnson did provide one of the most unintentionally funny lines of the year when asked about his Masters Champions Dinner menu:
And to think, he had the perfect opportunity to use the "skip on the dip" line! Next time. Actually, let's just hope there isn't a next time.
The PGA Tour continues the (extended) Florida Swing by heading to the Honda Classic, AKA that one that was a pretty big deal for a few years, but has now suffered by being in the middle of an incredible run of other big-time events. There are only seven of the top 50 in the Official World Golf Ranking playing with No. 15 Daniel Berger being the highest ranked. Looks like PGA National's vaunted "Bear Trap" won't be catching too many stars this week. Too bad.
Random tournament fact: Only three of the past 14 winners here have finished double digits under par. One of those guys was Rickie Fowler, who is playing this week and might need a similar performance if he's going to get into the Masters. No pressure, Rickie.
RANDOM PROP BETS OF THE WEEK
—Rickie Fowler will win the Honda Classic this week: 45-to-1 odds (actual odds)
—Rickie Fowler can actually explain what Grant Thornton does: 450-to-1 odds
—NBC execs are praying for Fowler to be in contention again: LOCK
Ben An is the man. Although, I made a pretty routine par the only time I played there. Just saying. . .
VIRAL VIDEO OF THE WEEK (G-RATED DIVISION)
Look at this kid presenting a school report on Jordan Spieth–to Jordan Spieth:
How better to check your facts than by running them by the subject himself? Smart kid.
VIRAL VIDEO OF THE WEEK (R-RATED DIVISION)
Here's Marcus Armitage practicing his putting—in the buff:
VIRAL VIDEO(S) OF THE WEEK (CADDIE DIVISION)
Here's Duane Bock getting absolutely roasted by Kevin Kisner after finding the water on No. 17 during Wednesday's caddie closest-to-the-pin contest:
That's rough. But it can be a great gig as well as evidenced by Justin Thomas' looper, Jimmy Johnson, doing a fantastic double take when seeing how much money his boss just won the duo:
Seriously, the more cameras and mics on all these guys, the better.
OTHER AWESOME VIRAL VIDEOS THAT DON'T FIT INTO ANY ONE CATEGORY
This side-by-side comparison of Tiger Woods in 2013 and Justin Thomas this year twirling after their 72nd-hole tee shot at the Players is so cool:
Which makes sense considering they did this club twirl tutorial a couple years ago:
Man, JT really is a Tiger clone. And Ian Poulter delivered this gem with a beaten down lunch table of European Tour superstars after a rough first day at TPC Sawgrass:
By the way, Rory, try switching from Diet Coke to Coke Zero. Trust me. Maybe that's what's holding you back right now.
THIS WEEK IN PUBLIC DISPLAYS OF AFFECTION
Dustin Johnson and Paulina Gretzky recreated a Cigar Aficionado magazine cover from 24 years ago that featured Wayne and Janet Gretzky:
Those are a couple sharp-looking couples there. And Lee Westwood and fiancée Helen Storey continued to be the most lovable player-caddie combo in golf: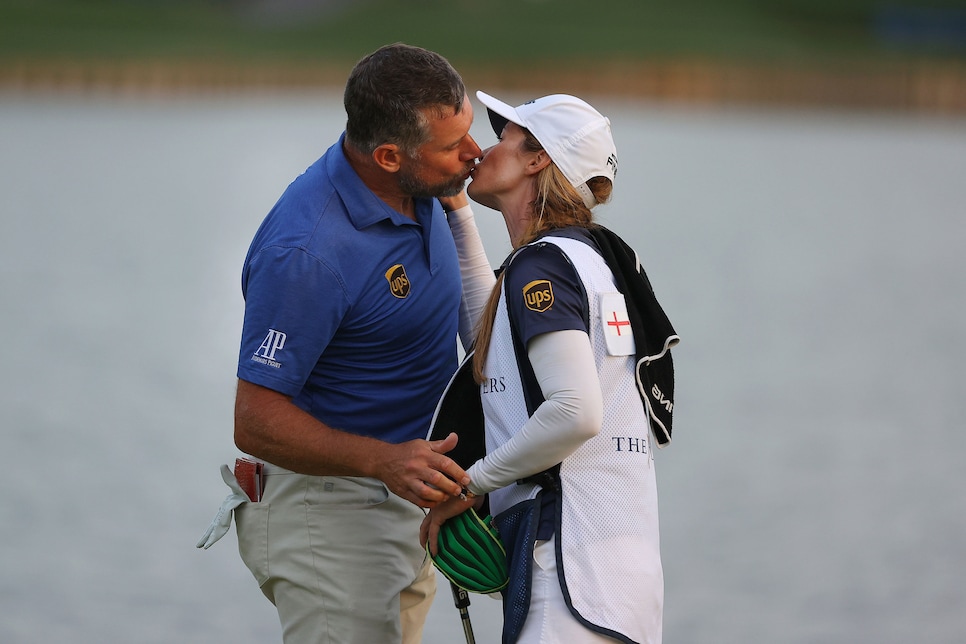 No word on what cut of the $2.6 million Westwood has earned for finishing runner-up the past two weeks went to Storey. But we do know that Lee's son, Sam, will be on the bag instead at the Masters. Good move, Helen. As she found out last year, the old saying is true: "Augusta National is a lot hillier than it looks on TV."
"Part of me wishes he was here so I could rub it in his face a little more." —Justin Thomas on Tiger Woods. To be clear, JT also said a lot of nice things about his buddy, but you've got to be pretty good friends with someone who just had a serious car crash to get away with saying something like that! Considering Tiger's penchant for "giving the needle," I'm sure he enjoyed it. But I also wouldn't be surprised if he posted that quote on his bulletin board.
Congrats to Joel Beall on winning two first-place prizes in the annual Golf Writers Association of America Awards. So well-deserved—and well-timed because with no awards banquet this year, he doesn't have to give an acceptance speech. . . . There will also be no Par 3 contest at next month's Masters. We kind of saw this coming, but still a bummer—especially for content hunters like myself. . . . Condolences to one of my best golf buds, Eric Lebowitz, who had to cancel a long-awaited Bandon Dunes trip at the last minute because of an emergency gallbladder removal. Rough timing, although, at least he's been to Bandon before. Considering I haven't, I'm not shedding any tears for him. . . . Jordan Spieth finished seventh in the field at TPC Sawgrass in strokes gained off the tee. My 50-to-1 bet on him to win the Masters looks better and better with each passing week. . . . And finally, this pair of used Payne Stewart socks sold for $3,215(!) at aution: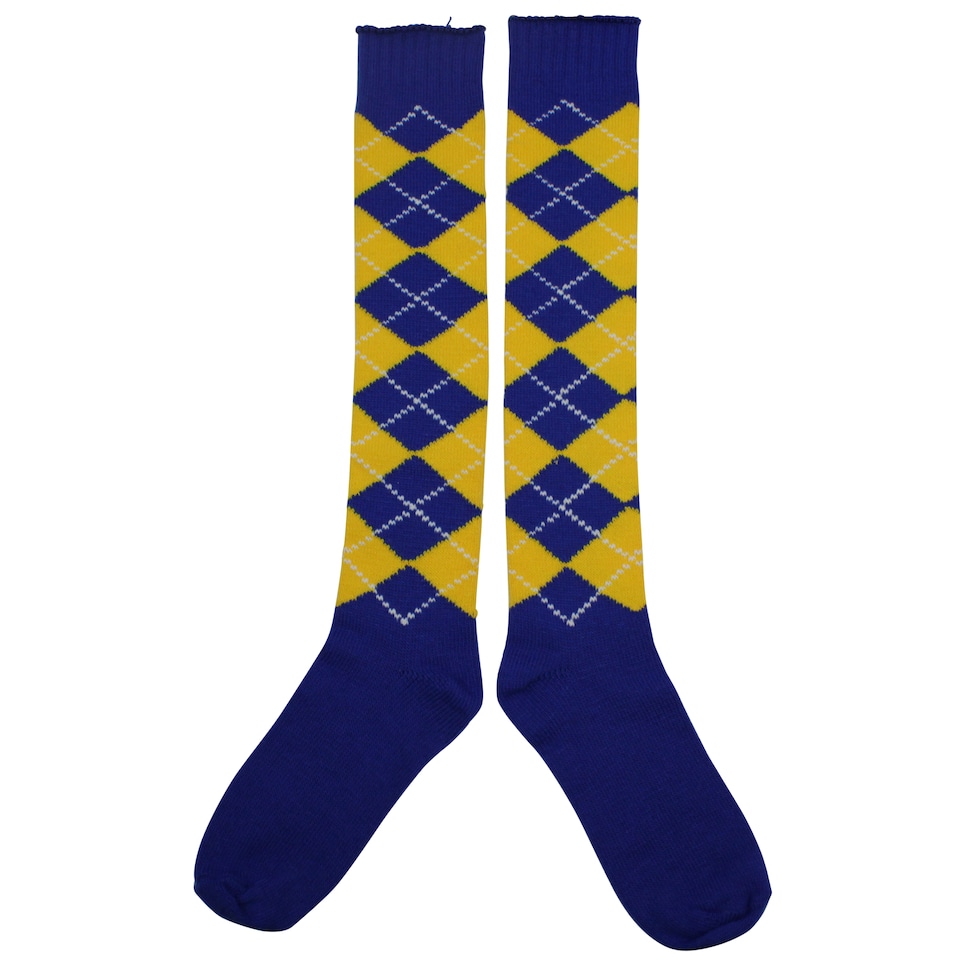 Big Payne fan here, but that's a lot to spend on a pair of socks. If my Spieth Masters bet hits, I could maybe buy the heel of one of those socks.
RANDOM QUESTIONS TO PONDER
Should I get my gallbladder removed before planning my next golf trip?
How much would I spend on a used Tiger Sunday red shirt?
How much more would I spend on Yanni writing a Grind theme song?