The Grind
Bryson DeChambeau's daring drives, Nick Faldo roasts Rickie Fowler, and a CBS star gets engaged
Welcome to another edition of The Grind where we'd be lying if we said we weren't jealous of Bryson DeChambeau's long list of sponsors. Sure, he doesn't have to start every winning interview with all of them, but that's probably why they're paying him the big bucks. And to be fair, I'd change this column's name to "The Starbucks Grind brought to you by Chili's, presented by Costco, and fueled by Coke Zero" before the ad dollars even hit my, I mean, the company's bank account. So keep swinging—and pitching—hard, Bryson. In the meantime, here's what else has us talking. Although, as you can imagine, we're pretty heavy on the big guy this week. . .
Bryson DeChambeau: A victory at the Arnold Palmer Invitational gave him a third win in the past nine months, including that first major at the U.S. Open. Yeah, I think his experiment is working out OK. That makes eight career PGA Tour titles for the 27-year-old, who has now won at both Jack's and Arnie's place:
Palmer's dad, Deacon, famously advised his famous-to-be son, "Hit it hard, boy. Go find it, and hit it again." But no one has to tell DeChambeau to do that these days. And if he keeps finding it like he is, Bryson may be slipping a green jacket on over that red cardigan come next month.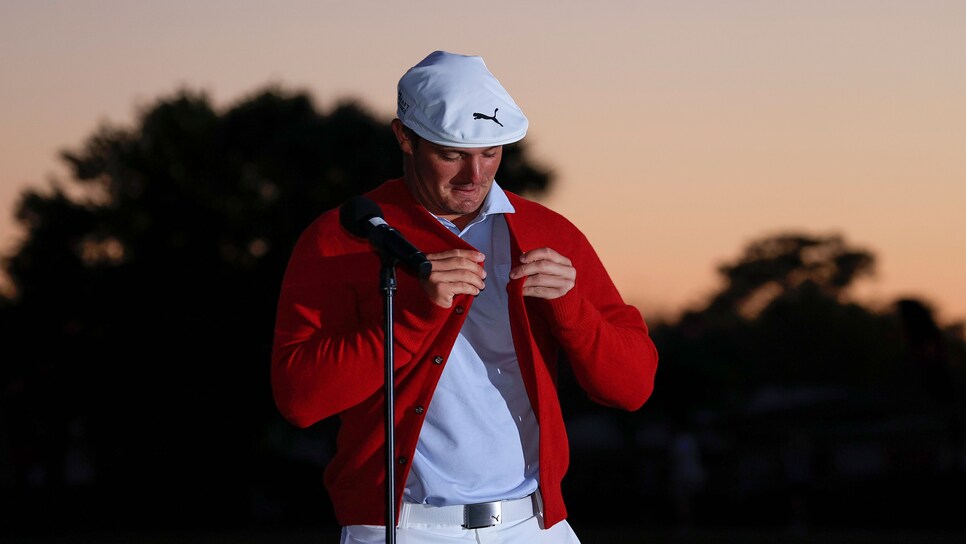 Bryson's weekend drives on No. 6: After not attempting to drive the green at Bay Hill's par-5 sixth the first two days, it appeared we wouldn't see it. But Bryson was simply waiting for the tournament to really be on the line (well, and the wind to be in his favor). And then he did this on Saturday:
His golf ball wound up 168(!) yards in front of playing partner Lee Westwood. So you could literally build that Walmart between the drives that everyone always jokes about. Love him, hate him, you can NOT ignore him. And at a tournament that honors golf's all-time showman, DeChambeau's daring drives were the ultimate tribute to The King.
Austin Ernst: After going six years without a win on the LPGA Tour, the 29-year-old has won twice in the past seven months. This time was particularly impressive as she cruised to a five-shot victory at the LPGA Drive On Championship.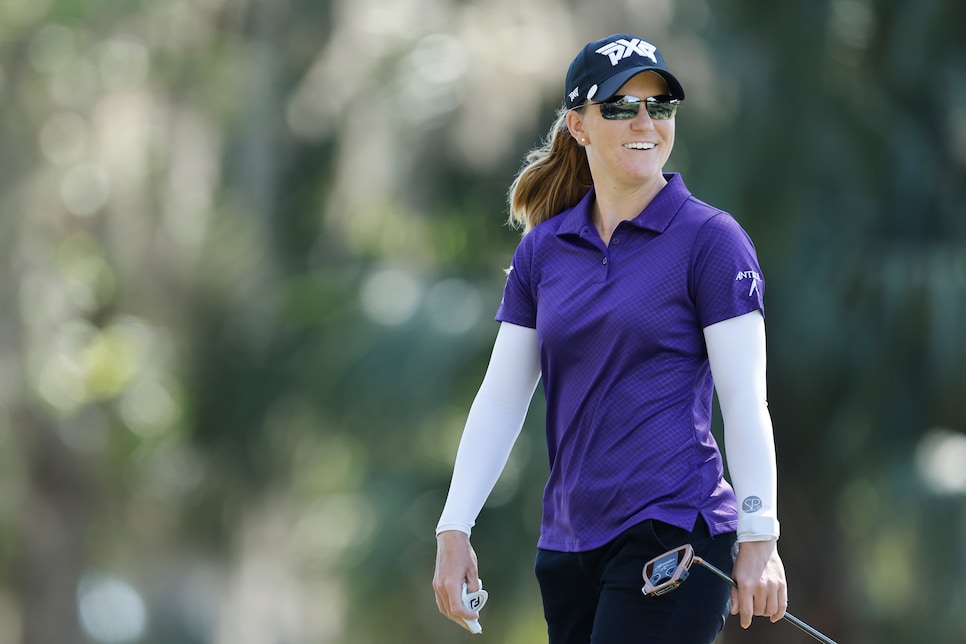 She also ended the Korda sister reign in 2021, but didn't stop the Americans from winning again. That U.S. Solheim Cup team is going to be tough to beat this summer.
Rickie Fowler's week: For a guy still in search of a first top 10 in more than a year, this was certainly not a top-10 week of his life. It began with Nick Faldo absolutely roasting the crap out of him with this tweet on Tuesday:
Damn, Nick. That's cold. But. . . pretty funny. And also, pretty fair. Faldo later apologized if you call providing a reason for his dagger while making his own pitch for a company he endorses, SQUAIRZ, an apology. Should have just stuck with your GUNZ, Sir Nick. And then there was an unintentional roast of Rickie by the Bay Hill first-tee starter:
Rough. Fowler also finished last among those who missed the cut. Again, rough.
Jordan Spieth's Sunday: Look, is it exciting to see this guy in the mix again? Of course. But while his recent run of three top fives in four starts is impressive—and a long way from where he was—it proves there's a big difference between contending and winning. Spieth will get there, but he's clearly not there yet after a final-round 75. And if he could time it for when I have that 50-to-1 ticket on him to win the Masters, well, that would be nice.
Lee Westwood's divot: Imagine trailing by one shot on the final hole and pumping a 300-yard drive down the middle only to find your ball wound up here?
What a dagger. And I know golf isn't always fair, but c'mon. Let the guy roll it out of that thing! That being said, Westwood still handled it well like he did everything else all week and made par on a difficult hole. Also, it would have been nice to see Westwood (finally) win a third career PGA Tour title (Yes, I know he's won 25 times on the Euro Tour, but he's been stuck on two PGA Tour wins for more than a decade), but I'm also not going to go crazy over 47-year-old contending like some of our friends in the British press. It's not like he's ancient. He's 47, soon to be 48. Look at him! He looks great!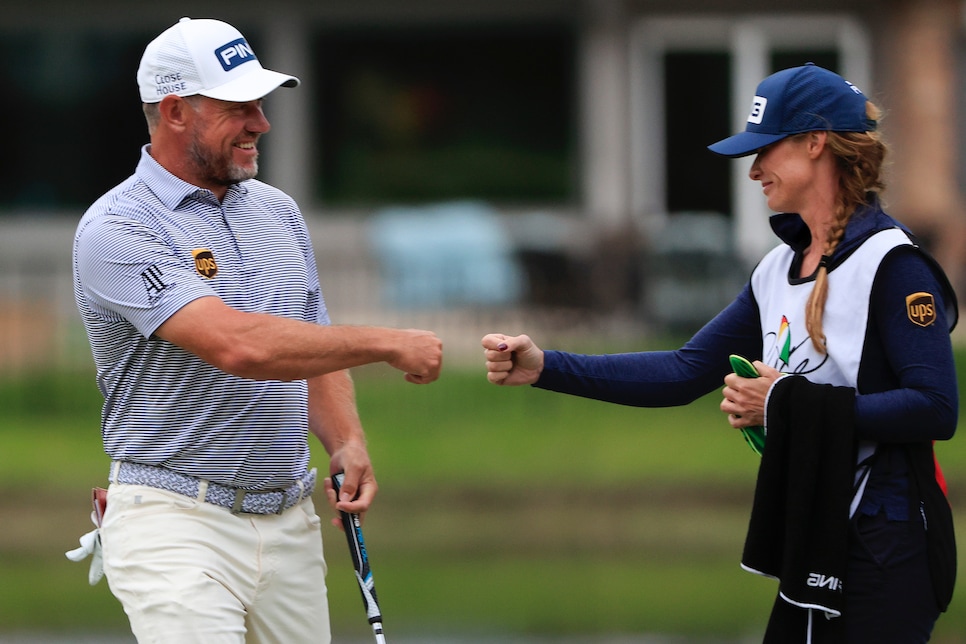 Phil Mickelson won at Pebble Beach at 48 two years ago. Kenny Perry almost won a Masters at 49. Tom Watson almost won the Open at 59! The same Open Westwood three-putted the final green to miss that Watson-Stewart Cink playoff by one. OK, now I've really said too much. The British are coming for me.
The PGA Tour continues the (extended) Florida Swing by heading to TPC Sawgrass for the Players Championship, AKA golf's unofficial fifth major, AKA that one they didn't finish playing last year. This is also the one where I had my famous streak of going to the same Ponte Vedra Beach Chili's for 35 tournament nights in a row. If that wasn't enough to earn a Chili's endorsement, I don't know what is.
Random tournament fact: Ken Duke's 65 in the third round in 2016 is statistically the best round in Players Championship history. Relive that magical day and find out more about why it was so great in the latest episode of Local Knowledge, which also isn't sponsored by Chili's. Yet.
RANDOM PROP BETS OF THE WEEK
—Bryson will win the Players this week: 14-to-1 odds
—Bryson will find the water at 17 this week: 2.5-to-1 odds
—Bryson won't be eating at my favorite Chili's this week: LOCK
How could it be anything other than this screengrab of Bryson?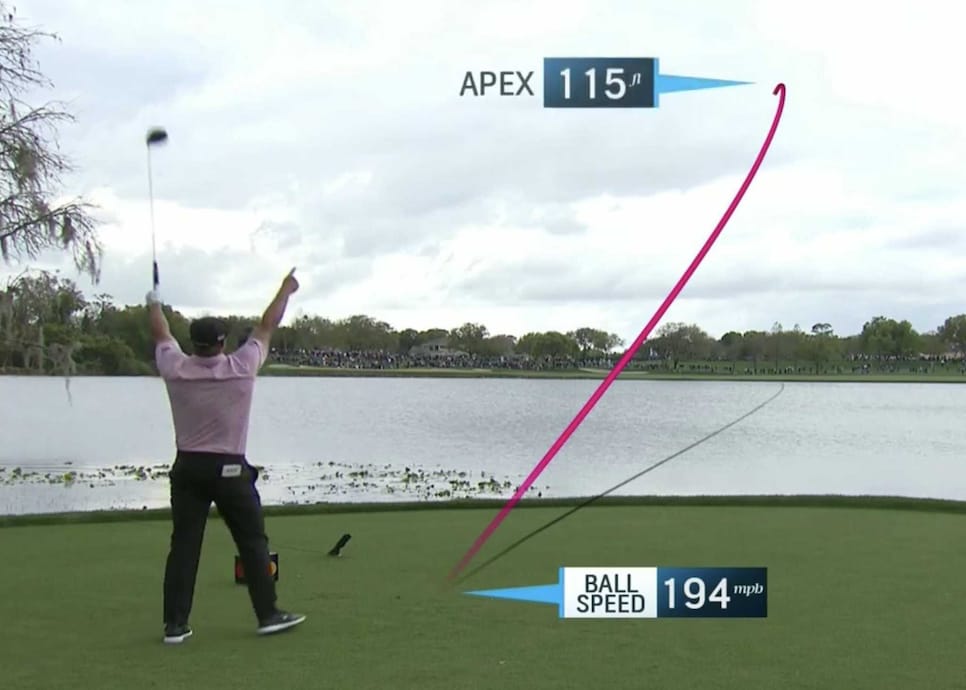 Seriously, someone paint it and put it in the Louvre.
More Bryson! This time, an incredible look at the difference between him playing Bay Hill's sixth hole in 2016 and this year:
That was a LOT of protein shakes ago.
THIS WEEK IN PUBLIC DISPLAYS OF AFFECTION
Congratulations to CBS Sports' Amanda Balionis on getting engaged!
Cute matching outfits, guys. Also, popping the question while NBC has its run of tournaments was a smart move. That dude knows his stuff. Speaking of TV personalities. . .
THIS WEEK IN CELEBRITY GOLFERS
Bryson wasn't the only person who had a big week on the course. Congrats to Vanna White on breaking 100 for the first time!
By the way, I just looked this up and Vanna, 64, has been hosting Wheel of Fortune since the year I was born. What a run. So excuse me again if I don't go crazy over Lee Westwood nearly winning a golf tournament at 47. In other celeb-related news, these are the ice cubes at Michael Jordan's course, The Grove XXIII:
"Whenever I'm just at home I have been eating a lot of like, shakes and popcorn and I just watch two, three movies every single night. I mean, that's basically what you end up doing when you live in Oklahoma." —Viktor Hovland. If I'm being totally honest, as someone with two kids under 3, that sounds pretty awesome, Viktor.
Phil Mickelson fell out of the top 100 in the Official World ranking for the first time in his career. To be fair, he'd still be comfortably inside the number if he got world ranking points for PGA Tour Champions victories. . . . Bryson DeChambeau says he celebrated his win at Bay Hill by drinking some chocolate milk, eating some Arnold Palmer gummies (Ian Poulter did an Insta-story about these as well), and playing pinball. So, basically, a typical Viktor Hovland night in Oklahoma. . . . And here's what happens when you've been on tour long enough: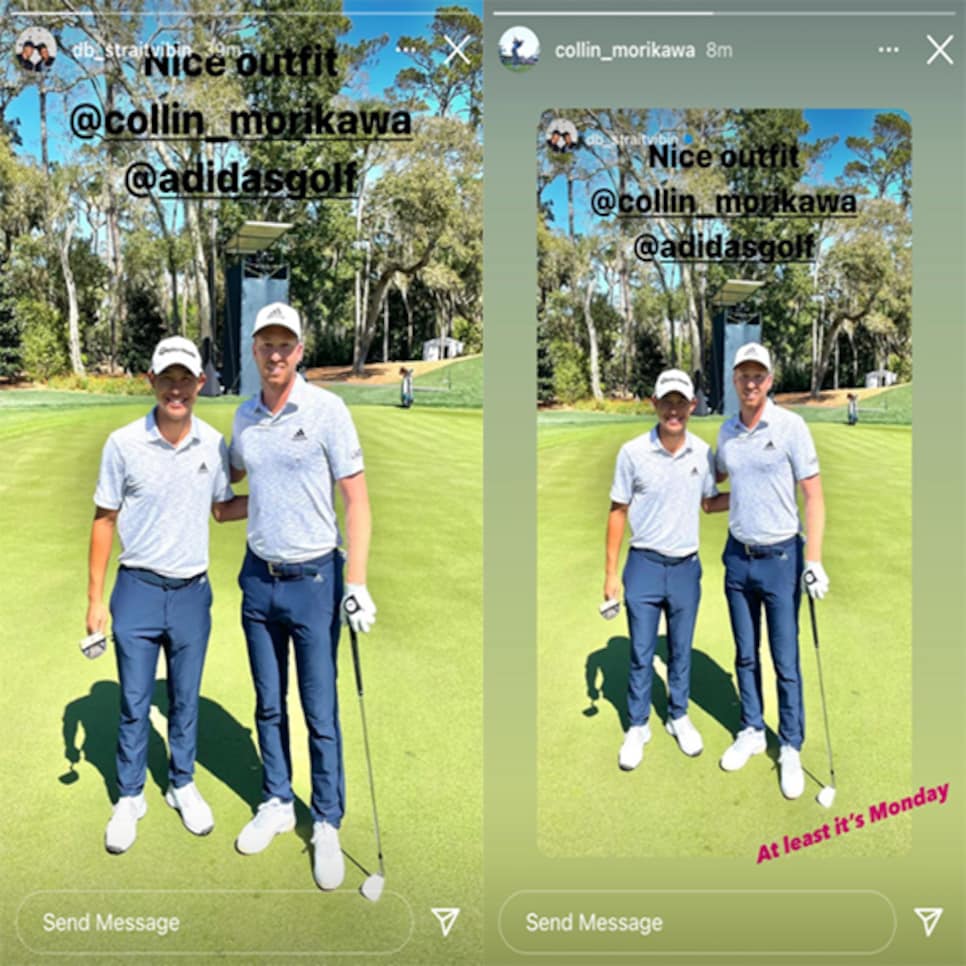 These guys are good. At wardrobe scripting.
RANDOM QUESTIONS TO PONDER
Is the Official World Golf Ranking ageist?
Will I ever convince Chili's to sponsor this column?
Where can I get some of those Arnold Palmer gummies?