LPGA Drive On Championship
Austin Ernst's win makes it three straight for Americans to open 2021 season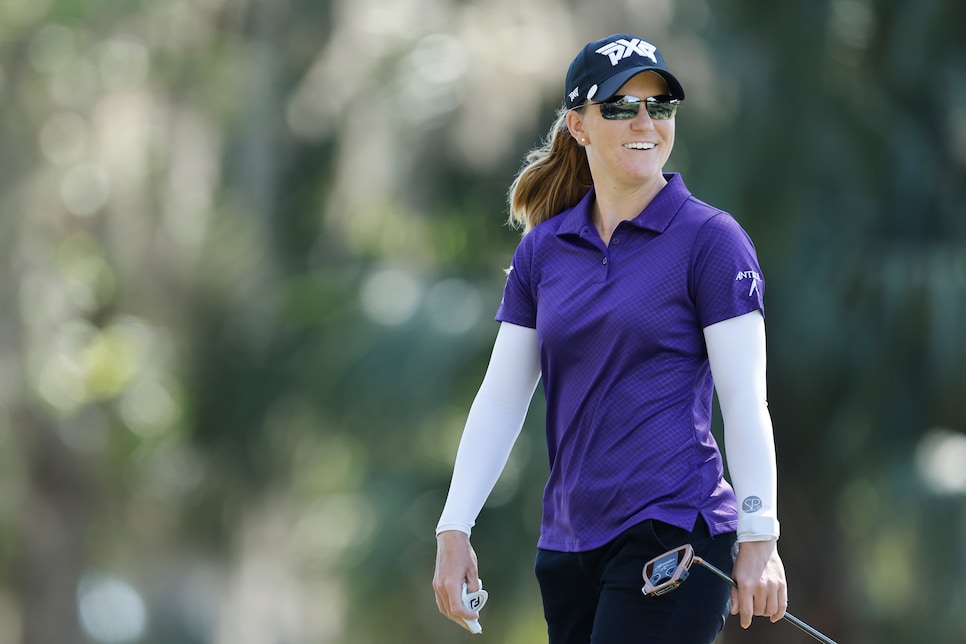 Austin Ernst's victory in itself on Sunday was not particularly surprising, but in a Solheim Cup season it represents an unexpected, though not unimportant one on behalf of the United States.
For the first time in 14 years Americans have won the first three tournaments in a new season. Ernst's win in the LPGA Drive On Championship Presented by Volvik followed victories by sisters Jessica and Nelly Korda.
Ernst, 29, shot a two-under par 70 at Golden Ocala Golf Club in Ocala, Fla., and won by five over Jennifer Kupcho, completing 72 holes in 15-under par 273 and earning $225,000. Kupcho shot a two-over 74.
The victory for Ernst, a U.S. Solheim Cup team member in 2017, was the third of her career and second in the last seven months.
A former NCAA individual champion at LSU, Ernst began the final round with a one-stroke lead over Kupcho. After seven holes, Ernst's lead was six, principally the result of four consecutive birdies.
On the back nine, it only briefly became uncomfortable for Ernst, who made bogeys at 12 and 13, while Kupcho birdied 10 and 12. But Kupcho also bogeyed the 13th and Ernst went to the 14th tee still ahead by three.
"Thirteen, I just told myself I hit a good putt on 12," she said. "I was still three-under for the day, still had the lead and I was still playing good. Just made one bad swing on 12. The shot on 13 went a little higher than I thought, the wind killed it, and I hit a good putt there, too. Walking to the 14th tee, Drew [her brother and caddie] just told me, 'you're playing great, keep doing what you're trying to do.'
"I think the difference this week was I was fully committed to believing in what I do, that it's good enough. This week proved that it's more than good enough."
Kupcho, the winner of the inaugural Augusta National Women's Amateur in 2019, saw her bid to win for the first time on the LPGA go awry when she double-bogeyed the par-3 15th hole.
The Solheim Cup is scheduled for September at Inverness Club in Toledo, Ohio., and Ernst, seventh in points prior to winning, is in a strong position to make the U.S. team. The U.S. will attempt to avenge a loss to the Europeans in 2019.
Incidentally, the last time Americans won the first three tournaments was 2007, when Paula Creamer, Stacy Prammanasudh and Meaghan Francella achieved the feat.