The Grind
Bryson DeChambeau's impressive long drive debut, Bubba Watson's big breakup, and a historic round of golf you probably missed
Welcome to another edition of The Grind, where we begin with a belated happy 25th anniversary to "Tin Cup," which is both the greatest and most authentic golf movie ever made. Look it up. And by look it up, I mean just take my word for it. This classic came out when I was about to enter high school, and now I'm nearly as old as Kevin Costner was when he played the memorable role of Roy "Tin Cup" McAvoy. Man, time flies when you write a weekly online golf column. Anyway, after you're done reading this week's Grind, check out this special episode of our Local Knowledge podcast, which includes memories from Tin Cup himself:
Yep, I talked to Kevin Costner on the phone. NBD. Just kidding, it's totally a big deal! What a legend. But now it's time to talk about everything else happening in golf. At least, until "Tin Cup" starts on Golf Channel again.
Sam Burns: Another week, another Ryder Cup final cut winning a PGA Tour title. This time, it was Burns, who won for the second time this year at the Sanderson Farms Championship. And to the victor of the Sanderson Farms Championship goes that rooster trophy. That sweet, sweet rooster trophy: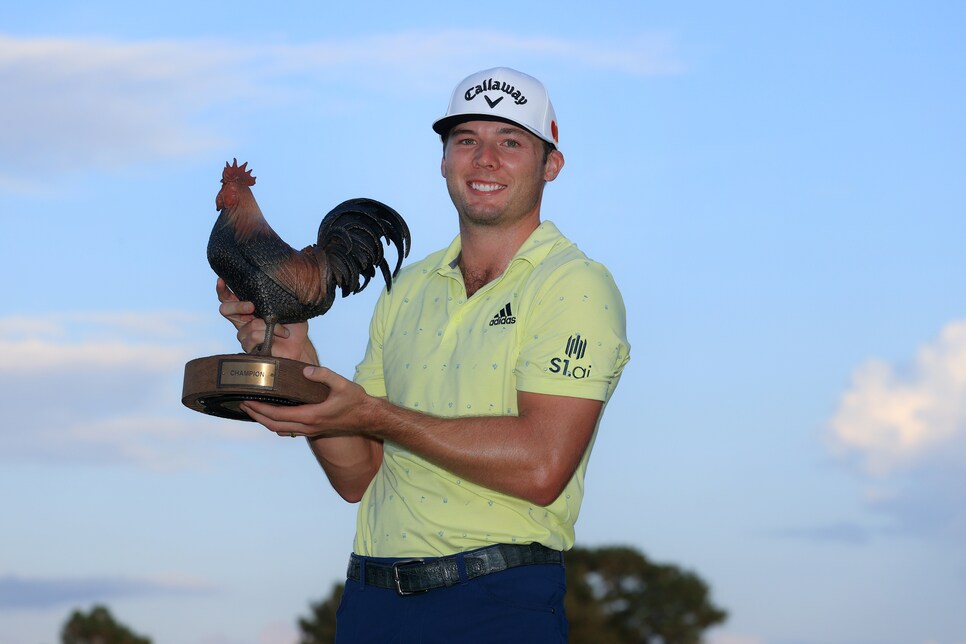 How good did Burns hit it in Mississippi? He actually posted the second-worst putting performance by a winner on the PGA Tour since 2010. So, yeah, he hit it pretty darn good. And at 25, he's got a pretty darn good chance of making some future Ryder Cup squads.
Bryson DeChambeau: Just days after solidifying himself as one of the top eight players on the planet at the Ryder Cup, DeChambeau established himself as one of the top eight long drivers in the world. Making his long drive world championship debut, Bryson bombed his way to the quarterfinals before bowing out. It was an impressive display of power—and accuracy—from DeChambeau, who peppered the grid and produced several drives of over 400 yards and a top ball speed of 219 miles per hour. Just look at this guy getting after it!
Once again, the baseball cap suited him well and he seemed to thoroughly enjoy his time trying something new in front of crowds that refrained from calling him "Brooksy." PGA Tour pros and long drivers actually have a history of crossing paths, but not in recent decades. So kudos to Bryson for putting himself on the line and lifting up an entire sport. Oh, and for giving us something to talk about during what should have been a slow week. The guy is clearly golf's content king, he's just not the long drive king. At least, not yet.
Kyle Berkshire: Bryson's buddy winning a third consecutive long drive world championship was the least-surprising result of the year. With ball speeds reaching nearly 230 miles per hour, the 24-year-old cruised to victory in Mesquite. And while Bryson clearly has his eyes set on getting more into long drive competitions, Kyle has PGA Tour aspirations. But, well, let's just say he's still at the point where he drives for show and drives putts for dough. That being said, just look at what Sam Burns did this week. So there's still hope, Kyle. In the meantime, don't quit (dominating) your day job.
Alejandro Del Rey's Friday: The 24-year-old Spaniard made golf history with his 58 in the second round of the Challenge Tour's Swiss Challenge. The new Mr. 58—make that Señor 58—became the first player to shoot 14(!) under par in a single round on a major tour. Look at this absurd scorecard:

And before you get the "What a tough finish!" jokes going, know that he began his round on the back nine, so he ended it with a third eagle.
The rest of Alejandro Del Rey's week: Despite shooting 14 under in one round, the Spaniard "only" shot four under the other three rounds to finish seven shots behind winner Marcus Helligkilde. Imagine shooting 58 and losing by seven shots?! Then again, Tin Cup shot 62 at a U.S. Open and lost by more than that to Peter Jacobsen.
Player-caddie breakups: Apparently, it's breakup #szn, y'all. Sad stuff. On the same day we found out about Justin Thomas parting ways with Jimmy Johnson (and re-connecting with Jim 'Bones' Mackay), Bubba Watson and Ted Scott announced they're splitting up after 15 years, two green jackets, and countless #PrayForTedScott moments:
It's the end of an era. Well, two eras because JT and JJ had a pretty nice run themselves. Anyway, we wish Ted the best as he pursues his dreams of being a dancer:
This guy's pre-shot routine: Normally, when I see these types of videos, I think they're fake. But this is from Q School!
And former PGA Tour pro Kyle Thompson confirmed this dude is for real:
While we're young, man! While we're young! He should be banned from tournaments until he shaves about 30 waggles off his pre-shot routine.
The PGA Tour heads to the Shriners Children's Open for the start of the Las Vegas Swing, AKA the most dangerous two weeks of the year on tour. Seriously, two full days in Vegas can be too much, but two full weeks? Good luck to all the guys there.
Random tournament fact: In 2010, Jonathan Byrd made a walk-off hole-in-one to beat Martin Laird. Eleven years later, Byrd didn't make it through the Monday qualifier and Laird is in the field as the defending champ. The golf gods have a way of evening things out, huh?
RANDOM PROP BETS OF THE WEEK
—There will be another walk-off hole-in-one this week: 1 MILLION-to-1 odds
—Martin Laird will win this week: 125-to-1 odds (actual odds)
—Bones will make more money caddying for JT than working for NBC: LOCK
There's not a better setting for a trophy photo in golf than the Swilcan Bridge: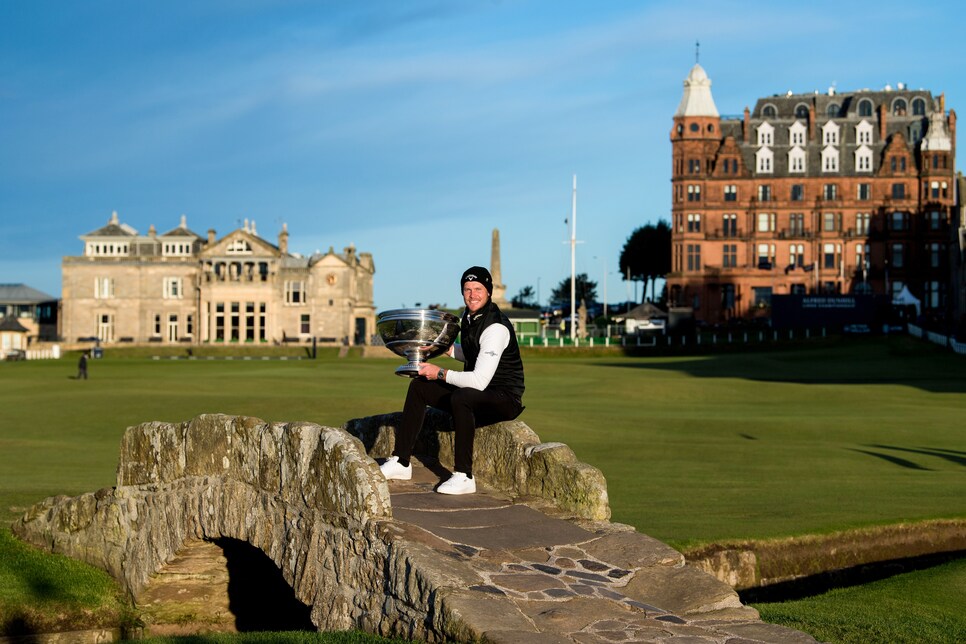 Now if only Danny Willett was holding a rooster trophy, then we'd really be cooking. But seriously, kudos to the 2016 Masters champ for winning his first European Tour title in more than two years—on his 34th birthday, no less. Willett hasn't won much since slipping on that green jacket, but when he does win, he goes big game hunting. His three wins since are the DP World Tour Championship, the BMW PGA, and now the Alfred Dunhill Links at St. Andrews.
VIRAL VIDEO OF THE WEEK (PGA TOUR DIVISION)
This is Ben Kohles, who is apparently made out of rubber:
Who says golfers aren't athletes?
VIRAL VIDEO OF THE WEEK (EUROPEAN TOUR DIVISION)
This is also the luckiest bounce of the week/year/century:
And he turned it into a birdie to finish top 20 and earn a few extra bucks. Well done, Guido. Just don't expect another good break until you're 40.
VIRAL VIDEO OF THE WEEK (INSTAGRAM INFLUENCER DIVISION)
It was a tough Monday for Instagram, but not for Paige Spiranac. Not only did she make a hole-in-one, she made it with Gary Player watching:
Good for you, Paige. Of course, Gary probably still gave her a few exercise tips after.
THIS WEEK IN PUBLIC DISPLAYS OF AFFECTION AVOCADOS
Watch out for Joaquin Niemann this week! That's a super food right there!
THIS WEEK IN PHIL BEING PHIL
Well played, Phil. Well played.
"It's magical. On British soil with everyone here, it's been a great week. It's been a couple of years of average stuff again. I seem to do this a lot actually, go up and down."—Danny Willett with a very fair assessment of his career.
Congrats to Celine Boutier for capturing the LPGA Shoprite Classic for a second career win. More on Shoprite's sponsorship in a bit. . . . Congrats to PGA Tour rookie Cameron Young finishing T-2 at the Sanderson Farms. When I talk about how Wake Forest is now a football school, keep in mind it's always been a golf school as well. . . . In a Ryder Cup interview with Steph Curry, Michael Jordan said he has played 63 holes of golf in a day. And there's not one person in the world who wasn't surprised that the number isn't higher. . . . And finally, huge shout-outs to two of my best golf buds, Eric Lebowitz and Josh Supsak. In a 24-hour period, Eric broke 80 and became a dad. Impressive. Meanwhile, Josh did some LPGA putting challenge at Shoprite and made three consecutive 20-footers to win three Shoprite gift cards!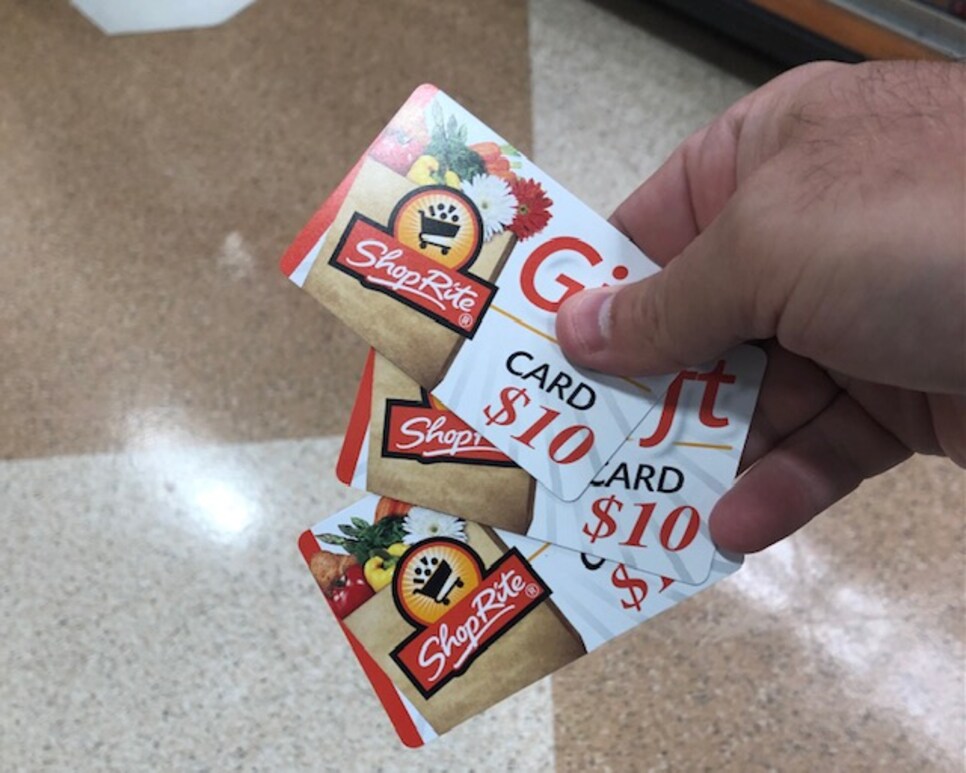 Good thing he never putts like that when we play.
RANDOM QUESTIONS TO PONDER
How long will it be before Eric breaks 80 again?
How many times have I watched "Tin Cup"?
Should I have asked Kevin Costner to tee it up?