Gotcha
Brooks Koepka pulls off masterful Twitter troll amidst all the LIV chaos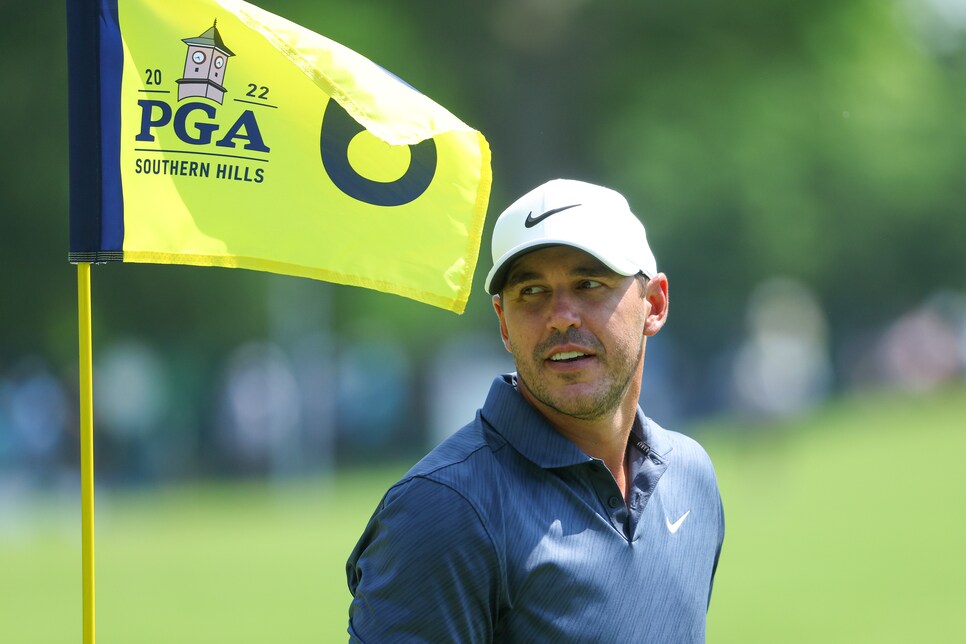 Despite some shaky play on the course over the last handful of months, the vibes are extremely high in the Brooks Koepka camp these days. That's to be expected in the immediate aftermath of your own wedding on a beach that freaking Ludacris performed at.
So it's pretty safe to assume Koepka is feeling himself. He certainly was on Wednesday evening amidst all the LIV Golf tour chaos, specifically the news of Bryson DeChambeau (and Patrick Reed) jumping ship just one week after denying rumors that he would leave the PGA Tour. Last year, DeChambeau being caught in a lie would be something Koepka would pounce on, but that budding rivalry seemingly fizzled out after Koepka defeated him in "The Match" last November.
Or did it? In one tweet just past 7 p.m. ET on Wednesday, Koepka sent the golf world into a frenzy over what it could possibly mean. There were no words, just three "eyes" emojis, which could mean literally anything, hence the frenzy:
Was this his latest and greatest shot at Bryson? Was this about his final round at Erin Hills playing on Golf Channel last night? Did this mean he was going to LIV, where his brother Chase is currently playing in the first event in London? WHAT DOES IT MEAN BROOKS?!?!?!
Turns out it meant ... nothing, for now. It was just a masterful troll job from a guy who hasn't flexed his troll muscles since the DeChambeau saga ended. Here was the next tweet he sent:
Nothing to see here, I guess. Just pumping up his boy Saquon Barkley, a fellow Nike athlete who Koepka has become tight with. Barkley, like every player coming off an injury ever, has his swagger back in the summer and can't wait for the season to arrive. Us too, dude.
So what else can we take from this? Not much other than the fact that the Koepka-to-LIV rumors we'll continue to swirl, even if he professed his loyalty to the PGA Tour back in February. A lot of guys that made the jump already did that, too, so it's hard to take seriously. With his brother already there and knowing how close they are, not to mention the fact he'll almost certainly get a Dustin Johnson/Bryson DeChambeau-sized bag thrown his way, it would surprise no one if Koepka bolted next.