British Open
British Open 2021: Reporter calls Bryson DeChambeau "Brooks," hopefully wasn't tossed from premises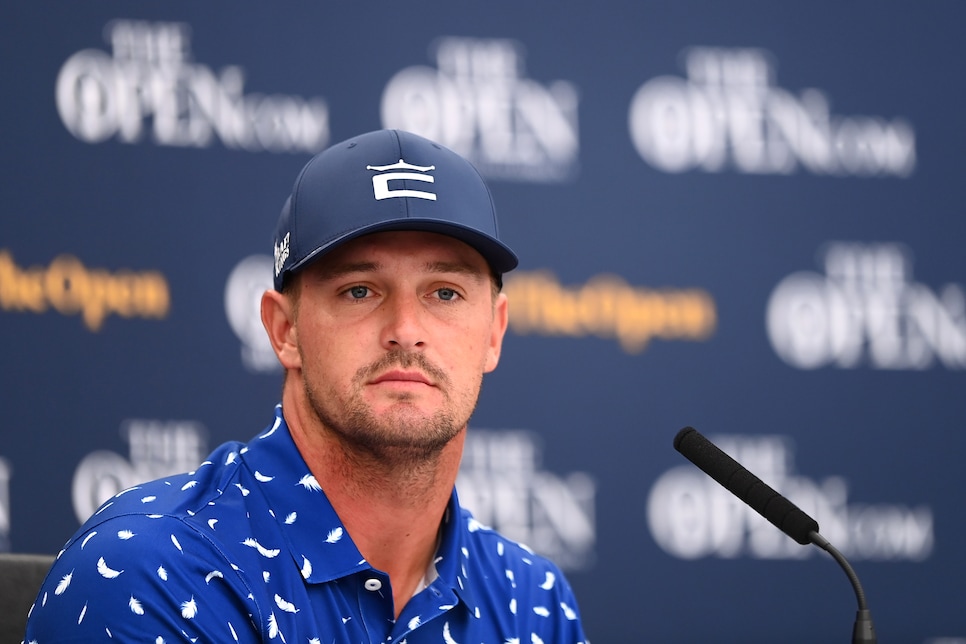 There will be a day when the Bryson-Brooks feud jumps the shark, when the two bruisers tire of the back-n-forth or fans become numb to the storyline. That day will come. Today is not that day.
Brooks Koepka and Bryson DeChambeau talked to the media Tuesday ahead of the Open Championship, and both were asked to address the other. Brooks, as he is wont to do, leaned into the squabble, finally explaining what DeChambeau did (in his opinion) to garner his animosity. DeChambeau continued to attempt to put the relationship in a lighter context, going so far as saying he wouldn't mind pairing up with Brooks at the Ryder Cup. By no means were the two making efforts at a detente, yet it also wasn't the most inflammatory of press conferences, either.
Well, at least towards each other. DeChambeau and the media, that is a different tale.
The 2020 U.S. Open champ had a testy response when asked why he doesn't yell "Fore" on errant drives. "I do shout fore. I don't know what you're talking about. There are plenty of people on the tee box that do shout fore," DeChambeau said. "You're bringing up a very controversial thing, which is unfortunate, but 99 percent of the time I do, and unfortunately people think I don't. But that's okay, they can say whatever they want." We would advise DeChambeau stay off of Twitter, as a handful of users have proceeded to post videos of DeChambeau not doing what he says he does.
Of course, DeChambeau may be stewing on another matter. That would be how he was addressed by a media member. Be it an accident, wanting to stir the pot or hoping to cash in on that sweet Michelob Ultra special, said reporter called Bryson … Brooks.
To our knowledge, DeChambeau didn't get security to boot the reporter off premises, so good on the personal growth over the past month. But should DeChambeau ultimately capture the claret jug this week, we pray the engraver does not suffer the same Freudian slip.