This Tour
British Open 2021: Brooks Koepka (finally) got specific about his 'agreement' with Bryson DeChambeau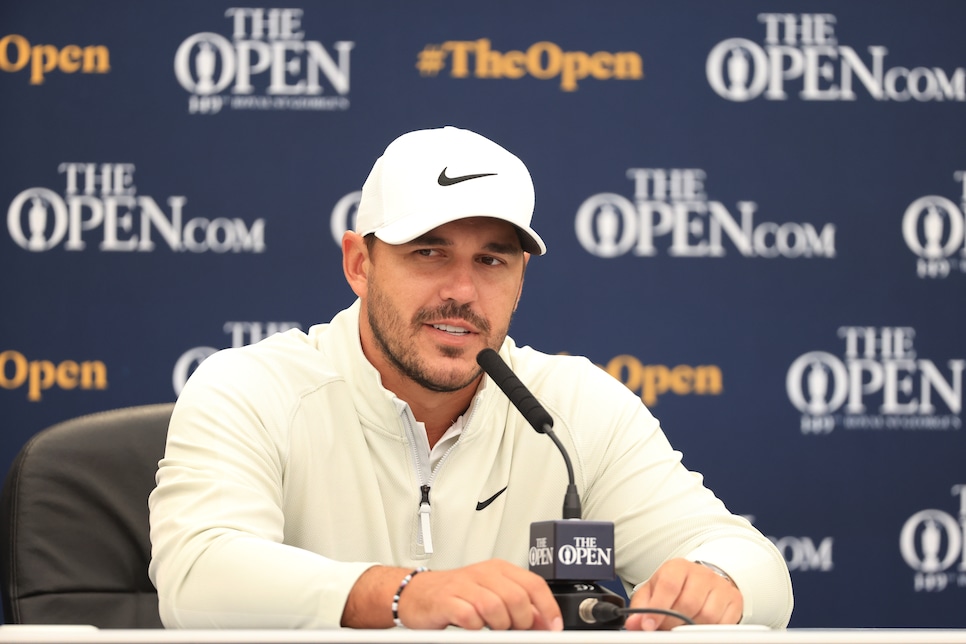 In the last few chapters of the Brooks Koepka-Bryson DeChambeau saga, Koepka has alluded to an "agreement" between he and DeChambeau, one that was made during the now-infamous conversation at Liberty National in 2019. "He went back on [his] word," Koepka explained at the Travelers Championship last month, adding, "I don't have much respect for that."
What that agreement was has remained a mystery. Koepka, perhaps mistakenly, finally got specific about that agreement during his Open Championship press conference on Tuesday at Royal St George's.
"I said it a couple weeks ago. It was at Liberty. He didn't like that I had mentioned his name in slow play," Koepka said. "So we had a conversation in the locker room, and then I guess we said something else in the press conference but didn't mention his name in it, and he walked up to Ricky [Elliott, Koepka's caddie], said something.
"It was, 'You tell your man if he's got something to say, say it to myself.' I thought that was ironic because he went straight to Ricky. Ricky told me when I came out, hit a few putts, and then just walked right over to him, we had a conversation. We both agreed we'd leave each other out of it and wouldn't mention each other, just kind of let it die off, wouldn't mention each other's names, just go about it."
The gist of the deal: don't talk smack. Keep my name off your lips. Put some respect on it, etc. etc. DeChambeau, of course, did not hold up his end of the deal, making a commenting on Koepka's lack of abs the following winter. Since then, it's been on like Donkey Kong, according to Brooksy.
"So then he decided I guess he was going on that little, whatever, playing video games online or whatever and brought my name up and said a few things, so now it's fair game."
Fair game would be putting it lightly, as Koepka has returned with an all-out assault ever since the abs comment. DeChambeau, seemingly not interested in fighting back, has tried to ignore the bully but has had serious trouble doing so. Where or when this thing ends remains to be seen, though the majority of golf fans are hoping it never does.