love of the game
British Open 2023: Why Brian Harman is a golf romantic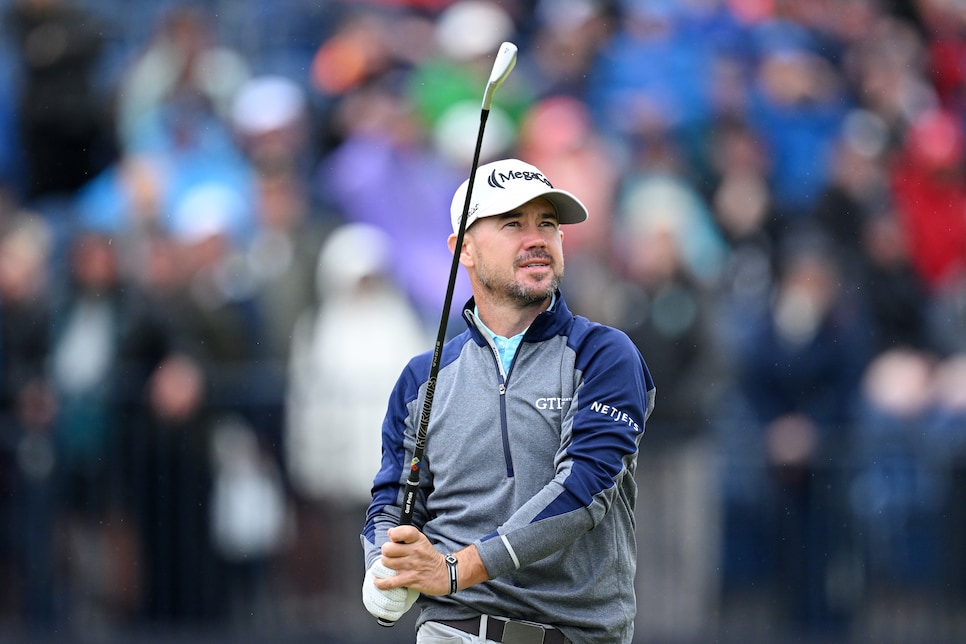 HOYLAKE, England — Brian Harman is a romantic. That is something we'd never thought we'd say, and looks even weirder written down. But it's been a weird Open Championship, with Harman—a very good player, albeit a player with two wins in 340 PGA Tour starts—owning a five-shot lead over 54 holes against the world's best on a course that has crowned legends like Woods and McIlroy and Jones and Hagen. For his efforts Harman has been greeted with tabloid headlines like "The Butcher of Hoylake," the British press—tough crowd, that British press—taking him to task for his passion of hunting. There's also been controversy involving how the bunkers were raked. There were the sights of a bird defecating on Viktor Hovland and Billy Horschel taking down an eco-protestor. There was a brief suspension of play caused by … (checks notes) … a toad.
Yeah, it's been a weird week.
Of course, it's been a weird few weeks, months, year in golf. At times that weirdness has made it hard to feel the things we're supposed to feel about the sport, and it's become clear the powers that be don't realize the weirdness could push its admirers to a breaking point. Which is why it was refreshing to hear Harman on Saturday, on the precipice of catching something he's spent his entire life chasing, discuss why he enjoys the chase so much.
"Someone once told me one time you should do the things that make you lose track of time," Harman said at Hoylake, when asked his favorite part of his work, "and for me, a lot of times when I'm practicing hitting balls or putting when I'm at home, I lose track of time. That's how I know that I really enjoy it."
On the surface Harman's words are not particularly hermetic or deep. The sort of line you'd find on Pinterest art work, to be hung at home above the coffee maker. But sometimes the simple can be profound, and in his remarks Harman showed against all the noise about where golf is going at its heart remains golfers. A sick, twisted bunch of men and women addicted to beating a stupid little white ball toward a stupid little flag in the distance. Their affliction has no cure, and honestly, they don't want a cure.
Sometimes that includes professional golfers, but not always. The dirty truth is there are players out here who don't have the love they once did for the game. It is their profession, after all, one that has paid most of them handsomely. The profession is also a grind—the travel, the obligations, the hangers-on—and it's a profession that traffics in failure, the margins so thin and the competition so fierce that you don't so much succeed as you do survive. That type of life will wear down even the zealous.
Harman? He's had his highs, noting he's immensely proud of qualifying for the tour's postseason 12 straight years. He's had his heartaches, his professional career—while solid—nowhere near the stardom he achieved as an amateur. What keeps him going, he said on Saturday, is his love for getting "off the mat." And though he's closer to 40 than 30, he remains in pursuit of a freedom he had in his youth.
"My mental approach [as a kid], I was much more confident and much more willing to take on shots. I've spent the majority of my professional career trying to rekindle some of that," Harman said. "When you get to harder golf courses everything constricts—the greens are more firm, the fairways are more narrow, so it kind of lends itself to more anxiety. Whereas back then it was just wide-open freedom. It's a fun way to play, with no inhibitions."
So that's who Brian Harman is. Possibly the next Champion Golfer of the Year. Unequivocally, a man attempting to discover what he once had, powered in his struggle by joy in the work. That's a golfer in its purest, romantic form. And there's nothing weird about it.
MORE FROM GOLF DIGEST @ THE BRITISH OPEN