Rory Watch
British Open 2023: Rory McIlroy faces long climb to repeat at Royal Liverpool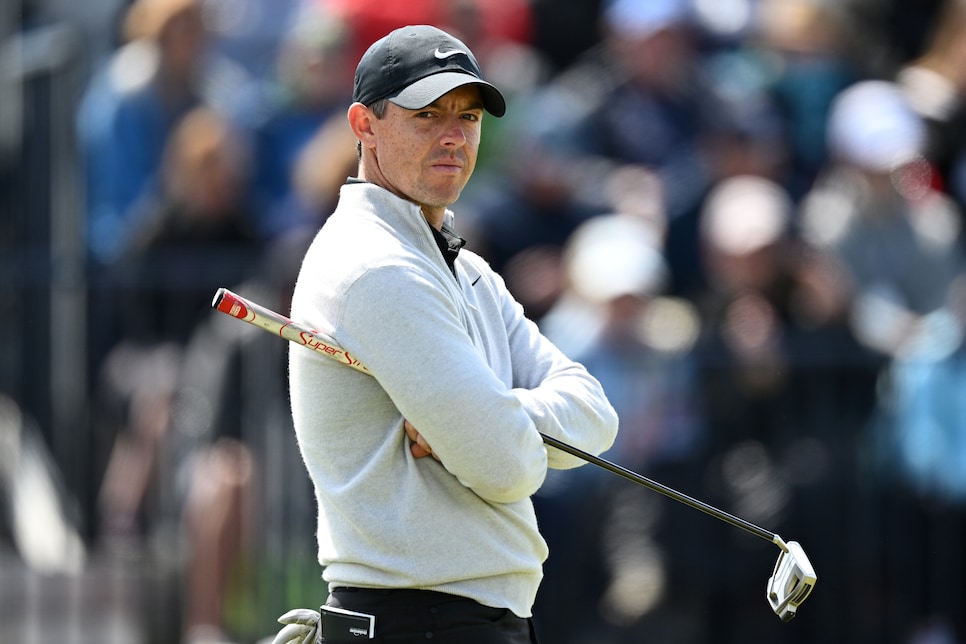 Rory McIlroy stands on the ninth hole.
Oisin Keniry/R&A
HOYLAKE, England — An outwardly daunting nine-shots back he may be, but Rory McIlroy didn't seem to be too bothered. Not yet anyway. One under par after two circuits of the Hoylake links, the Northern Irishman is but a distant figure in the rearview mirror owned by the leader, Brian Harman, but his surprising air of contentment over the quality of his own play suggests this thing is far from over.
Which is not to say that McIlroy was dancing any jigs, Irish or otherwise. A promising start on Day 2 was becalmed when bogeys at the 11th and 16th, what he described as "two of the easiest holes on the course," gave back the progress the four-time major champion made with early dips under par at the first and fifth. A late birdie at the par-5 18th was heartening, however, McIlroy "happy" with his two-day's work.
"Coming in under par was important," he said, "Certainly important to me. I got off to a great start. Was a couple under through nine, then gave those shots away. But it was nice to at least get one of them back on 18 there. The course played tough. It played really, really tough. Ten under par is unbelievably impressive out there. But we'll see what the weekend holds."
Clearly, McIlroy hasn't quite reached the stage where he will absolutely need some help from Harman, who he described as "a pretty laid back, unflappable sort of a guy." That point may come soon enough, but for now McIlroy was keen to emphasize that "more of the same" is good enough, at least for now.
"I don't think I have to do anything differently," he said. "I'm hitting the ball well from tee to green. I've missed a couple of chances on the greens. The wind got me today. It's hard sometimes in two minds whether to play the wind or not to play the wind. But a stretch like 12-13-14, those greens are quite exposed, and you have to play the wind a little bit.
"I might be nine back, but I don't think there's going to be a ton of players between me and the lead going into the weekend," he continued. "It depends what the conditions are tomorrow. And obviously on what Brian does, as well. So right now, it's not quite out of my hands. If I can get to three, four, five under par tomorrow going into Sunday, I'll have a really good chance."
Warming to his theme, McIlroy gave credit to the conditions he faced last week en route to winning the Scottish Open at the Renaissance Club. Confident in the ball flight he owns with his irons, even the windy conditions forecast over the next two days will not be enough to deplete his current level of confidence.
"Scotland was great preparation for what we faced the last couple of days," said McIlroy. "I've felt more comfortable in the wind over the last few years, and now I feel like I can perform in all sorts of conditions. Whatever gets thrown at us over the weekend, I feel like I'll be prepared for. Maybe 10 years ago a certain style of course suited my game better, but I feel like I've become pretty adaptable to all conditions that we play in."
There was just time too for a comment on the Hoylake bunkers. On Day 1, McIlroy had been forced to play away from the flag from an impossible lie in a greenside bunker on the 18th hole. Overnight, of course, the R&A installed slight upslopes into the near-vertical faces of the 82 bunkers on-site, thereby alleviating the near farcical scenes that afflicted McIlroy and many others.
"I hit a 4-iron into the fifth hole today," he said. "It pitched on top of the bunker and came back in. I didn't know that they'd made that little gradual rise up into the face. So when I got up there, I was pleasantly surprised I had a shot. I wouldn't say there's one person in the field that wouldn't welcome that change."
Is it the British Open or the Open Championship? The name of the final men's major of the golf season is a subject of continued discussion. The event's official name, as explained in this op-ed by former R&A chairman Ian Pattinson, is the Open Championship. But since many United States golf fans continue to refer to it as the British Open, and search news around the event accordingly, Golf Digest continues to utilize both names in its coverage.
MORE FROM GOLF DIGEST @ THE BRITISH OPEN