Golf Digest Interview
British Open 2023: 'When he gets his jaws on you, he doesn't let go'—Brian Harman's college coach on a win two-decades in the making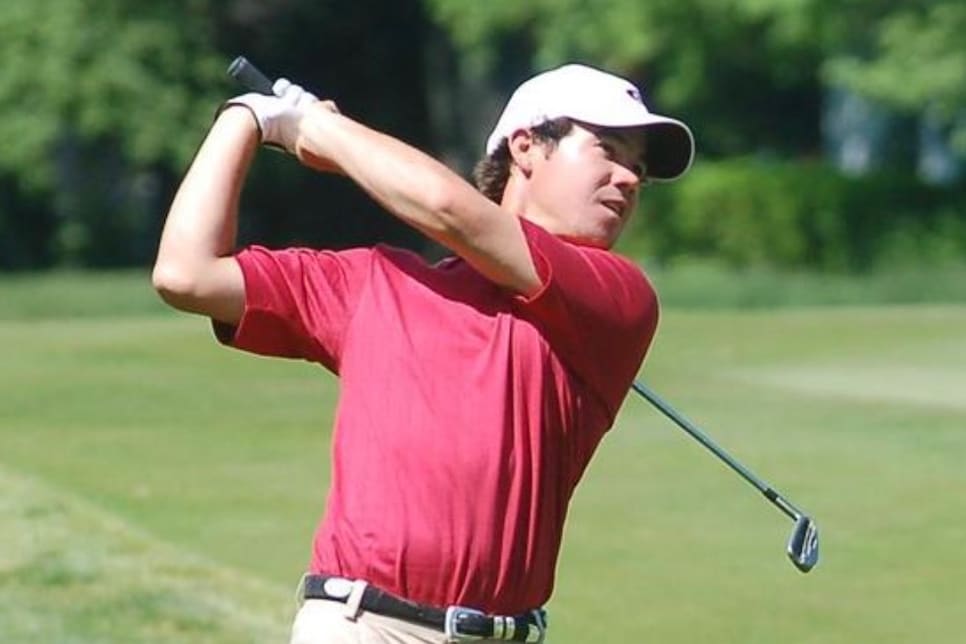 Brian Harman hits a shot during the 2008 NCAA Championships. (University of Georgia Athletics photo)
To learn more about Harman at that stage of his life, we contacted coach Chris Haack, who has led the University of Georgia golf team since 1996. He's won two national championships and eight SEC championships. Harman came to Georgia in the mid-2000s, won two tournaments as a Bulldog and was a three-time second-team All-American. We caught up with Haack a few minutes after Harman's win, while he was on the road to the Atlanta airport to make a recruiting trip to the U.S. Junior Amateur—a trip that forced him to listen to the end of Harman's round on the car radio. The interview is transcribed below, with light edits for clarity.
GOLF DIGEST: The first question is, how do you feel to see one of your own winning the Open Championship?
HAACK: I feel really happy for him. I know he's had a great career, but a lot of times people only judge you when you actually win or win a major. And this is a little bit of validation of how good a player he's actually been. I was listening to them talk about how he's had 29 top-10s since his last victory, and you know, top-10s are pretty good. It's just a hard game, and it's hard to win and get over that hurdle. So I'm really happy he finally did, and it's well deserved.
GD: Give us a sense of what he was like in college.
HAACK: Brian was a really smart kid. He was a great student, so he was really smart. His mom was a chemist, his dad was a dentist and they didn't play golf, so he came from a really smart, academic family, and he's very athletic, too. He's a good athlete, and he was just a tenacious little competitor.
I remember watching him when he was only 13 or 14, the first time I ever saw him in Chateau Elan at an AJGA event, and he had on a Georgia glove, with a Georgia ball marker and a Georgia bag. And I remember thinking, "Man, I like this little guy." He wasn't very big, but I was, like, "I hope he'll grow some."
But he was very steady and just a good, good ball-striker. He just got better and better and perfected his golf swing, and could hit just a little draw over and over again. We watched him play just about every junior golf tournament, between me and [assistant coach] Jim Douglas. He was just a great competitor.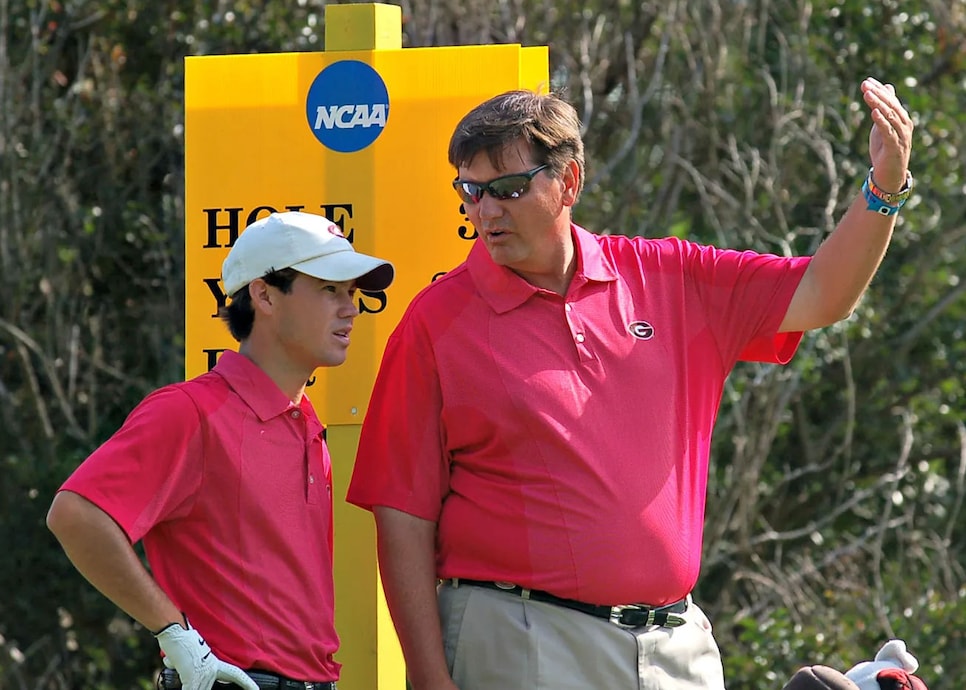 Georgia's Chris Haack has coached an extensive line of players who have made the PGA Tour, including Harman in the late 2000s. (Photo courtesy of Georgia athletics)
GD: In his post-round interview, he talked about his great junior and amateur career, and talked about how it sputtered just a little in college and occasionally throughout his pro career.
HAACK: He talks about that because he didn't win enough. But he was a three-time second-team All-American. So he was always a very steady, really good player. As a coach, he was just a guy you could always depend on. He was always going to show up with a good round, even if he didn't always win.
He also came into college, and somebody had gotten in his ear that he needed to try and learn how to hit a fade if he was going to make it to the next level. And so he was kind of experimenting with trying to hit a fade. And I think that kind of set him back a little bit too, because it just wasn't his natural swing. He eventually went back to and just started hitting that draw like he'd always done.
Think about it. He was on teams with kids like Brendon Todd and Chris Kirk and Harris English, Hudson Swafford. Russell Henley was on that team, too. So in his mind he probably struggled, but he played tough day in and day out.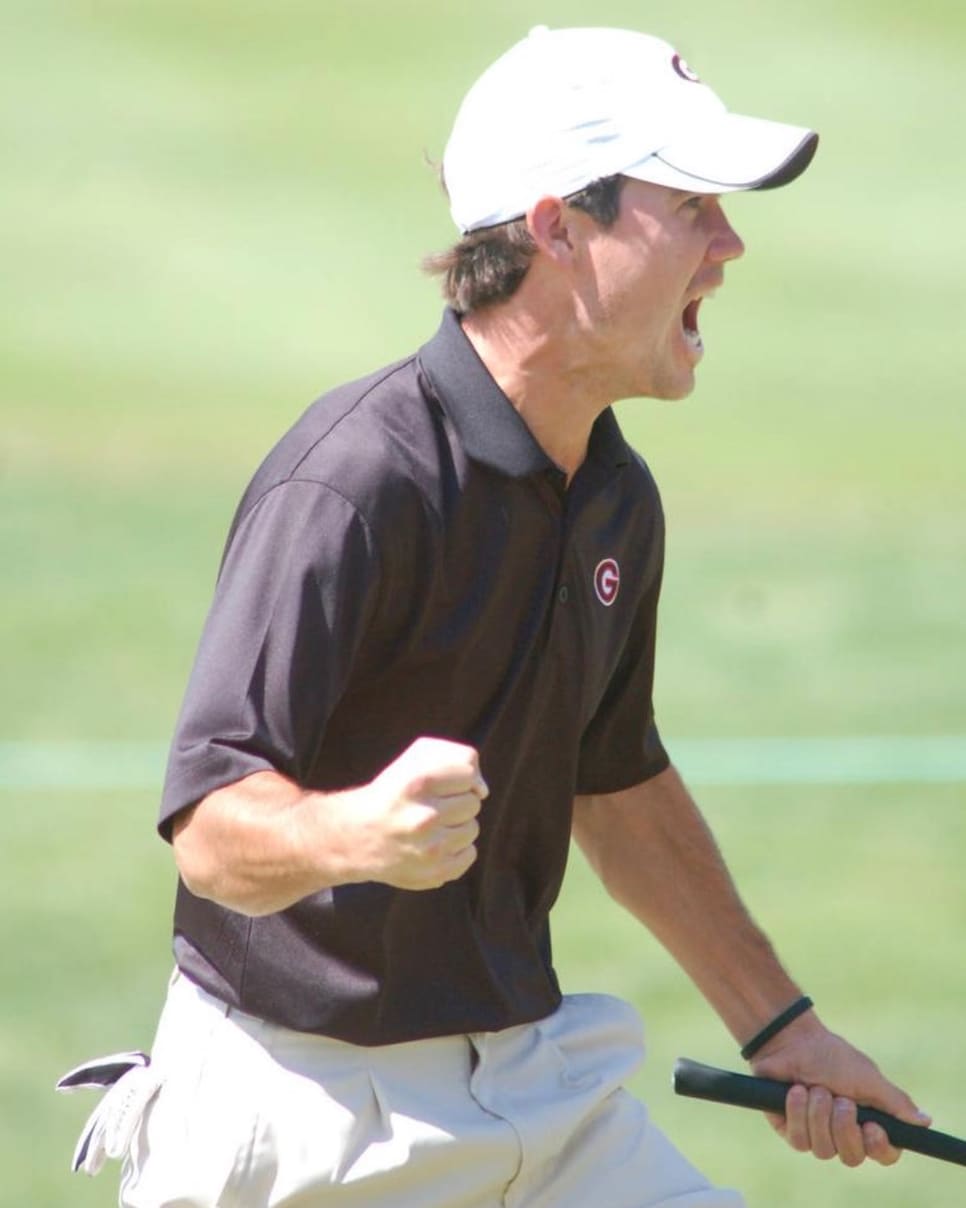 Brian Harman was an emotional player at Georgia, says coach Chris Haack.
GD: That toughness and tenacity, has it always been there?
HAACK: Yeah. You find out a lot about a kid in match play because match play is a different type of toughness where you can't get down, you can't show your opponent you're down, and he was a really good match rate player.
So he played in two Walker Cups [2005, 2009]; he played in the Palmer Cups; he played in a couple of Wyndham Cups from the AJGA. Then the U.S. Junior, he obviously won six matches to win that [in 2003]. Again, it shows you that he's one of those kind of guys. When he gets his jaws on you, he doesn't let go.
GD: If you were Zach Johnson, would you be psyched to have him for the Ryder Cup?
HAACK: I would be. I'd be very happy to have him.
GD: You've dealt with a lot of different kinds of parents. How were Harmans?
HAACK: They were great parents. His mom Nancy was a chemist, his dad was a dentist and neither one of them played golf or knew anything about golf. They just basically let Brian dictate what he wanted to go play in and do and develop. They were ideal parents because they just let me do whatever I needed to do with him. At a program like ours, with all the great players we've had, I've only had four players in their careers that never missed a tournament because of the way we do qualifying. It was Kevin Kisner, Russell Henley and then Trent Phillips just recently, and Harman.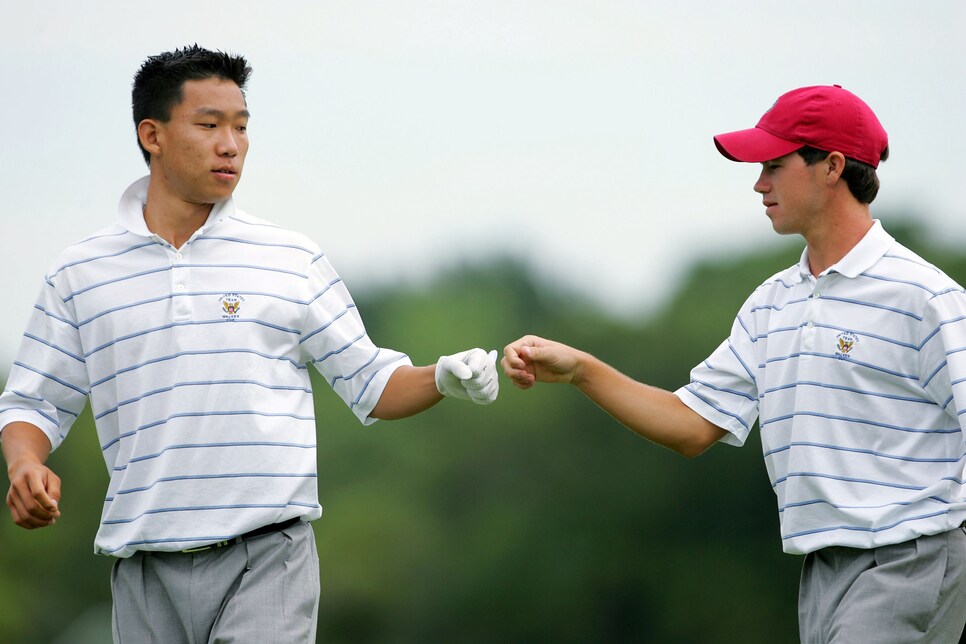 Brian Harman and U.S. teammate Anthony Kim bump fists during the 2005 Walker Cup.
Jamie Squire
GD: What were the challenges of coaching him?
HAACK: The only thing we ever probably talked about that he needed to really work on was his attitude, because he could run a little hot. If made a bogey or a double or something he could get really mad, and it might affect him for the next few holes. So we had a few discussions about that. But that's one of those things that just comes with maturity and you don't see that anymore. He grew out of that. But we'd just tell him, go play golf. Go be who you are, go believe in yourself. And he was an easy guy to coach because he didn't really need any help.
GD: Knowing what you know about him, did you think he'd hold onto his lead at the Open?
HAACK: Sometimes having a big lead will make guy get a little cautious, right? He almost tries to steer it a little bit, he almost plays defense, trying not to make a mistake, which I think is a mistake. I think you've just got to keep doing exactly what you've been doing and be committed to what you're doing. And it looked like in both those rounds, he might have come out just a little bit tentative when he was hitting those big pulls early on. That means your body's stopping on you; your hands are still going, but you're not fully committed to the shot. But it seems like he would immediately make birdie, hit a really good shot, and erase that. I was really proud to see him just hang on, play with a lead like that, and win by even more when it was all said and done.
GD: Do you stay in touch with him?
HAACK: Every once in a while. I try not to bother all those guys, but last year we had a kid on the team from Maine, and there was a story that came out when we were all watching the news about a lady in Maine who had gotten run over by a moose on the sidewalk. And so we were all asking him, you know, how big is a moose? And how does that compare to an elk? And he didn't know. So I went, hell, I know who knows. So I called Harman, and of course he knew. He said, oh man, a moose is much bigger. He was my guy with anything animals or hunting.
When we go down to the SEC Championship [in Sea Island, Ga.], he usually likes to kind of ride out and watch us play a practice round down there if we get a chance, and hang out for a little bit. He's encouraging to the guys and I'm sure if we ever truly needed him for something, he'd be there.
GD: Is there anything that sticks out about him as a college player?
HAACK: When he got to college, the first tournament we played that year was the NCAA Preview back when they used to do that. It was at Sunriver, Ore., where the NCAAs were going to be. And he came right out of the gate, and I think tied for the win there. And I just remember thinking, man, this could be fun having this guy for four years. Here he comes in as a freshman and wins his first tournament.
He was a very popular teammate. He was one of those guys that kind of said what was on his mind. If he got into a debate or something, he would stand his ground.
He was a very conservative guy, but he was also on a team with a bunch of conservative guys, so he never had to argue politics or anything like that. But he was a very smart guy, so he always had his opinions on things, and I would say he was definitely a very popular guy on the team, and a good leader. And he and his teammates enjoyed the night life in Athens, and the football. I think he was a good college guy, and I'd say he has no regrets.
Is it the British Open or the Open Championship? The name of the final men's major of the golf season is a subject of continued discussion. The event's official name, as explained in this op-ed by former R&A chairman Ian Pattinson, is the Open Championship. But since many United States golf fans continue to refer to it as the British Open, and search news around the event accordingly, Golf Digest continues to utilize both names in its coverage.