FIRE PIT COLLECTIVE
British Open 2022: Tiger's bad break exemplified the imperfect nature of the game, which is part of its greatness
Editor's Note: This article first appeared in Fire Pit Collective, a Golf Digest content partner.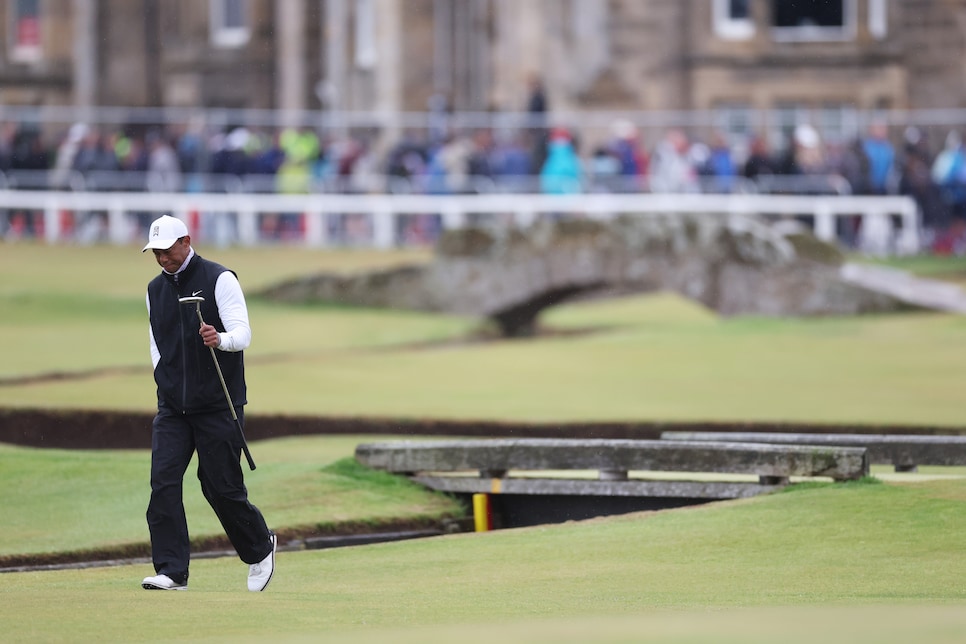 ST. ANDREWS, Scotland — Tiger Woods had just come in from his long Thursday round and, in a notable mark of his professionalism, took questions from reporters. I asked him this: In golf, do good breaks and bad ones balance out?
For a half-second, he looked almost amused. The round had taken close to six hours on a windy day, and he needed 78 strokes. His opening tee shot, a perfect 4-iron, finished in a divot hole.
"Over the course of a career or a round?" Woods asked back.
A good question. Let's get to it after a quick side trip.
Last week, I talked to Fred Couples about the pleasures of Open golf and his love for the Old Course, his favorite course in the world. Woods, by the way, says the same thing: The Old Course, in all her primitive and funky glory, is his favorite course in the world.
One of the things Fred noted was that the course is loaded with divot holes, filled and otherwise, and at some point your ball will most likely wind up in one. Bad luck. You deal with it. What other choice do you have?
Couples knows a thing about luck in majors. On Sunday at the 1992 Masters, on the par-3 12th, his tee shot was short. It came down on a steep bank but somehow did not roll into Rae's Creek. And that made all the difference. Fred's one major title, the 1992 Masters. He's in the club forever.
A half-generation earlier, Tom Weiskopf was a golfing mega-talent, with a picture-perfect swing, impressive posture and an outstanding collection of sweaters. When he got on Tour, he was expected to be a winning machine and claim multiple majors. He wasn't. He won one, the 1973 British Open at Royal Troon, on Scotland's rugged west coast. At the 1991 Open, I asked Weiskopf about his win at Troon. He said, among other things, "It's too bad I was born in the United States­­—I should have been born a Scot." His point was that on Scottish links courses, he hit perfect shots that would sometimes have lousy results and some loose shots that worked out well. A series of events, fortunate and otherwise. At Troon that week in 1973, Weiskopf found he could bury his perfectionistic nature and accept golf's bounces, good and bad, as they came.
You talk about golf imitating life.
When Tiger was a young and callow golfer, and pretty much winning one tournament in four, he used to sometimes say in victory, "You gotta get a little lucky." He didn't need much luck. He was better than everybody else, by a lot. But when he won the 2019 Masters, he wasn't better than the guys he was trying to beat. He got lucky. The 54-hole leader, Francisco Molinari, drowned two shots on the back nine on Sunday, on 12 and 15. On the 13th hole, the iconic par-5, Woods's tee shot started left and was going left, into the woods, when it ticked a branch, made a sudden right-hand turn and finished in the middle of the fairway. From there, he hit an 8-iron on the green, had a two-putt birdie and won the tournament, his 15th major, by a shot.
Well, as he has said for years, sometimes you do have to get a little lucky.
Tiger's body was in a bad place then and now it's only worse. We all know about his scary car crash in late February of 2021, the one that could have taken his life.
When Woods looked at the 2021 golf calendar, he could anticipate one round above all others: the first round of this 150th British Open, here at the Old Course. His favorite course in the world. Woods has three Open titles, and two of them came here, in 2000 and 2005. He would need a good first round this week to make the second one meaningful, then the second for the third and the third for the fourth. He can't take his body or his golf for granted anymore. He's 46, not 23.
And then that first tee shot finished in what Woods called a fresh divot hole. Bad luck. Some might argue you should get relief, a free drop, in that situation. I disagree. It's just bad luck. Golf is filled with luck, good and bad. The imperfect nature of the playing field is part of the game's randomness and greatness. You deal with it. What other choice do you have?
In his mental and physical prime, Woods would have delivered an open-faced punched 9-iron or wedge to the immediate back of the ball on that second shot. He was 113 yards from the hole and playing into maybe a 10-knot wind. He would have hit that second shot 30 feet past the hole, which was only about 20 feet beyond the wee burn. He's one of the best lag putters in the long history of lag putting on rugged, bumpy seaside courses. Walk off with 4. Hyper-realistic analysis was part of his great mental strength.
Woods said a gust of wind hit his second shot and dumped it in the burn. He can say what he wishes and he can believe what he wishes. We all have our own ways of dealing with matters that don't go our way. He certainly wasn't intending to play a shot from a divot hole, over a burn, to a super-precise distance like 113 yards. Tiger Woods would never do that. Also, nobody is confusing the Old Course for Firestone South in Akron, Ohio. Woods made a fortune at Firestone South by hitting scores of shots super-precise distances. But that was then and that was there.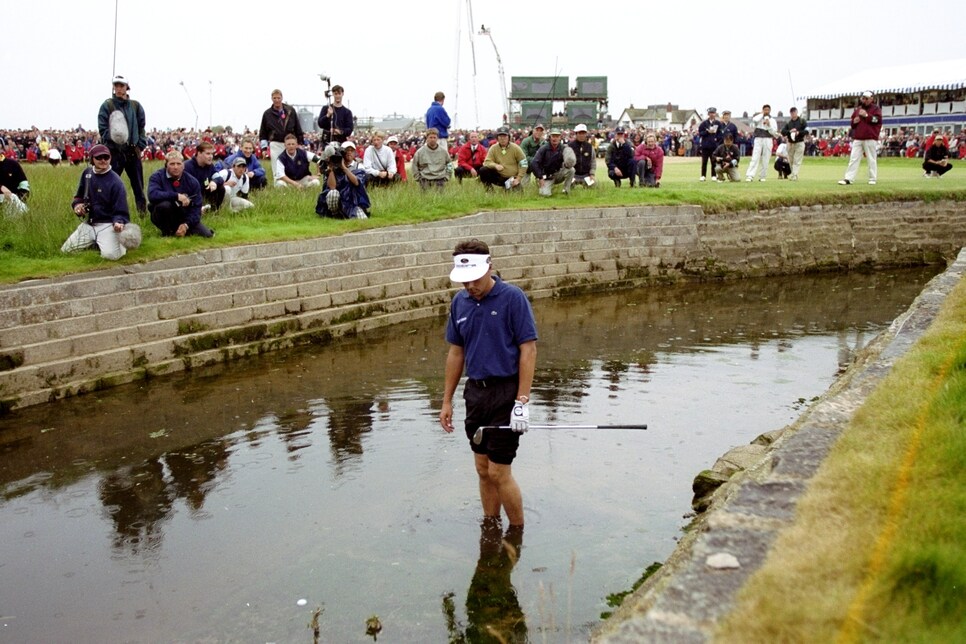 On burns and Opens: At the 1999 Open at Carnoustie, Jean van de Velde's third shot on the 72nd hole of the tournament finished in Barry Burn, in front of the home green. He took his sweet time climbing into the burn to inspect his half-submerged ball, to see if he could play it. All the while, the tide was rising. Twenty minutes earlier, that ball would have been dry enough to play like a bunker shot. That's what van de Velde once told me. Bad timing. Bad luck.
Tiger, on his first and second shots of the day, Thursday at the Old Course:
"Hit a good tee shot down 1, ended up right in the middle of a fresh divot. And I hit a good [second] shot. Wind gusts hit it and ended up in the burn, and I start off with a dub." A double-bogey 6.
"It was so unlucky to have that first shot go into a divot," I asked. "Do you feel good luck and bad luck balance over time?"
"Over the course of a career or a round?" Woods asked back. He was smiling. "Over the course of a career? Yes. But in a round, sometimes it just goes that way. It just goes one way, and it never seems to come back. No matter how hard you fight."
Tiger Woods has spent his career fighting. He has played a hundred rounds of Open golf, knowing what every links golfer knows: the game, like life, is filled with bad breaks and good ones. You deal with the hand you're dealt. At the end of the day, what other choice is there?
Michael Bamberger welcomes your comments at Bamberger@firepitcollective.com