FIRE PIT COLLECTIVE
Open Championship 2022: Behind Fred Couples' love affair with St. Andrews
Editor's Note: This article first appeared in Fire Pit Collective, a Golf Digest content partner.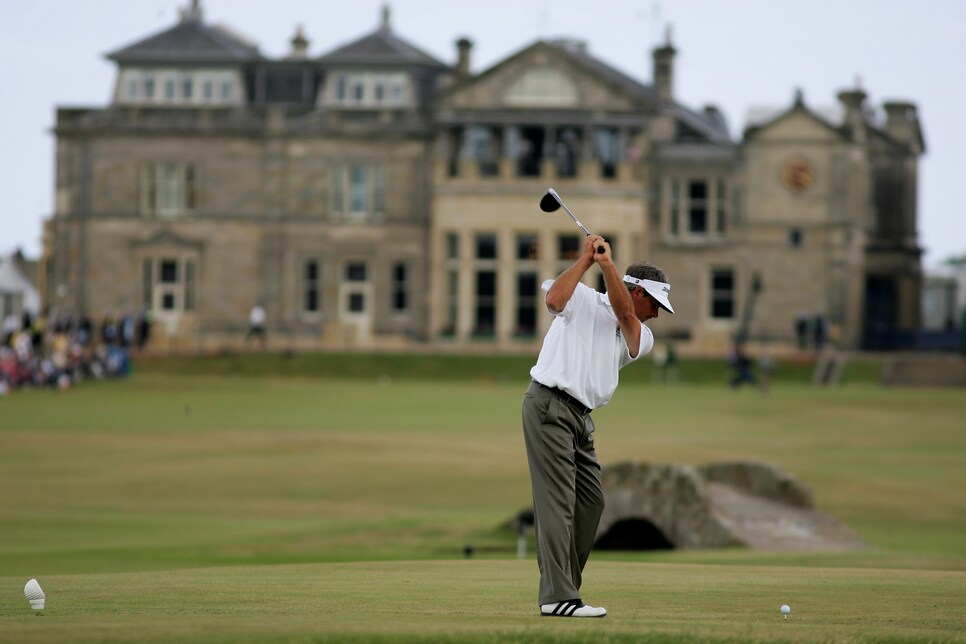 Fred has been making news lately. On the LIV Golf-PGA Tour divide, Fred Couples is siding with Tiger, with Jay Monahan, with Rory. He has been outspoken. He's with the Tour, full stop.
"Can you imagine what it would be like if Arnold were alive, where he would be on this?" Fred asked semi-rhetorically. Arnold Palmer. You probably knew, but on the chance you didn't. "That would get ugly."
Fred's point is that Arnold, despite his evolved sense of decorum, would have been completely dismissive of anybody who left the PGA Tour to play for a Saudi-funded tour. Arnold's life was stamped with three words: Made in America. Yes, Arnold chased dollars every way to Sunday, and all over the world. He got paid to smoke L&Ms, and dry-cleaning establishments bore his name and umbrella. (He did draw a line in the dirt when he rejected the chance to endorse a manure-collection contraption.) But there is not a chance on this green earth that Arnold would have ever done anything to diminish the golf league that made him and that league, once known simply as the pro golf circuit, the one that for decades has had stops in Honolulu and Los Angeles and Fort Worth and West Palm Beach and Hartford. You know it as the PGA Tour.
Fred asks questions. I first met him in '85 (as a caddie) and I have found (as a reporter) that he's semi-impossible to interview. He'd rather ask than be asked. But I recently got him on a subject he loves: the British Open at St. Andrews. "My favorite tournament and my favorite course," Fred said. Yes, there is the Masters and Augusta, an event he won in 1992. There is anything held at Royal Melbourne. There is an element of timing to his statement.
But really really, when it's all said and done? His favorite tournament in the world is the British Open, and his favorite course in the world is St. Andrews. He played his first Open at St. Andrews, as a 24-year-old in 1984, and finished T-4. He was standing on the steps behind the 18th green when Seve, in all his cashmere glory, shook his fist with such gusto that the town quaked, as Fred recalls.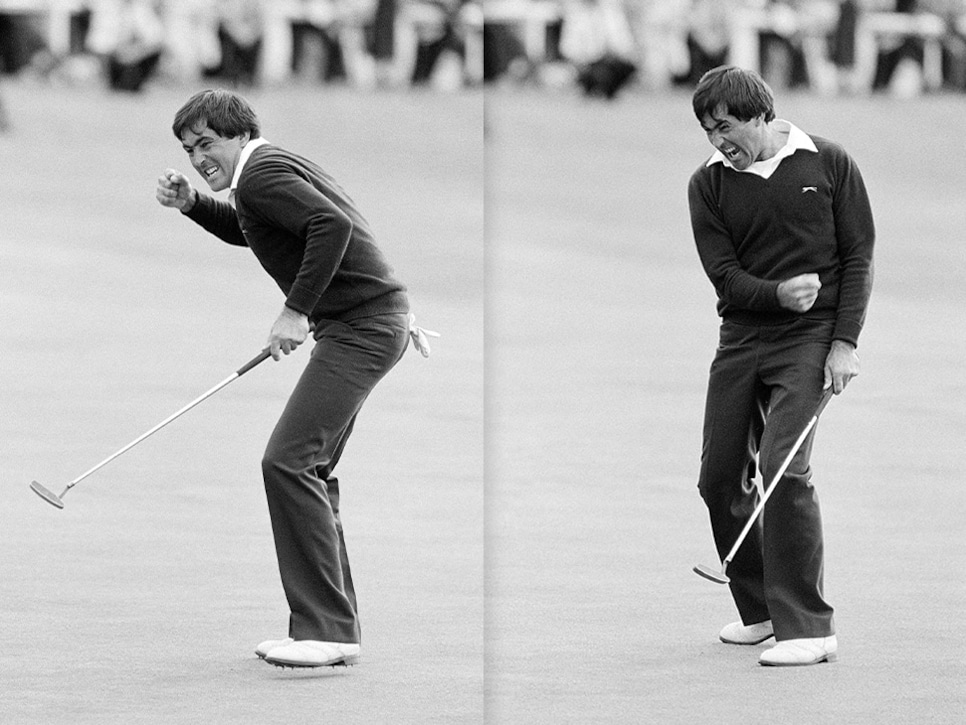 "You know, I splurged and stayed right there, in the hotel," Fred said during a long, casual interview. The Old Course Hotel, beside the Road Hole. "A lot of guys were staying in B&Bs, but I'm glad I didn't. The driving range was right there, right next to the hotel. I played the first two rounds with Gary Player and Ken Brown."
"Ken Brown is a great guy," I said. Brown was (and is) a Scotsman and a gardener, and he was a fixture on the European Tour. "Remember his putter?" I asked. Wood shaft, leather grip, with a blade head with less girth than a yard-sale butter knife.
"I do," Fred replied. "I called it 'Calamity Jane.' Ken was incredible. I don't know if Gary Player made the cut, but it was a good pairing. Just to be there. Those townspeople. How many people can say they played a British Open with Gary Player? I hit shots that were curling around bunkers instead of going into them, and I made mistakes and blah, blah, blah, blah blah. I was aiming left and Gary was aiming right. All these different ways to play the holes. I didn't know what I was doing. But it was an absolute blast."
You go to the press tent at an American event and you're delivering your bogeys and birdies on a soft course in the Midwestern summer and you get a 3-wood in play and hit a 7-iron hole-high and you make the putt. How long can it take to relive a 66? It's not like that in an Open. On most every shot, you can take this route or that one, use this club or that one, choose this flight plan or that one. It's almost a different game. Tip your cap to Harry Vardon (six Opens) to Tom Watson (five), to Old Tom (four), to Jack and Seve and Tiger (three each), to Greg Norman and Arnold Palmer and Lee Trevino (two each), to Sam Snead and Ben Hogan and Ben Curtis and Sandy Lyle (one per man). What Fred would have given for one. He won a British Senior Open, at Turnberry in 2012.
"To win on that course?" Fred asked rhetorically. It's one of the most beautiful courses in the world. "We're playing like one step up from the back and these par-4s are like driver, 4-iron. Just to play it like that and play it well. I was still very good then, at 50 and 51 and 52, and now we're at Turnberry. I was watching in '09, when Watson almost won there. I was in a hotel room in Chicago, and when he lost that playoff I was bawling like a baby. Had he won, I was going to pick him for the Presidents Cup team. I mean, I'm not a historian at all, but I'll tell you one thing: to win that, at 59? Now I'm a golfer and I like the guy, but still, to me, that would have been the biggest story in the history of sports. For me, the Turnberry win was huge and I have this little teeny British Senior Open Trophy. It's cool. I'd like to have one of those Claret Jugs. I would have given everything for that. But I won at Turnberry. I loved beating the course. Because it's hard."
He made 18 starts in the Open and was top 10 in half of them. He was T-3 at Royal Birkdale in 1991 and again at St. Andrews in 2005. There was another T-4 at Royal Lytham & St. Anne's in 1988, when Seve won a third Claret Jug.
LIV was unavoidable, and not just because we talked about Norman, who won the 1986 Open at Turnberry, and Phil Mickelson, who won the 2013 Open at Muirfield. Fred was in the field for Phil's win, courtesy of his victory at Turnberry. All manner of LIV names were coming up. It seems all golf conversations these days have a LIV moment. Fred, by the way, calls it L-I-V.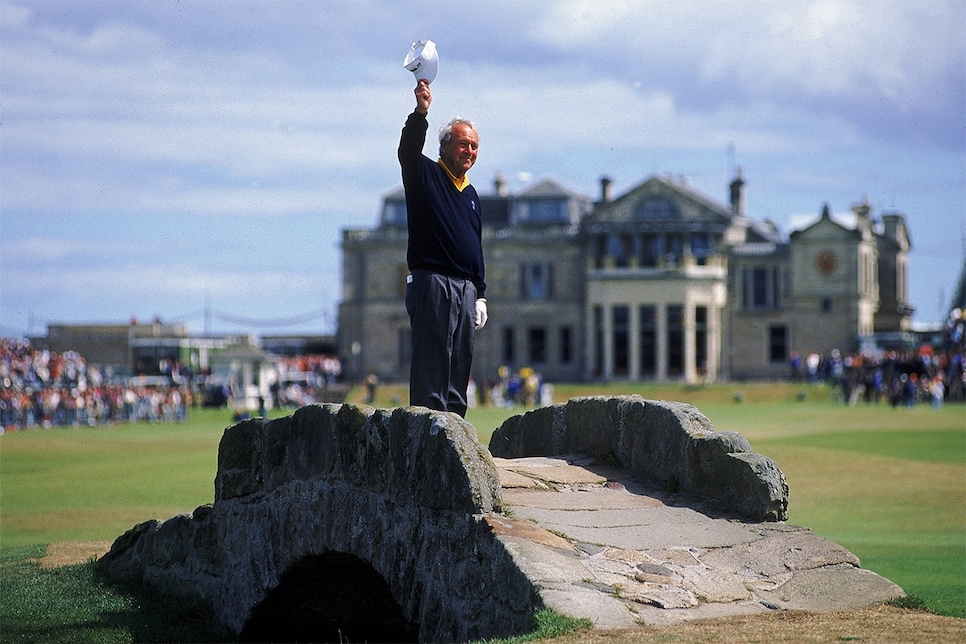 It was fitting that Fred mentioned Arnold's name right at the start, because Arnold had so much to do with making the British Open a thing, a most-coveted thing, for American pros again. That's not to say the Open hadn't been a thing. Sam Snead won at St. Andrews in 1946, but he didn't bother to defend and in fact didn't play in another Open until 1962. Ben Hogan won the only Open he ever played, at Carnoustie in 1953.
But part of the oral tradition of the game is that when Palmer went to the 1960 Open Championship at St. Andrews, three months after winning the Masters and a month after winning the U.S. Open, he brought some modern color and American swagger to the old gray town for the first time 1759, when Ben Franklin rolled in. Woods was citing that history just last week, at the J.P. McManus event in Ireland. Not the Franklin part, but Arnold and the Open and how he paved the way for others. Arnold finished second in the '60 British Open, by the way, a shot behind Kel Nagle. Woods won two Opens at St. Andrews. Jack Nicklaus did too.
Fred was watching the ABC broadcast, Jim McKay presiding, when Big Jack won in '78. Fred was 18. Raymond Floyd played well, wearing a plaid racing cap with a red pom-pom on it. Later, Raymond gave Fred a whole new way of thinking about second shots on reachable par-5s. In short: Forget the pin, just hit it on the green.
Six years later, Fred was playing in his first Open, at the Old Course, staying in the Old Course hotel, playing late on Sunday, falling in love with a game different from the one he knew and a tournament different from the ones he played. Here he is, wrapping up his first week there, on the hole that that takes you home:
"I finished. The wind was in our face. I drove it way, way left. I had a punch 9-iron for my second shot. It went in the hole. I've only been on Tour three and a half years, but I've watched Seve play. I'm rooting for Watson, but Seve comes to 18 first. I'm standing on those three little steps behind the green when he makes that putt, that 12- or 15-footer. And then he pumps his fists at all four corners. I'm telling you, I'll never forget it. It was the coolest thing I've ever seen. I mean, I'm so glad I stayed and got in there with the crowd. So for years now, every time somebody asks me for my favorite course, I say three: Royal Melbourne, Augusta and St. Andrews. All for different reasons. But, really, St. Andrews."
"It's just the most unusual course I've ever seen. I don't even know how to word it. One day, the 1st hole is a wedge. And the next day it's a 3-iron and the next day it's a 7. You know, there are divots everywhere and it's fine."
"The whole thing is like a divot," I said.
"Yeah," Fred said. "You've played it. Half the time, the course is not even green."
Not at all in some years.
Augusta is green. LIV Golf is green. The Old Course, and the Open Championship? All together now: It is what it is.
I asked Fred if he had a moment of fantasy, where he thought about getting on a plane and trying to qualify for this 150th Open, held on the Old Course. You shouldn't hope for an answer but I was hoping for one.
"No," Fred said. "I'm too old. Body can't take the flights anymore."
He'll be watching on TV, just like he did in '78.