Pace of play
British Open 2022: The one painful part about playing an Open at St. Andrews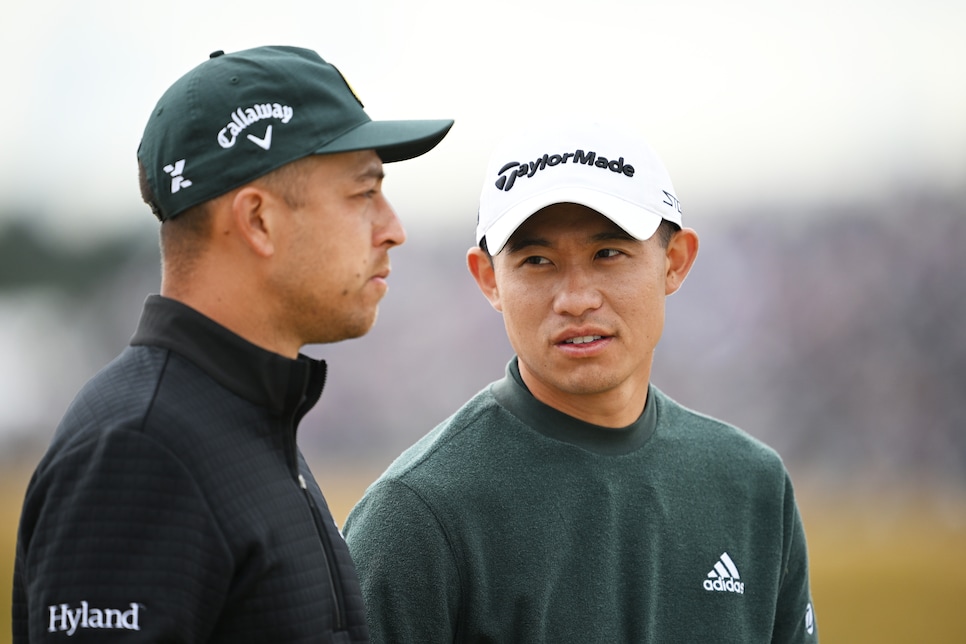 Xander Schauffele and Collin Morikawa hang tight as they wait during their opening round at St. Andrews.
Stuart Franklin/R&A
ST. ANDREWS, Scotland — To a man, the players are stoked to be here. The 150th Open Championship, at the Old Course, the Home of Golf. It's storybook stuff. Something to tell your grandkids you played in. As good as it gets.
There is, however, one small drawback to playing a golf tournament on this most famous links. The golf itself takes a really, really long time. Threesomes on the PGA Tour average somewhere around 4 hours and 40 minutes, and while it's almost always longer in majors—harder courses, bigger fields—Thursday at St. Andrews was particularly slow. The threesome of Rory McIlroy, Xander Schauffele and Collin Morikawa teed off at 9:58 a.m. local time, midway through the morning wave. The trio did not finish until 3:40 p.m., a full 5 hours and 42 minutes later.
Their first prolonged wait came on the par-5 fifth tee, when the threesome ahead (Jason Kokrak, Nicolai Hojgaard and Sihwan Kim) was still waiting to hit their tee shots as McIlroy, Schauffele and Morikawa finished out on 4. Instead of crowding the box further, they waited off to the right side of 4 and watched Justin Thomas, Viktor Hovland and Shane Lowry putt out behind them.
"I figured it would be slow, but I didn't know it would be this slow," said Morikawa, who putted poorly en route to an even-par 72. "We were waiting on groups at tees, waiting on fairways. Xander and I talked about it, we're watching more golf than we ever have. You stay in the fairway, and you're watching two other groups play golf."
The reason behind the slowness is endemic to the Old Course, especially when it's firm. Balls are rolling out so far on the baked turf this week that a number of par 4s are drivable, and both par 5s are reachable for virtually the entire field. The routing also doesn't help either; the course always has holes running parallel to each other in opposite directions, with no trees to serve as barriers. Wayward shots on one hole inevitably find their way to another, which often leads to delays.
"I was not expecting it to wait on pretty much every hole on the back nine," Schauffele said after a three-under 69. "I thought we handled those holes fairly well, considering the long wait there. But yeah, I guess when it's firm and the ball's rolling out to 400 yards, everyone's going to wait."
It will get better on the weekend, when half the field will have been weeded out and the rest are playing in twosomes. But it was even worse on Thursday afternoon—Tiger Woods, Max Homa and Matt Fitzpatrick's round clocked in at 6 hours, 9 minutes.
"It's just a joke, isn't it?" Fitzpatrick said. "This just shouldn't be happening ever in golf."
Homa looked downright delirious after his one-over 73, dumbfounded at how long it took to play 18 holes.
"I felt like I needed to call my PT back and get him to stretch me back out. Yeah, it was … I felt like everything was like choppy, and it wasn't easy to get into a rhythm. Fortunately, honestly, we all talked a lot, talked to [caddie] Joe [Greiner] a lot. Everybody was pretty chatty. Obviously we had to talk a lot. Yeah, I guess we are used to waiting. It was just an insane amount of waiting. But I don't know, just catch up. I know what Matt's doing for vacation or holiday, as he says. I guess I learned a lot about that.
Apart from the first hour or so of tee times, everyone in the field dealt with the same predicament, and Shane Lowry wasn't about to use the pace of play as an excuse for his 72.
"I've been doing this long enough to deal with days like today," Lowry said. "If you're standing there trying to make excuses for your bad day for being too long on the course, well, don't come here and play, because it's The Open at St. Andrews, and it's going to take six hours to play a round around here, and that's just the way it is."