Handling 'Fiddly' St. Andrews
British Open 2022: How Rory McIlroy squeezed everything out of his opening round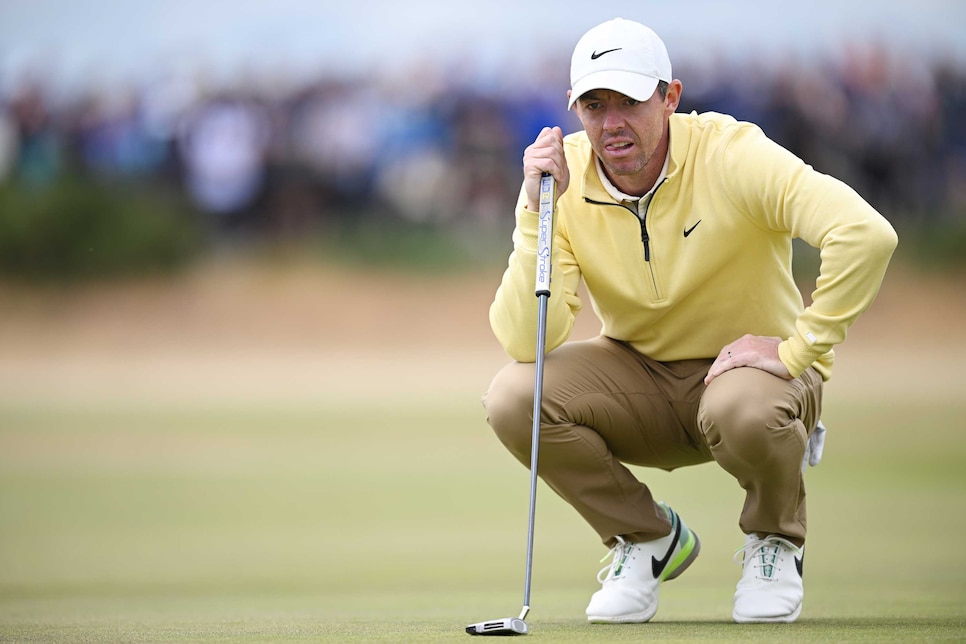 Rory McIlroy lines up a putt on the ninth green during the opening round of The 150th Open.
Stuart Franklin/R&A
ST ANDREWS, Scotland — Nothing is for sure, of course. Not in golf. Not in the Open Championship. And certainly not at St. Andrews, a place Rory McIlroy feels is the "fiddliest" course on the Open rota when things get hard and fast.
Fair enough. The Old Course is surely the quirkiest of that elite bunch. But no matter. Despite admitting that "fiddly" has not always been a forte of his, the four-time major champion was sounding an awful lot like someone who thinks he'll never have a better chance of adding a fifth to his collection. Which is hardly surprising in the wake of an opening six-under-par 66 that has McIlroy nicely tucked-in behind the early leader, Cameron Young.
The Northern Irishman went as far as saying he feels like he has regained "ownership" of his swing and his game in the wake of what will perhaps be seen in hindsight as a little too much searching for something different and better. That's all parts of his game, including the little shots and moments that make the difference between so-so and good, good and great.
"Just what you hope will happen when you're starting off your week," was McIlroy's opening verdict on a round that contained seven 3s. "I did everything that you're supposed to do around St Andrews. I birdied the holes that are birdieable. I made pars at the holes where you're looking to make a par and move to the next tee. And I didn't really put myself out of position too much. Overall, I'm really pleased. It's another good start at a major. Three in a row for me now. So looking forward to the next few days."
Indeed, McIlroy is an impressive 12 under par for first rounds in majors in 2022. That's compared to 34 over from 2015-21.
Specifically, McIlroy emerged from each of those tricky, round-making shots he mentioned, partly because, when he did miss his spot he did so in the right place. As golfers have known for centuries now, position is everything on the Old Course and never more so than when the ball is running as far as it is this week. Yardages are relatively meaningless. And the lies are often so bare that even elite players sometimes fear the worst.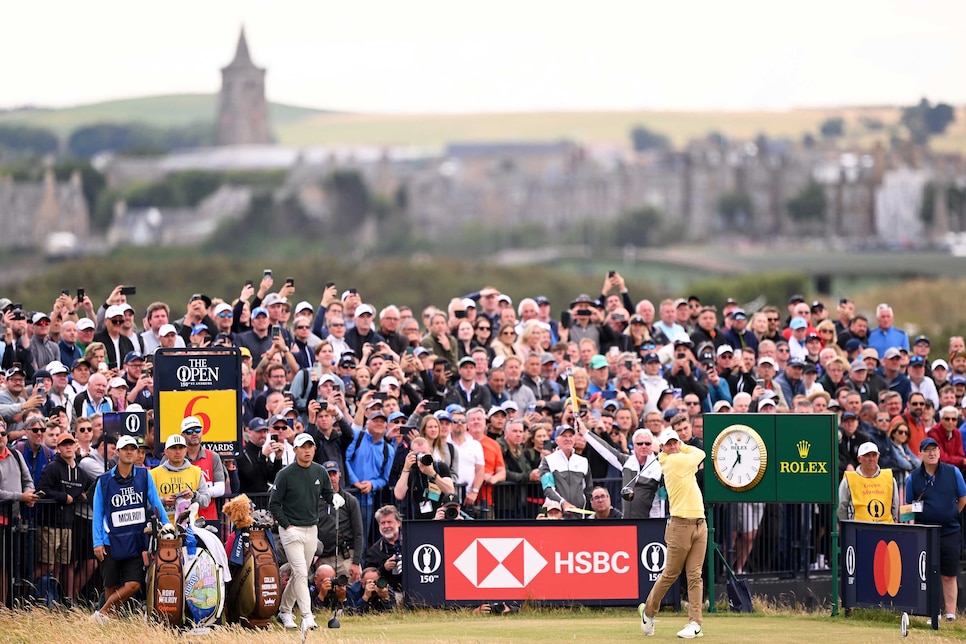 Rory McIlroy tees off on the sixth hole on Thursday.
Ross Kinnaird
An example: Left with only a lob wedge to the formerly fearsome Road Hole green, even McIlroy's mind wandered.
"On that second shot to 17, I had a full lob wedge in there," he said. "But if I didn't get it quite right, then I could have thinned the thing into the middle of the crowd. You're up there leading the Open Championship and you're worried about hitting a lob wedge out-of-bounds because of a bare lie on the fairway. So it never feels easy."
That wasn't the only instance of doubt either.
"There are pivotal moments in every round, little part of the round that just test you," McIlroy went on. "I hit a good putt for birdie on the eighth hole, but hit it three feet by. I wasn't really comfortable with the second putt, but I stepped up there and committed to it. It was a nice putt to hole.
"Every time the round did that to me today, I was able to come through," he continued. "The two-putt from 60 feet for bogey on 13. The up-and-down for birdie on 14. And the two-putt on 17. Those show you where you're at with everything, mentally and physically. I came through all those little tests today unscathed, and I'm really proud of that. So it might have looked easy, but there were certain parts of the round that were challenging."
As for what comes next, that is perhaps the most interesting aspect of McIlroy's challenge to win a second Open title. Those strong starts to majors he mentioned did not lead to eventual victory. So the challenge for Day 2 is simple.
"I just have to go out and play the same golf that I've played today, the same golf that I've played over the last few weeks," McIlroy said. "I've been playing well. I've been swinging the club well. I'm pretty good at this game. I think I know what I'm doing. I just needed to take ownership of it all again. Which is where the freedom comes from. It's better if I don't think about it too much. I need to just go out and play golf and try to shoot some good scores on one of my favorite golf courses in the world."
On the evidence of Thursday, you get the feeling he might just do that.